A mother is not supposed to bury her child, but that is what Jennifer Holmes had to do. 
On May 4, 2014, Genesis Holmes, 13, waded into the murky waters of a neighborhood pond and drowned.
Like many children who grow up in Hollywood — where the nearest public pool is some 40 minutes away — Genesis never learned to swim. Neither had his mother. Nor had his grandparents.
This has been the reality, even though Hollywood is surrounded by the marvels of the Lowcountry: meandering rivers, abundant marshes and the forceful tides of the Atlantic Ocean.  
For Jennifer Holmes, 39, the only way to make peace with Genesis' death was to make peace with the water.
After three years of swim lessons, sleepless nights and teary interviews, Holmes is a confident swimmer who soon will be certified as a lifeguard. She holds fast to her belief that God has called her to conquer her fear and trauma and share the knowledge of water safety with other children and adults in Hollywood.
She plans to work as a lifeguard next spring when Charleston County opens its first pool in Hollywood, named, "The Genesis Pool." 
"I know in my heart of all those little Genesises out there I will help," she said. "He didn't have a chance.
"So it's a part of my healing." 
A disproportionately high number of children who die from drowning in South Carolina are similar to Genesis: young, male and black. 
From 2012 to 2016, 39 boys between 10 and 19 died from drowning, according to the S.C. Department of Health and Environmental Control. While African-Americans make up 27 percent of the state's population, 62 percent of those who drowned — 24 children — were black. 
These numbers mirror a national trend. In 2010, black children between the ages of 11 and 12 drowned in swimming pools at a rate 10 times higher than their white peers, according to the Centers for Disease Control. Its researchers attributed the racial disparities to a lack of access to swimming pools and less interest in learning how to swim.
Health disparities in rural, black communities has been widely studied. Researchers have found that one's zip code can be an indicator of life expectancy. 
The data rings true for Marty Rivers, a 46-year-old Johns Island native who is the wellness aquatics manager at the Medical University of South Carolina. Unlike most of his peers, Rivers, who is black, did learn to swim. In the 1980s, he took lessons at a West Ashley pool, where he said his instructor told him black people have a harder time learning to swim because they have bigger bones. 
Stereotypes like that are incorrect and rooted in racism, and they are still rampant in the water safety world today, Rivers said. 
"Everyone, every child should have a right to be able to swim, period." he said. "Whether they are white, black, whatever." 
After her son died, Jennifer Holmes thought about her own family and neighbors. She also grew up in Hollywood, a heavily forested rural town on the western outskirts of Charleston.
The town has 4,700 residents and is nestled between the Stono and Edisto rivers, only a 40-minute drive to Edisto Beach. Still, neither Holmes nor her siblings were ever taught how to swim. Neither were her friends and neighbors, she recalled. About 69 percent of the town's residents are African-American. 
"Out there in the rural area where I live, they have so much fear," she said. "We were taught to stay away from the water." 
A life cut short
Basketball players are known for their height and speed. But it is the point guard who relies on dexterity and intelligence to carry the ball down the court, envision offensive strategy and coordinate shots among teammates before the buzzer sounds.  
For the Lowcountry Leadership Charter Gators, the position was played by No. 11, Genesis Holmes. 
At 6-foot-1 and 138 pounds, Genesis looked like a young adult. But as with most seventh-graders, the 13-year-old wavered at the precipice between innocence and responsibility, between boy and man. 
His daily routine was book-ended by time with his mother. Each morning after dropping him off at school she handed him a sweet snack. Cookies were good, but Little Debbie cakes were his favorite. 
He volunteered his time as a peer counselor at Lowcountry Leadership Charter, a Hollywood-based charter school with one teacher for every dozen students. He studied with classmates who had disabilities.
In his free time, Genesis and his girlfriend planned their marriage; she would study to become a nurse and he would be a professional basketball player. They'd have two children of their own. 
After school, Genesis played with his cat, Bright Eyes. And, like clockwork, he'd confide everything in his mom. 
One day in early May, he initiated a more earnest-than-usual conversation with her. He talked about how he wanted to serve in the Navy as a diver, then retire after a career in law enforcement. 
"Mommy," he said. "My name is gonna be famous."
"OK," she said with a laugh. "Let's see." 
The next day, May 4, she dropped Genesis off at school. He told her he was going over to a friend's house later. She forgot to give him his snack.
Several hours later, Jennifer heard a knock on her door. A woman, a friend of hers, stood in the doorway crying.
"His friends made it out," the woman said. "Genesis did not make it out." 
Making peace
What came next was a blur: the deputies, the classmates crowded around the pond, the calls from friends. In the coming months, the others showered Holmes with support, but she fell into a dark, deep depression.
She blamed herself. Hollywood was surrounded by water. Why had she never taught her son how to swim? 
As time went on, she thought about how neither she nor any of her siblings ever learned. Most of her neighbors didn't know. Her parents couldn't swim, either. Was it their fault?
Holmes' parents and grandparents grew up during the Jim Crow era, a time when blacks were not allowed to step foot into public pools or onto most beaches — let alone receive lessons. They raised Holmes and her sisters to see the water as dangerous and nothing more.
Rivers, the MUSC pool manager, said this tragic reality is rooted in the aftereffects of slavery. When formerly enslaved people settled the rural, coastal areas of the Lowcountry, they were trapped. In today's world, where swim lessons can be as expensive as $30 for 30 minutes of instruction, rural blacks are still trapped, he said. 
"From decade to decade to decade, and bam, here we are, being afraid of water," he said. "Now it's not the sharks or the rip tide that'll get you. It's the economics."  
Nearly a year after her son's death, Holmes began to wonder if the water could help her grieve.
Holmes drove into Charleston, to pools in West Ashley. The strong and foreign smell of chlorine filled her nostrils.
As she dipped her toe in the water, she was blinded by a vision of her son. She saw his long arms and legs thrashing in the water. She heard him shout in distress, "Mommy! Mommy!" As she slowly submerged herself into the pool, she felt her heart beat faster as she imagined the pain and fear her son must have felt as he drew his last breath.
She climbed out of the pool and broke down in tears.
"The feeling of something that is so beautiful — can be so treacherous, so mean and so cruel, if you don't know anything about it," she said. "And to know, Genesis never had a chance." 
As the weeks went by, the visions didn't stop, but her fear gradually did. After a few lessons, she could float on her back. After a few more, she swam with her torso atop a kickboard. 
'Never going to stop'
Outside of the pool, Holmes started campaigning with The Parkland Foundation for "The Genesis Project," a new effort to teach rural children how to swim. The group pushed for new community pools in Awendaw, Johns Island and Hollywood. 
After a few years, the Park and Recreation Commission broke ground on the West County Aquatic Center in August. The $3 million project will open next spring as a 25-yard-long and 6,000-square-foot outdoor pool in Hollywood. It will be named "The Genesis Pool."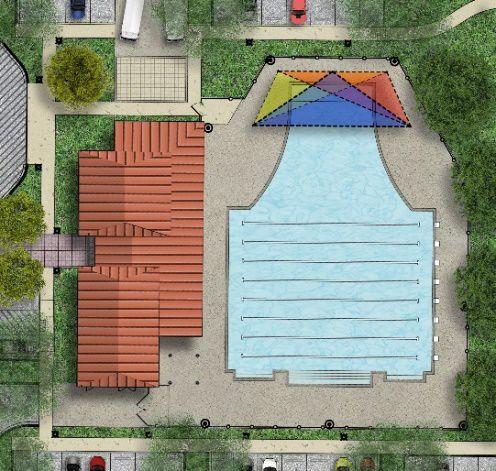 To some, the opening of the pool may seem like a fairy tale ending to a sad story.
But to Holmes, it is only the beginning, like the biblical book that shares her son's name. She is taking lifeguard training courses and plans to be certified as a lifeguard before the pool opens next year. 
On a recent October Saturday, Holmes' nephew Troy Hamilton, 11, jumped into the shallow end of the practice lane at St. Andrews Family Fitness Plus.
His blue goggles matched his bright blue swim trunks, which were dotted with little sharks. Whipping one arm in front of the other, he pushed through the water in a flawless freestyle. 
Holmes' sister and Troy's mother, the Rev. Andrea Hamilton, floated face-up and practiced her back stroke. Maxine Smith, 53, did the same. A fourth sister, Angelia Forbes, was on her fifth lesson. On that Saturday, the 56-year-old rested on a blue noodle and practiced floating in the water.
Holmes appreciates the support of her sisters and nephew. Holmes' older son, who is 26, and her husband have yet to enter the pool. 
"I think (my son) is scared of facing the feeling of what his brother felt," she said. 
Each day is hard, Holmes said. She still sees visions of her son Genesis, who would have turned 18 in August.  
"But I'm never going to stop," she said. "I will keep going on this journey until many lives learn the importance of water safety."
Bryan Brussee contributed to this report.