Charleston residents emerged from their homes Thursday to clear ice off their cars, snap photos of an unusual frozen landscape and play in the snow one day after a historic winter storm walloped South Carolina's coast.
Roads across the peninsula remained open but largely covered in ice, which eventually started to melt to slush as the afternoon wore on.
Charleston City Council plans to hold a conference call meeting late Thursday afternoon to declare a state of emergency and provide details on the city's response to Wednesday's storm that dropped upwards of 5 inches of snow on the area. Officials have urged people to stay off the icy roads unless travel is absolutely necessary. 
Without ice scrapers to clean their cars, some residents resorted to other household items: spatulas, dust pans, brooms.
Krysten Hohl tried unsuccessfully to scrape ice from the windows of her Mini Cooper with a credit card, which broke, and then a calendar until someone offered her a scraper to borrow. She'd abandoned her Mini Cooper overnight outside the Harris Teeter on East Bay Street after the car doors froze shut while she shopped for last-minute groceries Wednesday afternoon.
"That works much better!" she said Thursday morning, handing the scraper back to a man inside a pickup truck in the store's parking lot.
By mid-morning, temperatures had inched above freezing, drawing people out to The Battery. "This will all be gone by Monday," one man remarked to his friends after making a snowball.
Violet Frunza wandered along East Battery Street with her brother, Allen Frunza, and admired the icicles hanging from palmetto trees.
The siblings and Violet Frunza's fiancé drove in from Knoxville a day earlier after hearing that a rare snowstorm was due to hit Charleston.
"We're trying to check this out," said Allen Frunza, who said he wasn't cold while dressed in shorts and a zip-up sweatshirt. "It was kind of a last-minute thing."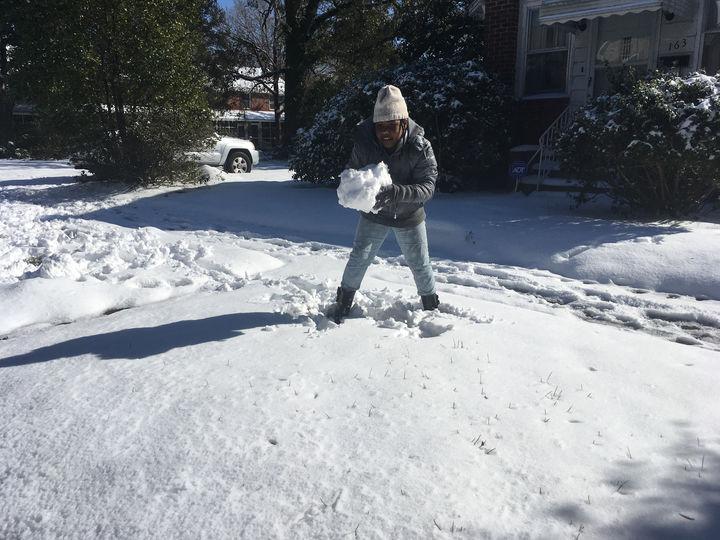 At White Point Gardens, Tina Mayoras briefly kneeled down to take a cellphone picture of oak trees draped with snow. Mayoras and her husband, Doug, live in Oregon and spend three months of the year at their home here near Colonial Lake. She hadn't seen snow like this since she was a kid living in the Midwest.
"We grew up in Ohio and Illinois, so this is really kind of taking us back and we're remembering all the things that we did," she said.
Up the peninsula in the city's Wagener Terrace neighborhood, 8-year-old Reagyn Carroll welcomed the snow by building a family of snowpeople in her yard on Dunnemann Avenue.
"I wish it would stay longer," she said.
Reagyn's mother, Gloria Carroll, said she has enjoyed this time to stay home and spend time with her family.
"You work so hard getting presents for Christmas and then you have to go back to work. It's nice to experience this, focus more on putting family first," she said.
But cabin fever had set in for others frustrated with how the storm shut down the city. Tony Smith walked to a corner store in his East Side neighborhood Thursday afternoon in search of canned good, but really, he said he was out "just to get some air."
"There's nothin' to do," he said.
Lowcountry's wintery landscape fun, scenic, but dangerous
Residents of coastal South Carolina are experiencing an unfamiliar landscape Thursday — draped in white, caked in ice and unusually quiet — one day after the third-largest snowfall recorded in the Charleston area. Ice and snow remains in Charleston, South Carolina making travel treacherous Thursday, Jan. 4, 2018, a day after the third-largest snowfall recorded in the Charleston area. 
Greg Yee contributed to this story. 
Sign up for our daily newsletter
Get the best of The Post and Courier, handpicked and delivered to your inbox every morning.