FLORENCE — Six months ago, Rashad Carraway stepped into a packed arena to say goodbye to his father, a veteran police sergeant killed in the line of duty.
Rashad will return to the Florence Center on Saturday. But this time, the gathering will be a joyous one: 25-year-old Rashad will marry his high school sweetheart.
Mourners, thousands of them, attended Terrence Carraway's funeral there in October. People Rashad had never met — those his dad inspired over a 30-year career with the Florence Police Department — approached him then about his upcoming wedding. They wanted to come.
Rashad and his fiancee, Allyson Ervin, settled on opening up their celebration to all who loved Terrence. For Rashad, it's a way to honor his father.
"It's our wedding, but they want to support my daddy," Rashad said.
The couple had originally selected a rustic, secluded setting for their springtime nuptials. But as their revised guest list ballooned from 100 to nearly 500 people after Terrence's death, they needed a larger venue.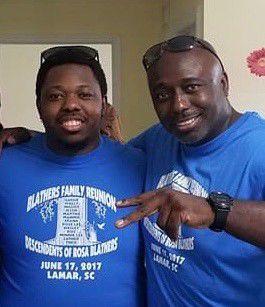 The Florence Center, where the Carraway family held the funeral, could accommodate them. So the couple pushed back their date by a few weeks and planned a big party.
They'll be married in a ballroom. Guests will see remembrances of Terrence sprinkled throughout the evening.
On his tuxedo, Rashad will wear a large button of his father's police photo. His cuff links will display photos of him and his dad. Law enforcement officers will be gifted ribbons with Terrence's badge number, 272.
And, next to Terrence's widow, Allison, a chair will sit empty.
Terrence's absence will be felt. He was the heartbeat of his family, a man who crooned karaoke songs and whose bold sense of style drew attention.
With Rashad, his only child, Terrence was affectionate. When Rashad was little, the father and son started a ritual of sometimes nuzzling their noses and foreheads together when they talked. Terrence would tell his son in those moments that they'd always be best friends.
Tattoos on Rashad's arm pay tribute to his father. A large image of his dad in uniform is emblazoned across his bicep. On his forearm is a smaller tattoo and words that sum up their relationship:
My friend
My hero
My dad