About 300 people gathered Friday in a garden on the campus of the College of Charleston to rally for action on climate change, as thousands more demonstrated internationally the same day. 
The event, as with those happening in other cities, centered around younger involvement around the issue. Youth-led organizations like the Sunrise Movement have focused on how the consequences of a world warmed by greenhouse gases, from oil, coal and other sources, will disproportionately impact younger people. 
The "Global Climate Strike," led in part by 16-year-old Swedish activist Greta Thunberg, was aimed at world leaders headed to a United Nations summit. In New York, public schools excused students so they could participate; in Australia, the country saw demonstrations that organizers estimated were the largest since the Iraq War began in 2003.
At the Charleston event, dubbed the "Climate Crisis Moment," over and over again, young attendees said the same thing: they'll have to deal with the bulk of a growing problem, even though a fossil-fuel dependent society was built by those before them. One girl held a sign that read: "You'll die of old age, I'll die of climate change."
"It's almost apathetic," said Gillian Thomas, a senior at Wando High School who said concerns about the climate have subsumed normal worries about preparing for college. "You think, 'What's the point in studying, in getting good grades, in going to school if I'm not going to have a future?'"
The world has warmed about 1 degree Celsius (1.8 Fahrenheit) since before the Industrial Revolution, and scientists have attributed the vast majority of the increase to emissions of heat-trapping gases from fuel-burning and other human activity.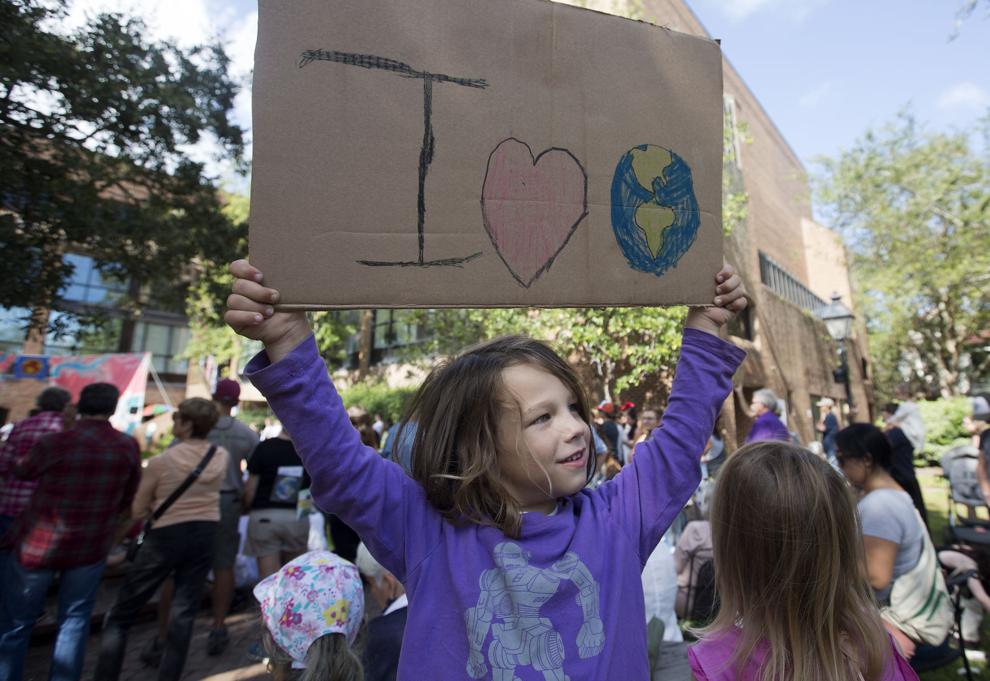 Scientists have warned that global warming will subject Earth to rising seas and more heat waves, droughts, powerful storms, flooding and other problems, and that some have already started manifesting themselves. A recent report by a U.N. panel studying the issue urged huge transformations in the world economy by 2030 to avoid some of the worst consequences. 
Belvin Olasov, a protest organizer and 24-year-old Isle of Palms native, said that he's always been surprised that there isn't more political action on climate change in Charleston. The low-lying city has been beset by hurricanes and flooding from poor drainage for hundreds of years, but rising seas and more intense storms, both fueled by worldwide warming, have already exacerbated those problems. 
"Charleston hasn't had an outlet for someone who wants to get involved with the climate activism movement," Olasov said. "I think there is tremendous potential."
Organizers were handing out pamphlets with several action items for after the event, among them, urging City Council to implement its long-neglected Green Plan and work toward net-zero carbon emissions, and sending a letter to an elder or relative to urge them to focus on the issue. 
Another organizer, 19-year-old College of Charleston sophomore Rowan Emerson, told the crowd it's easy to worry about the enormity of the problem, but "we have to stop doing nothing because we can't do everything."
Though the events at C of C focused on a youthful perspective, there were older leaders, too.
Charleston Mayor John Tecklenburg urged shuttering the five remaining coal power plants in South Carolina. C of C professor Norman Levine, who has closely studied flooding in the region, emphasized that the science behind global warming was real and said he'd been studying sea level rise since the 1980s. Gullah-Geechee leader Queen Quet Marquetta Goodwine said rising seas threatened to wipe out cultural heritage along the coast. 
Likewise in the crowd, there were many older participants. Lin Jay, of Yonges Island, came with her daughter, a student at the college. Jay said that with flooding issues around the region, "it's not an option not to talk about it anymore." 
"It's really about waking up (people) my age, and my parents' (age)," Jay said. 
Gail Mizuk, a 68-year-old who was raised in North Charleston and then returned there after several years living in California, said she was heartened by how younger people had brought the issue to the fore. 
"I just love that it's all ages. It almost makes me want to cry," Mizuk said. "I haven't done anything like this since Vietnam."
The Associated Press contributed to this report.