A young black boy was set on fire. A white boy was charged. But a history of racial tension runs deep in Clarendon County.
MANNING — Emery McCray stands on the steps of the Clarendon County courthouse on a gray afternoon in March. He's 6, but he looks younger, dwarfed by an oversize jacket that conceals large scars on his back.
The crowd here knows his scars are the result of second- and third-degree burns. His injuries were once so horrific and so painful that Emery, with his eyes rolling back in his head, deliriously talked about going to heaven as his frantic mother called 911.
Adults tower over Emery. Their words are sharp and full of fervor.
"Tell everybody what happened," barks one local civil rights activist who guides Emery by his shoulders to the front of a podium. "Speak loud."
It began in October in the tiny town of Alcolu, some 5 miles north of the Manning courthouse. Emery was supposed to be in his room. Instead, he slipped outside on that warm fall afternoon. His curiosity led him down the road to a neighbor's mobile home where he joined an 11-year-old boy. In the past, the boys' families had tried to avoid each other. But this day the kids played in the yard with a sprinkler.
What happened next has snowballed beyond an encounter between two children. One of whom is white; the younger boy, Emery, is black.
It's spiraled into an issue of finger-pointing and deep misgivings over a Sheriff's Office investigation. Racial accusations have swirled, underscoring tensions that date back decades in Clarendon County, where the population is split almost 50-50 between black and white residents. Amid a criminal case involving a child that's fraught with rumors and conflicting accounts, some fear justice won't be served.
"It was about how they handled the case," said Emery's mother, Leslie Brown. "What else is it going to take for this to stop?"
At the first news conference, Emery cried the whole way through. This time he is calm when he begins to talk, his voice almost too quiet to hear. He swings one sleeve of his loose jacket, his gaze fixed on the ground. He speaks of lighter fluid poured on his back. Next there was a lighter, he told investigators. Then came fire.
The adults want to know what he said to the other boy. His response to them, a question, is also scrawled on a large poster board strung around his neck:
"Why did you set me on fire?"
'You just can't imagine'
Alcolu once prospered as a sawmill town that was established for a local lumber company in the late 1880s. The mill closed in 2000, but an estimated 470 people still call Alcolu home. Just over one-third of those residents live in poverty, according to the U.S. Census Bureau.
Emery's family lived in one of several mobile homes situated along Zakia Road, a rural dirt road off Sumter Highway.
On Oct. 16, Emery left home and walked to the neighbor's place, where he joined the 11-year-old and the boy's 3-year-old sister. Brown told her kids to stay off the neighbor's property because she thought it was too cluttered. The 11-year-old's family didn't allow him to play at her house, Brown said, but she doesn't know why.
A rotating sprinkler designed to look like a fire hydrant kicked water across the yard as the children played hide-and-go-seek.
Emery told investigators he was standing by the grill, turned away from it, when he suddenly felt something being sprayed on his back. That's when the 11-year-old used a lighter to set him on fire, Emery said. Authorities recovered the fluid but not the lighter from the scene.
The 11-year-old's stepfather was working on a car about 30 feet away when he heard a scream followed by cries. He looked up and saw Emery on fire. He rushed over and dipped Emery in a puddle of water that had pooled from the hose.
The man and his stepson walked Emery up the road to his mother. The 11-year-old got to Brown first. Emery is on fire, he told her. Brown, unaware that her son had wandered off, didn't register what the neighbor boy was saying.
Emery was supposed to be on punishment. At church that morning, his two older siblings had devoured a bag of mints without permission. Brown sent all the children to their rooms when they got home.
Then Brown got a glimpse of Emery crying and yelling in the stepfather's arms. He said the other boy had set him on fire.
"Visually, I could not see where Emery was burned at," Brown said. "I'm like, 'What's wrong? What's burned?' Emery said, 'Mom, my back. My back.' That's when they turned my baby. You just can't imagine."
Emery spent two days at the burn center in Augusta. He later received skin grafts.
'That should never happen'
The fire department was the first agency to respond that day. A fire official notified a Clarendon County sheriff's sergeant and said the blaze was accidental. Later that night, a deputy visited the scene after receiving a call from the 11-year-old's stepfather. A brief incident report states the deputy also talked to Brown over the phone.
A month and two days passed. Then the 11-year-old was charged as a juvenile with first-degree assault and battery, a felony.
Brown doesn't understand why it took over a month to charge him. To her, it seemed to be an open and shut case — not a question of who did it, but why.
She thinks, at first, the Sheriff's Office "didn't take time to figure that out all because it was a white kid." Brown has accused authorities of doing the "bare minimum," attempting to cover up the facts and keep her in the dark. The lead detective on the case maintained that his investigation was thorough and he kept Brown apprised of developments.
Five days after the incident, Brown was taken aback by then-Sheriff Randy Garrett's statements to the local newspaper. Garrett, who lost a June primary election, was quoted as saying he believed the fire was "absolutely" an accident. Nothing at that point in the investigation indicated the fire was intentional, he told Manning Live.
In the article, Garrett relayed an account from the 11-year-old's stepfather, who said a spark from the car he was working on ignited Emery. Investigators later determined that wasn't possible.
"The way that they handled the case, they tried to say it was an accident — it still shows that we have racism," Brown said. "They charged him because I stayed on top of it."
Brown wanted her voice heard. The National Action Network reached out to help. The civil rights group organized the first of several news conferences in February.
Local leaders with NAN contend that racism prompted the assault and hampered the investigation. James Johnson, the state president, said it puts a "black eye" on the state.
"In 2017, that should never happen," he said.
'Living in the past'
In many ways, the ghosts of the Jim Crow era still haunt Clarendon County.
In 1944, Alcolu became embroiled in a racially charged double-murder case. Police blamed George Stinney, a 14-year-old black boy, for the deaths of two white girls who had been out picking flowers. Their bodies were found bludgeoned near the railroad tracks that divided the town along racial lines.
The trial lasted one day. An all-white jury convicted Stinney in less than 10 minutes. There was no appeal.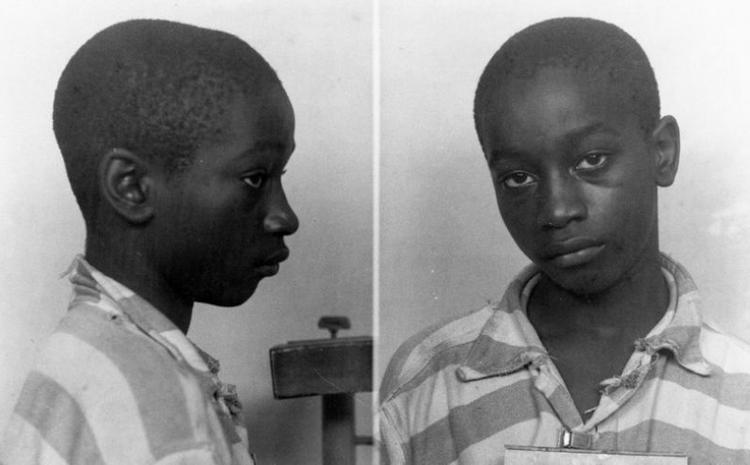 He became the youngest person executed in the United States in the 20th century.
Seventy years passed until a judge ruled that Stinney's constitutional rights were violated, vacating his conviction in 2014.
Clarendon County was also the epicenter of a legal case that laid the groundwork for a major victory in the civil rights movement.
Briggs v. Elliott in Summerton began as a challenge to Clarendon County's unequal busing policy. The case was eventually consolidated with several others into Brown v. Board of Education, the landmark case in which the U.S. Supreme Court overturned the "separate but equal" doctrine in 1954.
Beatrice Rivers, 80, was one of the original plaintiffs in the Briggs case. She was 13 at the time, and she didn't grasp the potential for retaliation until her father lost his janitorial job at the all-white school. He worked as a cotton farmer and blacksmith to support their family.
"The white people were angry that the black people wanted something more than they were willing to give," Rivers said, recalling how white children hurled racial slurs at her and her 11 siblings as they walked to school.
Rivers moved to Washington, D.C., after high school. She earned a college degree and worked for the federal government before moving back to Summerton in 1995. It seemed to her that little had changed in the way of integration.
"It seemed that I had stepped into a time warp," Rivers said of her return to Clarendon County. "You come back and people still seem to be living in the past."
Some black residents chafe at the Confederate soldier's monument that stands outside the county courthouse — a symbol to them of past injustice.
But other folks worry that the chants of racism surrounding Emery's case only make things worse.
Everyone hates what happened to Emery, said a white woman who declined to be identified out of fear of retaliation. But, she adds, all the "fussin' and fightin' " will only drive people apart. 
The investigation
Clarendon County sheriff's Capt. Kenneth Clark, who is black, investigated Emery's assault. He spent a month arranging interviews with nine people, he said, including the children.
Clark prefers to focus on the facts of the case. He declined to discuss race or its alleged impact on the probe. 
"The only thing I can say about that is that I'm an African-American father and grandfather of two young boys and the same love that Leslie has for hers, I have for mine," he said. 
Clark said he hadn't yet made any conclusions about the case at the time that Garrett, the former sheriff who is white, told Manning Live that the fire didn't appear to be intentional. 
Garrett said his statements were based on information from the fire department, which ruled the blaze an accident.
"But then the mother, she reappears, and all a sudden this is a major event that her son was set on fire intentionally and all this. So we investigated it thoroughly and we charged the juvenile," Garrett said. "And then we get questioned about how we did our job, and (Brown says) we didn't do enough and it's about race. ... She wants more. She wants blood."
Clark said he found no reason why the 11-year-old would have set Emery on fire.
Brown said she learned at a recent court hearing that the boy will undergo a mental evaluation to determine whether he's competent to stand trial. The 3rd Circuit Solicitor's Office could not confirm the status of the case because juvenile records are confidential.
Efforts to reach the stepfather through multiple relatives were unsuccessful.
Looking forward
Brown and her family have since moved to Georgia. She said they'd been considering a move. What happened to her son sealed the deal.
Emery can be a "bucket of water" these days, quick to break down into tears, Brown said. And he insists on following his mother around; she can barely walk to the mailbox without him by her side.
Emery doesn't talk much about his burns, but Brown knows the incident weighs on him. She's seeking counseling for him.
"Even though I'm seeing he's OK and he's good, I'm not a psychiatrist," she said.
Brown is hopeful for Emery's future. He's at a new school where he has a fresh start.
***
Emery seems unfazed as the crowd disperses from the courthouse rally. He's polite, smiling shyly when adults speak to him. A woman asks what he wants to be when he grows up. 
"A firefighter," he replies without hesitation. 
A few moments later, Emery bolts from the courthouse steps to play with boys his age.
Reach Angie Jackson at 843-937-5705. Follow her on Twitter at @angiejackson23.