The word stared back at her, so taunting and flagrant, more weighted than any other in Charleston's history: slaves.
It was Easter, and Margaret Seidler, a white woman, had just come home uplifted by a sunrise service, excited for the second half of her day. She'd set it aside for genealogy research.
Six years earlier, she had taken one of those mail-in DNA tests but hadn't thought much of it until a few days earlier. A message had arrived then from a stranger on an ancestry website. Somewhere, they shared a common relative.
The woman whose profile picture smiled at Margaret was black.
Intrigued, Margaret sat down at her computer. Her husband left with their pastor to go visit the sick and shut in. She soon would be among them, though, suffering what she'd later call "a sickness of the soul."
It began with a man named John Torrans and two letters he wrote.
Torrans, a distant relative Margaret knew nothing about, had written them to his brother-in-law in 1775. Margaret found a reference to them in the College of Charleston's online archives. 
In the first, Torrans wrote: "One of the Negroes is run away."
Margaret cringed at the language. In truth, she enjoyed a bit of smugness knowing her family didn't hide the skeletons of enslaved people in their ancestral closets, as did so many old Charlestonians. Her family lived on the city's working-class East Side, not swanky South of Broad. They hailed from poor Germans who came from New York in the mid-1800s. Or so she'd always believed.
A note on the second letter read, "Charleston, S.C. List of Negroes to be Mortgaged." Torrans recorded the names of "all the Negroes at the Distillery" and "mine in town." The archive's catalog entry went on to describe Torrans as a prosperous merchant and shipowner. 
His firms, the entry explained, brought some Huguenots to the city "and hundreds of slaves to Charleston from Africa."
Margaret stared at the computer screen. Her stomach churned.
Hundreds of slaves?
One drop
When it comes to matters of race, Margaret isn't your average 65-year-old white lady.
She grew up in Grace Episcopal Church but left at 16 harboring more accepting views about race than her father held.
Decades later, after the Emanuel AME Church massacre, she and her husband, Bob, felt so strongly about reconciling the city's racial divides that they crossed the most segregated hours of the week — Sunday morning — and joined Emanuel's daughter church, Mount Zion AME. It happened to sit right next door to Grace.
At Mount Zion, she and its pastor, Kylon Middleton, joined with Grace's vicar to launch a book study to unite members of the historic black and white congregations.
It was, Margaret felt certain, her calling.
The weekly book study had just discussed the old "one-drop rule" — the notion that any amount of sub-Saharan African ancestry made a person black. Then, the Tuesday right before Easter, Margaret arrived with exciting news. She sat at a long oval table beneath elegant chandeliers surrounded mostly by other white people.
"About six years ago," she began, "this friend of mine in Colorado said, 'You must get your DNA done.' And so I did, and I read this thing, and it was boring — English, Irish, German. I set it aside."
But the day before, she'd logged onto an ancestry website in search of health markers. A newfound cousin, Trish Williams, a black woman in Pennsylvania, had messaged her.
"I discovered," Margaret said, shaking her head with dramatic flair, "that I do have a drop!"
The room erupted in cheers and laughter.
"Wow," one woman said.
"It was just really joyful for me."
And that wasn't all. Margaret also noticed an ancestor who was 100 percent West African.
"I have several more black cousins that I found out about this morning, and I am so excited. I just can't tell you what it means to me to know my whole story."
A few days later, Margaret and Trish spoke on the phone. Trish was an avid genealogist who needed Margaret's help filling in her own family tree. They tied up the line for 90 minutes trading ideas that sent Margaret happily on her research journey.
Then came Easter and John Torrans.
'Sickness of the soul'
Hundreds of slaves.
Margaret reread the words several times. Someone in her own family had trafficked hundreds of slaves? She screamed with rage.
The windows were open that Sunday, because it was a beautiful spring day outside. Two neighbors heard her screams and came running.
"Is Bob dead?" one asked, alarmed.
"I just found out someone in my family was a slave trader!" Margaret cried.
"Well, you didn't have anything to do with that," he said.
When Kylon and Bob returned, she described her shame. She felt like an impostor. She imagined her black church family finding out. Worse, what if some of them were descendants of the very slaves Torrans brought to Charleston?
Kylon tried to be encouraging. "Then this answers who you are — and why you are on this mission. It all makes sense."
Margaret thought about that.
Yes, she agreed. She would expose John Torrans' sins.
Using a cousin's old handwritten list of family names and dates, she became one of 3 million people who subscribe to ancestry.com, a site that combines people's DNA results with a vast collection of records and family trees.
Kylon suggested she not be alone during her research, if she wanted to continue it.
"You have to decide how much you want to know."
They both knew what he meant. The more she dug, the worse it might get.
The closeness of history
Margaret continued to dig anyway, but she couldn't find much else about Torrans owning slave ships.
She emailed Nick Radburn, a history professor in England who co-managed a vast digital record of 12.5 million Africans transported through the Trans-Atlantic slave trade.
It seemed unlikely he would respond. But he did.
"You haven't been able to find the firm because they're the agents for the sale of the slaves upon their arrival in the Americas ... rather than the owners of the vessels," he wrote.
A few hours later, he sent a list of slave ships consigned to Torrans' firm.
Margaret scrolled through the list — nine voyages in all from 1762 to 1765 with names like Hope, taken at a time when Charleston gorged itself on imported Africans. The agents listed for each: Torrans, Greg, & Poaug.
Radburn also pasted copies of three classified ads the firm had placed the South Carolina Gazette. In one, a sketch depicted a black woman carrying a baby in one arm while ferrying two older children on foot beside the words, "TO BE SOLD. A cargo of about Two Hundred very prime SLAVES."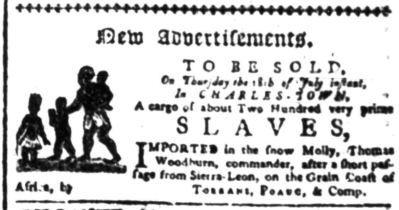 Margaret couldn't shake the images.
Innocent people going about their own lives, in their own country, then abducted to either die on putrid ships or be treated like animals when they arrived in Charleston.
After the Emanuel shooting, Margaret met survivor Felicia Sanders and worked with then-Charleston Police Chief Greg Mullen to create the Illumination Project to tackle race and police relations.
She thought now about Felicia's son, Tywanza, who had pleaded with the white killer, "We mean you no harm," only to be shot to death with eight others. Innocent people going about their lives, in their own church, then killed in Bible study.
History felt so very close, so alive.
A need to apologize?
Margaret confided her shame to several black friends, including shooting survivor Polly Sheppard, who attended Mount Zion with her.
All said variations of: "It's not you."
Her white friends reacted similarly. But to Margaret, the words intended to comfort felt like good old Charleston-style patronizing. Deflection. Avoidance. Niceties and polite words.
Words that fixed nothing.
And it wasn't only Margaret who thought so.
As she embarked on her journey, the entire city grappled with this very question. Should people today repent for the wrongs of yesterday?
The issue came to a head June 19, almost three years to the day after the church massacre. Charleston City Council debated a resolution apologizing for the city's role in slavery.
Kylon was among those who, for four hours, debated it.
"I come personally, on the backs of my ancestors and those who have been bought and sold into slavery here in this city, asking that you adopt this resolution!" he implored.
The council agreed, by a narrow 7-5 vote.
Among the five councilmen who opposed it — all but one of them white men — most said they wouldn't apologize for something they hadn't done. "Why should we do it when so much of what we'd be apologizing for happened so long ago?" a former councilman asked.
Yet, distance in history wasn't the point, not to Margaret anyway. To her, it was the continued denial of slavery's sheer cruelty and its ongoing impact. 
It was calling slaves in the family "servants."
It was turning plantations into high-brow tourist stops.
It was claiming your family hailed from poor German immigrants when in fact they'd enriched themselves off the sale of human beings.
All in the family
Margaret agonized wondering: Just how far back did the sins of slavery poison her family?
Given she was a charter member of the International African American Museum, she emailed a genealogist and historian there.
"I've recently learned of a part of my Charleston family on my mother's side that I never knew existed. Hard to handle at age 65," Margaret typed.
She explained about Torrans. But she also wanted to learn more about his son-in-law, William Payne, who she suspected was a slave auctioneer.
The words pained her, but she hit "send."
She and Bob were driving to a medical appointment when she got a response from Toni Carrier at the museum's Family History Center. 
Margaret's research was correct: "His auction house handled many slave auctions and estate sales."
A fresh wave of horror churned her stomach.
Slavery was a family business.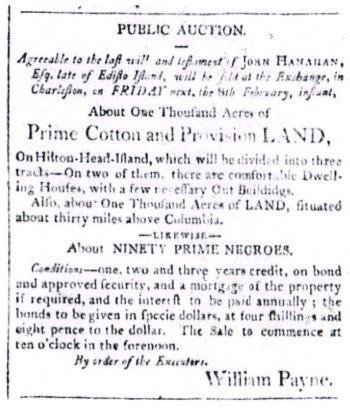 'It gets worse'
On a warm April morning, Margaret arrived at the Main library a few doors down from Emanuel and hurried upstairs to its South Carolina Room, a glassed-in trove of historical records.
Marianne Cawley, its manager, greeted her.
"I found out I'm really a seventh-generation Charlestonian last week on Sunday and that this man Torrans — John Torrans — is my 4th or 5th great-grandfather ..." Margaret's words tumbled out as she dug into a heavy black bag of her research to pluck out the family tree. Torrans, she continued, came from Ireland and got a Yale law degree in 1756.
"That's good," Marianne said politely.
"It gets worse."
"Oh dear."
Margaret also retrieved the list of voyages. His son-in-law, William Payne, was a slave auctioneer, she added, tearing up. Her cheeks flushed. She wiped her nose.
"I'm a little overwhelmed."
Marianne headed for a shelf, pulled out a red leather-bound index of people's wills, and sat at a microfilm machine. It hummed until she landed on Torrans' will, which mentioned a farm in West Ashley, horses, cattle. And slaves. A ship. A distillery in Mount Pleasant. A plantation.
"This guy's got money!" Marianne said.
Margaret wiped her nose.
They moved on to Payne, the auctioneer, and found a public auction in 1805 when he sold about 90 slaves, "prime negroes."
"It's so ugly," Margaret said.
Yet, she wanted an accounting of it all. History couldn't forget these men. Books and files cluttered the space until Margaret needed to leave.
Marianne sent her off with ideas of where to look next.
"That's an interesting puzzle you have there!" she called.
At home, Margaret focused on Payne. She found a book that described him as a prominent merchant "who had been a major owner of an 1804 slave-trading voyage."
The Ball Family Slaveholder Index noted that, "On 8 Feb 1819, auctioneers William Payne and Sons presided over the sale of 367 enslaved people in John Ball's estate."
And on the S.C. Department of Archives and History site, she found his slaves' names. An entry from 1789 listed 19 people Payne bought: Affy, Billy, Bristol, Cicero, Colly, Cudjo, Dina, Hannah ...
Real people with real names.
A tribe forms
When Margaret began attending Mount Zion after the church shooting, Kylon was its new minister. He'd been a close friend of Emanuel's murdered pastor, the Rev. Clementa Pinckney, and Margaret had heard him speak at the man's funeral.
Kylon also was a native Charlestonian, a Burke High graduate with an eye toward a more inclusive future.
Members of a joint book study between Grace Church Cathedral and Mount Zion AME are taking D…
He and Margaret became allies in that quest.
But Kylon didn't fully understand why Margaret — a white woman with deep familial roots in the city — hadn't wondered about all of this before.
Yet, more and more he'd realized that white people in Charleston didn't often talk about slavery in their own families. Statues featured slaveholders, not slaves. Nothing marked the site of, say, the Workhouse, a long-demolished building downtown where slaves were tortured at the behest of their masters.
Everything about Charleston spoke to denial.
It certainly wasn't lost on Kylon that his last name is Middleton, the name of a plantation turned tourist attraction.
He'd never done his own DNA testing. But as he followed Margaret's journey, he realized: "God has uniquely joined us in the season."
He looked up how to do the testing. Then, another idea sprang. What if the entire Grace and Mount Zion book study did it as well? Maybe the two historic churches could confront the findings together.
He mentioned it at their next meeting. Sixteen signed up to get their DNA tested. A half-dozen others already had done it and could add their findings.
Kylon would take a DNA test, too.
The story of slavery wasn't only Margaret's. Or his.
It was the story of Charleston.
A storied city
Beneath bright sunshine, Meeting Street swelled with tourists when Margaret arrived at another deeply historic place, Circular Congregational Church. She wore a bright red sweater and red lipstick.
She came looking for John Torrans' grave to see if it offered clues. Circular's administrator, Kathryn Cullinan, arrived with a map.
The Torrans family grave was in section A.
An oak-draped graveyard wrapped around both sides of the historic dissenters' church. Katherine led her to a spot up front, the second grave back from Meeting Street. It was a big concrete box.
Beneath it lay several people, including John Torrans.
However, Charleston's merciless weather had worn down the engraving so much that the words were illegible.
Margaret was too shocked by its location to care. 
For eight years, she had worked right across Meeting Street at the old SCE&G building. She had walked right by Torrans hundreds, thousands of time, never realizing he was here. Or what he'd done.
"These were not nice people," she told Katherine.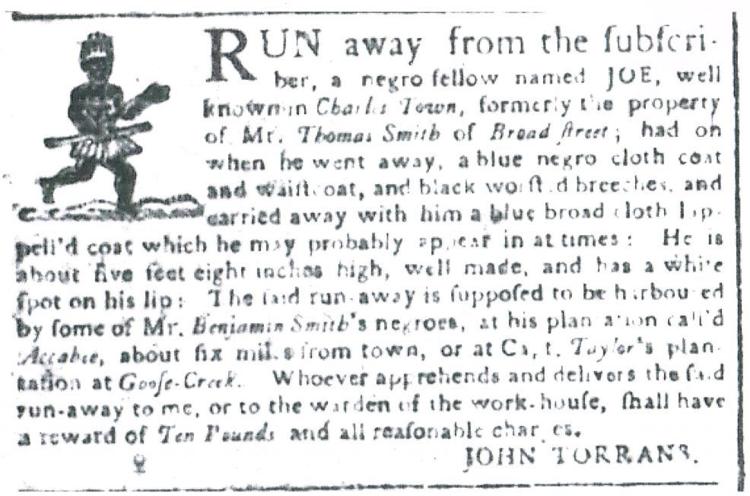 Margaret then drove to the College of Charleston's library, housing the online archives that first led her to Torrans' reference to hundreds of slaves. Up three stories, she stepped into a quiet special collections room and mentioned the letter.
A helpful librarian left to retrieve it. Margaret sat at a table and fanned herself with one hand.
It arrived in a benign-looking manila folder. From inside, stored in protective plastic sheaths, she pulled out the letter Torrans penned in the elegant script of 1775.
Margaret held it in her hands, eyes locked upon it, as if looking at the man himself. She hadn't expected the library to have the actual letter.
Yet, here it was — here he was — so finely preserved.
New truth, new family
By late June, Margaret had found that her family was in the slave business for at least 97 years. Almost an entire century, right to the cusp of the Civil War. That's when Payne's son, Josiah, died and his heirs sold his auction house at 28 Broad Street. A high-end seafood restaurant is about to open on the spot.
Margaret had begun this journey to help her newfound cousin Trish fill in her own ancestry. They had since found the man they believe links their family trees. William Smith was a judge in New York whose son became a Supreme Court justice. She and Trish can trace family back to his children.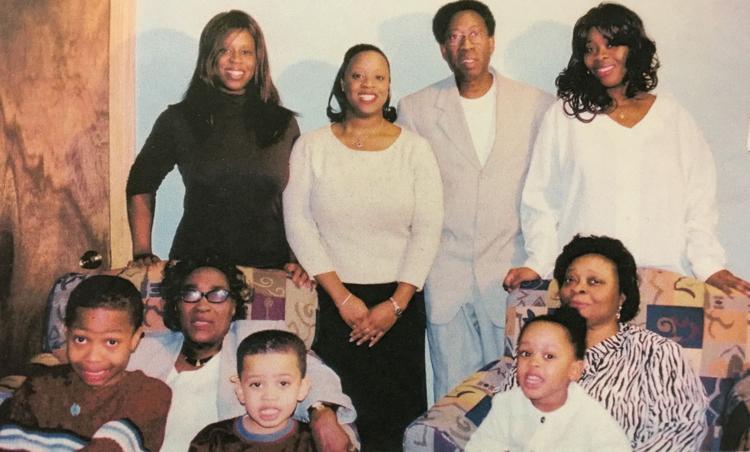 Trish also recently emailed her a photograph of her branch of the family, a smiling multigenerational group of African Americans.
Margaret beamed at them.
"They're so beautiful."
She, in turn, invited Trish to come visit Charleston. Because while Margaret had lost faith in one branch of her family, she had discovered another.