MOUNT PLEASANT — The once-sleepy coastal village that's become South Carolina's fourth-largest city has crafted a vision for the next decade, a massive plan that attracted hundreds of citizen volunteers and faces an uncertain fate before Town Council.
The Comprehensive Plan is sweeping in scope and seeks to balance competing interests, such as the desire for more pavement to address traffic congestion and the desire for more trees and open space.
One likely conflict will be a desire to encourage more modestly priced housing versus a desire to restrain residential construction and the population growth it facilitates.
The plan's importance was highlighted when more than 250 residents volunteered in 2017 for 34 seats on the panel that would spend more than a year meeting and creating the plan.
"It blew me away in the beginning when so many people wanted to be involved," said Liz Boyles, a principal planner for the town who is project manager for the Comprehensive Plan. "The people came out and said, 'These are the things we want, these are the things we need in order for this to be the town we want it to be.' "
However, the Save Shem Creek group complained about the selection process and some council members warned in 2017 that all the work could be for nothing if the Comprehensive Plan did not focus enough on restraining growth and development. Then, the council appointed more members to the group.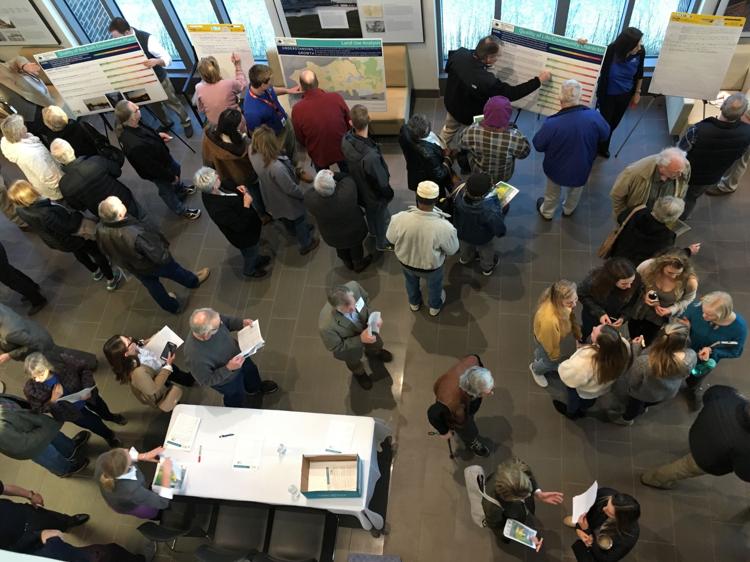 Now, after 17 months of work and many public meetings, the 387-page plan will soon go to council and a public hearing.
"The goals and recommendations of any comprehensive plan are vital for setting expectations for the future direction of the community," the document says. "Whether the locality actually moves in that direction or not depends on the willingness of the governing body to implement the recommendations of the plan."
The chairman of Save Shem Creek Corp., Jimmy Bagwell, said the plan does not go far enough toward slowing growth.
"I think it turned out about how we thought it would. Not in a good way," he said. "I think the council needs to take time and before passing it, make sure that it's what the people in this town want."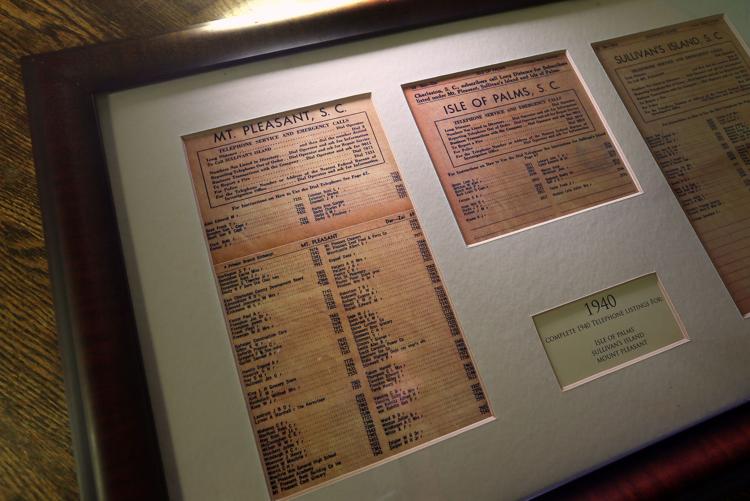 Here are highlights from the plan, some of which could prove controversial:
A focus is the expected redevelopment coming to older parts of the town, and particularly older shopping centers. As Mount Pleasant runs out of vacant land to build upon, redevelopment will play a growing role in the look and feel of the town.
"There are some older shopping areas in the town that are probably nearing the end of their life-cycle and the owners may want to redevelop them," Boyles said. "Do we want them to be another shopping area with parking at the edge or a place that feels like Mount Pleasant?"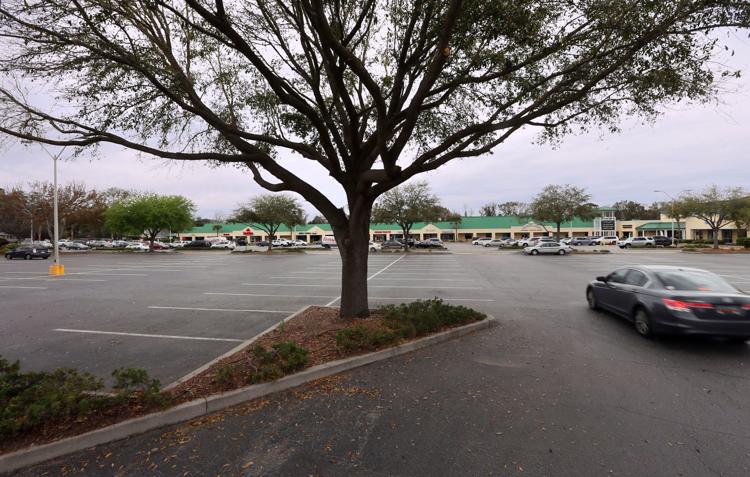 The plan recommends "supporting the creation of community-building hubs" ... "where residents can easily have some of their daily needs met, ideally within walking or bicycling distance of where they live." Such "hubs" could range in size, and the plan cites the Pitt Street commercial area and Seaside Farms as examples of existing hubs.
However, the hub concept worries the Save Shem Creek group.
"I think it leaves the door open to larger-scale development than most residents are looking for," Bagwell said.
Road connections should be created between subdivisions, to ease traffic, and between some shopping centers and residential developments so that residents can walk or bike there. Specifically, there should be a connection between Wando Crossing shopping center and the extensive residential development right behind it, along Watermark Road and Midtown Avenue.
It may seem obvious that people who live adjacent to a shopping center should be able to easily walk there but in most of Mount Pleasant that's not the case. Instead, shopping centers and residential neighborhoods are often separated by fences and other barriers. Creating connections where none exist could face opposition in communities that value their separation from commercial areas.
The height of new commercial buildings along busy roads including Coleman Boulevard and U.S. Highway 17 near Towne Centre should be limited to two or three stories. 
"Missing middle" housing — "a range of multi-unit or clustered housing types compatible in scale with single-family homes that help meet the growing demand for walkable urban living" — is needed to serve the town's changing demographics. Such housing could include duplexes and accessory dwellings.
Multi-unit housing and accessory dwellings already have opponents in the town and on Town Council. Where supporters see opportunities for lower-priced homes and smaller dwellings suited for retirees, opponents see an increase in housing, population and traffic.
The town's "Cultural Core" — a swath of properties from Boone Hall on the west side of Highway 17 through Hamlin Farm on the marsh east of Rifle Range Road — contains "the last remaining concentration of agricultural land and activities in the suburban Mount Pleasant area" and should be the focus of a special "area plan."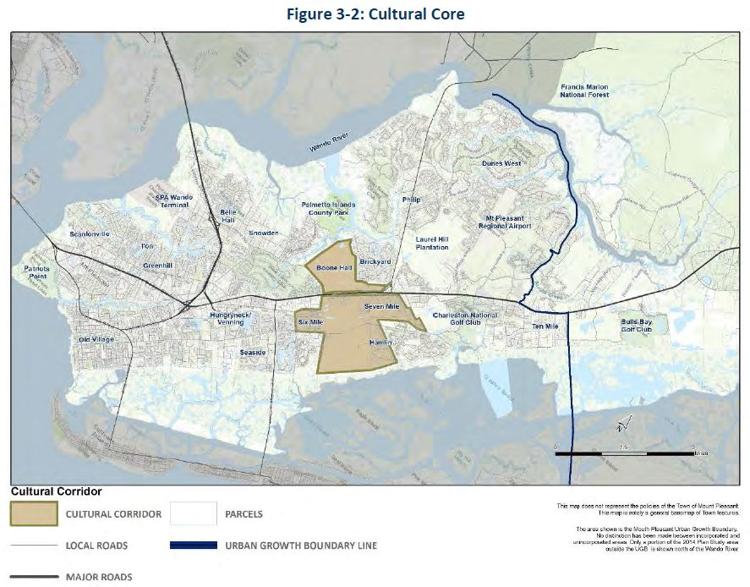 Related to the "cultural core," the Comprehensive Plan calls for dramatically reducing the development potential of Boone Hall and Hamlin Farm. The town's current plan would allow potentially 1,800 homes at Boone Hall and 1,182 at Hamlin Farm if the properties were in the town. The proposed plan would allow 24 and 15, respectively.
The plan lays out nearly two dozen short-term "high priority" action items, several of which would be enormous undertakings. One calls for "a wholesale revision of town ordinances."
The plan is paired with long-term transportation planning because traffic congestion has been a common complaint in the town.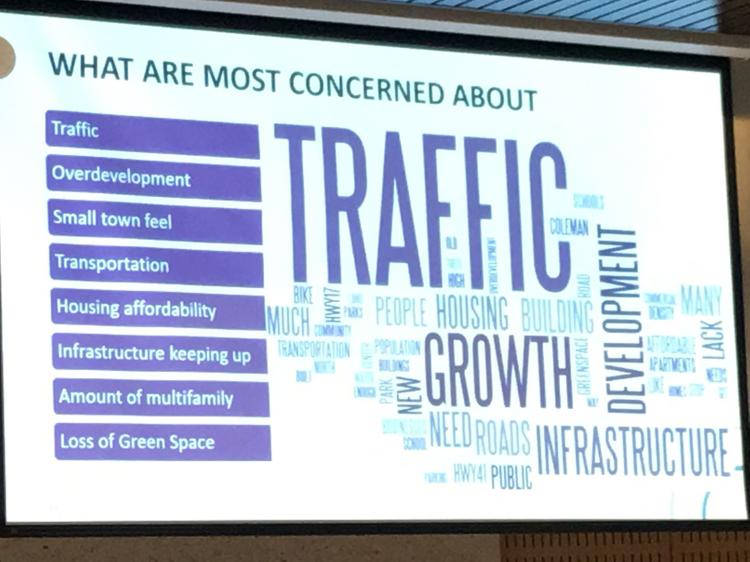 Mount Pleasant's Comprehensive Plan looks well beyond the town limits, including properties that remain in unincorporated Charleston County, and areas well beyond the town's reach, such as Cat Island across the Wando River.
The town's regulatory powers don't extend to unincorporated areas but the way the town views such areas determines what is built on their edges, and the future development of properties that could annex into the town.
Part of the historic Four Mile settlement community, for example, would be designated a "community scale commercial" area in the proposed Comprehensive Plan. That's the area between Hungryneck Boulevard and U.S. Highway 17 on both sides of Venning Road.
"Sometimes you have to bow to reality," said Jeff Ulma, director of Mount Pleasant's Planning and Development Department. "Sometimes you have to plan for an area to continue to change."
The Town Council previously approved zoning changes to allow two 55-foot-tall hotels to be built along Hungryneck, abutting residential properties in the Four Mile community. Hungryneck itself, a town road project, cut through the community.
"They put together a comprehensive plan 10 years ago and were supposedly following it, but as soon as a developer comes in it's like it doesn't matter," said Anthony Freeman, board chairman of the Four Mile Community Association. 
Comprehensive plans, like corporate mission statements, tend to reflect broad and noble goals. The challenge is turning them into a reality.
Mount Pleasant's current Comprehensive Plan calls for "safe and effective traffic flow throughout Mount Pleasant" and "a mix of housing types in a variety of price ranges" — but effective traffic flow has been elusive, and the town has some of the most expensive housing in the Charleston area.