A South Carolina county wakes up to helicopters, explosions living next to a SWAT training site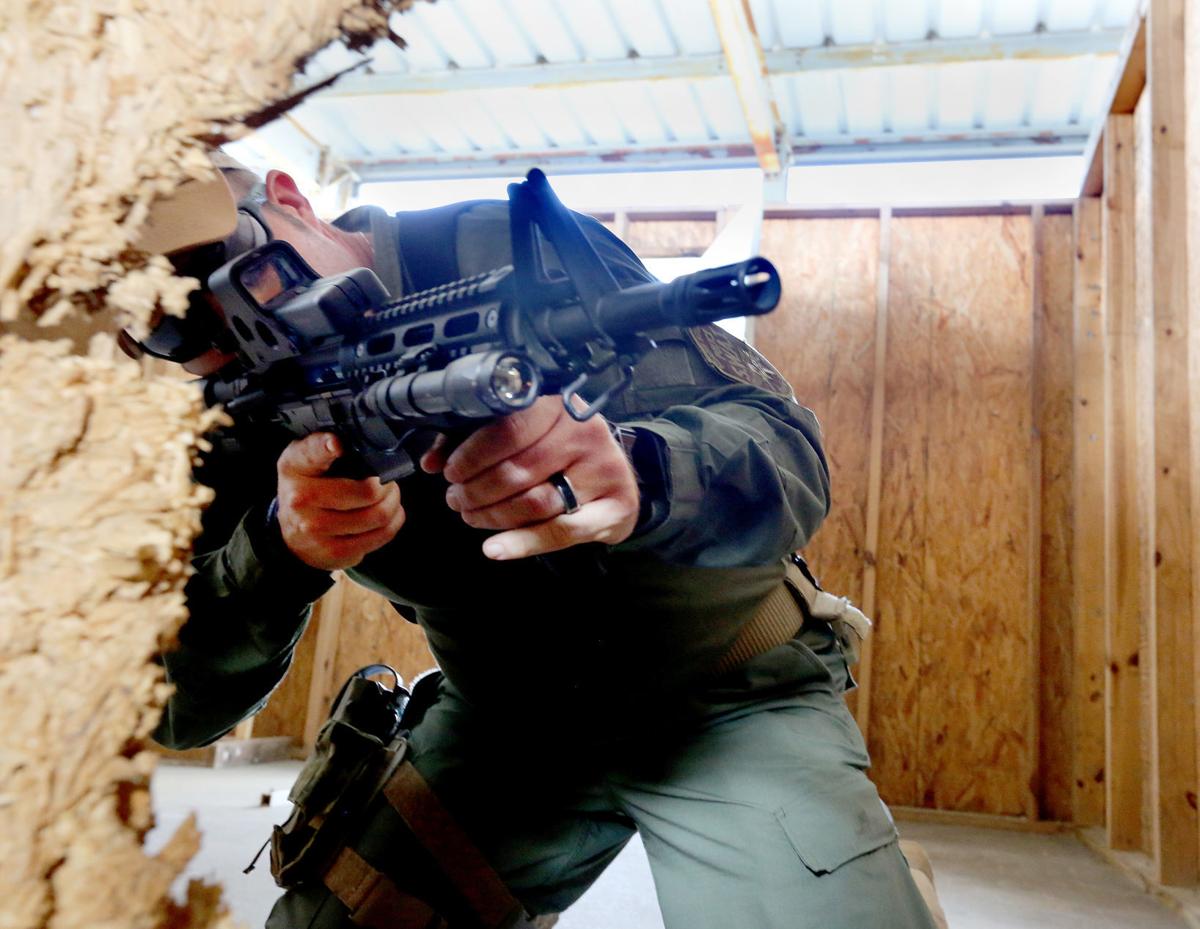 BARNWELL — The neighbors counted three booms in the middle of the night. Dish-rattling detonations, knocking pictures off their walls, jolting children out of bed in the next county.
They came from the direction of the Savannah River Site, a government-operated nuclear technology compound. Folks got nervous.
Residents would not learn until the next day that the explosions actually came from the Government Training Institute, a private company that offers SWAT and special operations training in the concrete hull of a former nuclear fuel reprocessing facility. Their compound lies just outside the Savannah River Site's gates in Barnwell County.
Company CEO Von Bolin addressed the explosions in a March 29 statement to the local newspaper, The People-Sentinel. Without going into much detail, he confirmed that "a classified training operation was conducted" and "several moderate explosions were heard." 
Gibby Sanders Jr. heard the explosions — felt them, more like — from his house about a mile-and-a-half away on the night of March 28. He thought his windows were about to crack.
On the one hand, Sanders said he's glad to see entrepreneurs running a business in that old gray block on the horizon. He's especially glad to know that law enforcement agencies from across the state and country are getting state-of-the-art training to protect their communities.
But "moderate explosions?" Whatever happened that night, he said, was not moderate.
"We've overlooked and even become used to the sounds of fully automatic weapons and flashbangs ... even the helicopters once in a while," Sanders said. "But the other night was unprecedented."
Nuclear heyday
A group of companies led by Allied-General Nuclear Services invested more than $300 million between 1971 and 1976 constructing a nuclear fuel reprocessing plant in Barnwell County.
The plan was to reprocess uranium fuel used in nuclear reactors, separating the reusable fuel from radioactive waste. Their campus eventually encompassed a labyrinth of corridors and catwalks, miles of hoses and wires, windowless laboratories and a cooling reservoir several stories tall.
But as the facility neared completion, President Jimmy Carter put the kibosh on commercial nuclear fuel reprocessing, reasoning that the fuel could fall into the hands of bad actors looking to manufacture atomic weapons.
So the companies sued the federal government for damages. In the years between the Cold War and the War on Terror, the campus became a home for birds and not much else.
In 2008, GTI moved in. Originally founded in Boise, Idaho, in 2003, the company set up its new headquarters in Bamberg County and began holding training sessions at the Barnwell site.
To kick things off, they put on a public demonstration of police and paramilitary tactics. In the scenario they played out, terrorists had taken over an energy plant and were seizing hostages, according to a report in The Augusta Chronicle.
GTI came of age as U.S. foreign policy and domestic law enforcement underwent seismic shifts after 9/11. Founded in 2003, the year after the formation of the Department of Homeland Security, the company worked with DHS to create courses such as "Advanced SWAT Operations for Terrorist Environments," "Improvised Explosive Devices" and "Rapid Law Enforcement Tactical Response to Violence and Terrorism in the School Setting."
"There was a big wall between law enforcement and the military," said GTI Vice President Brian Naillon. "We helped crumble that wall."
GTI made its mark in a growing niche market. Elsewhere in the state, Goose Creek-based Threat Management Group formed in 2004 and converted the old Bowman High School into a military training facility.
Few if any contractors could boast a facility quite like GTI's though. A company brochure makes the pitch:
"The Joint Operations Center (JOC) is a radiologically sterile former Nuclear Fuels Reprocessing Plant and the only training center of its kind in North America."
'Like a dream job'
In a former control room redolent of a "Star Trek" set piece, an experienced trainer can set up devilishly complex scenarios.
GTI tactical instructor Gene Norton has staged hostage rescue missions in this part of the main building. Teams entering the room must keep their heads on a pivot, as "opposition forces" — often GTI employees — might lie in wait behind the control panels. An emergency hatch in the floor of the next room can pop open at any time, erupting with a spray of gunfire.
When the nation's elite police and military forces come to GTI, they bring their real weapons. For training purposes, they're loaded with Simunition, non-lethal rounds with a paint marker in the tip. 
Inside the old nuclear facility, Norton and the trainers have home court advantage. Trainees don't get a map of the sprawling main building, and they have to work as a team to cover the treacherous array of angles in stairways, catwalks and dark hallways.
In some of the toughest training scenarios, Norton says he has ambushed teams from near-invisible vantage points and rigged a flashbang grenade to go off when trainees opened a door.
"It's mentally challenging," Norton said. "I'm trying to rack my brain, trying to anticipate what they'll do."
Norton trained soldiers in his previous career as an Army non-commissioned officer, but he also had to handle the paperwork that comes with military service. At GTI, he's focused on training.
"It's really like a dream job," Norton said.
In a battered particleboard structure outside the concrete behemoth, Norton led members of the North Augusta Police Department SWAT Team in a training mission on a recent Thursday morning. The modular building is meant to be reconfigured for building-clearing scenarios, which can include checking rooms for armed combatants and breaching locked doors.
"Breaching" can mean a lot of different things. SWAT teams bring their own battering rams and firefighting axes. In some cases, teams will shoot their way in with shotguns or rig explosives to blast their way in.
The explosions that neighbors hear from time to time? Those are often door breaches, according to Norton.
Lt. Junior Johnson from North Augusta said this was his first time at the facility, and he appreciated how trainers could reconfigure the doors to keep things unpredictable.
"Somebody's got to go through and search that building high and low," he said. "This is our opportunity to practice it."
'Juck Industrial Urban Zone'
For all its government clientele and life-or-death training scenarios, GTI also has a fun side. On the same morning that North Augusta officers stormed the outbuilding, a gaggle of casually dressed 20-somethings toured the grounds scouting out a helicopter drone racing course.
A lanky young man strapped on a virtual reality headset and piloted a whirring drone around the network of pipes and towers.
GTI also rents out its facility to airsoft enthusiasts, who swarm the grounds with realistic-looking guns pelting each other with plastic pellets.
Third Coast Airsoft, an Atlanta-based outfit, will host an all-out battle there from May 4-6. Dubbed "Operation Stone Breaker," the annual event is expected to draw more than 600 people.
They'll bring military humvees, pyrotechnic equipment and a hobbyist's trove of tactical gear. Those who sign up early can get a chance to strafe their opponents from a real helicopter.
"The War continues in the Juck Industrial Urban Zone," reads a scene-setting page in an informational packet. "The Armistices at Crossfire 3 and Dragon Rogue 5 are over. Both sides attack violently into the complex terrain."
Justin Mager, a former Army sergeant, said he started Third Coast with some fellow ex-military members, but the group also attracts plenty of civilians. GTI's training center was a natural fit for their war games.
"It's a game, but these guys implement real training procedures to implement real tactics," Mager said.
Looky-loos not welcome
For those not into war games, GTI remains a bit of a mystery.
"I know they're there," said Pickens Williams Sr., the mayor pro tem of Barnwell City Council. "That's about it."
That has been the modus operandi at GTI for about a decade now.
Naillon, the vice president, gave a few more details about the March 28 explosions in a recent interview. He said special operations forces were training at GTI that night, and they set three explosive charges of some sort.
"Everyone got upset about this one because that particular night, the explosions were a little bit — a lot bit louder than usual," Naillon said.
Naillon said his company always gives a heads-up to local law enforcement before conducting nighttime training exercises. But with teams sometimes swooping in under cover of night, the company can't afford to broadcast every plan's details to the general public.
"It's not conducive for us to say, 'Hey, everyone, there's going to be a whole lot of helicopters and special operations guys flying around tonight. Come out here and be looky-loos and get in the way,' " Naillon said.
Even in Barnwell, some residents had never heard of the company training the nation's elite fighting forces on the edge of town.
Never heard of it, that is, until the night of March 28.
Reach Paul Bowers at 843-937-5546. Follow him on Twitter @paul_bowers.