When Mary Alice Pitts Moore died at the age of 63, her family scraped together whatever cash they could to hold a proper funeral.
About 100 people showed up to pay their respects at the old AME church in rural Greenwood that day in April 2015. A preacher spoke. A choir sang. And Moore's husband and son left feeling like they had done right by this big-hearted woman who was a steadfast companion for so many years.
"I just thought she would be in a better place somewhere," her son Taras Parker said.
He couldn't have been more wrong.
In February — three years after Moore's death — her badly decomposed body was found stashed in a locked, unrefrigerated storage room at the Spartanburg funeral home her family hired to handle the arrangements. The family paid to have her cremated. Instead, her body was left to rot, draped in blankets and surrounded by air fresheners to mask the smell, the county coroner told them.
First Family Funeral Home's license is now under suspension, and a criminal investigation is underway into its handling of Moore's remains. But the case underscores deeper questions about the state's system for monitoring the nearly 500 funeral homes and crematories that operate in South Carolina and the more than 800 licensed staff members in their employ. 
That system, largely governed by funeral industry insiders, is rife with delays, secrecy and potential conflicts that allow unscrupulous undertakers to continue operating for years after problems are discovered, a Post and Courier investigation found.
Two state inspectors are tasked with inspecting hundreds of facilities, and it can take five months or longer to complete investigations into even routine complaints. Some cases lingered on the state Board of Funeral Service's books for four or five years before they were resolved. The complaints remain sealed the entire time, leaving customers in the dark about lurking issues with the homes.
The funeral board won't even confirm it is looking into First Family, though a spokeswoman acknowledged that a December inspection failed to spot Moore's body on the premises. It's unclear whether the state was even aware that two other customers had accused First Family of financial improprieties. These customers also alleged that co-owner Lawrence Meadows personally handled their arrangements, after being banned from working as a funeral director. 
The state revoked Meadows' license in 2015 for forging a name on a dead person's life insurance paperwork to get access to the funds, according to state records. Still, Meadows remained active in the home. 
He even appeared on NBC's "Today" in February 2017, in a segment hosted by his brother, MSNBC anchor Craig Melvin. Meadows discussed his fight against colon cancer while showing off his funeral office and a casket display. Melvin noted that "few people are as close to death every day as Lawrence Meadows." Moore's decaying body had been lying around First Family for nearly two years at that point. 
First Family's attorney, Republican state Sen. Scott Talley, declined comment, saying Meadows and the home are focused on addressing several pending complaints. The state Department of Labor, Licensing and Regulation, which oversees funeral home inspections and licensing, also declined to comment on the case, citing state laws that keep complaints concealed from public view. 
Taras Parker and his father filed a lawsuit against First Family in March, but they remain frustrated and mystified as to how his mother's body went undiscovered for so long. 
"I never thought something like this could happen to her — to anybody," Taras said, shaking his head.
Insider justice 
While First Family's troubles have grabbed headlines, it's far from the only funeral home to run afoul of state regulations and laws. A Post and Courier review of a decade's worth of funeral board records found numerous instances where funeral directors and embalmers mishandled remains, dipped into trust accounts, entrapped families and sloppily covered up missteps.
In Lexington, a funeral director stuffed the organs from one corpse into the body bag of another after cremating the first body without all of its parts intact.
In Conway, a funeral director held the ashes of a dead person hostage until the family paid their bill in full, in violation of state law.
In Greenville, an undertaker walked off with tens of thousands of dollars deposited for future funerals.
And, in Lexington again, a mortician embalmed the body of an organ donor before her bone and tissue could be harvested.
In all, some 70 funeral directors and facilities have been disciplined over the past decade — some multiple times — for a host of violations. But hundreds of other complaints have been quietly shelved and hidden from the public in a system that often places professional privacy above transparency, The Post and Courier found. Even when disciplinary orders are issued, details about offenses and victims are often scant.
The funeral board, which oversees discipline, is dominated by people who work in the funeral business. By law, nine of its 11 members must be licensed funeral directors and embalmers. The remaining two slots are reserved for public representatives, but those seats often sit vacant. On at least one occasion, a part-time funeral worker served as the public's voice on the panel.
This guild of peers includes members and former leaders of South Carolina's funeral industry associations. It rarely revokes or suspends a license, preferring to levy reprimands and light fines that keep problem operators in business. Even when licenses are pulled, no one checks to make sure those disciplined are abiding by the rules unless someone files a formal complaint.
What's more, nearly 40 percent of the 600 complaints filed against funeral homes and their operators were dismissed between 2006 and 2017 with no action taken, according to labor department records.
That doesn't surprise Joshua Slocum, who leads the national Funeral Consumer Alliance, a Vermont-based nonprofit that fights for transparency and funeral affordability. He said most states have models similar to South Carolina's, with funeral boards dominated by funeral professionals. It's an opaque system rigged to benefit the death industry, concealing misdeeds and leaving consumers in the dark, he said.
"It's an outrage against public policy and a clear, no-gray-area conflict of interest," he said. "The system may be legal, but it's inherently corrupt."
South Carolina's funeral board is ensconced in the state's labor and licensing agency, one of some 40 professional boards that oversee more than 400,000 licenses for everything from architects and accountants to foot doctors. Most of these boards also are dominated by insiders from their respective industries. 
That's the norm in most other states. Some, such as Texas and Pennsylvania, have more public and consumer representation on their funeral boards. Others, such as North Carolina, Alabama and Georgia, have even less.
South Carolina officials insist the system here works well, delivering justice in a fair and equitable manner. The funeral board and its staff said the law prevents them from discussing specific cases, but they have made strides in recent years to better track investigations, reduce case backlogs and ensure consumer interests are protected.
"We take our job very seriously," said Charvis Gray, a Piedmont undertaker who serves as the board's vice president. 
Industry leaders agree, saying the board punishes the unscrupulous and corrects well-intentioned undertakers who sometimes make unintended mistakes. They contend that egregious violations are aberrations that reflect poorly, and unfairly, on the many morticians who perform their duties with care, compassion and diligence.
"We have been at the forefront of protecting our consumers," said Jay Dover, a Clover undertaker who serves as president of the S.C. Funeral Directors Association.
Mistreating the dead
The modern funeral industry got its start around the time of the Civil War. Advancements in embalming techniques allowed families to preserve loved ones lost on the battlefield for funerals back home. It also allowed a nation to grieve President Abraham Lincoln's death with a whistle-stop train tour that placed his body on display in dozens of cities between Washington, D.C., and Springfield, Illinois.
The industry exploded in growth in the decades that followed, with funerals becoming increasingly elaborate and costly. By 1960, Americans were spending around $1.6 billion on funerals annually. The death industry is now estimated to top $20 billion per year in earnings.
But threats to profitability loom large. A declining death rate, the growing popularity of cremation and the emergence of less expensive "green burial" options have all cut into business for an industry that has struggled with high overhead costs and internal competition. That may be one reason that funeral costs ballooned nearly 1,328 percent in just four decades, from an average of $706 in 1960 to between $8,000 and $10,000 today for a traditional service, according to a report by Forbes.
Critics and consumer groups say this backdrop has created an environment ripe for people to be fleeced or mistreated. 
Americans, as a whole, tend to avoid the uncomfortable subject of death until they are suddenly confronted with making costly decisions while in a fog of grief. This can place them at the mercy of underhanded undertakers who cut corners, overcharge for services or otherwise game the system to their advantage. Examples abound. 
Consider the case of S.C. Franks Mortuary in rural Taylors, where a bankruptcy trustee in 2013 found bodies and cremains left in a garage and other areas of the facility, with the power turned off. They were still there a month later when state investigators showed up. One body, wrapped for months in newspaper, was in such bad condition that Mexican authorities refused to let it into the country when it was finally shipped there for burial.
The home's licenses were revoked and it was fined $6,000, but it took two years for the board to reach that conclusion — despite a history of previous violations at the facility. What's more, staffers who had been involved with leaving the bodies behind were allowed to keep working in the field.
Or take the case of Bostick-Tompkins Funeral Home in the state capital of Columbia, where a family complained of finding the wrong body in the casket when they showed up to style the dead woman's hair in 2011. When they later had the correct body moved to another funeral home, problems were discovered with the embalming, leading to leakage and skin separation on the corpse, records show.
Funeral directors David and Willie Tompkins had their licenses suspended over the incident, but it took four years to resolve the cases.
Or look to the former Cave Funeral Service in Allendale, where Michael and Charlie Cave were found to be handling arrangements within months of being banned from the business in 2009. The state had revoked the licenses of Michael Cave and his funeral home after his father sawed the legs off a 6-foot-7 dead man so they could fit him into a standard-sized casket.
Then there was the case of the Michael A. Glenn Funeral Home in Union, where owner Michael Glenn held a body captive for more than a year after a family balked at paying his unexpected $8,000-plus bill. He kept the body in an unrefrigerated room for at least a year despite having the grave already dug and ready to go, records show. He lost his license over the incident in 2015. But staff at the renamed-Community Mortuary indicated he still works there and online reviews mention him by name.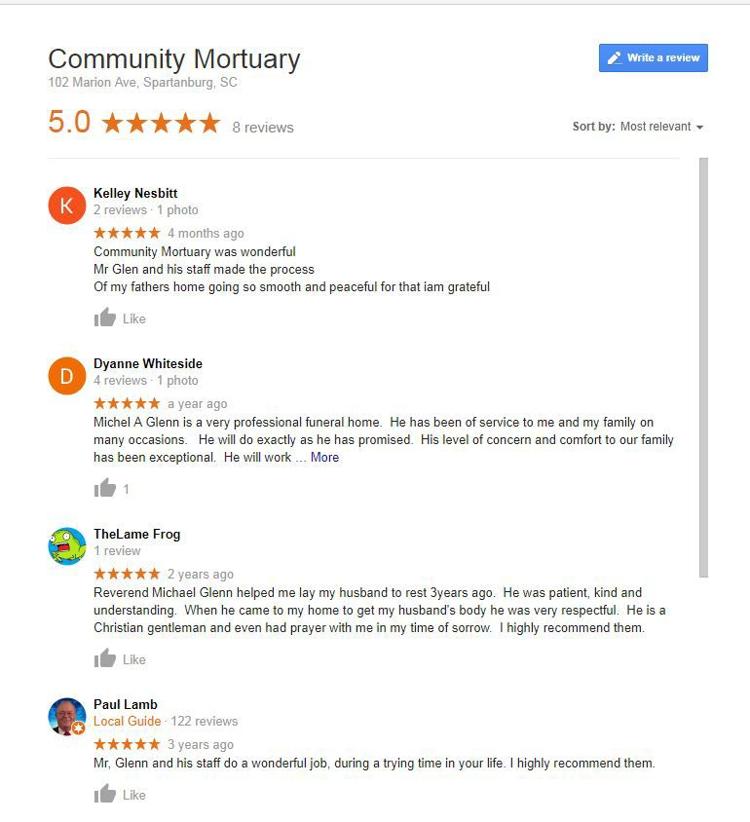 In another case, Coakley Hilton, funeral director at Hilton's Mortuary in North Charleston, admitted to taking 64 pre-paid funeral contracts totaling more than $100,000 and failing to put them in an appropriate trust. Though the Department of Consumer Affairs found out about the contracts in 2012 and 2013, the funeral board did not discipline him until last year.
Reached by phone for comment, Hilton said "all of that's been taken care of." He asked a reporter to call him back to discuss the matter further but didn't answer subsequent calls.
The Post and Courier also was unable to reach Glenn and others mentioned above despite repeated phone calls, emails and letters sent to them over a two-month period.
Dean Grigg, a deputy director who oversees professional licensing boards for the state labor agency, said staffing issues led to delays in the funeral board resolving cases in the past, but that has been corrected. The average case now takes about six months to clear, and backlogs are practically non-existent. 
That surprised Vickie Outz of Greenwood. She said she filed a complaint against Spartanburg's First Family Funeral Home after her mother's funeral in August 2015. Outz arranged to pay $9,000 for the funeral, but First Family somehow also collected an additional $6,000 insurance policy she had. She won a court judgment against the home, but she's heard nothing about her complaint to the funeral board, she said.
"I just feel that I am a forgotten case, like I'm a forgotten person in all of this," she said. "I feel like I am never going to get any justice."
A different approach?
In 1963, Jessica Mitford railed against the staggering cost of dying and the deceptiveness of morticians in "The American Way of Death," a scathing treatise on the abuses of the funeral industry. Mitford argued that undertakers had worked "to perpetrate a huge, macabre and expensive practical joke on the American public."
Her book sparked a reform movement that eventually led the Federal Trade Commission to enact new rules for the industry in 1984. Funeral homes were required to keep itemized price lists and share that information over the phone to help consumers make more informed decisions.
Still, the system for overseeing the industry has remained largely unchanged, with funeral business insiders left to police their own in 48 states. 
Two states — Colorado and California — have done away with funeral boards and placed disciplinary control in the hands of state employees. California found this to be more effective and efficient than its old system, which the state ditched in the mid-1990s after problems with fraud, embezzlement, and recycled grave sites, according to Matt Woodcheke, spokesman for the California Department of Consumer Affairs. 
"It's no longer an undertaker's playground," Slocum, the consumer advocate, said of California's setup. "It's a real civil servant system."
South Carolina funeral directors are leery of such an approach. They insist that having a strong professional presence brings a wealth of expertise to the board, along with a vested interest in making sure the industry plays by the rules. 
Some of those disciplined, in fact, contend the system is unduly harsh. Bruce Trezevant, who owns a funeral home and crematorium in Columbia, said he got fined $1,000 for advertising that he had taken over the family business after his father's death in 2014. The board accused him of posing as a funeral director without a license, which Trezevant denied. He insists it was a technical violation, more deserving of a warning.
"It was so unfair and really unjust," he said.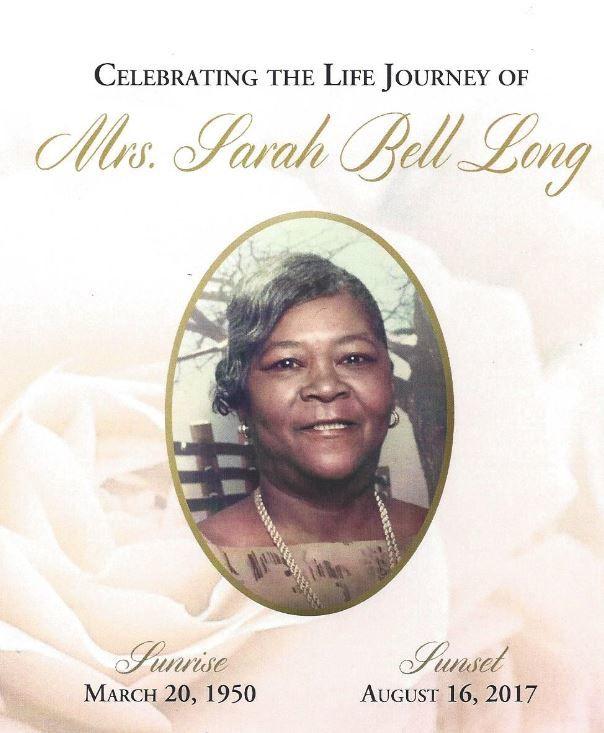 Rhonda Harris knows that sentiment well, but from the consumer side of the equation. The Greer woman hired First Family Funeral Home after lung cancer claimed her mother, Sarah Bell Long, last August. Lawrence Meadows, the First Family co-owner who lost his license in 2015, handled all the arrangements, she said.
Harris said someone later forged her name on an insurance document that committed her to a $13,000 funeral — $4,000 more than she had agreed. She took First Family to court and in February won a $4,272 judgment against the funeral home. "But I still haven't seen a penny of that money," she said.
What's worse, Harris said, First Family didn't follow through on plans to reserve a plot beside her mother's grave for her stepfather, as he had requested. The plot has since been sold, and someone else is now buried there. To honor her stepfather's wishes, Harris had to have her mother's body exhumed and the grave dug deeper so two caskets could be stacked inside in a shared resting place, she said.
"It's just been a disaster," she said. 
'It gets worse every day'
Fred Parker Jr. shares her frustration. It's been five months since his wife's decomposing body was found in First Family's storage room. And he's beginning to wonder if anyone will pay for what happened to her. 
The couple were together 38 years after Parker helped her to escape from an abusive marriage. Mary Alice Pitts Moore was a quiet, even-tempered woman who loved to read encyclopedias, go fishing and cook up big batches of fried chicken and collards. She wasn't one to complain, even when kidney disease forced her to undergo regular dialysis treatments. 
"She was just a lovely lady," Parker said. 
When Moore died during a medical procedure in 2015, a relative recommended First Family, which had a branch in nearby Greenwood. Everything went fine until Parker and his son went to collect her ashes. The Greenwood facility never seemed to be open, and calls to the main office in Spartanburg proved fruitless, Parker said. Months passed, then years.
Still no ashes.
Parker was stunned when a coroner told him in February that her body had been left to rot all that time. An ex-employee of First Family alerted authorities to the body, which was in such poor condition that it took two weeks to identify Moore. The State Law Enforcement Division is now investigating. 
"Three years," Parker said in a low growl, slowly drawing out the words. "How would you feel? It gets worse every day just thinking about it."
Another funeral home stepped in this spring and performed the cremation for free. Moore's ashes now reside in an urn inside the Parkers' trailer home, near the only surviving photo they have of her: a tiny portrait on her old driver's license. But at least she's back. And they're not going to let her out of their sight again.