Charleston residents who were here in the mid-1990s might remember the first effort to launch a community bike program. 
Called Yellow Bikes, the 50-bike fleet wheeled out in 1996 in Marion Square was run by a few volunteers who fixed up used bikes, spray-painted them yellow and left them unlocked for riders to pick up and use as needed.
Within days of the launch, pretty much all the bikes had disappeared for good, leaving behind a distinctly yellow-tinted skepticism about the bike sharing idea for another two decades. For a time, "yellow bikes" became a local euphemism for a program destined to fail.
Now firmly in the 21st Century, Charleston has taken another swing at the concept with the high-tech Holy Spokes system that, so far, is proving to be anything but amateurish. 
Theft isn't a problem with this new fleet of 250 bikes, with its digital locks and built-in GPS tracking system that generates real-time data about where the bikes are going, when and for how long.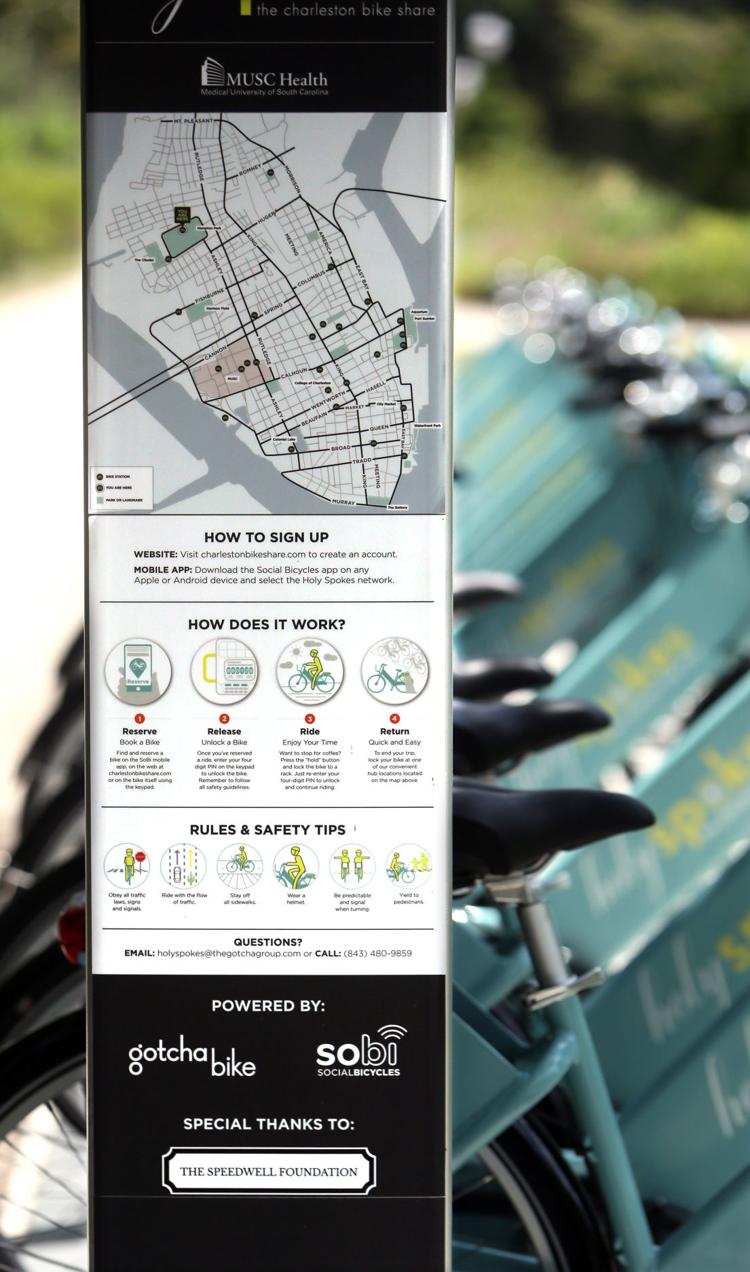 The information collected since the service launched May 30 is also how its developers and city officials know it's working to get people around town quickly.
About 5,300 riders have checked out the bikes from 25 hubs scattered around the peninsula while traveling more than 15,450 miles combined, according to the data tracked daily through July 10.
While it's not as cheap as the free Yellow Bikes, most riders spend about $2.60 per trip. The fee is $8 per hour, and the average trip is roughly 20 minutes.
Renee Vick of Ashley Avenue works at the Medical University of South Carolina, Holy Spokes' title partner. She rides her own bike into work most days, but with several bike share stations on campus and other popular sites around town, she said she's using the service pretty frequently as well.
"I'm so excited about this. I have my MUSC membership, and I signed my husband and my kids up, too," she said. "It's similar to what other large cities are doing, making us recognize the importance of transportation outside of a car."
MUSC spokeswoman Heather Woolwine said more than 1,300 employees have already signed up for long-term memberships.
"People are using it," she said. "There's plenty of times during the day when there are only one or two bikes left in a corral."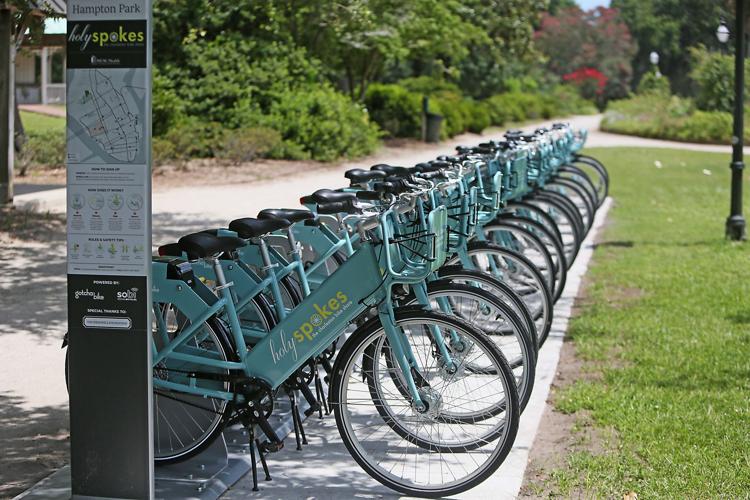 The Gotcha Group, the Charleston-based company awarded the city's contract to develop and operate the service, has similar programs, mostly on college campuses in 12 other states.
Company founder Sean Flood said the system's performance in Charleston so far has outpaced what he's seen in other communities after a launch. 
"I'd put it up against other cities of the same size and say it's doing better," he said.
Holy Spokes has averaged about 127 riders per day over the past month and a half.
The data showing short trips and mostly 2-mile distances also indicates people are using the system as a mode of transit on the peninsula, which is what it was designed to be.
"It's clear to us that the bike share service is a real transportation option that is taking cars off the streets," City Planning Director Jacob Lindsey said. 
Katie Zimmerman, executive director of the bike advocacy organization Charleston Moves, said the city should be proud of the new system.
"I think it's really successful," she said. "I would hope that what this does is really bulk up the confidence of our elected officials and planners to really speed up investing in safe bicycling infrastructure."
For more information about the program, including the pricing and locations of the bike hubs, visit www.charlestonbikeshare.com, or download the Social Bicycles app in the iTunes App Store or on Google Play.