A Charleston sand bar once home to 4,000 birds is gone, but $1.5M could bring it back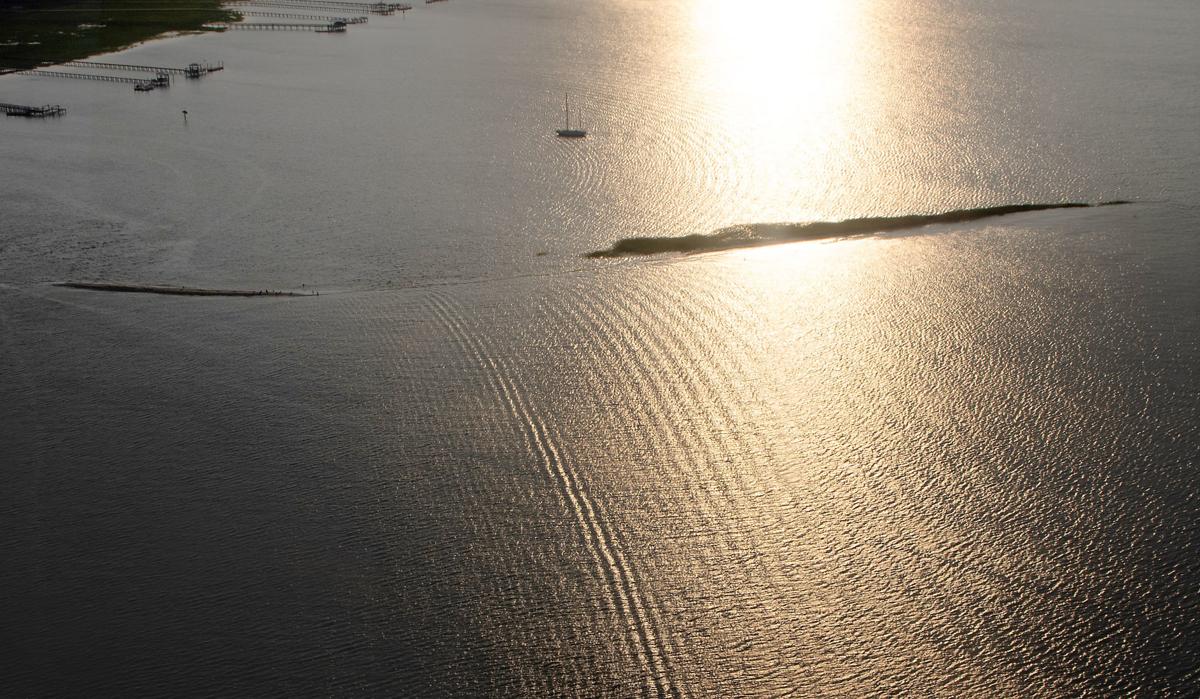 MOUNT PLEASANT — A bulge of sandbar and a receding strip of marsh grass — Chris Crolley takes it in one more time. The outfitter has guided trips to Crab Bank for two decades.
When he first saw the vital seabird and shorebird rookery in Charleston Harbor, it stretched over 18 acres and nested almost 4,000 birds. Even last summer, with high ground on the bank eroded to little more than an acre, more than 2,000 birds nested before Tropical Storm Irma and other storms devastated the rookery. 
This year, no birds nested. Crab Bank is gone.
Irma "was a mass casualty for eggs and young birds," said Crolley, owner of Coastal Expeditions.
At the height of the nesting years, birds would hide in the thick shrubs across the high ground. An eagle or falcon would glide low overhead "and the rookery would explode," he said. The whirling mass of birds in the sky would block out the sun.
"It was so loud you couldn't hear yourself speak," said Caroline Bradner, the land, water and wildlife manager for the environmental advocate Coastal Conservation League.
Now, the bank gets completely overwashed by high tides. Only renourishment can save it, conservationists say. They need to raise at least $1.5 million by December to build it to 28 acres. The Post and Courier is partnering with the Coastal Conservation League to raise money for this effort. For more information, go to postandcourier.com/crabbank.
The total raised so far is about $283,000.
Havoc
The flocks of seabirds and shorebirds are an eye-catching marvel of the coast — pelicans flying in formation by the dozens, black skimmers and oyster catchers hunting inches above the water, terns with their mid-air acrobatics, the stark white plumage of an egret in the marsh or the tiptoe precision of a stalking heron in the shallows.
They're here in numbers largely because of Crab Bank and four other protected rookery islands spaced across the barrier island estuaries from Cape Romain to the Georgia line. The rookeries are tiny, uninhabited swaths of sand and reeds where the birds tend nests in huge flocks of mixed species.
They are vital habitat for troubled and threatened species. They provide at least some refuge from predators and human intrusion. Each one is critical because individual islands tend to wash out, and because a tropical storm or hurricane can wreak havoc along any one of them.
Crab Bank is the only one located in the relative safety of a harbor.
Crolley and the league are partnering with other groups such as Audubon South Carolina, under the auspices of the S.C. Department of Natural Resources. Their goal is to raise the local cost-share money to restore the bank, by diverting some 600,000 cubic yards of bottom soils dredged from the Charleston shipping channel deepening.
That much soil would fill a football field some 100 yards high, or, in other words, as high as a football field.
The groups must have the money in hand by December, when the dredges now working out in the jetties begin digging near Crab Bank. The renourishment is expensive because a second company must be brought in and new pipes set to pump soil onto the bank.
What about the creek?
Ship suck — that's what boaters who paddle or fish around Crab Bank call the collapse of its sands due to wakes. For at least the past 25 years, erosion from the wakes, storms and seas have chipped away at the rookery, which was originally created from piled channel dredging soils.
A lot of the sand washed from the bank hasn't gone far. The mouth of nearby Shem Creek, itself a valuable tourism draw, is a patchwork of sandbars and flats, filled partly by sands washed from the bank. It can be so difficult to negotiate that SeaTow Charleston routinely pulls out stranded boaters who have misjudged the channel or tide depths.
The creek must be dredged periodically, along with the channel that leads to it between the bank and the Mount Pleasant shoreline.
A few Mount Pleasant residents and commercial anglers are concerned erosion after the renourishment will wash more soils into the creek, forcing it to be dredged more often. The Army Corps of Engineers said its study indicates it won't. The town is also studying the issue.
The bank will be renourished on a design to minimize erosion, Bradner said.
'I didn't expect to see it'
Felicia Sanders joined the trip Crolley recently led to Crab Bank. The barren sliver left of it was hard for her to see.
A DNR wildlife biologist, Sanders is a birder who championed the importance of the island — helping to spur its designation as a protected area.
The bank was made off-limits above the tide line to boaters in 2006, after wildlife officers found an alarming drop in nest numbers and a profusion of foot and dog paw prints. It was later designated a heritage preserve, completely off-limits.
But the designations didn't keep Crab Bank from disappearing. It had split into three islands and the middle island was overwashing at high tide.
By 2017, all three islands were getting swamped by the high tides and a thunderstorm in May washed away many of the eggs the birds could find ground to lay. Only 40 pelican nests survived the storm.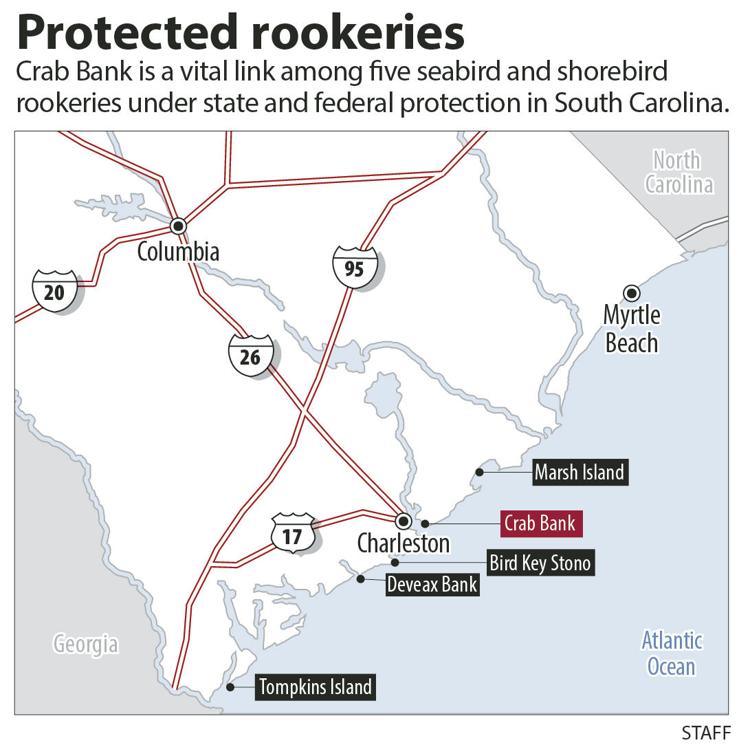 Crab Bank is irreplaceable as an educational tool, as well as a rookery, Sanders said. The stunning aerial displays during nesting season gave it the wow factor of one of those natural wonders people travel to experience, a Galapagos Islands wildlife wilderness in the midst of urban Charleston.
"I thought I'd only see that stuff in National Geographic. I didn't expect to see it here," said Nolan Schillerstrom, the coastal program coordinator for Audubon South Carolina.
It has been an easily reached place to bring students to teach about the interaction between humans and the rest of nature, Sanders said. It became a "control" location for researchers studying the effects on Gulf Coast wildlife from the Deep Horizon spill in 2010.
And it acts as a barrier island for Mount Pleasant shoreline residents, protecting them from the worst of storm waves and wakes. Because of all that, "it may be the most important natural site in our state," Sanders said.
A litmus test
As Crolley's boat nears Crab Bank, 50 pelicans, laughing gulls, royal terns, plover and willets preen in the tide wash of the remnant sandbar. They're resting, not nesting. Cooling off, Sanders said.
Some of the birds have relocated nests to Shutes Folly across the harbor, but the folly can't replace Crab Bank. It doesn't have the beach most of the species need, she said.
She and Crolley eye the sandbar quietly. Sanders said her heart still jumps when she looks in her DNR storage shed and realizes the nesting warning signs are still in there that should have been posted out on the bank.
"It's coming back. I don't really think it's going to be gone forever. We're going to get the money, and it's going to happen," Sanders said.
"It's surreal (to look at). As a naturalist, it's a call to action," Crolley said. He plans to organize a mass gathering of paddlers around the washed-over bank at low tide, a show of the numbers of people who care about the rookery.
"$1.5 million is beyond me, but it's not beyond us," he said. "In December, there's going to be a cash call, and if we don't have the money they're going to dredge right by. That's an issue. What happens to Crab Bank will be a litmus test for how we want to be and how we want to act as a community."
Reach Bo Petersen Reporter at Facebook, @bopete on Twitter or 1-843-937-5744.