In the darkness of a February night, the toddler lay motionless on the cool pavement of the highway.
Savanna Connor was driving home with her family after spending the day in Charleston. That night, Feb. 12, 2018, she was just outside Reevesville, traveling on a nearly empty stretch of U.S. Highway 78 in Dorchester County. As she neared New Meadow Drive, Connor saw something in the roadway. She swerved to avoid striking what she thought was a child's baby doll.
As Connor, 25, passed the object in the roadway, her heart sank. Her breathing sharpened. She turned her car around. That was no baby doll. It was a toddler, who would later be identified as 3-year-old Jayden Thiel.
A car had struck and killed him. The coroner would determine that the child died of blunt trauma to his entire body. There was virtually no doubt: this was a hit-and-run. The only clue left behind was the shape of the grill pattern on Jayden's tiny bare chest. Perhaps left by a Kia, Volkswagen, Honda, Chevy or Ford — numerous possibilities.
Jayden, wearing only a diaper, had reportedly wandered down the road alone. More than a year after his death, it seems the simplest of questions in this investigation have proven the hardest to answer.
"I think about it a lot now," Connor told The Post and Courier. "I didn't want to go to sleep. Every time I would go to sleep, I would see it."
In the year since Jayden was killed, no additional information has surfaced publicly about the toddler's final hours — or how he came to be standing on a rural stretch of highway a quarter mile from home in the middle of the night. He was a child who, authorities were told by family, had never strayed from the yard and didn't like the dark.
But interview notes, crash reconstruction models and other case-related documents provided by the S.C. Highway Patrol and obtained by The Post and Courier detail previously unreported details of that night. Their case is still active. The Dorchester County Sheriff's Office also investigated Jayden's death and told the newspaper in a recent statement that the investigation has been put on administrative status, effectively shelving the case.
No arrests have been made and no criminal charges have been brought against anyone associated with the investigation.
***
The house where Jayden lived with his mother, her boyfriend and a roommate is a quaint mobile home trailer in Reevesville, a town of roughly 200 people about 60 miles northwest of Charleston.
On the night of Feb. 12, the mother, Jacquelyn McCray, had her boyfriend, Rakeem Clark, watch the child while she was at work, according to S.C. Highway Patrol. Neither Clark nor McCray had vehicles of their own, and the mother carpooled with a friend.
That night, while McCray was still away, Clark put Jayden to bed some time around 10:30 p.m. He spoke with his girlfriend on the phone, telling her that her son was asleep. Then Clark drifted off himself.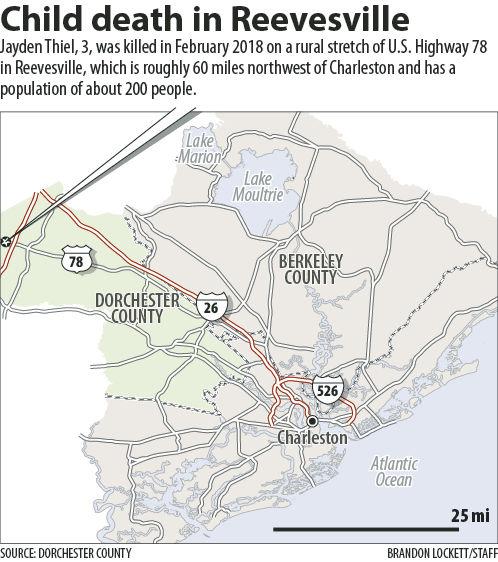 McCray, who stopped at a nearby gas station with her friend before returning home, later told officers she saw a rush of emergency vehicles zoom by.
Clark woke to the sound of McCray coming home from work. Jayden's bedroom door was closed. The mother didn't know yet that her son wasn't inside.
Just down the road from the house, about a quarter-mile, blue and red emergency lights from squad cars and first responders flashed in the darkness. It's not clear based on documentation provided by Highway Patrol or the Sheriff's Office what compelled McCray to wander down the road toward the crash site.
But when she arrived, authorities confirmed the worst: a child was dead. McCray identified Jayden.
Distraught, she returned to the house while officials on the scene collected evidence and spoke with witnesses.
"It's so dark coming through here," one officer remarked to another, according to dashcam footage from that night. In the darkness, an officer added, "all you can see is the white part" (of the diaper) ... (the driver) probably thought it was a grocery bag or something."
The circumstances, officers said among themselves, were unusual. What was a child doing outside in the middle of the road, late at night?
"This is definitely ... odd," an officer said on the footage.
"How did he get here?" said another.
***
In the days following Jayden's death, investigators from Highway Patrol and the Sheriff's Office spoke with McCray and Clark, as well as anyone the two had been in contact with the night of the crash.
Friends of the family who attended the funeral on Feb. 18 told authorities that McCray and Clark had fought at the funeral and did not sit together.
"Today I had to bury my baby boy ... and I'm still lost for words. Life will never be the same without him, but I am at peace with knowing that I now have my personal angel," McCray wrote on Facebook the day of Jayden's funeral. "And my message to all of the mothers and fathers is to never take these days with your children for granted. You tell those babies how much you love them every day, and you hug them as if it would be your last, because you never know."
McCray and other family members did not respond to multiple requests for interviews for this story.
According to notes written by Highway Patrol investigators, McCray agreed to take a polygraph test about two weeks after her son died but stopped the test before it was over. The test was voluntary, and McCray was not under arrest. She was free to go.
Investigators from the same agency also interviewed Clark, who told one officer he felt McCray had been "ambushed," according to the same notes. He ultimately took a polygraph test, too, though the results of that test were not specified in Highway Patrol reports.
Since the early days of the investigation, uncertainty and a lack of information has mired progress. The investigation has since been put on administrative status, which means that the case is no longer active but can be revisited in the event new evidence surfaces.
"The Dorchester County Sheriff's Office and the South Carolina Law Enforcement Division's investigation centered on the care of the child," Sheriff LC Knight said in a statement. "The detectives for Dorchester County and the child fatality investigator for SLED determined after an extensive investigation no charges would be filed against the caregiver."
Though deputies have not charged anyone in connection with Jayden's death, , that hasn't prevented investigators from airing skepticism about the narrative that has emerged. Case notes authored by Highway Patrol officers offer a glimpse into their thinking concerning the sequence of events:
That night, Jayden had crawled down from his bed, opened and closed his bedroom door, crept passed his sleeping baby sitter, opened another door — "neither of which should be easy for a 3-year-old to open," wrote an officer in a report — and walked a quarter of a mile into the blackness of a winter night.
"I find this (timeline) hard to believe," wrote the same officer in his case notes, "because that means the child got out of his room, went straight outside, thru a door the mother says he has trouble going out of and walked about a quarter of a mile in less than 50 minutes."
That night, according to Highway Patrol case notes, a paramedic at the scene made the following observation: If Jayden walked a quarter-mile along a rural roadway, why was there no dirt on the bottoms of his feet?