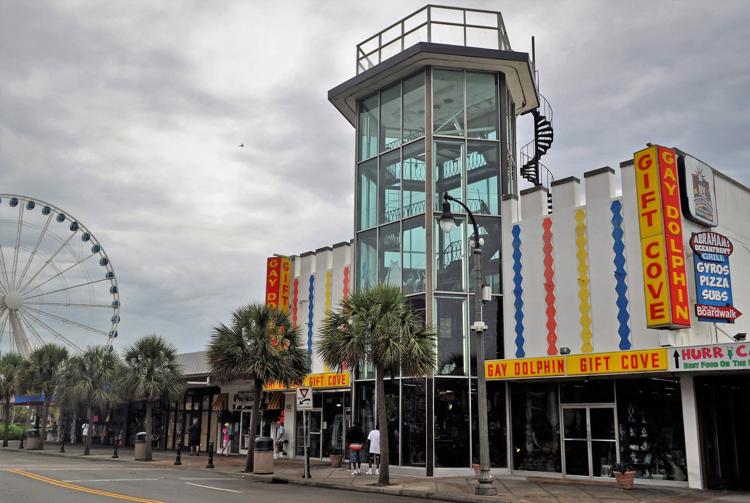 MYRTLE BEACH — Buz Plyer plucks a polished seashell from a basket heaped with hundreds. 
"This is a triton," he said, cradling the corrugated whorl in his hand. "It's beautiful, but you must consider it was a fighter. There's always a shell that can kill another shell."  
When it comes to survival of the fittest, Plyler's knowledge reaches well beyond the mysteries of the sea. As owner of Myrtle Beach's iconic Gay Dolphin Gift Cove, he's seen plenty of businesses come and go since his late parents, Justin and Eloise Plyler, opened the store in 1946.
Some of those closures have been family enterprises: Tom Thumb Mini Golf, Gorilla Land, Gay Dolphin Park, Kiddieland, the Wild Mouse Rollercoaster and even a Gay Dolphin annex across the street, just to name a few.
While the changing cultural landscape, weather catastrophes and economics have dictated what stays and what goes, the Gay Dolphin lives on, a beloved, towering landmark built on the constancy of the Plylers' entrepreneurial philosophies and practices.
"When the store opened, Myrtle Beach was a resort for millworkers," said Plyler, who was born three years after the Ocean Boulevard shop was established. "They only made 25 cents an hour, so our products had to be affordable. The considerations are still basically the same: cost, availability, demand, good relationships — you've got to understand these things, recognize what customers want and treat them well to be successful in this business."
Keeping employees happy is also key to Plyler's idea of success. Gay Dolphin's 40 workers enjoy full-time status year round — something unheard of in industries reliant on seasonal sales. 
"They need to pay bills like everyone else, so it's important to me to offer a living wage here," Plyler said. 
Getting to know sellers is another strategy — no small feat considering the aisles and aisles of trinkets displayed on what seems like miles of shelves spanning the store's three levels. 
"I really talk to my suppliers," said Plyler, who convincingly claims he started a 50-hour work week at age 8. "When I was 12, I took over ordering all our seashells, so I talked to people and negotiated prices. Working in the family business gave me a valuable education that, by and large, most American children don't get these days."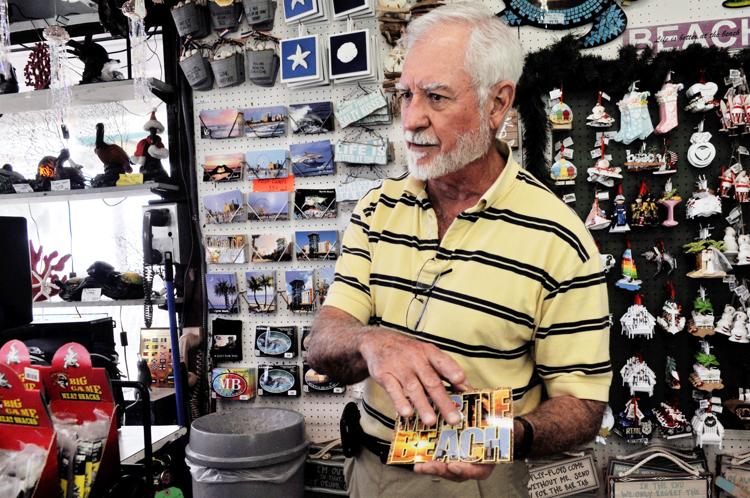 Designed to a-maze
It's normal to feel a bit overwhelmed when you walk into the shop. Should you go up a level or down? Head to the back or focus on the front? Meander through sections or stick to the perimeters? Such decisions must be carefully weighed when facing a 35,000-square-foot maze of wall-to-wall, floor-to-ceiling baubles and collectibles. 
Enter from the boardwalk or Ocean Boulevard, but keep in mind this is not the IKEA of souvenir shops. The variations of pathways in, out and around are mind-boggling. Most all who wander are probably lost. 
Eventually, you'll run into a giant Yeti whose T-shirt slogan is instantly relatable: "I got lost in the Gay Dolphin." It's one of six "selfie stations" situated throughout the store for your picture-taking pleasure. 
Much of the merchandise is arranged in 50 or so themed "coves." Of note is Trader Bill's Shark Tooth Cove, a fascinating shop within the gift shop, owned by Plyler's long-time friend Tom Pierce. 
"She wants a necklace made with this," T. J. Owen of North Carolina said as his little girl dropped a small, onyx-colored shark's tooth on the counter. It's not his first time to visit the "shark tooth man."
"Her big brother found a pretty decent-sized tooth last summer and I brought it in here," he said. "That boy still wears it around his neck." 
The Shell Cove is a hotspot for some serious shell-craft: jewelry, wind chimes, picture frames, animals, lamps, candles and ornaments that can be personalized in the shop. Or you can just buy shells.
"This one's the South Carolina state shell," Marian Breitenbach tells her three children as they busily dig through baskets; no one looks up at the lettered olive she holds. "We're from Pittsburgh, but we've been making the trip to Myrtle for the last three years."
Having first discovered Gay Dolphin during a spring break trip as a teenager, Breitenbach says she was tickled to find the Gay Dolphin was still here.
"I guess it's like a tradition now," she said. "The kids love coming in here to pick souvenirs — usually a seashell or a something. If it rains, we'll be back in this week. You can kill a lot of time in here just looking through shells."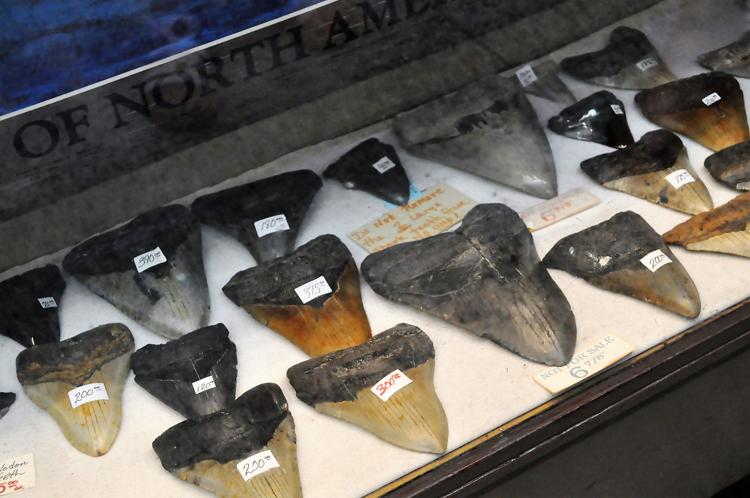 Plyler is a crustacean connoisseur. "Strombus giga." "Oliva sayana." The scientific names roll off his tongue like a native language. Not only can he tell you the Latin names and distinctive features of each one, but he knows how they were sourced.
The more valuable shells are kept in a locked case, some of them acquired before laws prohibited their harvesting. There's even a shelf of real coral, a rare find considering current crackdowns.
"A group was smuggling it into the country, but U.S. Customs caught them," said Plyler. "They confiscated the load and didn't know what to do with it, so they called me and asked if I was interested — I was."
The Elvis Cove is a legendary spot filled with Hollywood memorabilia and a life-size sculpture of The King. Though a bit faded from all the love he's received over the years, Elvis is a favorite of selfie-seekers. Hard-core fans willing to part with a couple grand can even take him home.
"I've sold four Elvises, but this one's been here a while," said Plyler. "Of all the celebrity items, Elvis is definitely the most popular."
Gay Dolphin is a collector's nirvana. Tom Clark, Hummel and Precious Moments are all in the house.
Fresh from a weekend selecting merchandise at a gift show, Plyler is already noting where his new acquisitions will either fill out current popular inventory or replace displays that have lost strong appeal. A new section for trendy galvanized metal light fixtures and other decor is heavily stocked as is a case of stuffed animals with smiling skeleton faces.
"I don't understand the allure of these," Plyler said, shaking his head. "But it's not about what I like. It's about what my customers like. To be a successful gift shop owner, you've got to take yourself out of the equation."
Plyler also oversees the manufacturing of approximately 800 items, many of them branded as "Gay Dolphin" or "Myrtle Beach" souvenirs.
"When the Sky Wheel was built, people were coming in looking for post cards of it," Plyler said of the attraction that looms just beyond the gift shop at Plyler Park, named in honor of his father. "So we took some photographs and made our own. We might be the only place you can get them."
Rolling with the years
At age 68, Plyler is an energetic presence who spryly oversees operations at Gay Dolphin, despite a long recovery from a serious car accident in 2006 and the loss of his wife, Susan, a few years later. Though he says he's not considering retirement, he is a realist at heart.
"I have two sons, but neither of them are interested in working this hard," he quipped. "But I'm not going to live forever, you know, so I'm making plans." 
Gay Dolphin manager Michelle Kerscher is part of those plans. 
"She's a brilliant marketer and really understands the business," Plyler said. "She's very sharp — I can't say that enough."
Indeed, Kerscher has been instrumental in the way Gay Dolphin tracks its massive inventory. She recently installed software that provides accurate sales data and is in the process of establishing online shopping for fans who can't make it to Myrtle Beach to get their kitsch fix. 
"She suggested software that is normally used in hardware stores with enormous inventory," said Plyler. "It made sense to use it here."
Plyer's seen these and other changes, for better and worse. For example, locals were thrilled when he and Kerscher re-established the defunct Sun Fun Festival in 2016. But Gay Dolphin patrons were not so happy when insurance costs forced the closure of the shop's famous glass observation tower in 2006.
On June 18, a shootout on Ocean Boulevard injured several people and resulted in the temporary placement of metal pedestrian barricades to deter crime. Though the barriers stop short of Gay Dolphin, Plyler is outspoken regarding the measure that was in place until a few days ago.
"We've always had large groups of young people for Easter break, which creates the potential for undesirable situations," he said. "The police say the barricades will prevent violence, but I don't know how. I believe these are isolated incidents."
For his part, Plyler works hard to keep his domain a place of fun and laughter, though there was one notable breech.
"I once had the bright idea to set up six 500-gallon saltwater aquariums on the balcony," he remembered. "I filled them with sea life, but in no time it was a bloodbath. In every tank, there was a single thing left alive — the strongest fighter. It was horrifying, but a lesson I'll never forget."