MYRTLE BEACH —  In a continuation of their heated campaign, the leading Republican candidates for South Carolina's 7th Congressional District, U.S. Rep. Tom Rice and state Rep. Russell Fry, questioned each other's honesty and integrity at a pair of forums held less than three weeks before the primary.
When discussing Fry's defense of the Jan. 6 Capitol riots and his support for former President Donald Trump, Rice referred to his opponent as being dishonest, and he said Fry has forgotten the values of the Republican Party.
"I think anybody who says what happened on Jan. 6 is OK, is not defending our Constitution," Rice said during a Post and Courier Pints & Politics event at Tidal Creek Beer Garden on May 25. "I think Russell Fry will do or say anything he needs to do to get elected. ... I don't think the guy has any truth in him."
Fry called Rice a "wallflower" and criticized the congressman for not fighting for South Carolina hard enough on controversial social issues.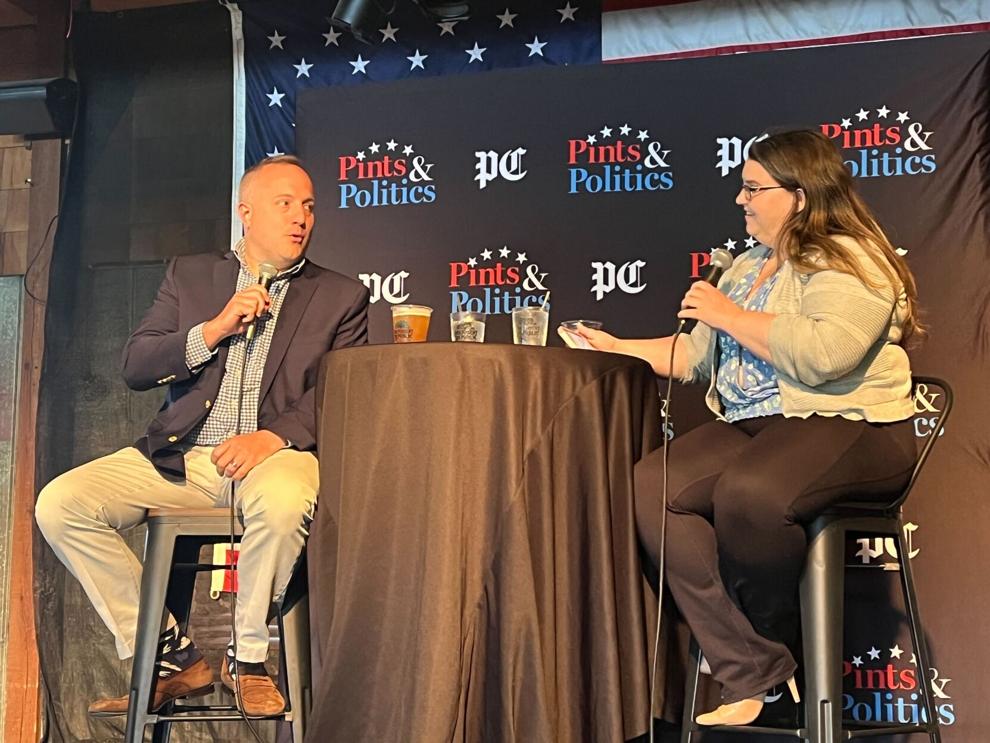 "I don't see Congressman Rice fighting for us on CRT (critical race theory). I don't see him fighting for us on save women's sports (bills to limit transgender athletes). I don't see him fighting for us," Fry said during a second Pints & Politics event at Independent Republic Brewing Company on May 26.
"When you look at where our country is, the future of our country and who we are as a people is at stake," he added. "We talk about taxes a lot, but there is so much more going on in our country right now. We need warriors in Washington, not wallflowers."
While seven candidates are running in the Republican primary on June 14, Fry and Rice are largely considered the frontrunners in the congressional race garnering national attention because Rice was among a handful of Republicans who voted to impeach Trump after the U.S. Capitol attack.
Rice has held the seat in the district covering the Pee Dee since it was created in 2012. Fry received Trump's endorsement in a region where the former president remains popular. Trump has criticized Rice as a "bad legislator." 
Although he supported 95 percent of Trump's legislation and agenda during his presidency, Rice said he believes he defended the Constitution by voting to impeach him.
"I believe my vote to impeach Donald Trump was defending our Constitution. I think that is an absolutely bedrock Republican issue," Rice, a Myrtle Beach lawyer said during his forum. "We're supposed to defend our Constitution. Our Constitution is the source of our freedom and our prosperity."
Fry, during his Pints & Politics chat, continued to promote unsubstantiated claims that the 2020 general election was stolen from Trump, citing alleged irregularities in the voting procedures of several contested states.
Regarding the Jan. 6 Capitol riots, Fry, a Surfside Beach attorney, said he believes many protesters who attended were practicing their First Amendment rights, though noting that those who broke the law that day should be prosecuted.
"The Democrats have weaponized that moment to excoriate an outgoing president and to impeach him so that he could, one: never again run for public office and, two: demonize conservatives," Fry said.
In the aftermath of the mass shooting on May 24 that killed 19 children and two teachers at an elementary school in Uvalde, Tex., Fry and Rice offered different solutions.
Rice called the recent shooting a "horrible, unimaginable tragedy," and said the country needs to "look for ways to make things better." However, he said, the difficulty comes in finding a balance between protecting Second Amendment rights and keeping the public safe.
"The problem is that we have to balance the Constitution and the rights of 100 million people who own guns — for their own protection, to protect their homes, for recreation — against the rights of a very small number of people who create these acts of unspeakable evil and tragedy," Rice said. "It is a hard problem. If there were easy answers, we'd have come up with them a long time ago."
Rice said he supports background checks on firearms, and he has drafted legislation to address an oversight in the FBI's background check system. The bipartisan legislation, he said, would require the FBI to check their third criminal database when conducting background checks, and he hopes for it to gain more traction in Congress in the near future, especially in the aftermath of the Texas school shooting.
"I think my bill would be a step in the right direction," Rice said.
Fry said as a father he has reflected on the recent tragedy and believes the issue of mass shootings in America stem from mental health, not guns. He also gave a nod to the suggestion of arming school teachers throughout the country, which several legislators have offered as a possible solution to the crisis, including Trump.
"This is an awful time and our thoughts, our prayers and our focus as a country needs to be on those families," Fry said. "But I think what we've tried to do in the Statehouse is focus on the root of the issue which is: There has to be a serious discussion on mental health in this country. You have to address it."
As it appears the U.S. Supreme Court is ready to overturn Roe v. Wade, the candidates held slightly differing views about what states should do once they have the authority block abortions.
Rice said that he has maintained a consistently pro-life voting record against abortion, and he believed that abortions should be "safe, but exceedingly rare." He said there should be exceptions in the cases of rape or incest.
Fry said the right to have an abortion should be decided by the states, and he said there should be no exceptions for abortions.
"Life begins at conception," Fry said. "The lives of the unborn need to be protected."
The winner of the Republican primary is expected widely to win in November in the heavily Republican district. The race features a Democratic candidate and two Libertarian hopefuls.