MYRTLE BEACH — Myrtle Beach International Airport is undertaking a nearly $100 million construction project just as an increasing number of travelers pass through its doors.
Plans call for an increase in the number of parking spaces; a larger fuel farm for aircraft; an additional TSA checkpoint and a future planned expansion of the airport's terminal. Already under construction is a $20 million, two-year remodeling of the rental car parking lot with canopies to protect travelers who wait on their vehicles.
"The airport was actually looking at a modest terminal expansion prior to the pandemic, but the pandemic changed the aviation industry as a whole so that was put on hold," spokesman Ryan Betcher said. "2021 really showed us that there was this incredible growth and need for leisure travel and Myrtle Beach really showed its resilience."
Last year, the airport located on the south end of Myrtle Beach saw a record 3.2 million passengers as COVID-19 restrictions were eased and travelers were itching to go on vacation. Myrtle Beach International started out this year with an even stronger spring than the first few months of 2021.
In April, passenger traffic hit the airport's record high for that month. The total of 282,784 passengers was 32 percent higher than the airport's previous record set last year.
"So far we are on track with 2021, so we should see very similar numbers," Betcher said. "So, it's a very strong year of growth and we're hoping this is going to be the new normal for the airport."
Airport officials plan to be proactive not only for Grand Strand tourists, but an increasing percentage of locals going on vacation out of state. A total of 448 parking spaces will be added by Memorial Day next year in the cellphone/waiting area and in the long-term parking lot.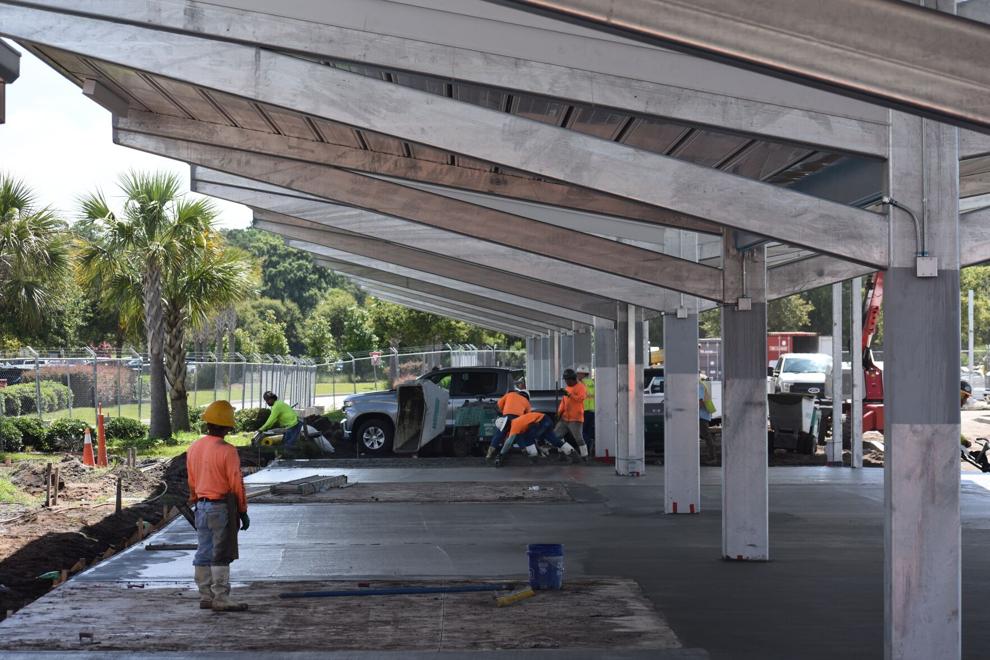 "As the airport grows and we see more local travelers in our market, the need for parking becomes more apparent," Betcher said.
The airport plans to increase its current 260,000-gallon fuel capacity with the addition of a 100,000-gallon fuel tank by next spring which will ease any disruptions in the supply chain and a current shortage of truck drivers. A second 100,000-gallon tank can be added in the future if needed.
Myrtle Beach International is one of the few airports in the country that fuels commercial aircraft, according to Airports Director Scott Van Moppes.
With more people flying in and out of Myrtle Beach, officials said they envision an ultimate expansion of the gates in the future. Betcher said it will be just outside of where Gate A7 is currently located and includes increased seating, more concession options and a possible outdoor terrace for passengers.
Five or six extra gates for the use of multiple airlines are still in the design phase; however, Betcher said it could be completed within the next five years. Additionally, a second TSA checkpoint for peak travel times is also planned.
"Coming in after the pandemic, it became very apparent that we needed to move forward with the project," Betcher said.