SOCASTEE — Mitchell Strickland can't help but watch the waters along the Intracoastal Waterway rise, inching toward his property near Rosewood Drive just outside of Myrtle Beach.
He has a notch marked by a screw on the fifth step of the stairway that leads up to his large back porch overlooking the water — it indicates how high the water got during Hurricane Florence in September 2018.
It also brings back memories of losing his home during Hurricane Matthew in 2016 in the exact same spot, an emotional event that caused him to build his replacement home 9 feet off the ground.
But the 73-year-old refuses to complain, even as the current floodwaters have already covered his waterside table and chair that normally give him a front row seat for beautiful sunsets.
"We choose to live here, you take the good with the bad," Strickland said as his neighbor monitored his pool that was already flooded, normally costing thousands to fix.
Strickland admits that while areas such as California seemingly deal with natural disasters that occur quickly, life along the Grand Strand offers both the opportunity to prepare, but also forces residents to overanalyze the situation due to lead times of up to 10 days.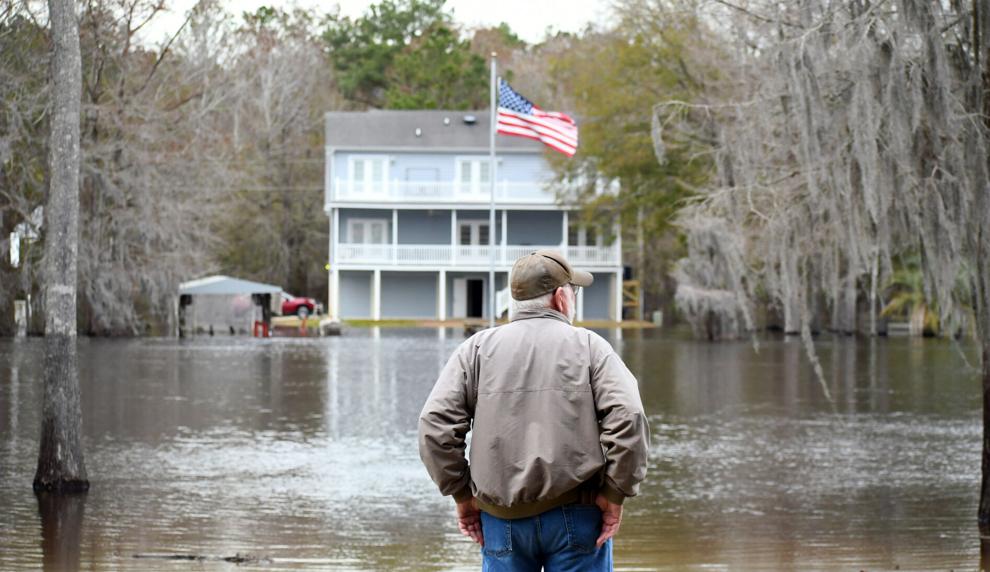 Thankfully, he has a boat tucked away under his home — lovingly called "John" — that helps keep his mind at ease that he and his wife can get away from their home of 20 years.
"That boat is my baby," Strickland said. "We really don't care about the rain that happens here, we're always paying attention to what's going on up in North Carolina."
As more rain is expected in the area, parts of Horry County are under a flood warning until further notice as waters are rising around waterways and into homes.
The Waccamaw River near Conway has reached major flooding stage and is forecast to rise to 14.7 feet this week, according to the National Weather Service in Wilmington. The Little Pee Dee River at Galivants Ferry has also reached the major flooding stage. The flood stage begins at 11 feet.
Significant flooding is expected in areas along the Waccamaw River near Longs and Conway, the Little Pee Dee River near Galivants Ferry, the Pee Dee and Waccamaw rivers near Bucksport and the Intracoastal Waterway near Socastee.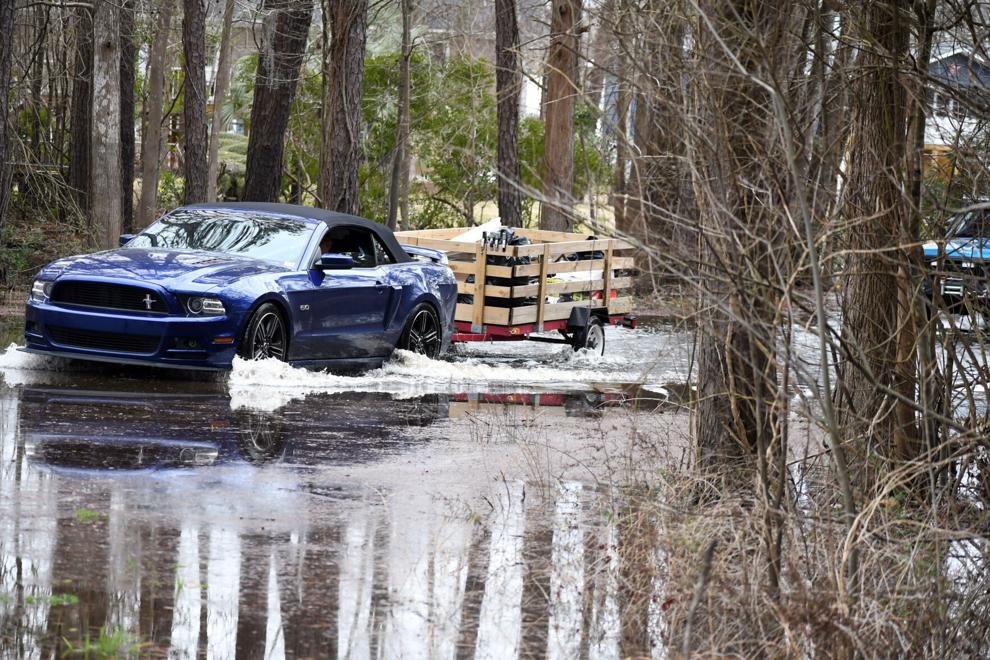 Conway Mayor Barbara Blain-Bellamy said flooding has caused a few road closures in the city due to standing water.
"The Waccamaw is expected to crest (Tuesday), and rain predictions continue," she said. "I'm afraid we're not out of the woods yet."
Roads closed in the city are Depot Road, Long Avenue Extension at Grier Swamp, Sherwood Drive, Long Avenue, Laurel Street and Riverfront Park.
In unincorporated parts of Horry County, more than 60 county roads are closed due to flooding, while state roads like Lees Landing Road, Waccamaw Drive and parts of Pee Dee Highway are also closed.
Thomas Bell, spokesperson for Horry County Emergency Management, said residents living in the areas that are flooding should take caution if they are traveling through waters as hazards can be hidden.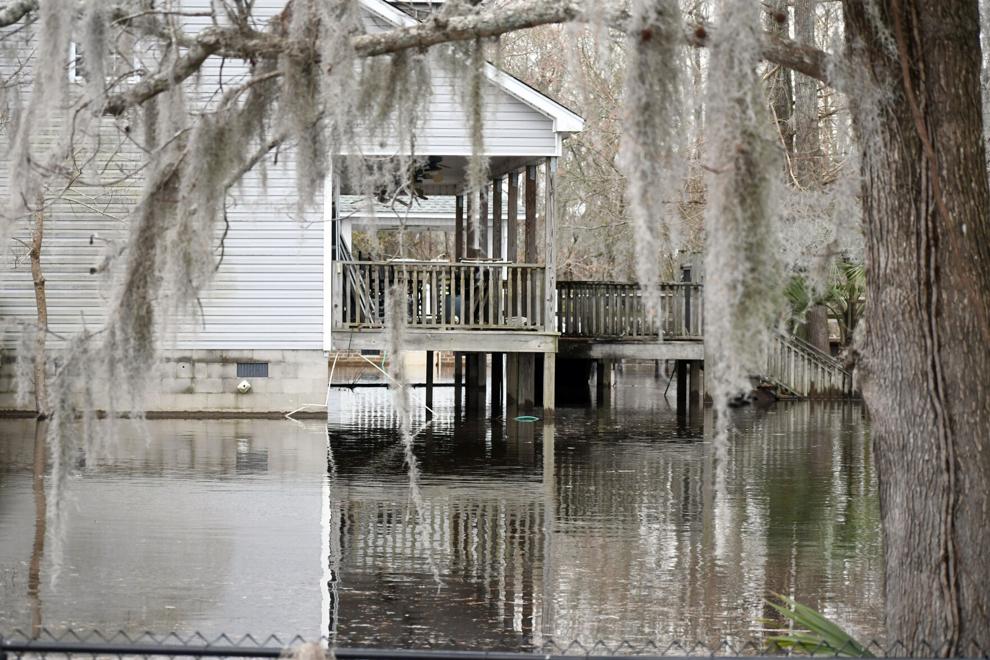 "We have public safety crews out on the waterways to ensure wakes are not causing additional problems," Bell said. "We're also asking for those who do not live in neighborhoods that are experiencing flooding to not drive through them. Vehicles can also cause wakes."
Bell said the county requests anyone living along the waterway to monitor river forecasts from the National Weather Service.
Flooding is also impacting the Socastee area with the Rosewood neighborhood experiencing water in homes and a road closure on its main road. The neighborhood is susceptible to flooding, notably after Hurricane Florence, which caused dozens of homes to flood in the days after the storm.
April O'Leary, president and founder of Horry County Rising and member of the county's newly formed flooding subcommittee, said the flooding shouldn't be a tragic event.
"Citizens need to demand better flood protection measures," O'Leary said. "And our officials need to aggressively pursue these measures. This is man made. Unless our officials start to invest in doing more protective measures, it's going to continue to be tragic."
A portion of Folly Road, also in the Socastee area, that runs parallel to the waterway is closed due to flooding.
Horry County Fire Rescue was dispatched multiple times over the weekend due to floodwater rescues. One person was transported to the hospital Saturday night after first responders were called to a vehicle in water on Highway 31 in the Longs area. Two motorists on Old Reaves Ferry Road were also rescued Saturday night, according to HCFR. A resident was rescued from the Lees Landing area on Sunday along with pets.
In February 2020, Horry County experienced a similar flooding event due to heavy rain. The Waccamaw River most recently reached moderate flood stage in January.