CONWAY — For 23 years and some change, Fylvia Tiggett was a consistent figure in the cafeteria at Myrtle Beach High School, not only providing a hot meal to students, but also a smile to anyone needing a pick-me-up.
For the past seven months, Tiggett could be seen wearing a mask as she totes a pair of wagons, with hot and cold meals in tow, delivering food to classrooms — and you have to look just slightly harder to see that smile, but she tries to show it through her eyes.
On March 12 at Conway Medical Center, those eyes showed a sense of relief.
The longtime Horry County Schools cafeteria worker had a few tears as she had a needle stuck into her arm, but not because it hurt — instead because it represented a step forward.
The medical center hosted 500 district employees March 12 and 13, starting the process of vaccinating staffers with the limited supply it receives from the South Carolina Department of Health and Environmental Control.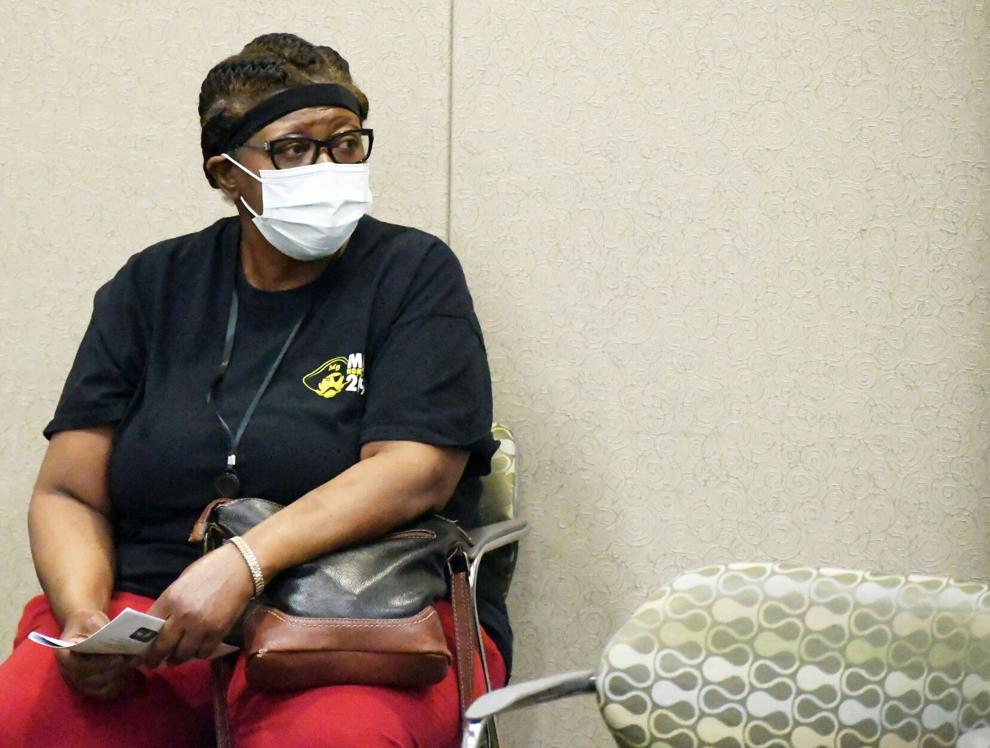 The hospital expects 4,000 first doses will be necessary to inoculate the entire district staff.
To be one of the first to get the vaccination process started was particularly significant for Tiggett, as she has a set of grandchildren in Pennsylvania who are looking forward to seeing grandma.
"This year, we can go up and see them," Tiggett said. "It's nice to be able to say that."
How long others will have to wait to get their vaccine is up in the air, dependent upon DHEC providing enough supply to help the medical center not only vaccinate school employees, but also staff at Coastal Carolina University and Horry-Georgetown Technical College.
In total, the hospital will need 5,400 first doses to take care of all three educational pillars, but DHEC said it will not prioritize shipments based on a single need, indicating that teachers are simply a part of Phase 1B, which became eligible for the vaccine on March 8.
"We're just ready to ramp this up," said Brian Argo, the medical center's chief financial officer.
The hospital has received less than half of its requested allotment since the beginning of February, including 1,170 first doses for the coming week.
"DHEC does not provide vaccine supply to a provider for the express purpose of vaccinating a single group within a phase," a DHEC spokesperson told The Post and Courier Myrtle Beach.
While the district is roughly 12.5 percent through the first phase of vaccinations, Tidelands Health announced more than 50 percent of the staffers with the Georgetown County School District had already been inoculated or had made an appointment to do so.
GCSD has roughly 640 teachers and returned to full-time, face-to-face instruction at all levels on March 8.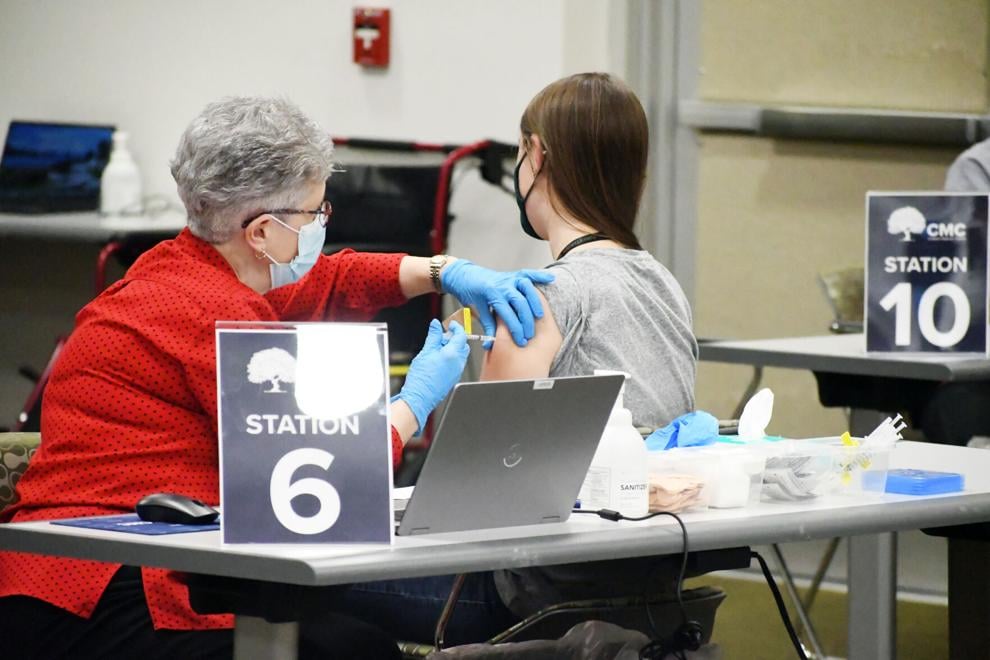 Tidelands has also stepped in to be a provider of second doses of the Pfizer vaccine, working alongside DHEC to receive 2,340 doses in order to complete the vaccination process for those who have not been able to secure a second appointment.
This shipment was not considered for CMC, according to DHEC, saying that Tidelands reached out to aid in the process.
"Understanding the goal of receiving a second dose of vaccine within the timeline established by the federal Centers for Disease Control and Prevention, DHEC committed additional doses for this one-time effort," DHEC said.
While CMC and Tidelands have continued to book appointments and rely on a daily flow of vaccinations, McLeod Health was able to work its way through 11,800 vaccinations during the week of March 1 — receiving a special shipment of the Moderna vaccine in order to host both Phase 1A and 1B at the Myrtle Beach Convention Center and Darlington Raceway.
CMC has told DHEC officials it would accept Pfizer, Moderna or the Johnson & Johnson vaccines, but has received only Pfizer to date.
When asked if McLeod's special shipment to serve the mass vaccination events had been considered for CMC, DHEC did not specifically address the situation, indicating that McLeod was "provided one-time supplies of Moderna vaccine to meet first and second dose needs of these two mass vaccination events."
Gov. Henry McMaster attended both events, with Darlington also attracting Rep. Tom Rice and Dr. Edward Simmer, the director of DHEC.
The events, as well as the surplus sent to Tidelands, has helped Horry County rank No. 4 in vaccination rate among those 15 and older, sitting at 25.4 percent. Georgetown County is not far behind, ranking No. 4 at 24.8 percent.
"The number of residents in our area who have already been vaccinated is encouraging," said Gayle Resetar, chief operating officer at Tidelands Health. "That means those in our community with the highest risk of being exposed to COVID-19 or getting severely ill from the virus are receiving the lifesaving protection they need.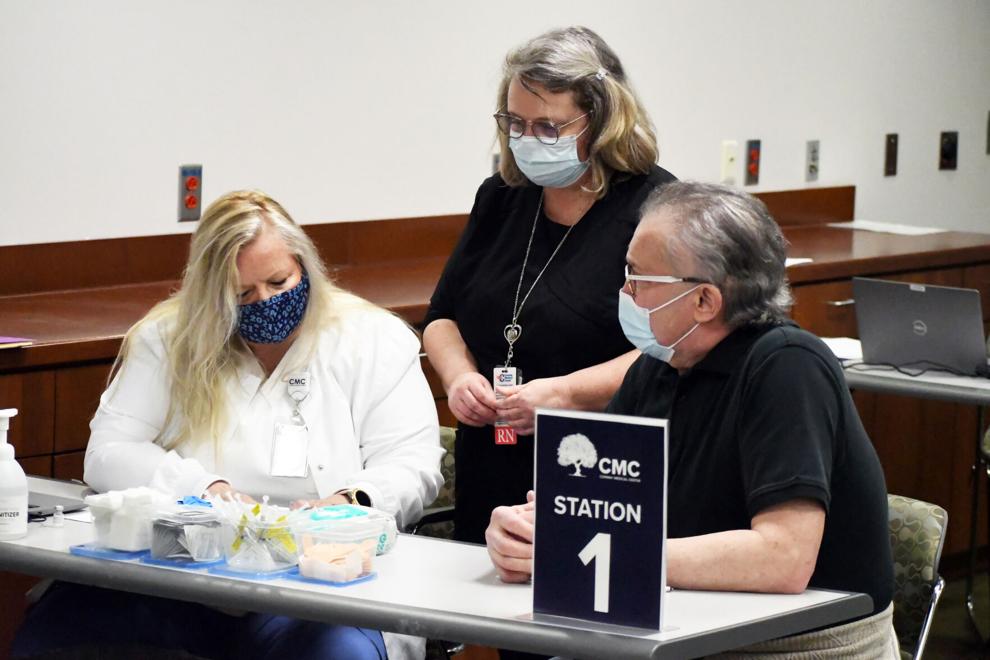 Firsthand experience
As HCS attempts to reestablish some sense of normalcy for students and employees, the vaccinations are acting as a catalyst for some, particularly on the heels of both December and January offering obstacles with COVID-19 within schools.
Sara Ayala, a teacher at Forestbrook Elementary, saw what the virus can do firsthand — she came down with it herself.
"It was horrible," Ayala said.
In the weeks after being diagnosed, she admits the experience pushed her to further educate her young students about all of the protocols to keep one another safe — masking, social distancing and proper hygiene.
"We weren't taking it lightly before, but now I was very aware of everything," Ayala said.
With nearly all schools back to full-time, face-to-face instruction, with the exception of a handful of high schools, the Horry school district has maintained that masks are required on campus, while classrooms feature as little as 3 feet of social distancing between desks, buoyed by plexiglass installations.
On March 8, HCS announced both junior and senior proms could be planned by individual schools, while previously also stating graduations would be held on dates to be determined.
The school district has been clear in that masks are still required on campus, although a Facebook post by Conway High School on Saturday showcased the finalists for the 2021 Miss Conway High School posed together without any face coverings.
Ayala explained the education students are receiving this year goes beyond the books or online classrooms, it has been a life lesson as well.
And, in Ayala's eyes, students have adapted well when presented with the rules.
"They want to be in the classroom, we want them in the classroom," Ayala said. "And we've found a way to make it as safe as we can, despite the obstacles."