Another week of Friday Night Lights — and some schools seemingly learned some lessons from Week 2 and showed improvement in dealing with health protocols surrounding the coronavirus pandemic.
Yet, there were some where caution was thrown to the wind — mostly at Aynor and Myrtle Beach high schools.
Maybe winning makes both feel invincible, as the two teams are a combined 5-1, including two blowout wins on Friday night.
Like last week, members of the Post and Courier Myrtle Beach and Georgetown Times team were flanked out at different venues to monitor social distancing, mask-wearing, fan behavior and concession stands during Week 3 of the young season, with all five venues different than last week.
Here's a look at how schools fared this week: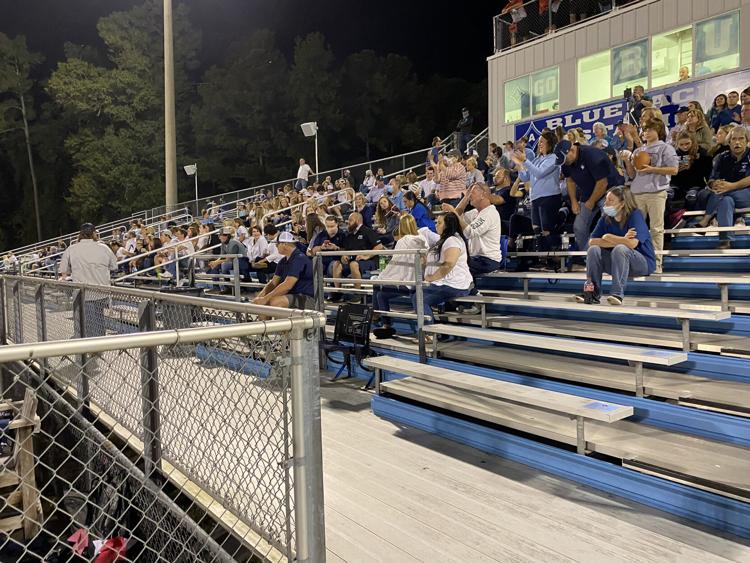 Waccamaw at Aynor
AYNOR — Social distancing and face masks were scarce as Waccamaw High played the Blue Jackets at Aynor on Friday night. 
Two Aynor football coaches could be seen wearing masks throughout the game. Waccamaw High coaches were seen wearing masks, while its cheerleaders wore them below their chins. Blue Jacket cheerleaders wore no masks and had their masks hanging on their nearby megaphones. 
About 40 fans sat socially distanced on the away side.
The home side was nearly full of fans, some sitting on rows marked, "per SCHSL requirements this row is closed" but fans seemed to follow protocol at the concession stand where social distancing stickers were placed on the ground. 
Aynor's band sat social distanced at the end zone, and the band and color guard both wore masks while performing at halftime. 
Only three people were allowed in bathrooms at one time. 
The Blue Jackets kept the lead throughout the game, winning 38-14 against the Warriors. 
— Hannah Strong, hstrong@postandcourier.com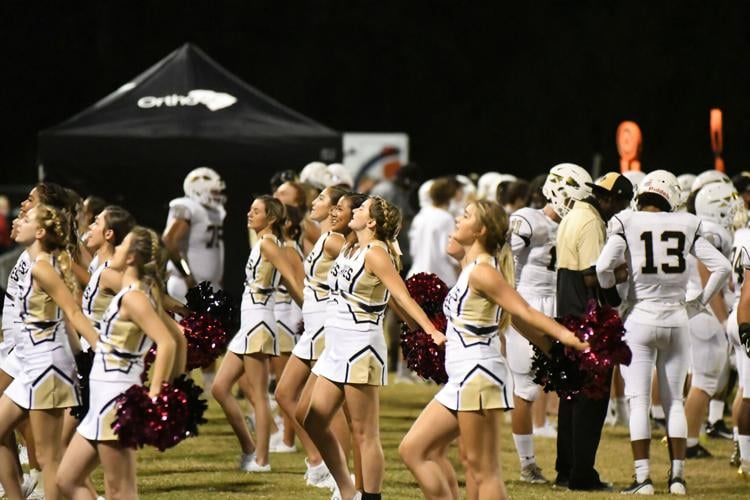 Socastee at Conway
CONWAY — "You need to get that mask on," with a band member sheepishly looking up from his phone to comply with an administrator's demand.
That was the overall theme between the two schools, with the night featuring nearly 90 percent compliance with social distancing and mask mandates.
Both sets of fans sat socially distanced from one another, with only one small cluster of Conway fans a bit too close for comfort — and featuring the same dad as last week that would bellow at every referee call against the home team. He wasn't wearing a mask.
A week after not wearing masks, the Conway cheerleaders all wore them, even while performing on the sideline.
The Socastee cheerleaders didn't follow suit, yelling early and often with no face protection, while also not socially distant from one another, nor the football team.
Both sets of coaches did their best to keep masks over their faces, some pulling them down to yell at a player or two as the first half featured numerous penalties on both sides.
Concession stands were light and had clear markings for people to stay six feet from one another, and Conway's band was on the grassy hill behind the goal posts, nicely distanced from one another.
Socastee would pick up the road win, 19-7.
— Nick Masuda, nmasuda@postandcourier.com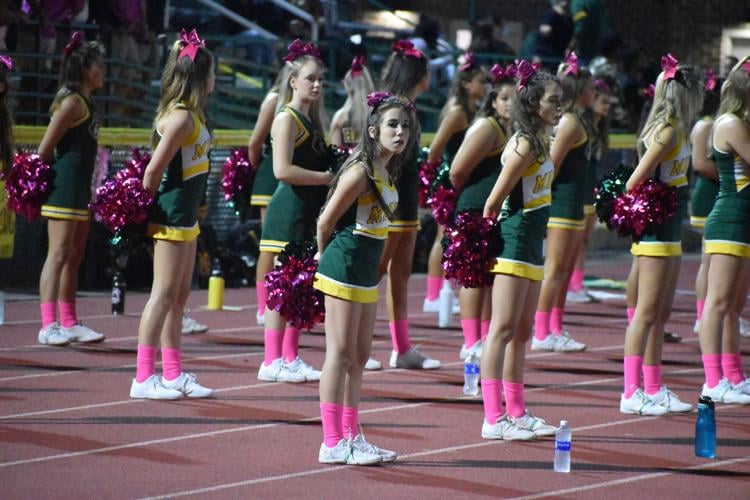 West Florence at Myrtle Beach
MYRTLE BEACH — There seemed to be roughly 1,000 people at Doug Shaw Memorial Stadium on Friday — although it is unknown how many people were specifically allowed.
Fans were not socially distanced in the stands for the most part, with most not wearing masks. Cheerleaders were also not wearing masks.
Social distancing was not being practiced when families and students were lined up for the Senior Night ceremony, with some parents not wearing masks.
And as visual evidence shows, the student section was especially bad as far as social distancing and mask-wearing.
There were a handful of signs posted at the entrance and in the stadium saying to socially distance and wear masks.
— Danny Kelly, dkelly@postandcourier.com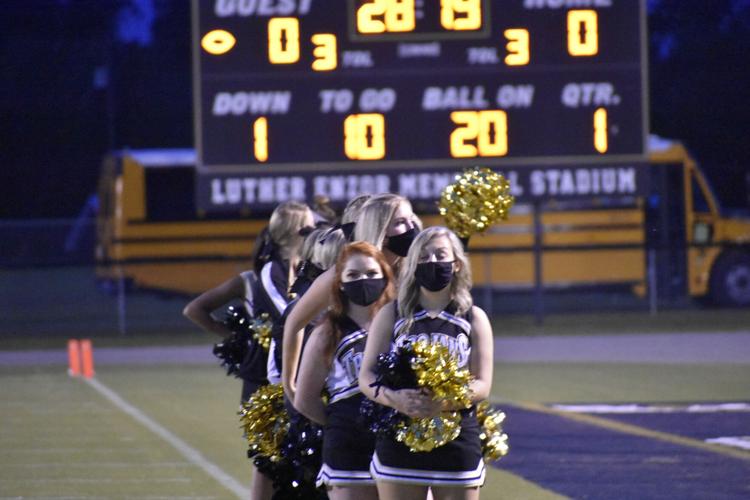 C.E. Murray at Green Sea Floyds
GREEN SEA — COVID-19 has affected many across the region, and high school football is no different. The communities surrounding Green Sea Floyds High School came to watch the Trojans play football Friday night against C. E. Murray.
GSFHS celebrated homecoming Oct. 9 and the ceremony was vastly different compared to previous years.
The homecoming court was transported to the field in golf carts driven by their respective parents or guardians. Each contestant was spaced by more than six feet to allow for social distancing.
Spectators in the stands, along with fans standing along the fence line, adhered to the guidelines that were given to them for the most part. There were clearly marked designated seats and fans were told to not step up on the seats or climb up or down the bleachers.
On the other hand, many fans did not wear masks and the stadium announcer explained multiple times how important it was to put them on so the high school could continue holding events like football.
The concession stands flowed well with workers wearing masks and patrons spaced out in lines with home and visiting fans separated by window.
Coaches, band members and the cheerleading squad were masked up the entire duration game.
After the game, administrators made sure that fans exited the stadium quickly and no one was allowed on the field.
— Richard Caines, rcaines@postandcourier.com
Kingstree at Andrews
ANDREWS — Looked like just about everyone received the memo to wear a mask Friday night, as Andrews beat Kingstree 41-8.
A heavy presence of school administrators and Georgetown County Sheriff's deputies likely played a role in compliance among students and adults who filled the stands. The public address announcer reminded those in attendance, "Please wear face coverings at all times, maintain six feet social distancing" and to comply with proper distancing on the marked stands. Seating restrictions were not clearly marked on the stands and students couldn't resist gathering together in the stands or at the concession stand.
For the second week in a row, the previous week at Waccamaw High School, I deliberately did not wear a mask entering the field or while sitting in the stands. Though I had a mask in my pocket ready to comply with the requirement, no one approached me to put a face covering on.
— Jay Rodriguez, jrodriguez@postandcourier.com