GEORGETOWN — Samuel A. Green misses the taste of his mom's collard greens. 
Sitting in his Georgetown home in 2020 at the age of 95, the World War II veteran looked out over land that used to be his family's farm and storehouses. He can still remember where cats used to sleep; where long shuttered businesses once stood; where the crops used to be planted; and where his dad would've been on any given day. 
Green also remembers his mom's excellent skill at preserving food for a long time. Fresh food, he believes, is the reason some members of his family have lived so long.
Life is slow for Green during the coronavirus pandemic, giving him plenty of time to reflect on how Georgetown and the United States has changed in his lifetime.
He's never had to wear a mask before, but now considers it a lifesaver. 
"A lot of people would be alive today if they just wore this thing," he said sitting in his living room on Bonds Street, putting on a mask, looking out his window at the houses that now sit on the old farmland. 
Decades ago, Green's mom, Lena Ward Green, worked in-part as a canner, taking the produce grown on the farm and preserving it during a time when refrigeration wasn't readily available. Green swears her preservatives were the best he's ever had despite decades serving as a minister and eating church meals. 
He can't find collard greens like he was used to as a kid anymore. Some places come close, but Green believes nothing will ever match food grown by his family. 
"There were even a lot of white folks that would buy her collard greens," Green said. "She also made peach jelly, orange jelly and stuff like that, mom used to make. I can't do any of it now because all I used to do was eat it."
There are still gardens up and down, but it's not necessarily that there aren't fresh ingredients to make collard greens anymore, he just doesn't think they are as good as when the way folks used to make them in Georgetown. 
Green's family history in Georgetown runs deep, especially on the land his home now sits. His grandfather was born into slavery, worked on tobacco fields and went on to be a postman in the Plantersville area. Green remembers taking his dad lunch while he worked on the old bridge to span Winyah Bay.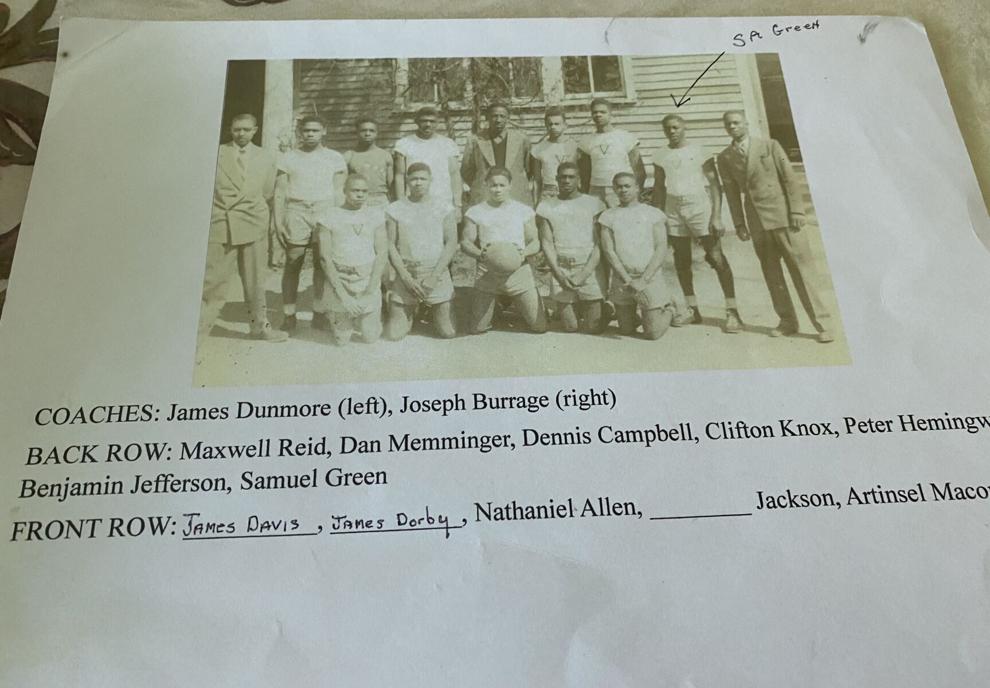 "My dad used to work on it. I remember in school, I'd go to school, get out and I'd take him some lunch. You had to put his name on it because the ferry came to pick it up and take it over to him," Green recalled. 
Before graduating from Howard High School, which was still segregated at the time, Green played for the school's basketball team. Sports have been a lifelong love of his, and he still keeps up with Georgetown prep sports as a way of staying involved in the community. 
From the peak of a segregated south to a modern pandemic, Green has seen Georgetown change through his career as a sailor, minister and community member.
These days, Green mostly stays at home — even seven months into the pandemic. Family comes regularly, and his sisters, both older than him, live across the street. Occasionally he calls for his cat, simply named "Cat," who lives outdoors.
The cat adores Green, sprinting across the street whenever he exits his house. They like to sit together on the porch and wave at folks as they go by. 
Georgetown is home for Green, and it always will be even if it's changed drastically in his lifetime. He has no plans on leaving the land that means so much to him.
But for Veteran's Day, Green reminisced about when he left South Carolina in 1943 to serve in the World War II effort.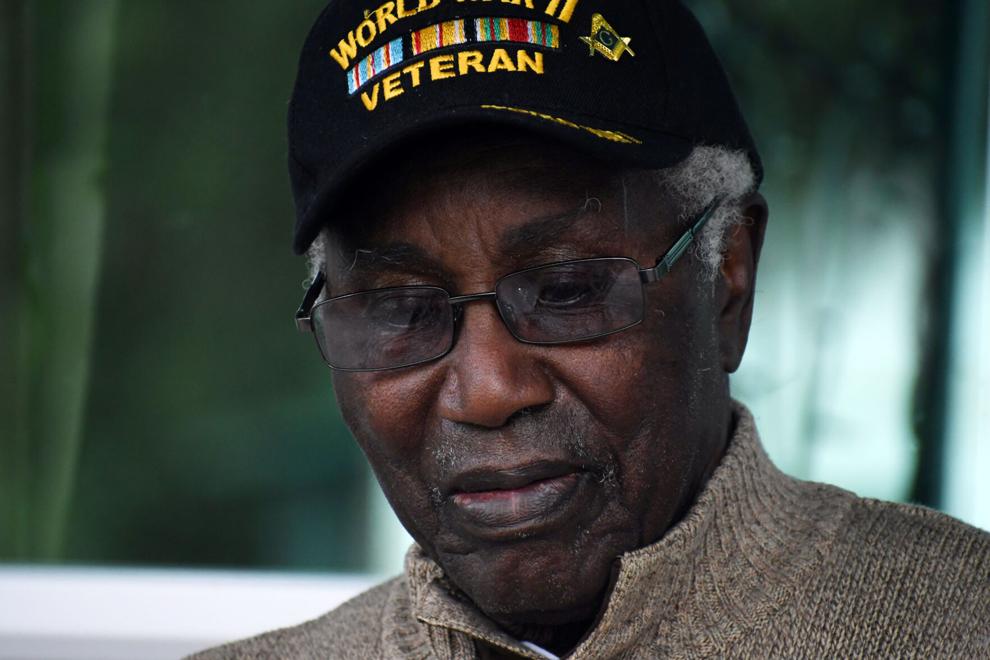 Leaving home
In 1943, Green was drafted into the war effort right out of high school, entering the U.S. Navy. In October, he boarded a bus at the old Georgetown Post Office and made his way to Columbia where he passed his medical exam. 
"I think all of us passed the physical. Then we were sent to Great Lakes, Illinois, that's where we did basic training," Green said. "I was drafted, and you don't get to say if you want to or not when you're drafted. I didn't want to go because I had my mind set on college."
The military wasn't how he envisioned beginning adulthood.
Still, he came to terms with going to war. He knew people who tried to fake their way out of the military, eating soap at the last moment to make them sick, but he didn't want to take that way out. 
"I knew what I had to do, so I didn't cry about it. I went on, you know," Green said. 
Given he was drafted in October, he began basic training during the winter. The weather in Lake Michigan was brutal compared to the Georgetown winters he grew up with. He was there in the lead up to Christmas, and remembers rowing boats in cold, frozen water like he never saw before.
Wearing long johns became a necessity for him.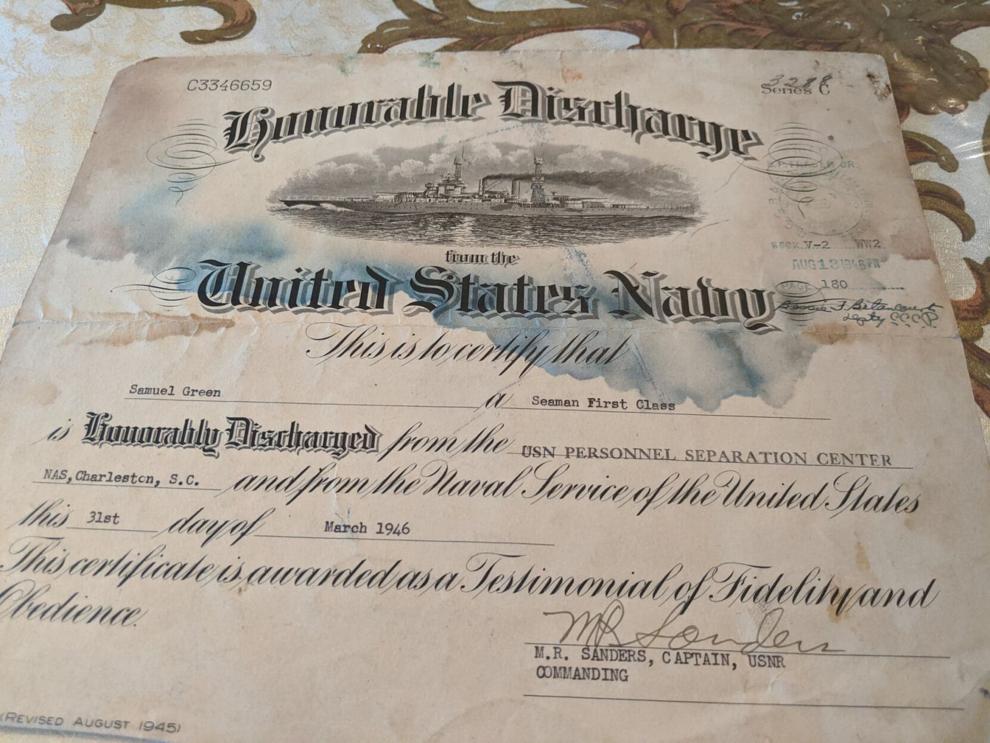 "If you were messing around and got out of the boat under the ice, you had no way to find your way to get out," he said. "But the Navy made sure we had everything we needed."
Getting sent to California for more training was a welcome change in weather, even if it meant he was about to get onto a boat to leave the U.S. for the first time. There were more than 4,000 people on that first trip overseas, the largest boat he had ever seen in his young life.  
Green spent a lot of time on islands including the Guadalcanal, Saipan and Tulagi where intense fighting took place earlier in the war.
He served as a motor pool director and his crew was mostly from South Carolina, with their job entailing the cleaning up of battlefields once fighting ended, as well as help supplies land on the beach.
One day Green was riding a military motorcycle across an island when a big truck came around the corner — the dirt road was narrow and ran up against the ocean. As Green rounded the corner, the truck came within feet of hitting him. 
"I wasn't going to run up into the truck now. I gave it the gas, got on the edge of the road and landed in the ocean," Green said, adding he hasn't ridden a motorcycle since.
"They got me out. I was over there for a few years and I don't think they ever got the bike out of the ocean."
When Green got home from the war he thought about buying a bike, but that one bad experience with one was enough for him. Silver lining? The Navy had taught him how to swim, something he was thankful for.
To this day, Green's legs still hurt him from a gasoline tank that erupted on a boat he was on during the final months of the war. While sailing around Tulagi Island, the tank's lid wasn't screwed on tight enough, and the waves rocking the boat tipped it over. The boat soon caught fire leaving Green and a crew of others struggling to put it out. 
"I got pretty bad burns on my legs and toes. My toes are not the same I went into the military with," Green said.
There were no hospitals on the island as the war had moved on. Green only had a first aid kit that he and others used to fix minor problems, but it was the only medical attention his injury got right away.
The injury was never put in his record or on his discharge papers when he left the Navy shortly after peace was declared. 
Even though going to war wasn't what Green envisioned for his life, he was proud to serve his country. He credits going into the military for setting up the rest of his life as a minister. 
"The reason I got out when I did is I still wanted to go to school. I had it in my mind since I graduated high school," Green said. 
On a boat heading for Hawaii after the war, an officer told Green about the GI Bill that was signed into law a year earlier by President Franklin D. Roosevelt.
Green's service was going to help him achieve his lifelong goal of going to college.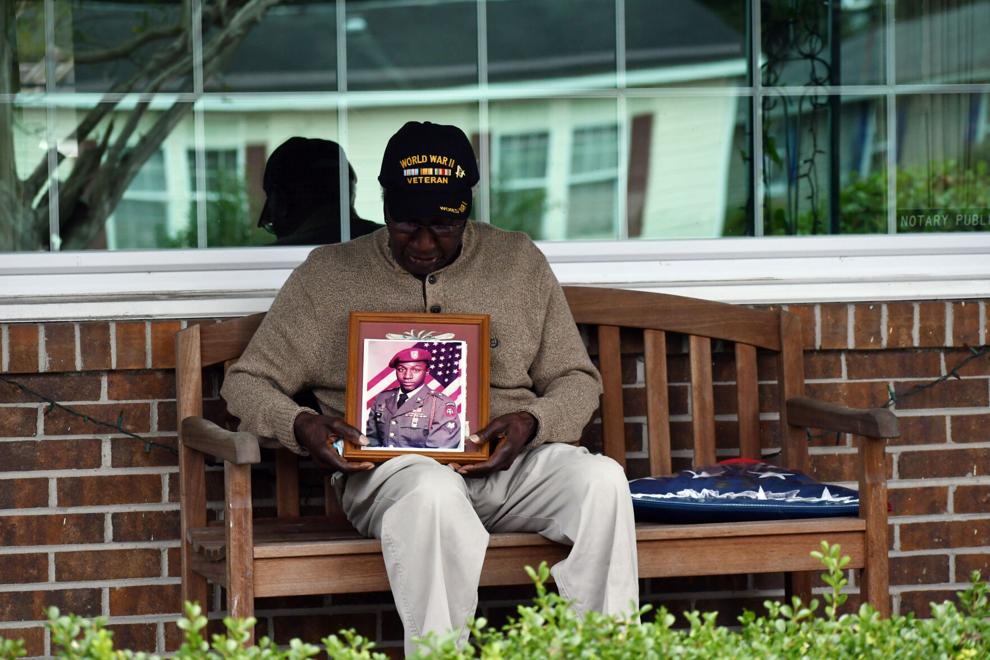 A post-war Myrtle Beach
Even though Green really wanted to go to college, he didn't make it right away.
Both while in high school and after returning from the war, Green worked in Myrtle Beach as the tourism economy was still in its early days.
Myrtle Beach looked and felt a lot different than it does now, with far fewer hotels and attractions.
In the years following the war, Myrtle Beach slowly became a tourism powerhouse, but Green remembers a completely different city than what it looks like now. 
Green remembers families would come to his hotel for one week, Sunday to Sunday. He made good money from tips when the four or five families he tended to prepared to leave.
He only worked at the beach during the summer, and had other jobs around Georgetown in the offseason. 
"It's changed so much," Green said, recalling what 1940s Myrtle Beach was like as a waiter inside a hotel. "The hotels used to have waiters in the hotels dressed in black with a shirt on and a tie. I did some of that."
It was while working in a hotel that Green started going to Charlie's Place, a famous Myrtle Beach nightclub that was recently declared a historic landmark. 
Green had fond memories of going to the bar. He remembers a patio outside that was a popular place for teenagers to listen to the latest music. He would take his 1941 black Ford car and listen after work. 
"He had a patio that everyone, black or white, would go to dance," Green remembered. 
Performers at the club included jazz legends like Dizzy Gillespie or Duke Ellington. It's also where many people believe the shag dance, now the official dance of South Carolina, was created.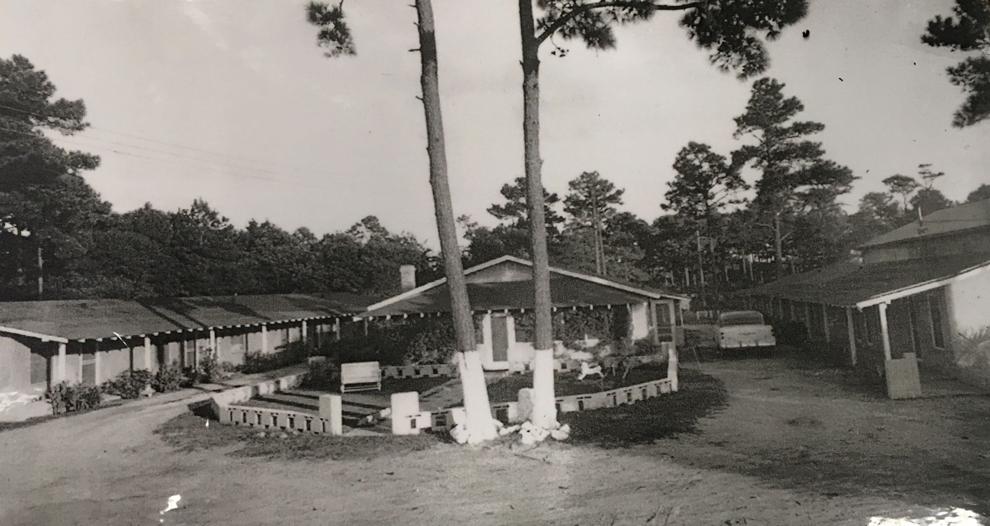 Green was working one night in the summer of 1950 when he heard something had happened at Charlie's Place involving the owner.
It was the early morning, still dark out, and while he should have headed home, he got in his car to see the commotion. 
Just a few hours before, the Ku Klux Klan violently raided Charlie's Place to disrupt the integrated club. The owner, Charlie Fitzgerald, was a target of the raid and was kidnapped by the KKK.
The incident at Charlie's Place would eventually become a South Carolina public television special. 
"That was one bad night," Green said. "Everybody running and screaming and hollering. There were shootings. A lot of people got hurt."
By the time Green arrived, the raid had largely ended, but it was clear damage had been done to the club and several people he saw were in bad shape. Not knowing what to do, and scared the KKK would strike elsewhere, Green pulled his car behind a nearby building and slept on the floor of the back seat. 
"I had to find a quick way to get away from the mess," Green said. "I got in the back seat of my car, laid down and went to sleep. I wasn't going to get involved ... I hoped if anybody came by they would think the car was empty." 
In the days that followed, the KKK raid sent shockwaves through the African American community — even in Georgetown. One of Green's friends, who lived in Conway, was shot in the leg during the raid.
The friend walked with a limp for years to come. 
"He was a lucky man. He got shot but didn't die," Green said.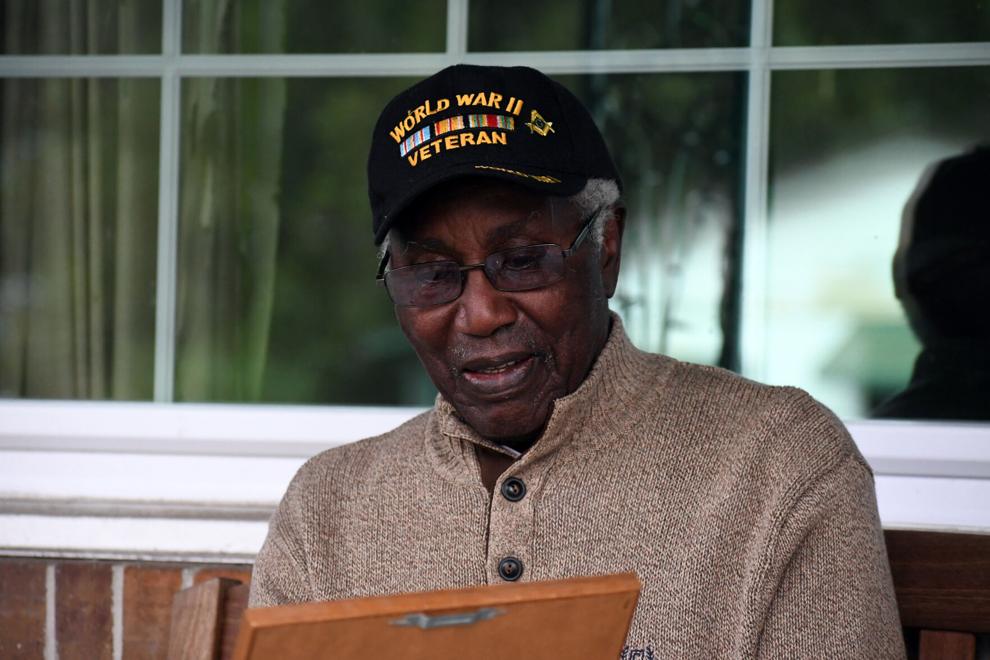 Military services led to college 
Green soon moved on from working in Myrtle Beach.
He landed a job at the Georgetown paper mill, still hanging on to his first pay stub to this day. 
He remained in the Navy Reserves but never got called back into service. 
Using the GI Bill, Green attended North Carolina Agricultural and Technical State University in Greensboro, N.C., earning a degree in business administration.
When he arrived on campus, the educational opportunity did not disappoint. Greensboro exposed Green to new people and ideas that shaped the remainder of his life. He still goes with his brother to A&T football games every once in a while.
Yet, despite the degree, he hadn't found his calling yet. He worked with the Mutual Life Insurance Company in Durham, N.C., one of the largest African-American owned companies in the world at the time.
But he missed Georgetown.
When a former high school teacher asked if he was interested in teaching at Georgetown High School, Green jumped at the chance to return home.
Teaching was fine, but the pay wasn't great and his heart wasn't in it. 
But it did spur Green's final career change, one that would require another trip to college.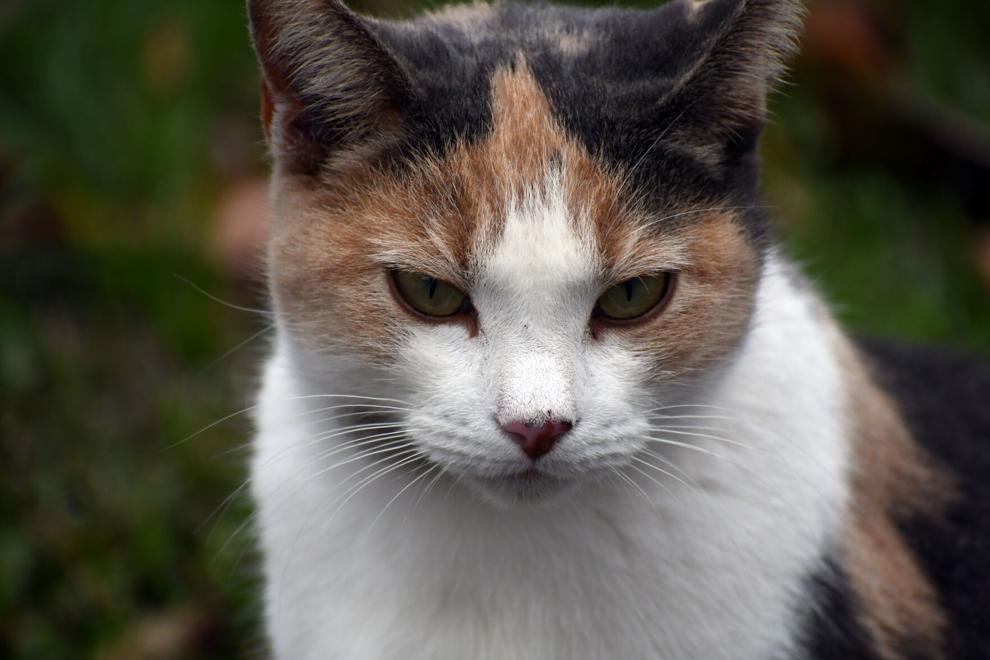 He went back to school at Morris College Theological Seminary to become a minister. 
Preaching quickly became a passion, one he wouldn't retire from fully until recently.
He served as pastor for 62 years at four different churches — New Mt. Carmel Missionary Baptist Church in Plantersville, St. Elizabeth Missionary Church in Aynor, New Bethel Missionary Church on Sandy Island and Mt. Pilgrim Missionary Baptist Church in Salters. 
He did his best to establish new churches with designated buildings and without taking on debt as to not burden future congregants. Green felt establishing churches was his life calling from God and could potentially help communities across eastern South Carolina.
"The black folks didn't have a real church, they just had a building," Green said. "The churches I built are still standing."
During his extended career, he became a mentor to other pastors and can still recall the achievements of those he helped.
He led by example, even returning to school a third time to further his religious studies at the Trinity College Theological Seminary. 
His favorite part of the service is Sunday school because it was the building block of the church — it teaches the lessons that build the backbone of churches.
He has a stack of Sunday school books at his home that he studies for whenever he chooses to preach again. 
"I retired from pastoring when I was 90 years old. Despite stepping down, I still feel called to help others in the church," he said.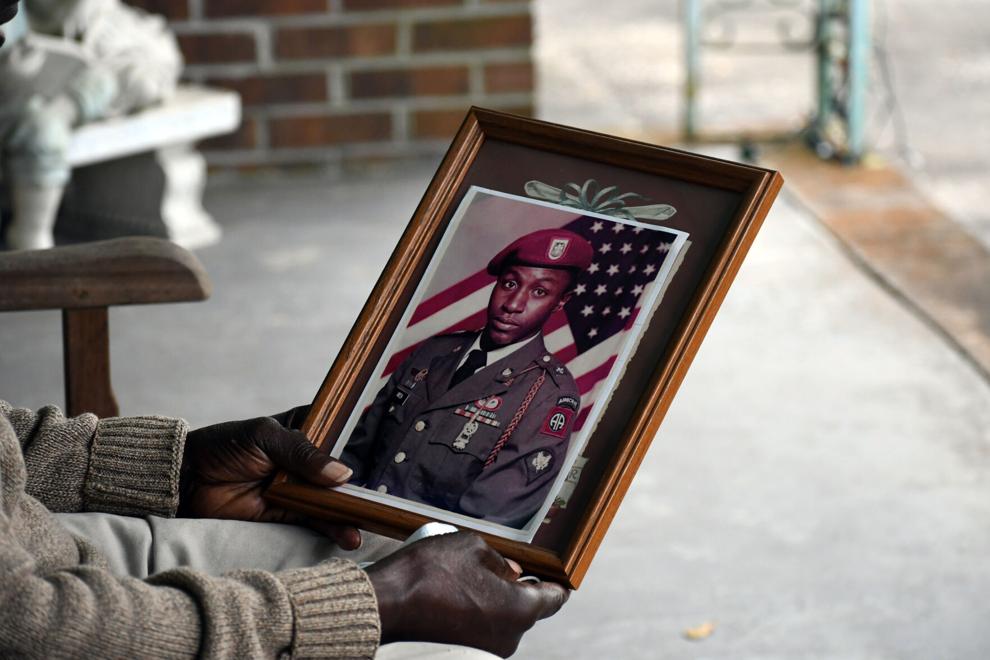 Loss of family
As a minister, Green performed hundreds of funerals and still occasionally will do one for former church members. While losing friends is always tough, several deaths within his immediate family trouble him to this day.
A car accident in the 1970s took the life of his first wife on a late-night trip home from Charleston, with their oldest daughter in tow. Two cars were racing south down Highway 17, and Green had nowhere to get out of the way. 
His daughter made it to the hospital, but his wife didn't. 
"I got the news on Sandy Island, sitting on the porch of a deacon's house," Green said. "A patrol man asked me to follow him to Charleston. He said my wife and daughter were in the hospital and everything was fine ... but my wife was dead on arrival." 
Green's son, Sam Green, named after him and born in 1957, wanted to join the military just like his dad. He enlisted in the U.S. Army, serving in the 82nd Airborne, and remained in service for many years.  
In 2016, his son died. The following year his youngest daughter, Penelope Green Vanderhorst, died of cancer. Both passed during Thanksgiving week on consecutive years.
Green still had all of his children's photos prominently displayed in his home, while the American Flag dedicated to his son sits prominently in the dining room. 
Green has a hard time looking over the programs from his children's funerals and their photos. As a minister he spoke at hundreds of funerals, but none affected him like his kids. 
"I miss them," Green said while slowly getting more emotional. "It took something out of me as the days passed. It hurt, too. I've pastored four churches in a period of 63 years, but it never bothered me then. I don't know how many funerals I've done. But it didn't bother me like it does now. The older I get the more it happens." 
The loss of loved ones, both family and friends, weighs heavily on him. He draws on his faith for inspiration each and every day.
"This home isn't our home. We are living on camping grounds," Green said. "When the time comes, if he is to call you, you can't tell him no ... that's why the Lord told us to be ready. Regardless of how careful you may be, you will have to give up and leave everything."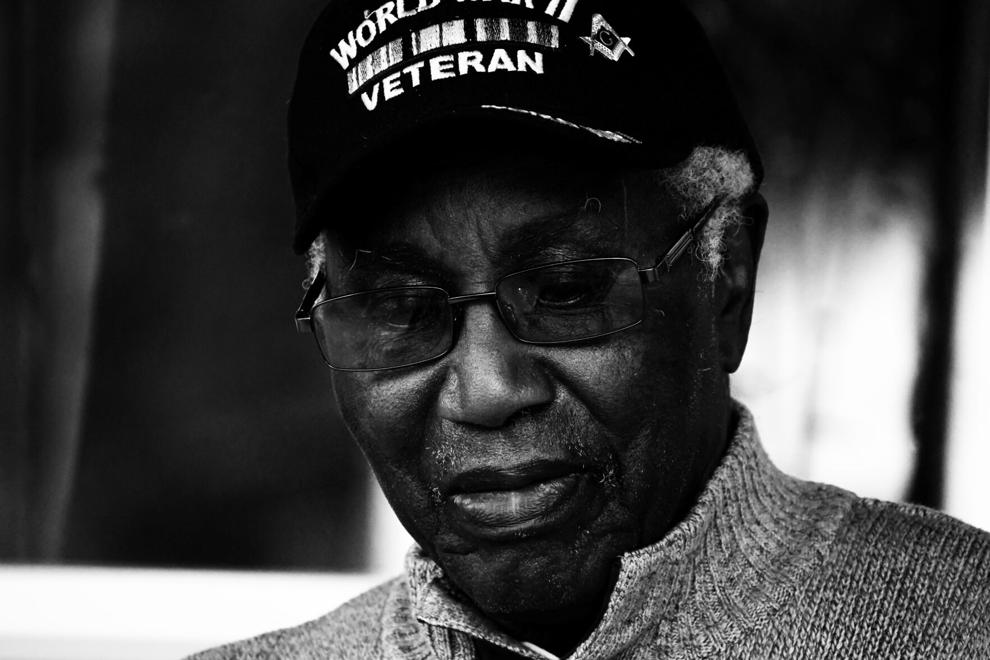 Another chance to serve
A lot has changed on Bonds Street in Georgetown since Green was born, and he spends a lot of time looking out the window remembering the past. He knows the mailman well by now, and also likes to sit outside with the cat that lives in the neighborhood. 
He stays in regular contact with his surviving daughters and grandkids, using his flip phone or when they come down to Georgetown for a visit. And he is remarried.
Green regularly reads biblical texts and can recall bible verses immediately. After all he's been through, faith is still at the forefront of his life. Much of his correspondence as of late is with other ministers and religious folk who want his perspective on biblical issues.
COVID-19 might be the most significant moment in history Green feels he has been a part of. It upended his social life, when he can seek treatment for injuries sustained during the war effort and how often he sees his family. 
"And people are still dying," Green said. 
Medical appointments have been canceled or rescheduled too. Operating virtual visits is a challenge for Green. He wants the virus to end so he can get more close attention to his leg injuries, but he still drives every few months to Myrtle Beach or Charleston for a doctor's visit. 
"The doctors are much better now than when I got out," Green said. 
Patriotism is an important part of Green's life. He wears his World War II Veteran hat often.
Recently, before the pandemic, a stranger even paid for his meal to thank Green for his service to the country. 
In the near future, he wants to put up a flagpole on his family land so that he can fly an American Flag to honor his son. He just needs to figure out where to find a pole and get some help installing it. 
While Green respects the office of the president, he is disappointed at how the current administration has handled the COVID-19 pandemic.
He believes President Trump knew how bad this virus really was, had good information on how to respond to it, but still didn't move quickly enough to stop the spread. 
Green has a television in his living room that he uses to keep up to date on election news, the virus and sports. He stopped preaching about five years ago and only attends church virtually — doing his part to stop the virus has become his latest civic duty. 
"But he passed it up. He didn't respond like other countries," Green said, adding that he believes a good president needs to listen to those around him with differing viewpoints. 
He keeps up to date on the latest world events, but quarantine has also given him a lot of time to read and think. Regularly, while sitting outside with his cat, he fondly remembers old Georgetown, and the farm and people that made his life special. 
And he hopes to see the end of the pandemic so he can get back out more and keep learning.
"I've had the opportunity to answer the call into World War II. I've had a good time learning about the places I've been and ships I've sailed on," Green said. "I've traveled the world since I was a little boy."
But his life path led him back to Georgetown, dreaming of another taste of his mom's collard greens.