MYRTLE BEACH — The absolutely gorgeous Spanish Colonial-style home designed by acclaimed architect Raymond Hood hit the market recently for $1.175 million.
The luxury home, built in 1926, sits adjacent to Pine Lakes Country Club.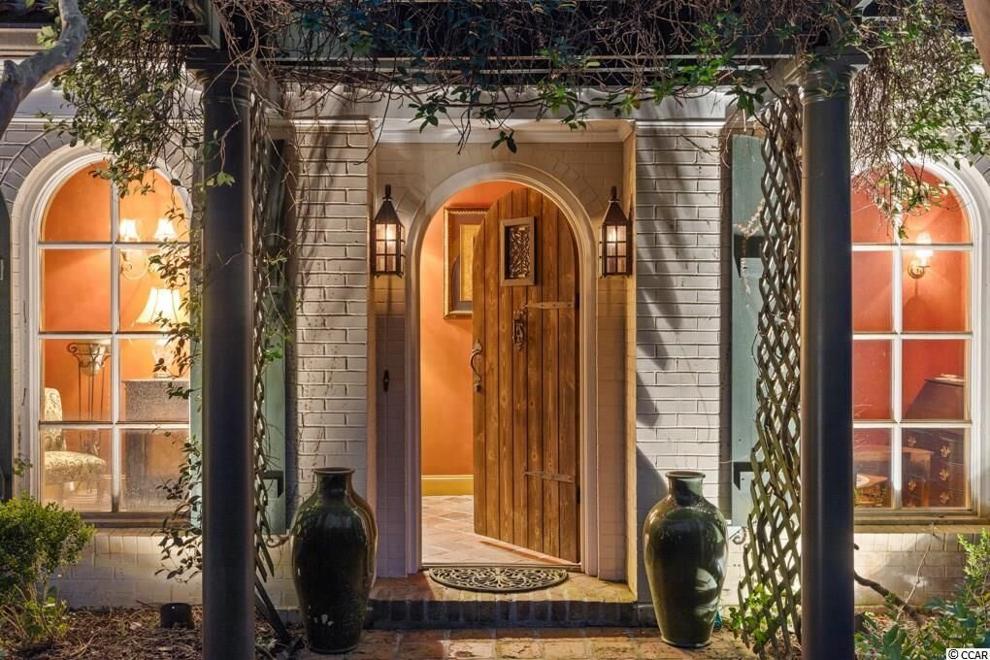 The famed Hood was an architect known for his work on Rockefeller Center and GE Building in New York, the Tribune Tower in Chicago, and was locally known for designing the Ocean Forest Hotel here in Myrtle Beach.
The home, at 5517 Woodside Avenue, sits protected by wrought-iron, double-entry gates. It's listed on the National Register of Historic Places.
Hood cut no corners designing this three-bedroom, six-bath, 5,012-square foot home. Beyond the incredible landscaping that leads to this beautiful home, guests will notice the terra-cotta and copper roofing. The remarkable front wooden door is straddled by two gas-lantern lights.
Walk into this home and immediately you'll notice the arched windows and doorways not often found in more modern designs. The exposed wooden beams across the ceiling of the living room will capture your eye, as will the original terra-cotta tile floors. Enjoy the first of three gas fireplaces while in the living room.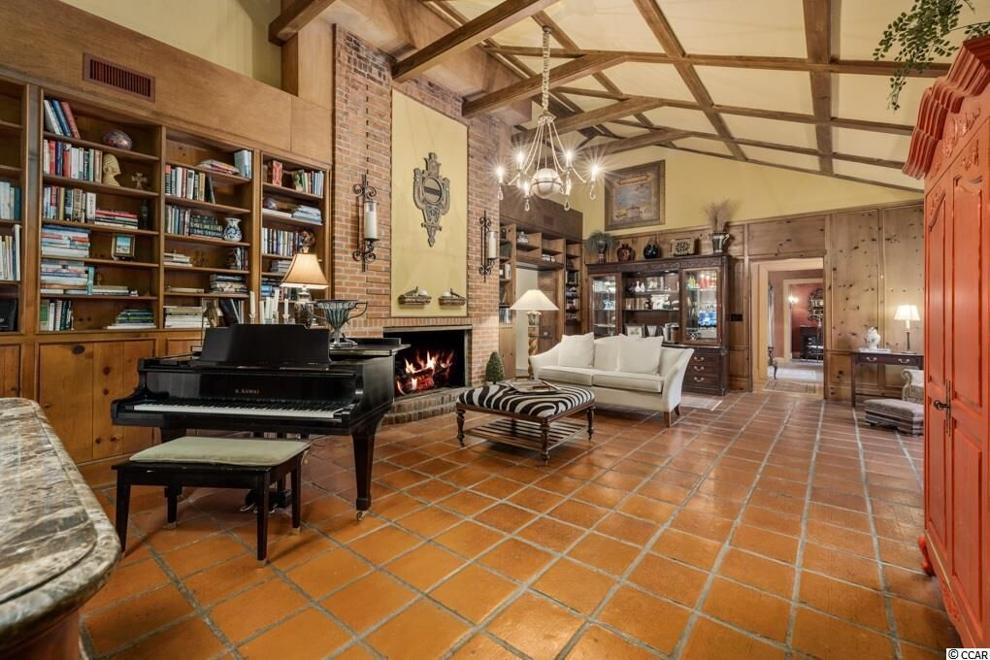 Head to the kitchen where modern amenities meet more of Hood's architectural design. Exposed beams stretch across the kitchen, which also features a unique stone-arched area that features a commercial gas range, griddle, two ovens and a warming drawer. A butcher block island is at the center of the kitchen, which also features a sink and pull-out drawers. Glass-panel cabinetry with interior lighting is featured on a few of the upper panels above the counter space.
The dining area features another fireplace, stunning wooden support beams, and a wall of 9-foot, arched French doors leading to the loggia and courtyard.
The master suite has a 'his' and 'hers' bath with custom cabinetry, marble flooring, tile shower, and soaking tub, and includes a private courtyard with a fountain.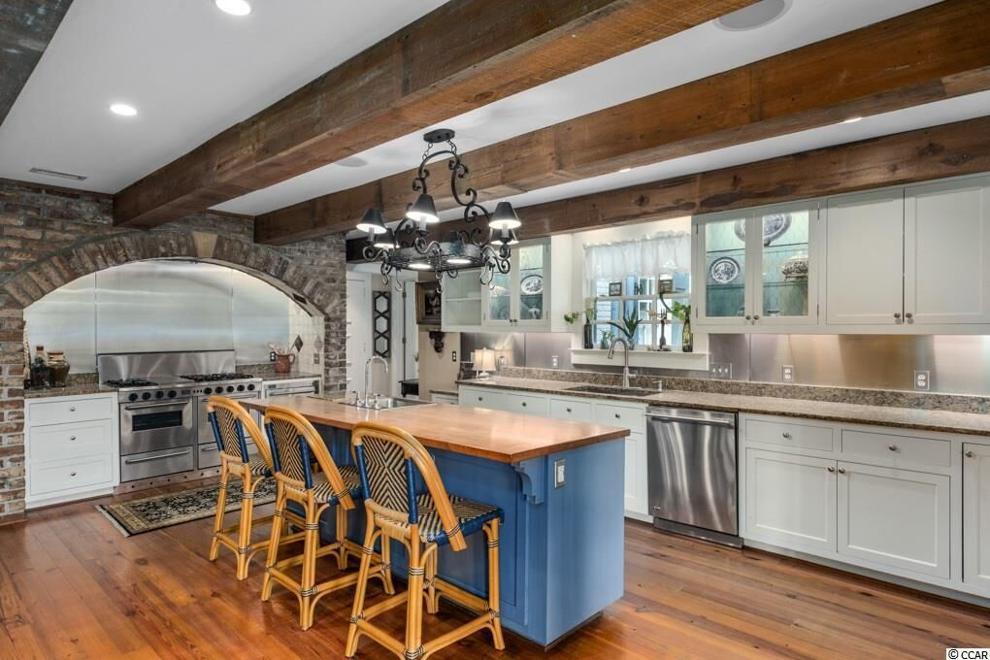 The study includes a wall of built-in bookshelves, a fireplace, and a set of glass double doors that lead to the outside.
Outside you'll find a spacious, partially covered outdoor living area featuring a custom gas grill and wood-burning fireplace. The courtyard has a fountain and an English garden with roses, camellias, Japanese boxwoods, and more than 200 bulbs surrounded by decorative fencing and a brick wall to provide privacy.
The property is being shown by the Davis & Hodges Team of the CB Sea Coast Advantage CF.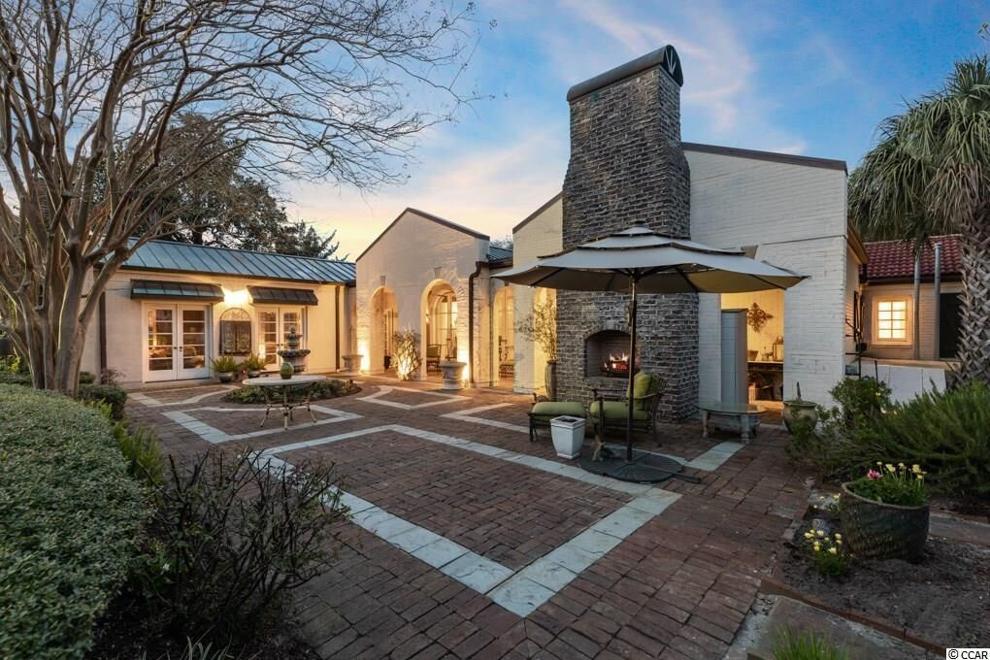 In 1996, renovations and upgrades which preserved the historic value, yet add functionality, were completed. Architectural features that were reclaimed included dining room columns and double doors leading into the study. There is also a homebuyer's warranty for service after the sale.
The rich history of Pine Lakes, originally named Ocean Forest Golf Course, combined with the beautiful architecture of Raymond Hood makes this property at 5517 Woodside Avenue is a once-in-a-lifetime opportunity.