CONWAY, S.C. — With the first day of school fast-approaching, Horry County Schools is preparing to welcome back its students in a COVID-filled world.
Among these schools is Waccamaw Elementary School in Conway, which is readying for Sept. 8 as efficiently and safely as it can.
The school used its five Learn, Evaluate, Analyze and Prepare (LEAP) days, mandated for all schools by the state, to simulate what it will be like to have its students back on campus.
"I think LEAP days were the greatest gift," principal Leslie Huggins said. "I'll be the first to say, when South Carolina mandated those, I was nervous. But they are literally one of the best things that could've happened for me.
"We were able to bring almost 100 kids into our building and really try out all the procedures we had developed, so it was like getting a dry run with a smaller group of kids of all the things that we know we want to do when we come back, if we're able to come back."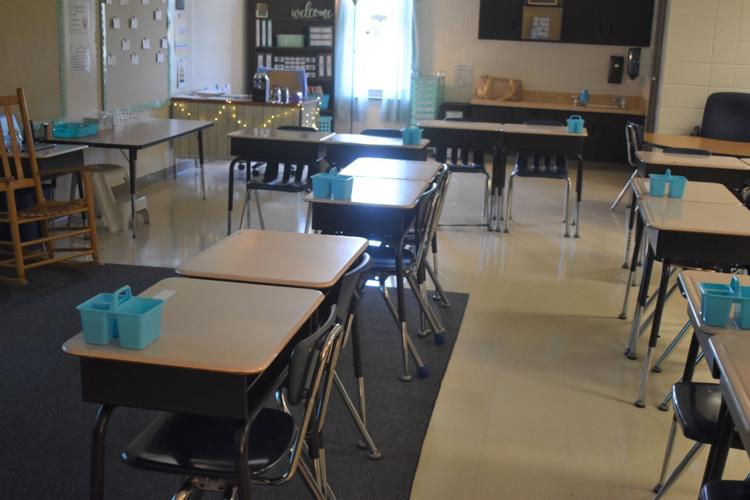 Huggins was overwhelmed with emotion when she was finally able to see her students again for the first time since mid-March.
"I think the best part of that gift, besides the first day when the kids got out of the car, there's no explanation or describing the feeling that you have as a teacher, as a principal, as a kindergarten assistant, whoever you are, when you stand out there and you see kids get out of a car when we haven't had kids in these halls in such a long time," she said. "It's just incredible."
In a coordinated tour by the Horry County School district, the elementary school's safety preparation work was on display.
In the front office, the secretary is separated from the public by plexiglass.
When arriving at the classrooms, the desks run in pairs.
"Now obviously, when we come to school, students aren't going to sit together," Huggins said. "But a lot of our teachers have talked with me and said, 'Can I just keep the desks together? Because it still feels like it would if we were all here,' and we said sure, as long as the kids can sit socially distanced, it looks really warm and full this way."
Students will be socially distanced at 6 feet from their neighbor to each side, while the person behind and in front of the students are closer than the recommended 6 feet. There was no plexiglass use at any student desk, nor for the teacher's desk at the front of the classroom.
As for the outside space, Huggins pointed to the paws around campus that will keep students socially distanced from each other.
"We know children are resilient, but as we watched it unfold that first day, I think we were all kind of walking around saying to each other, my first conversation was with one of counselors and I said, 'Look at this!'" she said. "We worry so much about how this'll impact our kids, but our kids walk right through the door and say, 'Oh, those paws are cool, Miss Huggins!' So I just think children are so much more resilient than we give them credit for."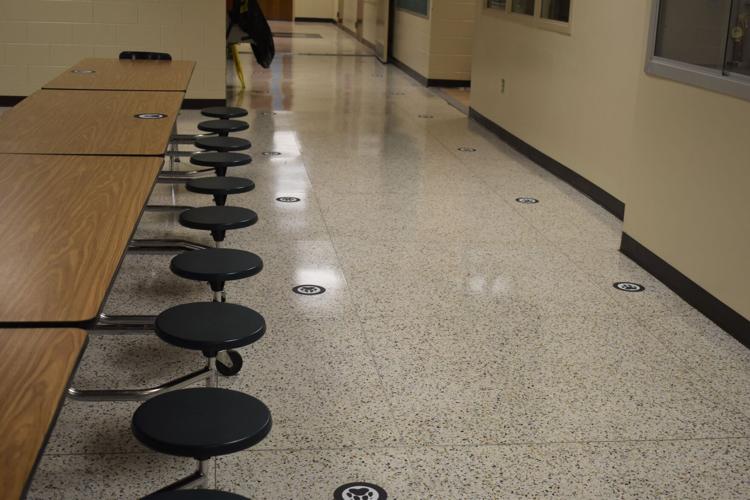 The paws represent the paws of a Wildcat, the school's mascot, and teachers and administrators will utilize them to keep students safely separated from their classmates.
Huggins is hopeful the school can maintain its identity through the pandemic.
"The LEAP days just gave us a chance to say, 'This is still Waccamaw,'" she said. "We still do things the Waccamaw way. It's not different; it's adjusted, but it's still here, it's still home."
As of right now, Waccamaw will be using a hybrid class model with its roughly 900 students: one group will learn in-person on Monday and Tuesday and learn virtually on Wednesday and Thursday, and the second group will be the opposite. All students will learn virtually on Friday.
Huggins wants parents to know that they can trust what the school is doing regarding COVID-19 procedures.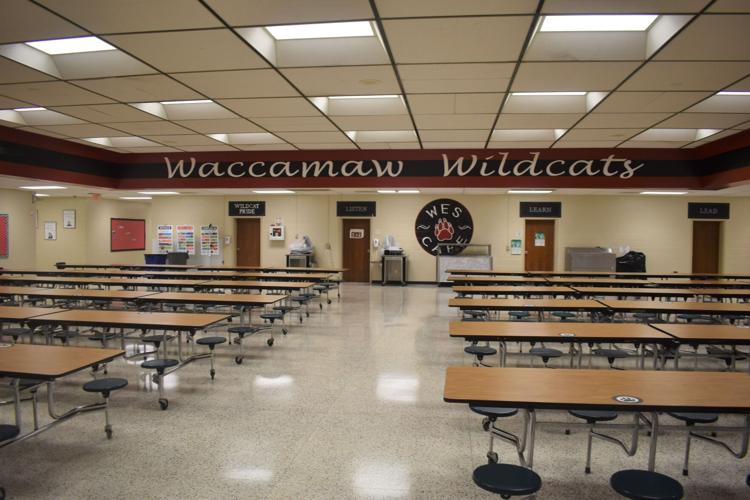 "I would say to my family, to my parents especially, but to all parents, I am a parent, so I can say that there is not one thing you're going to see happen that didn't happen without tons of thought and process," she said. "So I would just say that you can put your faith and trust in me. This staff has worked diligently to put things together that are going to be the best thing for your kid, your child."
Huggins wants parents to know she and her staff are available to answer any concerns they may have.
"The second thing that I would say to all of my parents, and they know this, if they are Waccamaw Wildcat family, they know this, we're here to answer questions," she said. "So, if you have a question, ask the question and we'll get back to you. We've got lots of different platforms to help parents with that, and we want to help you feel comfortable."
Teaching can sometimes be a challenge, but for first-year fifth-grade teacher Caitlyn Lindaberry, this year may prove the most challenging of her career. Lindaberry taught fourth grade at Midland Elementary in Conway as part of her teaching program at Coastal Carolina University, from which she graduated this spring, but being a first-time, full-time teacher during a pandemic will undoubtedly determine her savvy as an educator. However, she's had a lot of support along the way to make her transition go as swimmingly as possible.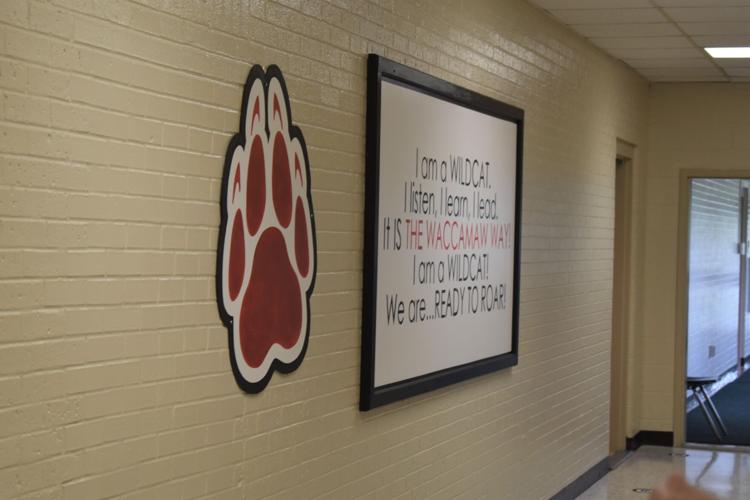 "So there (are) a lot of extra things you have to think about as a first-year teacher," Lindaberry said. "You have to get all your supplies ready, you have to get all your procedures ready for your own classroom management style," Lindaberry said. "But, honestly, with my team and my principal and my staff that I've had here, I don't think it's really any different for me than another year not in a pandemic with the support level that we've had. Yes, there (are) new protocols that we have to follow, but we're just doing it to keep everybody healthy and safe … and I feel like my college career really prepared me to be a first-year teacher this year, as well."
Lindaberry was crestfallen when the pandemic hit and she was forced to discontinue teaching while she was still a senior Chanticleer, so being back in the classroom for the first time in over five months has reignited her love for teaching.
"It broke my heart on March 13 when I had to leave my Midland babies in fourth grade," she said. "So being back in this classroom, it filled me with so much joy walking in here for the first time. Yes, it was a work in progress when I first got here, but it filled me with so much passion to make this room a place where children can learn and they can grow and they can just love each other and love me as their teacher."
Lindaberry has put her faith in the school to carry out proper COVID-19 guidelines implemented by SCDHEC.
"I am most confident about my school and the procedures that we have in place for health and safety," she said. "For instance, we're wiping down all the desks, the paw prints in the hallway, and having that community relationship still in the building, whether it's when we're in face-to-face or the hybrid or full-distance learning. So I'm really confident in that, in our ability to build relationships with our parents and or kiddos."
But what is Lindaberry most concerned about going into the school year?
"The thing I am most worried about, I guess, is being an effective teacher myself since this is my first year, and really helping those students learn and grow to the best of their abilities," she said.
Since the pandemic will make this school year challenging, Lindaberry is looking on the bright side and believes that this unprecedented year will help her in the long run.
"I think that it's going to help prepare me to be more flexible in the upcoming years, as well," she said. "And also, I get to be more creative, because if we don't have COVID and all these procedures next year, I get to rethink my whole classroom layout. So, honestly, that's really fun for me, so I think it'll be more of a benefit and not really hindering in the future."