Accolades for Charleston's dining scene have largely gone to restaurants that could have arguably emerged in any decent-sized Southern city, such as FIG or Charleston Grill. But the James Beard Foundation in 2018 awarded its Best Chef Southeast prize to Rodney Scott of Rodney Scott's BBQ, thereby recognizing a restaurant that is South Carolinian to its core.
That's an attribute many eaters also seek when headed out to eat, which is why barbecue, seafood and Lowcountry cuisine top the list of most-wanted recommendations.
When it comes to barbecue, Rodney Scott's is an excellent place to start. Other local choices worth considering include Swig & Swine; Home Team BBQ; Lewis Barbecue, if you're in the mood for a Texas pitmaster's hot guts and corn pudding, and Bessinger's BBQ, at least on the weekends, when the restaurant offers a buffet. The format is as essential a South Carolina barbecue tradition as hash and mustard sauce.
For seafood, the two clear leaders are The Ordinary for fancy seafood, and Bowen's for down-home interpretations (at least during oyster season.) Both restaurants are further outlined below. At lunchtime, 167 Raw is worth a visit, while The Darling Oyster Bar provides an affordable upper King alternative to the luxe on display at The Ordinary.
Your best bet for a local restaurant devoted exclusively to upholding Lowcountry food traditions is Middleton Place Restaurant, which has been honoring the land and the people who worked it ever since legendary chef Edna Lewis was in charge of the kitchen.
And if you want something else, read on for more essential eating experiences:
Bar Normandy
Proudly a restaurant worker's restaurant, Bar Normandy doesn't have printed menus or servers or even a space of its own. It nightly inhabits Normandy Farms Bakery, pulling off a presto chango that consists primarily of dimming the lights and plugging in a pair of induction burners. Chef Alex Lira's loving interpretations of local ingredients are equally magical. 19 Broad St., 843-789-4509, instagram.com/barnormandy19
Bertha's Kitchen and Martha Lou's Kitchen
Diners like to debate the merits of Bertha's Kitchen and Martha Lou's. The proprietors of the venerable soul food joints aren't too invested in the rivalry: They've catered each other's events. Follow their lead and patronize both restaurants if you can. Don't miss the outstanding fried pork chop and okra soup at Bertha's, one of five restaurants in 2017 to receive a prestigious America's Classic award from the James Beard Foundation. 2332 Meeting St. Road, North Charleston, 843-554-6519. Seek out the fried chicken and cornbread at Martha Lou's, 1068 Morrison Drive, Charleston, 843-577-9583, marthalouskitchen.com
Bowen's Island Restaurant
Yes, nitpickers will claim the iconic restaurant hasn't regained its animating spirit since a devastating fire forced a total rebuild. More roasted oysters for the rest of us then. Perhaps the only restaurant where eaters calculate their appetite by the shovelful, Bowen's is a fortress of Lowcountry oyster culture. 1870 Bowen's Island Road, James Island, 843-795-2757, bowensislandrestaurant.com
Butcher & Bee
After years as the region's favorite high-end sandwich shop, Butcher & Bee, equally renowned for its accomplished baked goods and Middle Eastern-tinged takes on Lowcountry vegetables, is now a sophisticated sit-down restaurant with an impressive wine list and perhaps the city's best breakfast menu. 1085 Morrison Drive, 843-619-0202, butcherandbee.com
Edmund's Oast
Although it bears a name that would have made more sense to drinkers a century ago (an oast is a hop-drying kiln), this playhouse of beer and dynamic food tends to look forward with dishes such as hot-and-sour tilefish over Charleston Gold rice, created by Bob Cook; Edmund's snapped up the Artisan Meat Share chef after that beloved charcuterie counter closed. 1081 Morrison Drive, 843-727-1145, edmundsoast.com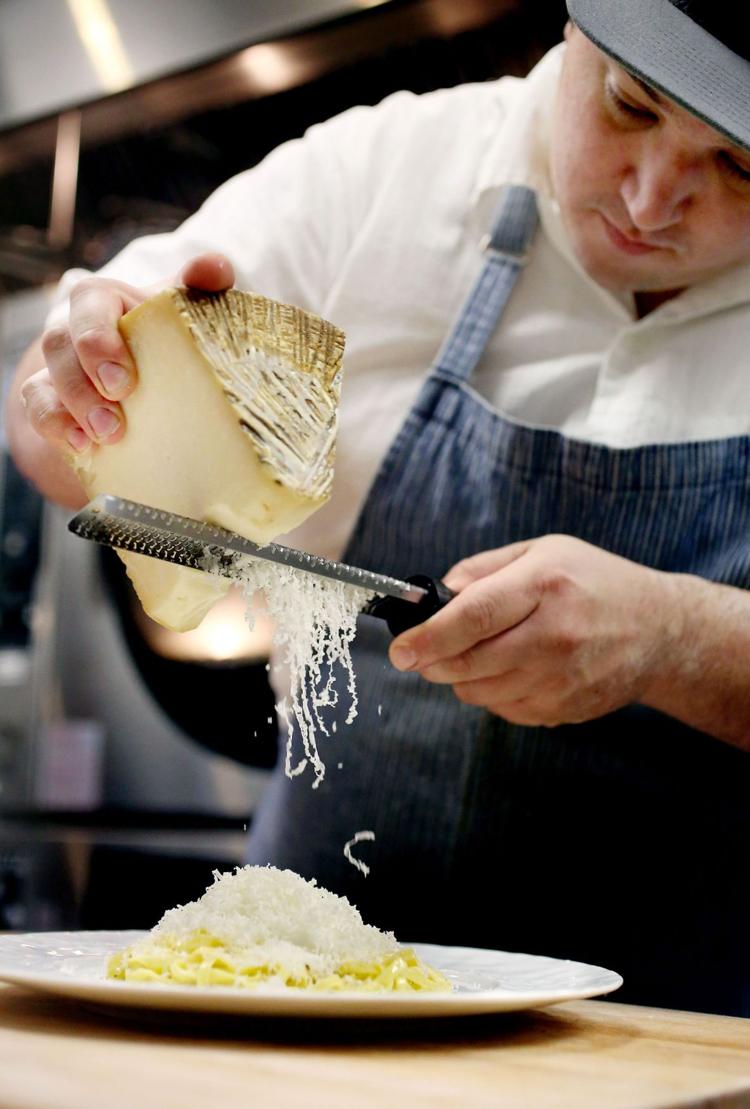 FIG
Now headed up by Jason Stanhope, the reigning best chef in the Southeast (at least in the James Beard Foundation's estimation), this Mike Lata award-winning restaurant was instrumental in forging contemporary Charleston's relationship with food. Its signature dishes, such as the handsome nine-vegetable salad, are studies in seriousness, refinement and ingredient respect. Its wine list was recognized in 2018 as best in the country by the James Bear Foundation. 232 Meeting St., 843-805-5900, eatatfig.com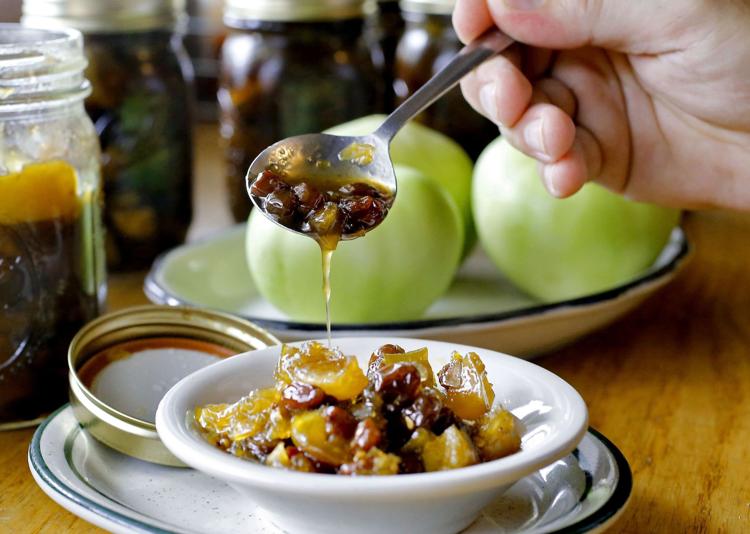 The Glass Onion
The comfortably casual Glass Onion is a delicious antidote to the Southern food burnout that's become a real risk of eating out in America these days. The restaurant restores dignity and meaning to simple dishes such as fried chicken and deviled eggs. 1219 Savannah Highway, 843-225-1717, ilovetheglassonion.com
The Grocery
The perfect answer to the "where to take out-of-town guests" question that's a fixture of Charleston living. At The Grocery, chef Kevin Johnson makes trendy techniques such as pickling and preserving painless for skeptical patrons; the endearingly scruffy, scrupulously sourced dishes are worthy homages to the region's bounty. 4 Cannon St., 843-302-8825, thegrocerycharleston.com
Husk
At its best during the lunch hour, Husk is the restaurant that secured Charleston's spot in the national culinary pantheon. The South's edible glories are celebrated here in playful dishes that subtly draw from Asian techniques: The pig's ear lettuce wraps are a mainstay of the otherwise changing menu. 76 Queen St., 843-577-2500, huskrestaurant.com
Indaco
Bringing accessible class to Upper King Street, the Italian representative in Steve Palmer's Indigo Road restaurant collection is the energetic Indaco, serving up quasi-Italian pastas and seafood dishes with a farmhouse bent. The brightly cosmopolitan pizzas, baked in a wood-fired oven, are the prize. 526 King St., 843-727-1228, indacocharleston.com
Leon's Oyster Shop
It's a brilliant strategem, really: By serving impeccably fried chicken, Leon's kitchen can get away with a roster of California-influenced salads that might not otherwise fly in a joint that smartly salutes the ragged South. The chargrilled oysters are less healthy but not to be missed. 698 King St., 843-531-6500, leonsoystershop.com
Little Jack's Tavern
There's more to Little Jack's than its justly popular tavern burger, although it likely would have made this list on the slider's strength alone. This knowingly retro steakhouse is a warm celebration of everything a racehorse owner would favor in 1952, including stiff martinis and crab Louie. 710 King St., 843-531-6868, littlejackstavern.com.
Rodney Scott's BBQ
One of the world's great food cities and one of the best whole hog pit masters on the planet were bound to meet, considering both are located in South Carolina. Rodney Scott left Scott's BBQ in Hemingway to open his own store in Charleston, and the meat's as magnificent as promised (especially in the unexpected form of a rib-eye sandwich.) 1011 King St., 843-990-9535, rodneyscottsbbq.com
Trattoria Lucca
Chef Ken Vedrinski last opened Coda del Pesca, where his rigorous brand of Italian cookery meets beachside views, but the food is every bit as delicious at the quietly romantic Lucca. Adding to the enchanted air is the regionally appropriate wine list, which strays far beyond the expected standards. 41 Bogard St., 843-973-3323, luccacharleston.com
Minero
Leave it to Neighborhood Dining Group, home of executive chef Sean Brock, to solve the problem of Mexican food in downtown Charleston (namely, there wasn't much). The best dishes here cannily reference the Lowcountry, such as the exceptional benne salsa. 153 East Bay St., 843-789-2241, minerorestaurant.com
The Obstinate Daughter
Having already catapulted Wild Olive into the essential realm, chef Jacques Larson opened The Obstinate Daughter on Sullivan's Island, forcing eaters to rethink their low expectations of beachy restaurants. There's pizza and pasta, but the rustic Italian preparations of local seafood are the beacon here. 2063 Middle St., Sullivan's Island, 843-4165020, theobstinatedaughter.com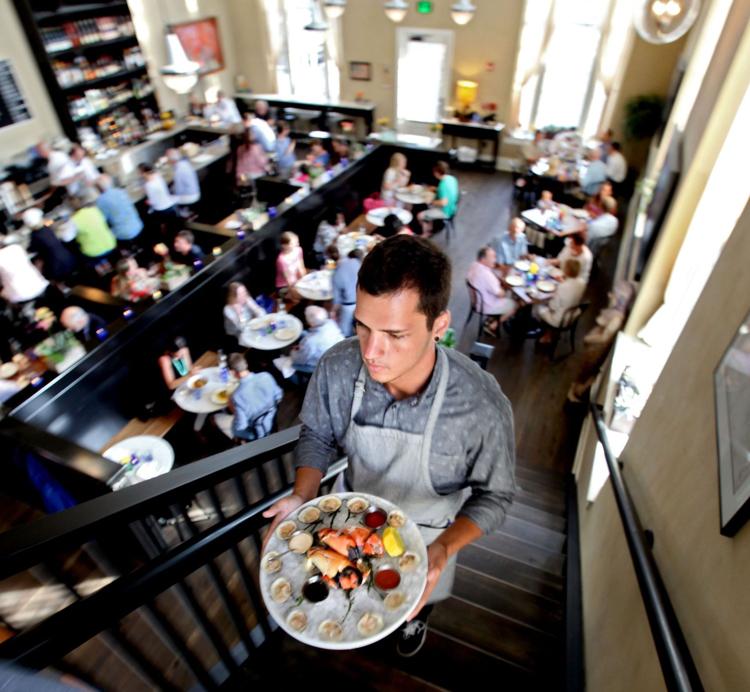 The Ordinary
When the building that houses The Ordinary served as a bank, it safeguarded money. Now under chef Mike Lata's supervision, the grand Upper King Street structure is a depository for eaters' seafood affections. The lively restaurant is the city's top destination for smart and elegant shellfish preparations. 544 King St., 843-414-7060, eattheordinary.com
The Wreck of the Richard and Charlene
This weathered joint on the banks of Shem Creek is the area's best bet for fried seafood, including estimable deviled crabs. As the name suggests, the restaurant isn't much to look at, but the mingling aromas of salty French fries and the coastal air drifting across the screened-in porch more than make up for the visuals. 106 Haddrell St., Mount Pleasant, 843-884-0052, wreckrc.com
Xiao Bao Biscuit
Charlestonians like to wail about the local dearth of traditional Asian food, but the city has something a sight better in Xiao Bao, the brainchild of three restaurateurs smitten with Sichuan peppers and black beans, among other Far Eastern pantry staples. Housed in a converted gas station, the vibrant restaurant is relentlessly creative. 224 Rutledge Ave., xiaobaobiscuit.com