Giant prehistoric reptiles, air-breathing sea creatures, ugly beauties, even the apparently unkillable Palmetto bug — this place is wild. Here are a few of the iconic creatures to watch for and where.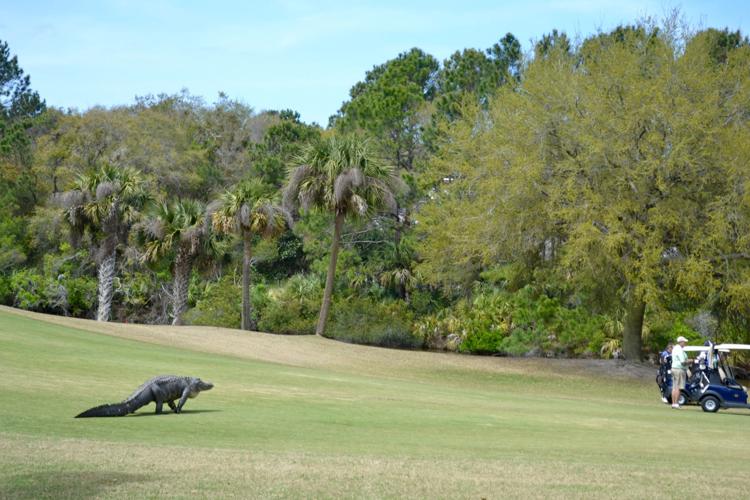 Gators
There you are paddling serenely through the blackwater when you see the beady eyes of an inhumanly large, armored lizard sliding off the bank and under your boat. Welcome to the Lowcountry, where maybe no animal except the shark inspires more dread than the American alligator. They can grow longer than 13 feet and weigh more than a half ton. They are more or less shy and quick to disappear when spooked. But they will flare their jagged teeth and often bluff charge if they feel threatened or want to establish turf. They have survived since prehistoric times because, face it, little else out there wants to tangle with them.
Hop in a boat or hike a levee to go see one, but give them plenty of room. The S.C. Department of Natural Resources warns people — on land or in the water — not to approach, harass or feed them. It's against the law. And not especially smart.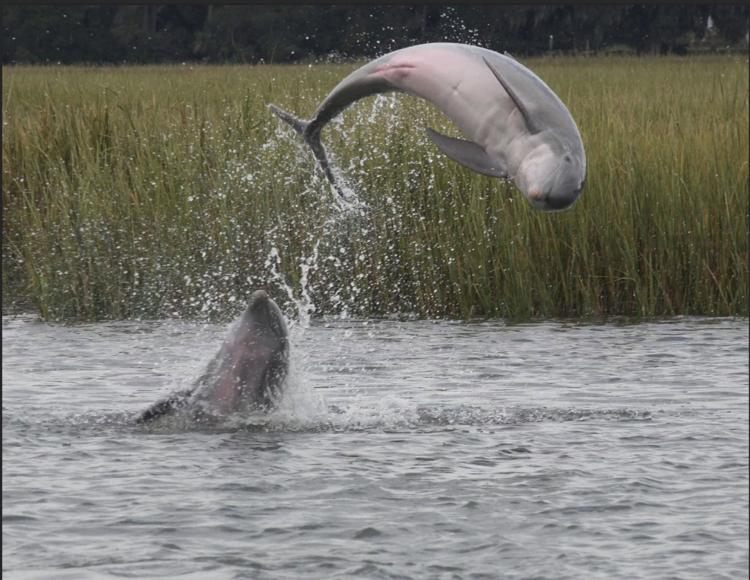 Bottlenose dolphins
If you're near salt or brackish water, keep an eye out for a fin momentarily skating the surface and listen for that doglike snort of breath. Dolphin are part and parcel to the Lowcountry, renowned for strand feeding, where the mammals work in a group to corral fish, drive them ashore and then leap after them to eat. You won't miss the bottlenose — they're as big as you are. But if the fin doesn't submerge again, re-evaluate.
Brown pelicans
While you're watching for dolphin, don't neglect to look up. Pelicans glide the beaches one after the other, sometimes dozens at a time, with their 5-foot-wide wing spans. They also cruise the water surface to scoop up fish in their bucket-like beaks. Pelicans are plentiful here, thanks to a series of protected rookery islands along the coast.  Oh, and don't try to blink it off if one looks too big and pale. Larger white pelicans show up here, too.
Wood stork
The only stork species native to the Southeast, this huge wading bird with its black-tipped wings has the grace of an eagle in flight. It grows taller than 3 feet, with a 5-foot wingspan that sounds a breathy "whoop-whoop" when flapping. They like to circle in kettles high in the air. Restored from near extinction, wood storks now nest by the thousands in South Carolina. You'll see them overhead almost anywhere if you keep an eye out, even crossing Interstate 26. They are stunning to watch but don't fool yourself, up close they might be even uglier than the macabre vulture they're related to.
Sea turtles
OK, you're not likely to see a rare leatherback — that massive sea turtle with the shell the size of a breakfast table — coming out of the ocean in summer to nest in the dunes. But you might well see a loggerhead, nearly as massive with its bistro table-size shell. They nest here by the thousands and have become the beloved emblem of the coast. The best chance to see a loggerhead, though, or any of the other native, threatened sea turtles found in the Lowcountry, is to keep your ear out for the beach release of rehabilitated patients from the South Carolina Aquarium's Sea Turtle Rescue.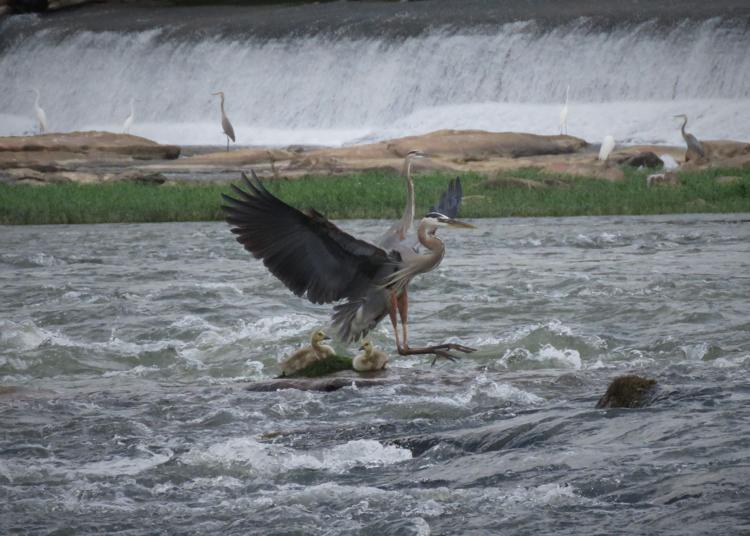 Blue heron
The startlingly white great egret swooping into the marsh might catch your eye at first, but the wading bird that will captivate you is the patiently stalking great blue heron. This bird is so composed that it can step its reedy leg into the water without stirring a ripple. Their long necks and pointed beaks make them lancerlike spearers. Find one hunting a marsh, creek, pond, estuary or even a big rain pool near you.
The Palmetto bug
Ummmm ... they're everywhere. Nobody likes to say it out loud but some of the most prestigious neighborhoods in the Lowcountry are infested with roaches. And not just roaches, b-i-i-i-g red-brown roaches. The sardonically tagged Palmetto bug was named because if you turn over any of the palm fronds, one might just scurry off. We're not going to bother to tell you where to find them. And we here at My Charleston are animal lovers, so we won't tell you to squish it. Fast.