WALTERBORO — Tensions erupted in a Colleton County courtroom Aug. 29 as Alex Murdaugh's defense attorneys accused state prosecutors of illegally withholding evidence and leaking damaging information ahead of their client's highly anticipated double-murder trial.
After nearly an hour of table pounding and verbal jousting, Circuit Judge Clifton Newman settled the matter by siding with the S.C. Attorney General's Office. Newman said he would require state prosecutors to turn over the evidence Murdaugh's lawyers want, but under a protective order sealing it from public view, as prosecutors had requested all along.
Newman's decision allows the case to move forward, possibly toward a January trial date. It punctuated a 52-minute hearing in which Murdaugh lawyer Dick Harpootlian and state grand jury prosecutor Creighton Waters traded barbs and interruptions, a tense showdown preceded by weeks of public sniping over the state's handling of the case.
The hearing came more than six weeks after investigators on July 14 charged Murdaugh with fatally shooting his wife, Maggie, and son Paul last summer at the prominent Lowcountry family's 1,770-acre hunting estate in Colleton County.
The gruesome June 2021 slayings, carried out with a rifle and a shotgun, captured international attention. SLED and the state grand jury spent 13 months investigating before a Colleton County grand jury charged the family patriarch with two counts of murder.
Murdaugh has pleaded not guilty, and his lawyers have accused SLED of narrowly focusing on their client and ignoring other possible leads. They have requested a speedy trial, saying they want Murdaugh acquitted so SLED can resume its investigation and find Maggie and Paul's "real killer."
Murdaugh, 54, attended the hearing wearing a red-and-blue-checked collared shirt and khakis. He was shackled at the waist and wrists. He stared straight ahead for much of the proceeding, his glasses perched on his shaved head, and his legs jiggling up and down under the defense table. 
Murdaugh, a once-respected attorney whose father, grandfather and great-grandfather all served as elected solicitors in the 14th Judicial Circuit, already faces decades behind bars from a slew of other criminal charges that came to light as his life unraveled after the slayings. Investigators allege he used his reputation and position as a trusted lawyer to discreetly steal more than $8.7 million from his clients, law partners and other associates over the past decade.
Those charges are intertwined with the two murders, prosecutors wrote in court filings.
"They are part and parcel of each other and represent an alleged longstanding course of criminal conduct culminating in the allegations surrounding the murders," Waters wrote ahead of the hearing.
The Aug. 29 hearing kicked off with Harpootlian and Waters interrupting each other, raising their voices as Harpootlian accused Waters of hijacking the proceedings and as Waters defended his own integrity. Newman stepped in at one point, reminding the two men to direct their arguments toward him, not each other.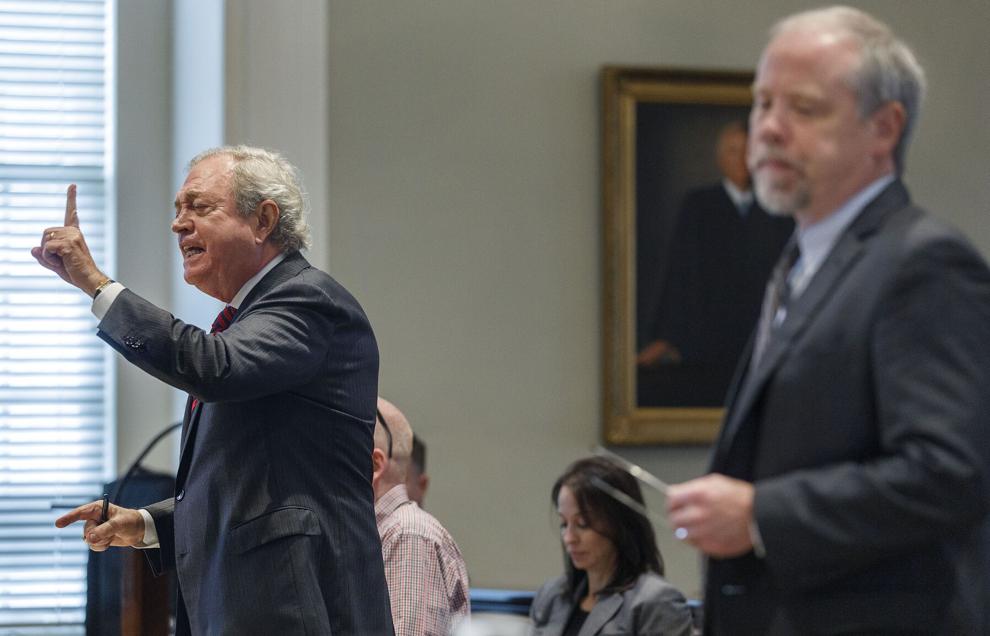 Echoing strongly worded court filings that accused the Attorney General's Office of prosecutorial misconduct, Harpootlian asked Newman for an order requiring prosecutors to turn over their evidence in the case.
"I don't trust the state to honor the rules," Harpootlian said. "They haven't so far at this point."
Waters fired back that he was ready to turn over the discovery material weeks ago until Murdaugh's lawyers suddenly refused to agree to a protective order keeping it secret. He said the material includes data dumps from cellphones, personal identifying information, crime scene photos and other sensitive material that could be worth more than $1 million if an unscrupulous character decided to capitalize on the Murdaugh media frenzy and sell it.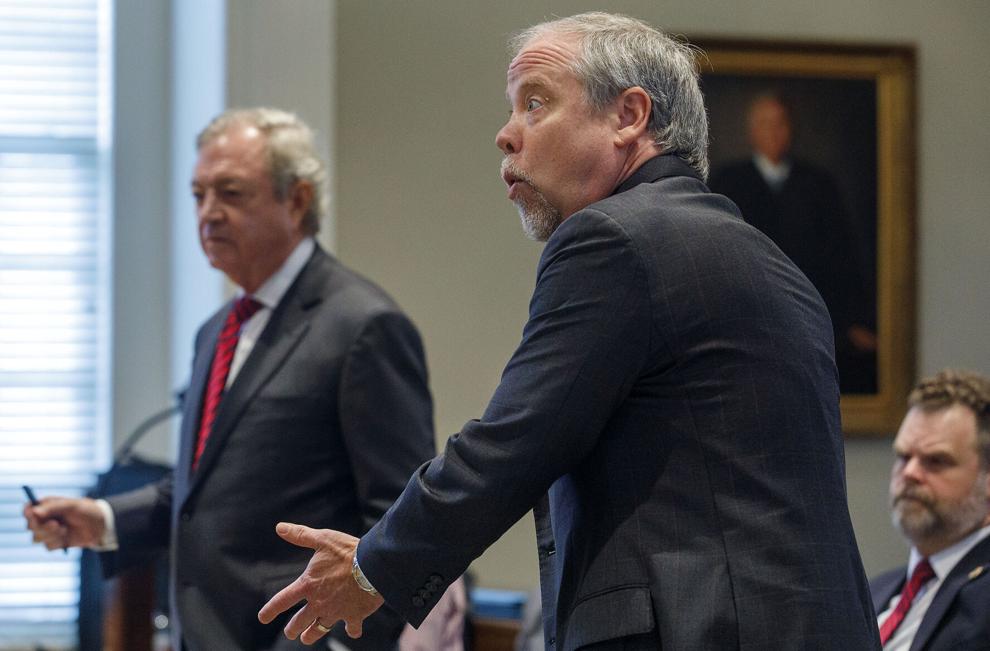 Waters was especially concerned about allowing Murdaugh to handle evidence unsupervised in his cell at the Richland County jail.
"I don't play fast and loose with discovery," Waters said.
Ahead of the hearing, Murdaugh's lawyers alleged state prosecutors missed an Aug. 15 deadline to turn over all their evidence in the case while still selectively leaking damaging details about the case to poison public sentiment about their client. In an Aug. 17 press conference outside his downtown Columbia law office, Harpootlian accused the Attorney General's Office of an unprecedented "trial by ambush."
And in a motion filed just before the Aug. 29 proceeding, he listed a series of media articles that broke news about evidence in the case citing unnamed sources close to the murder investigation. Harpootlian supposed Attorney General Alan Wilson or someone else in his office leaked that news in order to pander to public opinion on the closely watched case. Prosecutors have denied that. 
Harpootlian, a sharp-tongued Democratic state senator, said his legal team hasn't gotten a shred of the pre-trial discovery material it needs to hire expert witnesses and begin strategizing Murdaugh's defense. Murdaugh's lawyers wanted that evidence free of restrictions, in part so their client could pore over it from the Alvin S. Glenn Detention Center in Richland County.
Jim Griffin, one of Murdaugh's attorneys, said his client is a lawyer who could help plot his own defense.
"First of all," Waters retorted, "he WAS a lawyer," alluding to the fact that Murdaugh was disbarred by the state Supreme Court earlier this year for misconduct.
Waters strongly denied he or anyone in his office had a hand in any alleged media leaks. He supposed the leaks could have come from any of the three dozen witnesses — or their attorneys — who testified before the state grand jury, noting those witnesses aren't sworn to secrecy as investigators are.
Wilson's office has repeatedly accused Harpootlian of harnessing the evidence dispute to manufacture drama in the case.
In the end, Newman agreed with prosecutors that much of the evidence in the case is sensitive and should remain behind a veil of secrecy, especially as multiple investigations into Murdaugh's alleged criminality remain ongoing.