WALTERBORO — State investigators believe they know what gun killed Maggie Murdaugh. They just don't know where it is.
An expert witness testified Jan. 24 that the murder weapon was a .300 Blackout semiautomatic rifle that had been used before at the Murdaughs' spacious hunting estate in Colleton County. Ballistic tests showed shell casings found near Maggie's body had been ejected from the same gun as older casings recovered elsewhere on the property, he said.
And a gun just like it — purchased by her husband, Alex Murdaugh — "can no longer be accounted for," state grand jury chief prosecutor Creighton Waters told Judge Clifton Newman on the second day of preparations for Murdaugh's double murder trial. Defense attorney Jim Griffin later countered that one of the .300 Blackout rifles Murdaugh had purchased had been stolen.
Waters' revelation came as state prosecutors fought to have that ballistic analysis admitted as evidence in their case against Murdaugh, a former Hampton trial attorney whose fall from grace has generated international intrigue.
Murdaugh's attorneys tried to suppress the "firearms identification" evidence, questioning the State Law Enforcement Division expert's certainty in matching shell casings to a specific gun. They have spent months seeking to pick apart key elements of the state's case in their quest to convince jurors Murdaugh isn't guilty in the June 2021 slayings of his wife and youngest son, Paul.
The evidence is critical to the state's largely circumstantial case. Not only is the rifle missing, but it is believed that the shotgun used to kill Paul, 22, has not been recovered either.
But Newman sided with prosecutors, ruling SLED forensic analyst Paul Greer presented a firm opinion based on years of experience and training, even after Griffin repeatedly questioned him about his confidence that all the spent casings were ejected from the same gun.
Some of those casings were found near the house at Moselle, as the Murdaugh's estate is known. Others were recovered from a firing range on the property.
By Thad Moore, Avery G. Wilks and Jocelyn Grzeszczak tmoore@postandcourier.com; awilks@postandcourier.com; jgrzeszczak@postandcourier.com
Any further challenges to Greer's testimony from Murdaugh's team will have to come during cross-examination when he retakes the stand during the trial, Newman said.
The ruling ended an afternoon of bickering over which experts and evidence can be presented when Murdaugh's trial advances to opening statements on Jan. 25.
Prosecutors and Murdaugh's attorneys agreed to a brief cease-fire in their fights over certain elements of the trial.
They said they would wait to hash out their disagreements over the state's high-impact blood spatter evidence, for example, until prosecutors decide whether to introduce it. Murdaugh's lawyers have argued the state can't prove their client's shirt was spattered with blood as he shot his relatives because Murdaugh's white T-shirt tested negative for human blood.
The two sides also got no resolution on whether prosecutors can introduce Murdaugh's myriad alleged financial crimes — he is accused of stealing nearly $9 million from those who trusted him — as evidence against him in the murder trial.
Prosecutors have said Murdaugh, 54, killed Maggie and Paul in a desperate attempt to engender sympathy for himself and cover up his decade-long financial crime spree before it could be exposed.
Dick Harpootlian, one of Murdaugh's attorneys, said that makes no sense because the state hasn't shown Murdaugh's bad acts were about to be uncovered, and there is no evidence his wife or son were going to confront him.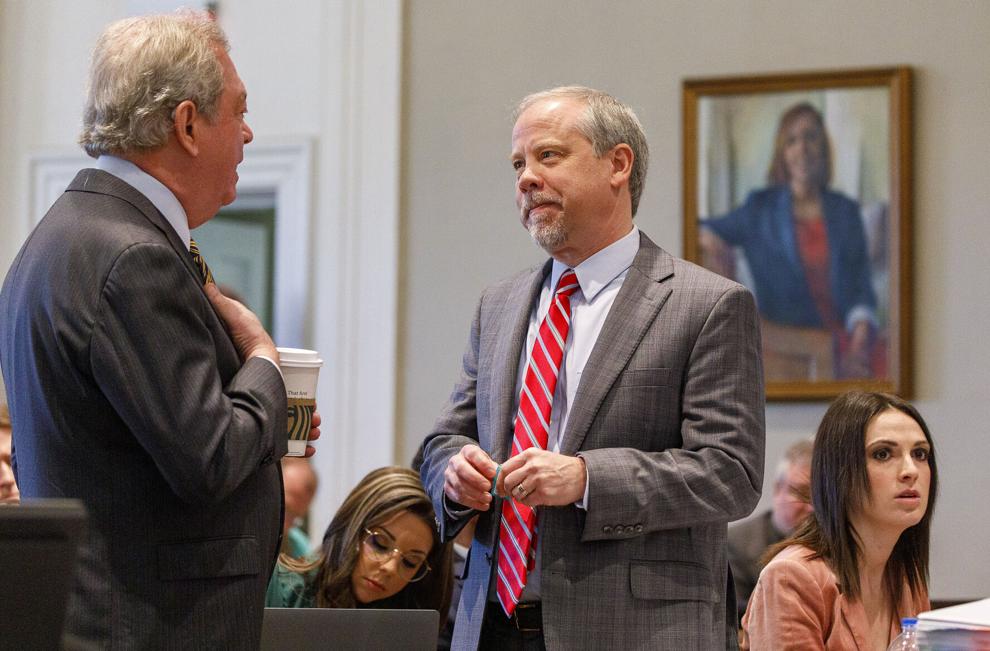 The state's theory is, "he knew the jig was up, so he went home and butchered — blew the head off his son — and butchered his wife," Harpootlian said. "There's not one shred of evidence that there was any problem between any of them."
Murdaugh seemed more engaged in the courtroom Jan. 24, greeting potential jurors with a nod during the morning court session and fist-bumping his sister during a brief interaction in the courtroom that afternoon. His sister, Lynn Murdaugh Goette, has been identified as a potential defense witness in the case.
"See you tomorrow," she told Murdaugh before he was escorted out of the courtroom.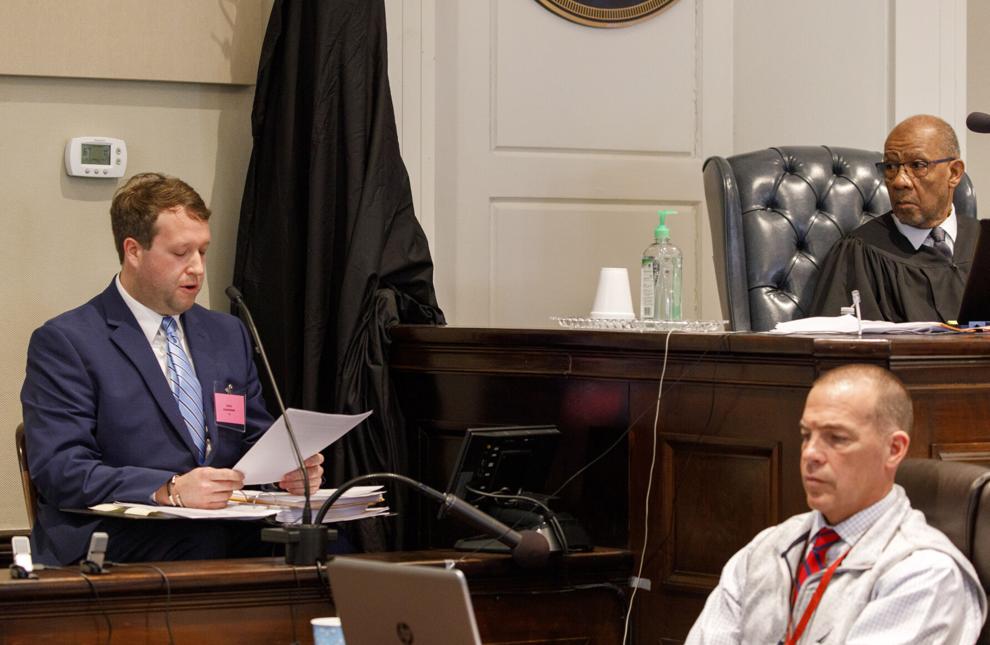 The fight over evidence came after Newman completed the arduous and repetitive process of screening potential jurors, a task that proved challenging in a lightly populated county where generations of Murdaughs served as the elected top prosecutor for 86 straight years.
The intense media coverage of the Murdaugh murders and Alex Murdaugh's subsequent personal unraveling didn't help.
By Kelly Jean Kelly kkelly@postandcourier.com
On Jan. 24 alone, Newman dismissed a whopping 15 people from a panel of 79 because they said they had already formed a strong opinion on the case and couldn't be swayed no matter what evidence is presented at trial.
Others were dismissed because of their relationships with the Murdaughs, the high-powered Hampton law firm they ran for more than a century, local law enforcement, or the 255 potential witnesses in the case.
After a day and a half of jury screening, Newman now has a pool of 122 prospective jurors who — theoretically — can render an impartial verdict in the coming weeks. Newman said he would begin seating the jury at 11 a.m. Jan. 25, with plans to pick 12 jurors and six alternates for the weekslong proceeding.
After that, the trial will begin in earnest with opening statements, likely starting sometime that afternoon.
By Thad Moore tmoore@postandcourier.com