PEMBROKE, Ga. — Whoever said crime doesn't pay hasn't been to an auction for the household items of a convicted double-murderer.
In an aluminum-sided warehouse on March 23, dozens of people paid good money for the flotsam and jetsam from Alex Murdaugh's hunting estate, where his wife Maggie and youngest son Paul were shot to death with a shotgun and rifle.
Less than three hours after Alex Murdaugh's trial for their murders ended on March 2, the jury's verdict came down like the auctioneer's hammer: Guilty.
A few weeks later, trucks from Liberty Auction rolled onto the remote estate and carted off the artifacts of a family.
They ranged from the mundane to the macabre: bath towels, coolers, a vacuum cleaner; a gun case, a rifle cleaner, a box of the type of ammo Maggie was shot with.
Lori Mattingly owns Liberty Auction, an outfit as big as an airplane hangar off the side of a wooded road 35 miles west of Savannah. She said most items she sells come from wealthy families in the Hilton Head area who are moving houses and want to overhaul their look. 
Although Pembroke, Ga., is an hour-and-a-half away from Moselle, the Murdaugh lot came her way because of Liberty's sterling reputation, she said, as well as a mutual acquaintance — another example of how far the Murdaugh social network extended.  
Mattingly said the event had attracted four times as many people as her usual Thursday afternoons — and that was hours before the bidding even began.
"There's just so many people here, and so many people that want anything that came out of that house," Mattingly said. "I don't understand. This is the world we live in."
By 4 p.m., when the auctioneer finally started his singsong, at least 500 people crowded between long tables piled with pillows, waders and duck decoys to try for a piece of history they could show to friends and visitors.
The cooler went for only $50. But the pheasant feather wreath sold for $275, the shellacked turtle shell lamp $500 and the mounted longhorns more than $10,000.
Living room set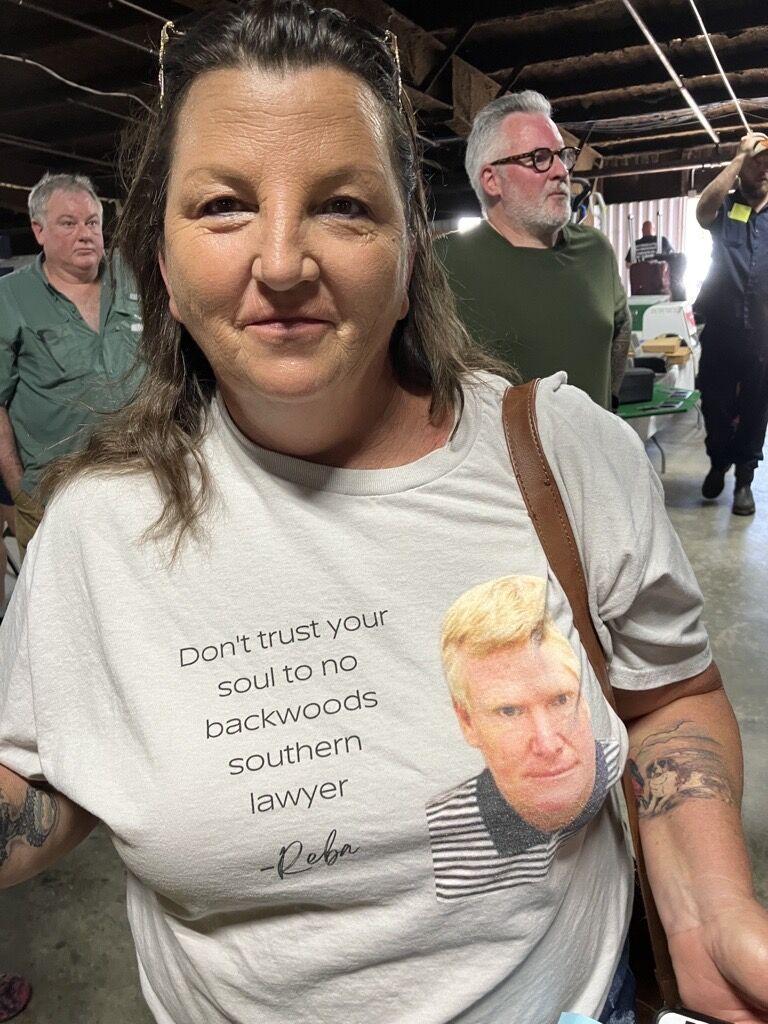 Among the crowd milling around before the action started, fanning themselves with their fluorescent lime bidding cards, few confessed to being obsessed with the Murdaugh case.
The consensus among those hanging out on the Murdaughs' leather living room set was that most auction attendees probably wanted to resell stuff on eBay.
Still, one woman couldn't help herself; she rooted around in the chair cushion and pulled out a sock.
The spectators cheered.
"Think they'll find the blue shirt in there?" a man quipped.
No one needed to explain the joke. The collared shirt Alex Murdaugh had been wearing on the day his wife and son were killed is missing, presumably stashed or destroyed.
Lenora Brooks, a green-eyeshadowed collector who'd come 200 miles from Belton, S.C., to the event, stroked the soft caramel skin of the sofa.
"So this is where Voldemort slept," she said, referring to the arch villain of the Harry Potter series. Then she kicked off her shoes and propped her bare feet on Alex Murdaugh's ottoman.
More Murdaugh
The number of people the auction attracted speaks to how fascinated some remain with the Murdaugh saga, which has unspooled in the media for more than four years.
"It's like a novel," said Angie Carothers, a wide-eyed blonde who drove about 130 miles from Charleston to pore over the Murdaughs' possessions. Carothers had also driven the 50 miles to Walterboro every day during the six-week trial, pleased she was able to get a seat in the courthouse.
"He looks like a Southern gentleman, he looks like somebody that you would meet on the street and love to talk to. But looks are deceiving," Carothers said.
For those who yearned for more Murdaugh, the family's possessions offered new insight into their psyches, new opportunities for analysis.
Did Alex Murdaugh, who is also accused of stealing almost $9 million from people who trusted him, ever stand before "The Man in the Glass" and reflect on the framed poem's message, that being "king for a day" didn't matter as much as what the man in the mirror "has to say"?
Who killed the rattlesnakes, and were their dried-out tails always displayed beside the Thanksgiving platter?
What can be understood from the book collection: the Bible, property law, John Grisham, Barack Obama, Flannery O'Connor, "Christ the Center"?
Was that really a harpoon?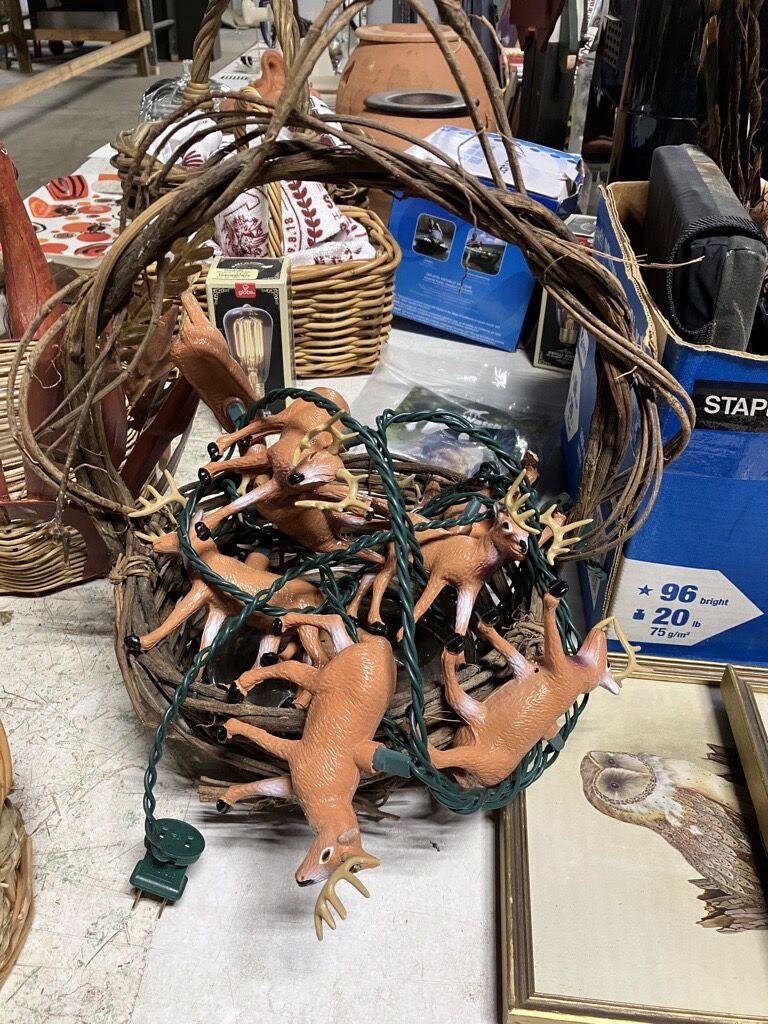 If the jumble of items drew a clearer picture of any character it was of Maggie Murdaugh, a person at the heart of the drama but somehow outside it. An astonishing number of items the auction truck hauled away from her country home were seasonal decorations: dishes and bowls, mugs and doilies, baskets and figurines.
"I don't think Maggie worked for a living, so I'm sure she just decorated," said Brooks, pointing to stacks of dishes for every holiday. 
Presumably, everything else — the camouflage neck pillows, the wasps' nests, the string of plastic deer lights — belonged to the boys.
What happens to the money?
While they waited for cheeseburgers at the snack bar or bounced babies on their knees, several people noted that the entire spectacle, despite its county fair-feel, came from tragedy.
In a way, the red velvet Christmas tree skirt and the king bed made of sticks began making their way to the auction block in February 2019, when Paul Murdaugh allegedly crashed his family's boat, filled with friends, into a bridge near Parris Island.
The impact threw several passengers into the water of Archer's Creek in the middle of the night, injuring some and killing 19-year-old Mallory Beach, who was found dead in a marsh a week later. 
The crash drew widespread scrutiny to the Murdaughs, whose family law practice and control of a local prosecutor's office wielded wealth and power in South Carolina for three generations.
It also resulted in charges for Paul Murdaugh; a civil lawsuit against Alex Murdaugh; and a civil lawsuit against Buster Murdaugh, accused of giving his driver's license to his younger brother, who used it to buy beer the day of the crash.
Their family's furnishings are being sold, in part, to settle those claims.
In a complicated settlement agreement approved in January, Buster Murdaugh agreed to part with most of the money he would have inherited from his mother's estate when Moselle and its items were sold.
The recent $3.9 million sale of the nearly 1,800-acre property will cover most of the fixed expenses: legal fees, debts and a $275,000 contribution to a settlement fund for victims of Alex Murdaugh's alleged financial crimes, as well as the $530,000 inheritance Buster Murdaugh will still receive.
Anything left over will be shared by the Beach family and two passengers in the 2019 boat crash, Morgan Doughty and Miley Altman.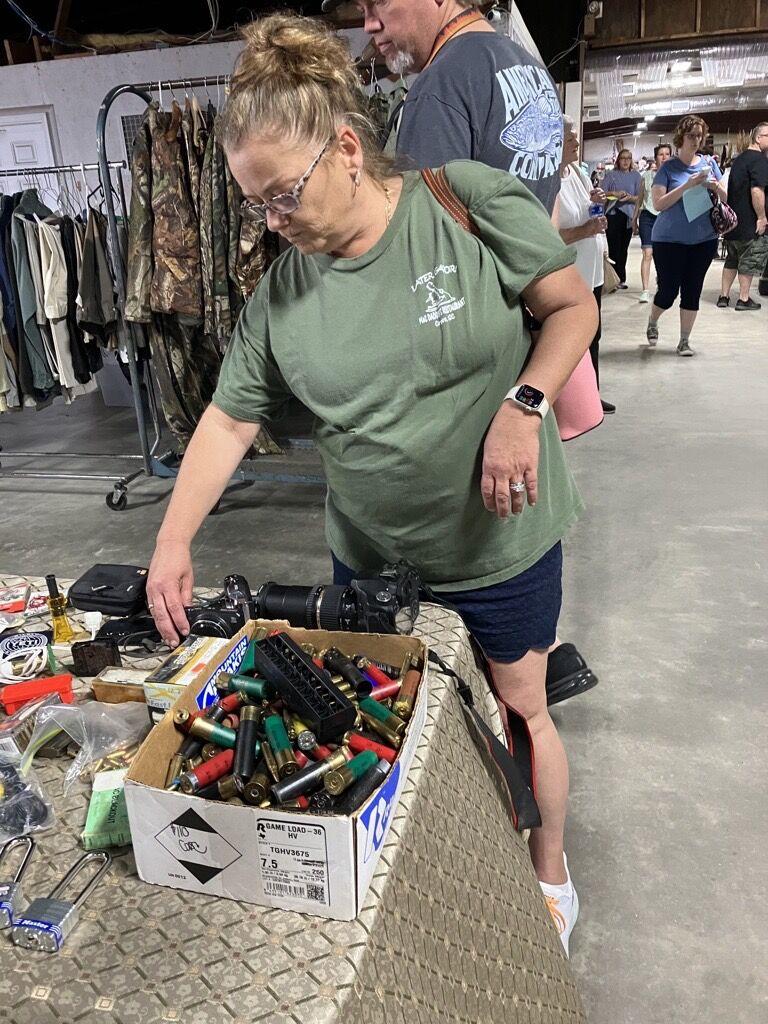 Thanks to the Pembroke auction, those assets will include $10 and $15 for a couple of extra-long sleeping bags, $50 for a men's jacket. Dan Stone bought those for his son, who's 6 feet 5 inches, even though the college student said he didn't want a murderer's coat. 
"I'll just mix it in with the laundry and in a few weeks he won't know the difference," said Stone. 
But the items with more frisson fetched a much higher price: $1,600 for the rustic king bed; $750 for the framed poem; $300 for the box of shell casings; and a whopping $36,000 for the leather living room set, where Alex Murdaugh claimed he was napping while his wife and child were gunned down outside. 
That number was more than even those with an appraising eye expected. A connoisseur of high-end furniture who declined to give her name to the newspaper estimated it would go for $7,500, given the Hancock and Moore set's retail value of around $20,000.
Long before the auction ended around 11 p.m., she flipped over a couch cushion to confirm it was made of real leather. Below the pillow was a layer of pale dog hair, likely from the family's yellow labs. 
The dozen or so people who had gathered around the set considered the mess and agreed it was surprising the auction house hadn't vacuumed it up, along with polishing the headrest on the recliner discolored by the grease of someone's hair.
But on second thought, these imperfections seemed exactly the point, evidence of the original owners that made the random collection of stuff intriguing enough to wave the hand high and bid on a piece of lot 3-35.
Thad Moore contributed to this report from Charleston.