COLUMBIA — The double-murder trial of Alex Murdaugh is still months away, but the public sniping between the disbarred Hampton attorney's legal team and state prosecutors is already well underway.
Murdaugh's defense lawyers have filed a motion accusing the S.C. Attorney General's Office of improperly withholding evidence they need to prepare for the highly anticipated trial. At an Aug. 17 press conference held in the rain outside his downtown Columbia law firm, Murdaugh attorney Dick Harpootlian accused state prosecutors of "trial by ambush" — saying they missed an Aug. 15 deadline to turn over everything they had in the case and still haven't produced a shred of evidence.
"Every day that passes makes it more difficult for Alex Murdaugh and his attorneys to get prepared for trial," the state senator and sharp-tongued Democratic firebrand told a gaggle of reporters and TV cameras.
Harpootlian and his co-counsel, Jim Griffin, also accused Attorney General Alan Wilson of "relentlessly" leaking evidence from the case to media outlets and leveraging the state grand jury investigation of Murdaugh's alleged financial crimes in order to "to find evidence justifying the State's blind guess that Alex murdered his wife and son."
Wilson's office has pushed back on the accusations, describing Murdaugh's motion as a "completely blatant attempt to create drama where formerly there was none." In his own motion to the judge, lead prosecutor Creighton Waters denied breaking any rules and said he had worked with Murdaugh's attorneys to turn over evidence before they ran into disagreement late last week about how to keep the material out of public view.
"This manufactured drama is just a well-known part of defense counsel's playbook," Waters wrote.
Wilson released a follow-up statement insisting "it is categorically false that the Attorney General's Office leaked any information in the Murdaugh murder case."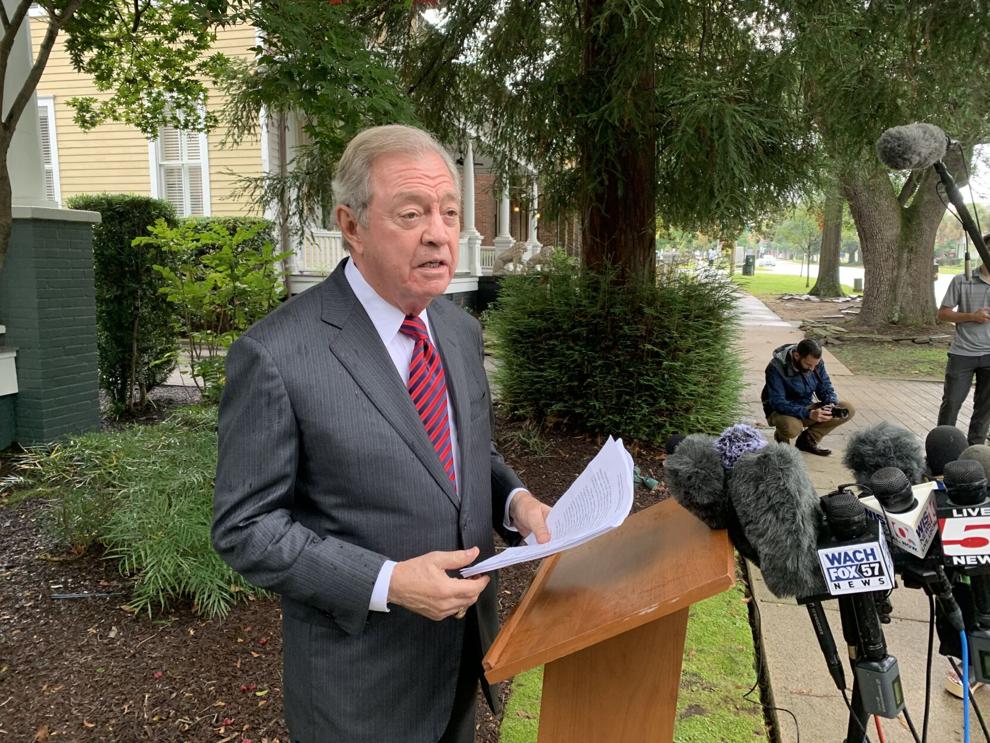 The motion and ensuing press conference represented the first public volley of attacks either side has launched since Murdaugh, the scion of an influential and wealthy family of lawyers in rural Hampton County, was indicted last month on the double-murder charges.
But it probably won't be the last dustup between prosecutors and Murdaugh's legal team as the high-profile case careens toward a trial, likely in January, that will be among the closest-watched in South Carolina history.
Murdaugh, 54, has insisted he didn't kill his wife, Maggie, and their son Paul, who were shot to death in June 2021 on the grounds of the family's spacious Colleton County hunting estate. His lawyers have pushed for a speedy trial, saying they want their client acquitted so state police can restart their investigation and find the real killer.
Emails attached to the Murdaugh motion show his attorneys and state prosecutors recently disagreeing over whether certain evidence produced in pretrial discovery needs to be protected from public view by a court order.
The conflict centered mainly on evidence generated by search warrants that have been sealed for months. 
Prosecutors wanted Circuit Judge Clifton Newman to order Murdaugh's attorneys not to show that evidence to anyone until the trial begins. Murdaugh's attorneys on Aug. 12 sent an email declining to agree to those restrictions.
In an Aug. 14 email to Newman, Waters said he intends to try the case "in the light of day" but remains worried about pretrial publicity and the sensitive nature of some of the discovery material, including crime scene photos and private personal information.
"Once these issues are addressed the State can immediately share the link with discovery with the defense," Waters wrote.
In his own email to Newman, Harpootlian described the state's request for a protective order as "cumbersome" and took umbrage with the insinuation that Murdaugh's attorneys would leak crime scene photos, including those  of the bodies of their client's wife and son.
"I have handled hundreds if not thousands of criminal cases, either as a prosecutor or defense lawyer, and not once have I ever been accused of leaking sensitive crime scene photos to the media," he wrote.
At his Aug. 17 press conference, Harpootlian said he can't begin strategizing Murdaugh's legal defense or hiring expert witnesses until he gets the state's evidence and knows what his client is up against.
Court documents indicate the state's discovery material includes thousands of pages.
"You're asking me what my strategy is in the fourth quarter, and we haven't even taken the field yet," he told a reporter. "We're not allowed on the field."
In other Murdaugh news, federal prosecutors on Aug. 17 slapped ex-Palmetto State Bank Chief Executive Russell Laffitte with a superseding indictment that adds a sixth charge against the alleged Murdaugh accomplice and seeks at least $400,000 in forfeiture.
A federal grand jury indicted Laffitte, 51, last month on fraud charges that carry up to 30 years in prison. Investigators allege the disgraced banker secretly loaned himself and Murdaugh vast sums from a trust account belonging to one of their mutual clients, then stole from other clients to pay back what they improperly borrowed.
The new indictment adds a count of "misapplication of bank funds." It accuses Laffitte of issuing Murdaugh a $500,000 line of credit from Palmetto State Bank in February 2015 for "farming" when he knew his friend would actually be using the money for other purposes, including to pay back the secret loans.
Laffitte, who has pledged to fight the charges, is expected to go to trial in November at the Charleston federal courthouse.