WALTERBORO — In the hours after his wife and son were gunned down, Alex Murdaugh's home crawled with high-profile attorneys, even as police searched it for evidence.
One longtime partner in his family's powerhouse law firm, Danny Henderson, introduced himself to officers as Murdaugh's personal attorney and sat in on his first police interview, less than three hours after Murdaugh dialed 911 to report the homicides.
Several more came to Murdaugh's sprawling Colleton County hunting estate the next day, observing the actions of officers who declined to kick them out. One shadowed a state agent as she surveyed the home for evidence. Others hovered in a room where agents decided what portion of the family's gun collection to take.
On their face, those interactions, documented in video recordings during the state's murder investigation, reflect a show of support from partners in the firm Murdaugh's great-grandfather founded a century earlier — a firm that became a powerhouse in the southern corner of South Carolina.
But after 20 months of revelations about the now-disbarred attorney's alleged financial crimes and seven days of testimony at his ongoing double murder trial, the recordings take on a new color: They look more like snapshots from the waning days of Murdaugh's influence in a region his family held sway over for generations.
Mounting concerns
Murdaugh's name carried weight in South Carolina's legal community and the state's largely rural, southernmost counties.
His family ran the region's prosecutor's office for more than eight decades, and Murdaugh volunteered to try cases for their successor. The family built a personal injury practice so large that their law firm was the local bank's biggest customer outside of the government. He became the president of the state trial lawyers' association. Friends saw him as a big earner with a huge estate, a beach house and a constellation of real-estate investments, but humble enough to greet everyone he saw at a restaurant.
They thought he was scatterbrained and frenetic, not conniving. But in the weeks before Murdaugh's wife, Maggie, and son Paul were found dead on June 7, 2021, his law firm had started to notice issues with the legal fees he brought in when he won a case.
His paralegal, Annette Griswold, had noticed his fees in one case seemed to be handled improperly. And she noticed that in another case, his cut never arrived from the Bamberg law firm of Chris Wilson, one of his best friends, with whom he'd recently won a big verdict in Columbia. The firm was due $792,000 for Murdaugh's work.
His law partners and the firm's chief financial officer, Jeanne Seckinger, thought Murdaugh might be trying to hide his income to avoid liability in a civil lawsuit he was facing. The firm — Peters Murdaugh Parker Eltzroth & Detrick — was adamant that it wouldn't let him do that.
Murdaugh's firm started asking questions of Wilson's staff, unaware that Wilson, Murdaugh's law school roommate, had given him the money directly. Wilson said Murdaugh assured him he had cleared it with the firm.
As the firm pressed Wilson's office for information, Seckinger testified that Murdaugh came to her asking why they needed it, she said. He asked her to trust that Wilson's office still had the money.
Seckinger didn't, and she was frustrated that she wasn't getting answers fast enough. So on June 7, she walked up to Murdaugh's office to demand them.
Murdaugh was standing outside the door, leaning against a filing cabinet, and flashed her a dirty look, she said Feb. 2 at Murdaugh's murder trial, describing the encounter in her most detailed telling yet.
"What do you need now?" he asked, according to Seckinger's testimony. She asked to talk in her office, where she told him she had reason to believe he had the missing funds. She needed proof he didn't.
But she quickly backed off, because just then, Murdaugh got a call that his elderly father was going to the hospital and it didn't look like he would make it.
She never picked the conversation back up. That night, Maggie and Paul Murdaugh were killed.
State prosecutors contend that Murdaugh killed them in a desperate attempt to disrupt investigations into his finances, including his law firm's. The mountain of financial crimes Murdaugh allegedly committed could become a key piece of the murder trial in the coming weeks as the state seeks to show jurors what he had to hide.
The day after
The afternoon after the killings, agents from the State Law Enforcement Division examined the Murdaugh's family's extensive gun collection, looking for shotguns and rifles capable of firing the shots that struck 52-year-old Maggie and Paul, 22.
Their body camera footage, which was played at the murder trial, captures their work in the wood-paneled den where the family kept a pool table and a rack full of long guns. Agents took several of them to see if they matched the spent shells and bullet casings they found on the scene.
It also captures a group of guests in the background, including one of Murdaugh's brothers and at least three of his law partners: Lee Cope, Ronnie Crosby and Mark Ball, who handled a wide range of civil cases for plaintiffs.
The video shows Ball point out items on the bookshelf where the Murdaughs stored boxes of ammunition. It shows Crosby shake an agent's hand. It shows Cope, who had been advising Seckinger on her search for the missing fees, talk on the phone.
And partway through the search, it shows another man appear: Wilson.
After weeks of back-and-forth, tragedy had brought Wilson face-to-face with some of the same people who'd been trying to get answers from him. (If the topic of the missing fees came up while agents were in the room, jurors haven't heard it; the video was played without sound because of a defense objection to the audio content.)
By the end of the summer, the partners would push Murdaugh out, convinced that he'd stolen from the firm and its clients. But in the immediate aftermath, they closed ranks and offered Murdaugh their help.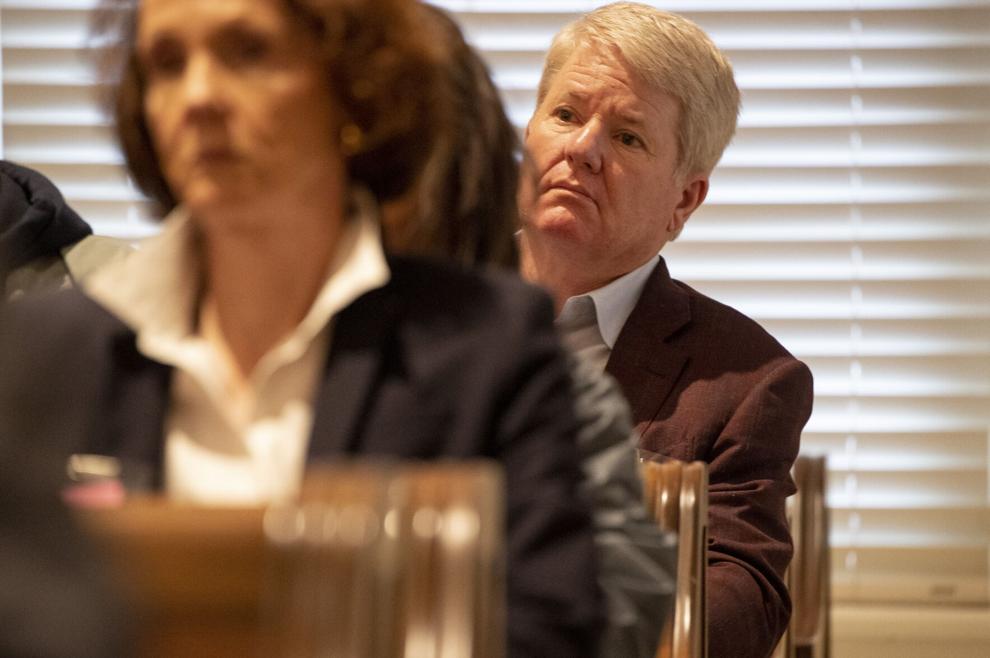 One longtime partner, Danny Henderson, came to the crime scene immediately, sitting in on Murdaugh's first interview with investigators. A recording of the meeting shows Henderson reach forward from the backseat of a SLED SUV to put a hand on Murdaugh's shoulder as he first begins sobbing.
Laura Rutland, a detective with the Colleton County Sheriff's Office, said Henderson was introduced to her as Murdaugh's personal attorney. (Henderson had been representing Murdaugh in a case stemming from a 2019 fatal boat crash in which his son Paul was allegedly at the helm drunk.)
And the next day, Cope joined Murdaugh's brother John Marvin in following a SLED agent as she went room-by-room through Murdaugh's house. The agent, Katie McCallister, said the two men stuck with her as she looked in attics and closets and under beds for potential evidence. 
Though police had obtained a search warrant for Murdaugh's property, they did not use it, relying on the family's permission instead. McCallister testified that she didn't want to kick out all of Murdaugh's guests — there were at least 20 people there — to search the house.
Cope would soon pick up the inquiry that Seckinger began, helping gather some of the information that cemented the firm's belief that Murdaugh had been stealing.
One of his first calls would be to Wilson.
Falling out
About a week before the murders, the Murdaugh family invited several friends to their house on Edisto Beach for Memorial Day weekend, which corresponded with Alex's 53rd birthday.
A short cellphone video captured the festivities. It shows the group singing "Happy Birthday" as Paul, beaming in a white Gamecock polo shirt, carries a white sheet cake to his father on the porch. Alex lifts his arms triumphantly after he blows the candles out.
Then a man in a seafoam green T-shirt puts an arm around Murdaugh's neck and whispers into his ear. The two smile. It's Wilson, his friend since middle school.
By then, PMPED had started asking questions of Wilson's firm, but Wilson testified he didn't know the extent of their concerns. He said he thought they were making sure they had been paid back for the expenses they fronted in the case. When he asked Murdaugh if something was wrong, Wilson said, he was assured everything was OK.
But after the murders, Murdaugh told Wilson he was going to send back the money and have him send it to PMPED after all. His story was that his plan to buy annuities with the fees didn't work, Wilson said. In reality, Murdaugh had taken out two loans to come up with the money, including one that became the basis for a federal conviction for former banker Russell Laffitte, another childhood friend.
Murdaugh sent $600,000 in July. He promised the other $192,000 was coming soon, and Wilson spotted him the difference in the meantime. The next month, Wilson became so concerned that Murdaugh might try to kill himself that he took out a piece of lined notebook paper and wrote a basic promissory note. He wanted confirmation he had lent Murdaugh money in case he had to file a claim with his estate.
It started: "This confirms Chris Wilson loaned me 192,000.00 in July 2021."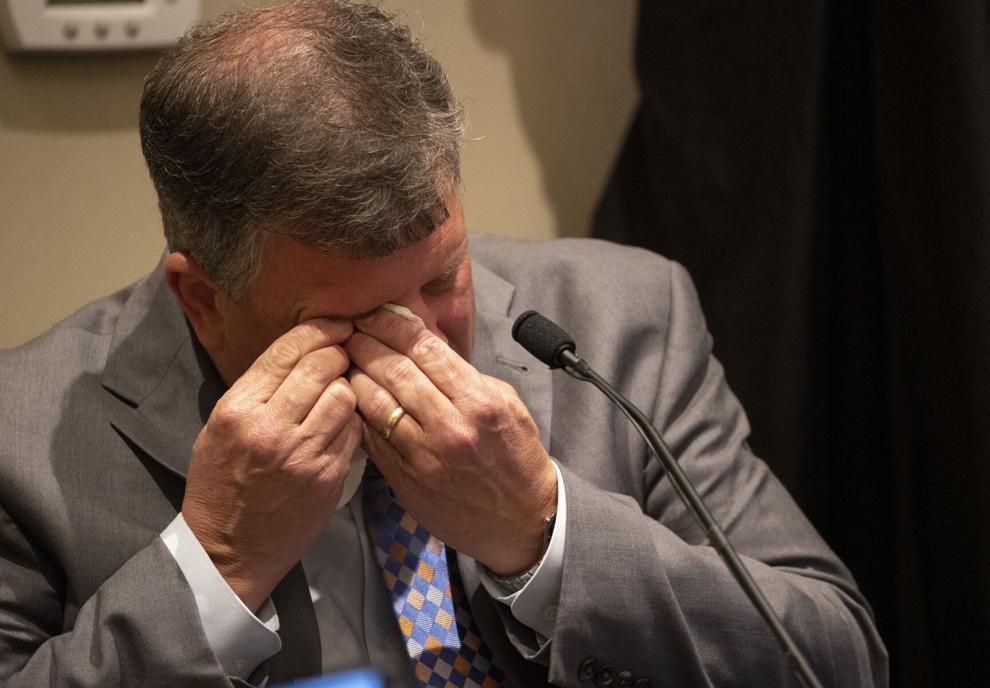 At the start of September, Cope, the law partner, got back in touch with Wilson to tell him PMPED had caught Murdaugh stealing money from clients and the firm. PMPED was starting a process of disavowing Murdaugh, lining up legal claims against him, giving its findings to investigators, and even rebranding the venerable law firm to drop the Murdaugh name. At least five of Murdaugh's former law partners would go on to be identified as potential state witnesses at his murder trial, including Crosby, Cope and Ball.
After Cope contacted him, Wilson called Murdaugh and insisted on meeting to talk about what was going on.
They met the next morning at Murdaugh's parents' house, sitting on the porch. Wilson asked his friend for an explanation. Murdaugh broke down in tears. He said he'd been addicted to opioids for two decades, and he admitted to stealing money.
By the end of the year, Murdaugh would face dozens of charges related to a multitude of alleged financial crimes, including duping Wilson into fronting the $192,000, which he didn't get back.
Wilson said he walked off the porch and stopped talking to Murdaugh. He wouldn't see Murdaugh again for 17 months, until he walked into the Colleton County Courthouse and took the stand as a witness called by the state.