COLUMBIA — When a fatal boat crash in 2019 dragged Alex Murdaugh's family into the crosshairs of a criminal investigation, the wealthy and well-connected Hampton lawyer had his choice of high-priced defense attorneys.
He picked Dick Harpootlian and Jim Griffin, a pair of seasoned Columbia lawyers with hundreds of trials under their belts.
On Jan. 23, the rest of the country will find out why.
This time around, Murdaugh himself is on trial, accused of murdering his wife and youngest son in June 2021 in a desperate attempt to cover up his financial crimes and prevent his own ruin.
Experts say Harpootlian and Griffin, originally hired to defend Murdaugh's late son Paul in the boat crash case, will provide Murdaugh the very best defense that money can buy in South Carolina's "trial of the century" — even if they aren't being fully paid for their efforts.
These prosecutors-turned-defense attorneys are known as brilliant legal strategists with dovetailing strengths and contrasting styles in the courtroom.
Harpootlian, a Democratic state senator who turns 74 on the trial's first day, is aggressive and theatrical, a battle-scarred veteran of more than 100 murder cases.
Griffin, 60, is more reserved and even-tempered, a cerebral workhorse who specializes in defending white-collar criminals.
Observers say their complementary skill sets are perfect for a defendant like Murdaugh, who is up against a wide array of criminal charges and a captivated viewing public who desperately want him found guilty.
"Whoever put this team together, they knew what the hell they were doing," retired federal judge Dennis Shedd said.
Ahead of the marathon trial, The Post and Courier interviewed nearly two dozen South Carolina attorneys, including Harpootlian and Griffin themselves, to learn more about Murdaugh's high-powered defense team and what viewers should expect to see from them in the courtroom.
Growing up in the courtroom
The catalyst for Harpootlian's legal career was, improbably, the Vietnam War.
As a student at Clemson University in the late 1960s, Harpootlian knew his upcoming graduation would make him eligible to be drafted into the unpopular conflict.
A long-haired, doobie-smoking liberal who had worked on The Tiger student newspaper, Harpootlian sharply opposed America's involvement in Vietnam.
He applied to the University of South Carolina's law school in order to stave off the draft. It didn't work — Harpootlian's real saving grace was flunking his military physical with a stomach ulcer.
But Harpootlian stuck with law school and ultimately landed a job as an assistant prosecutor in Columbia. He discovered his love for jury trials on his first day at the 5th Circuit Solicitor's Office. His supervisors assigned him to pick a jury for a murder case. Then they left for the day.
"I loved it. I never understood what a narcissist I was," Harpootlian said with a laugh. "Twelve people who can't get up and leave when I'm talking to them?"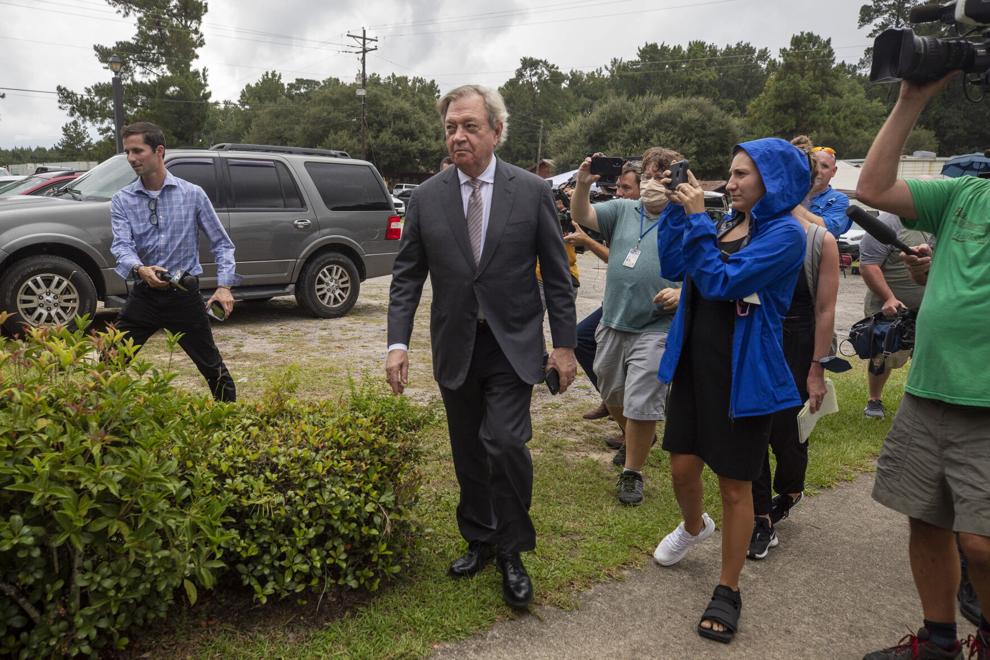 As a young prosecutor, Harpootlian grew up in the courtroom. He developed a knack for trying cases, later describing litigation as "the most fun you can have with your clothes on."
He prosecuted killers, drunken drivers and rapists — sometimes tackling two trials a day.
He learned to read jurors and cross-examine witnesses. He would study their eyes and body language as he spoke to them and adjust his tactics accordingly.
Harpootlian also honed his flair for the dramatic, turning the courtroom into his theater.
Harpootlian would draw on the lessons he learned in those trials throughout the rest of his career, including as the 5th Circuit's elected solicitor and in private practice.
In one 1991 death penalty trial, Harpootlian won a conviction after describing how the killer crushed the victim's head "like an eggshell." He showed jurors gruesome photos of the victim's body, prompting them to avert their eyes and squirm in their chairs.
In another case a few years ago, Harpootlian put the arresting officer on the witness stand and asked her to identify his client, the defendant.
It was a routine question, but the officer quickly realized Harpootlian was trying to trick her. He had stationed a different, but similar-looking man at the defense table.
The officer looked beyond him and picked out a man in the second row. She thought she had bested the defense attorney. She was wrong.
Harpootlian's client was actually in the back of the room. The man at the defense table was his brother. The one in the second row was his cousin. The case was dismissed.
"Dick is at home in that kind of situation," said Jack Swerling, Harpootlian's Clemson classmate and former law partner. "Give him a jury and a courtroom, and he'll be all right."
Making an impact
Griffin's introduction to law was similarly unscripted.
He grew up the son of a well-respected doctor in Pendleton, an Upstate town of less than 3,500. He went off to Wake Forest University for college and studied economics, mostly because the subject came to him naturally.
But his liberal arts degree offered few appealing job prospects upon graduation, and Griffin figured he would need an advanced degree of some sort.
Like Harpootlian, Griffin wound up at USC's School of Law. He excelled there, working on the law review and graduating near the top of his class in 1987.
He landed a job in corporate litigation at the prestigious Nelson Mullins firm in Columbia. Griffin's work ethic and ability to quickly grasp complex issues impressed his bosses, but he found the work unfulfilling.
Then, in 1988, Griffin's father was killed in a car accident. The entire town of Pendleton shut down to grieve, the line outside the funeral home circling around the block. The experience had a profound influence on Griffin, who accompanied his father on house calls as a child and saw the impact he had on his patients.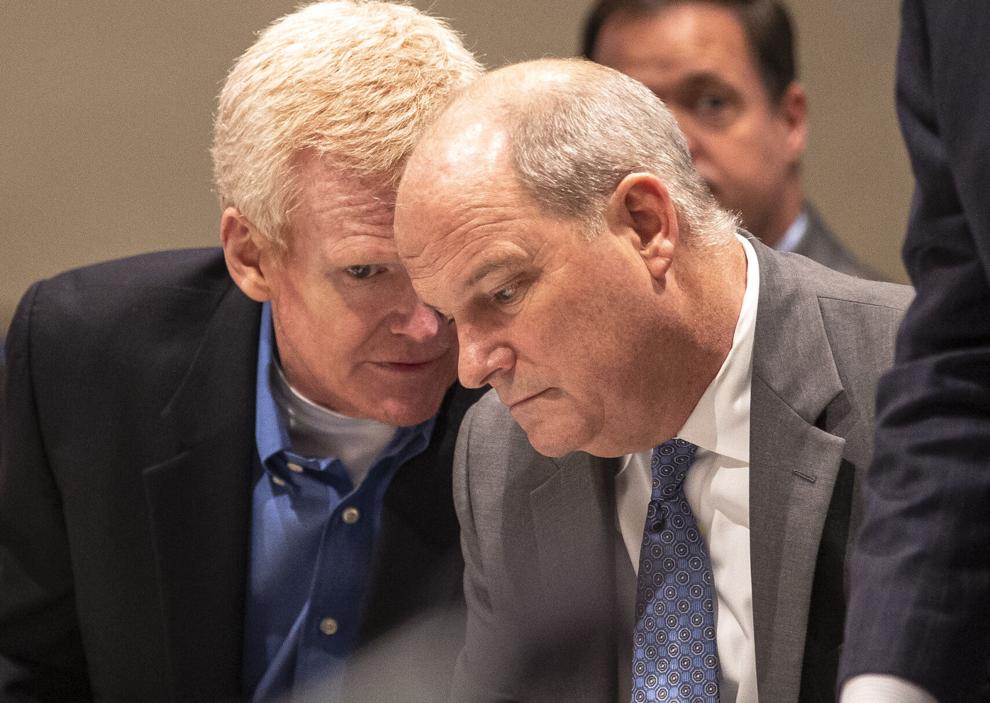 "Then I go back to Nelson Mullins and I'm looking around and thinking, if I were to die tomorrow, who would show up for my funeral?" Griffin said. "I was thinking the longer this goes on, maybe my greatest career achievement is I perhaps could save General Motors' stock price 50 cents by winning it a case. ... It just made me question what to do."
Seeking a change, Griffin left Nelson Mullins to clerk for federal judge Shedd. After a year, he joined the U.S. Attorney's Office as a federal prosecutor. There, his supervisors regularly assigned him their most complex financial cases, recognizing he had the brains and the diligence to tackle them.
When Griffin moved on to private practice, he took with him firsthand experience of how federal cases come together and how best to protect his clients from them.
Just as his father did with his patients, Griffin became known for building personal relationships with his clients. He answers their calls outside of working hours and gently guides them through the legal process.
Those relationships give him an edge in court, observers say, especially in humanizing his clients before the judge or the jury.
"That gives him a lot of passion," former prosecutor Robert Bolchoz said.
Trophies
Harpootlian and Griffin don't need the Murdaugh case to bolster their resumes.
As a prosecutor, Harpootlian convicted former USC President Jim Holderman on corruption charges and got the death penalty for serial killer Pee Wee Gaskins. He took down corrupt sheriffs, police chiefs and judges.
One of his most prized trophies still remains in his desk — a gold badge that once belonged to Wilbur Hodge, the chairman of the state liquor board. Hodge had to surrender it after Harpootlian prosecuted him for lying about accepting 18 cases of free booze from a wholesaler.
And as a trial attorney, Harpootlian has extracted hundreds of millions of dollars for his clients in legal judgments and settlements — much of it from suing government agencies on behalf of businesses and taxpayers.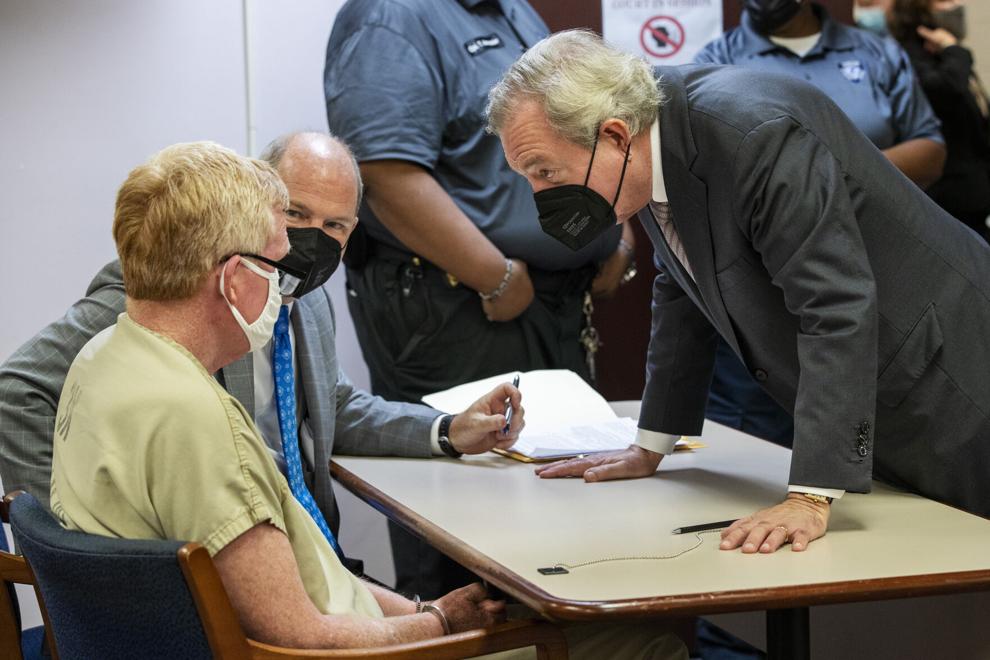 Griffin, meanwhile, is one of the state's top white-collar defense lawyers, boasting a client roster that includes accused fraudsters, former Fortune 500 executives and public officials.
He famously defended former HomeGold chief executive Ronnie Sheppard, indicted in 2005 on a host of fraud and conspiracy charges after his company collapsed. He represented former S.C. State University board Chairman Jonathan Pinson in his 2014 corruption trial.
And he defended former SCANA Chief Operating Officer Steve Byrne in the state-and-federal investigation into South Carolina's $9 billion nuclear power fiasco.
Whether they work together or separately, Griffin and Harpootlian are known for fighting hard for their clients and getting results.
Columbia trial attorney Bakari Sellers compared them to the "Bad Boy" Detroit Pistons who dominated the NBA in the late 1980s with physicality and, sometimes, outright violence.
"They're old school," Sellers said. "Their shorts are going to be high. But look, you're going to literally have to fight them, and nobody's going to like them while they do it. They're not going to be social media darlings."
Going all out
Part of what makes the duo a good team is their contrasting approaches to litigation.
Harpootlian is a showman, while Griffin is a no-nonsense grinder.
Harpootlian loves media attention, while Griffin looks squeamish in front of cameras.
Harpootlian typically doesn't write out his opening arguments or his questions for witnesses, preferring to adapt on the fly as he reads the room.
Meanwhile, Griffin is known to create slideshow presentations to walk his audience through complex issues.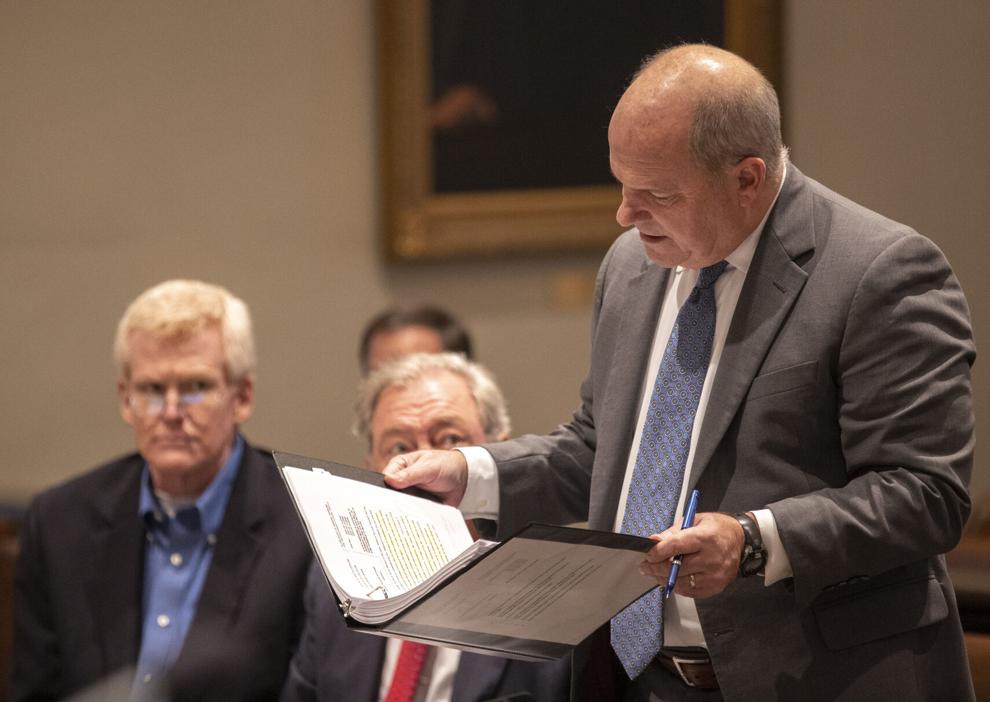 Observers predict the pair will play to each of their strengths at Murdaugh's upcoming trial.
Harpootlian, for example, is expected to handle the defense's opening arguments and jump at every opportunity to tear into the state's theory of the case.
Experts also imagine Harpootlian will play a key role in cross-examining witnesses, one of his strengths as a trial lawyer.
Harpootlian is known to lay traps at the witness stand, asking a series of seemingly inane questions before catching the witness in a "gotcha" moment.
As a plaintiff's attorney in a civil case years ago, Harpootlian questioned a young forklift driver about whether he had received training before a workplace accident. When the driver gave an answer that was contrary to his previous sworn deposition, Harpootlian pounced.
"Were you lying then, or are you lying now?" he asked.
"I'm lying now," the driver admitted, and began crying. The company settled the case shortly thereafter.
Attorneys who have worked with Harpootlian said they often don't know where he is going with a line of questioning until he gets there. In an interview, Harpootlian said he doesn't always know himself.
He wakes up at 4 a.m. most mornings, using the quiet hours alone to exercise and think through his cases. He rarely drinks, fearing it might slow him down for even a half-second at trial. When the right moment comes, Harpootlian is more than prepared to strike.
"What Dick is looking for is the 'glove doesn't fit' moment," former U.S. Attorney for South Carolina Pete Strom said, referencing a pivotal point in the 1995 O.J. Simpson murder trial. "Who knows where that could come from? From the blood spatter. From some tire print. From some fingerprint somewhere. From something that's not somewhere. The prosecution has got to be very careful not to walk in that trap."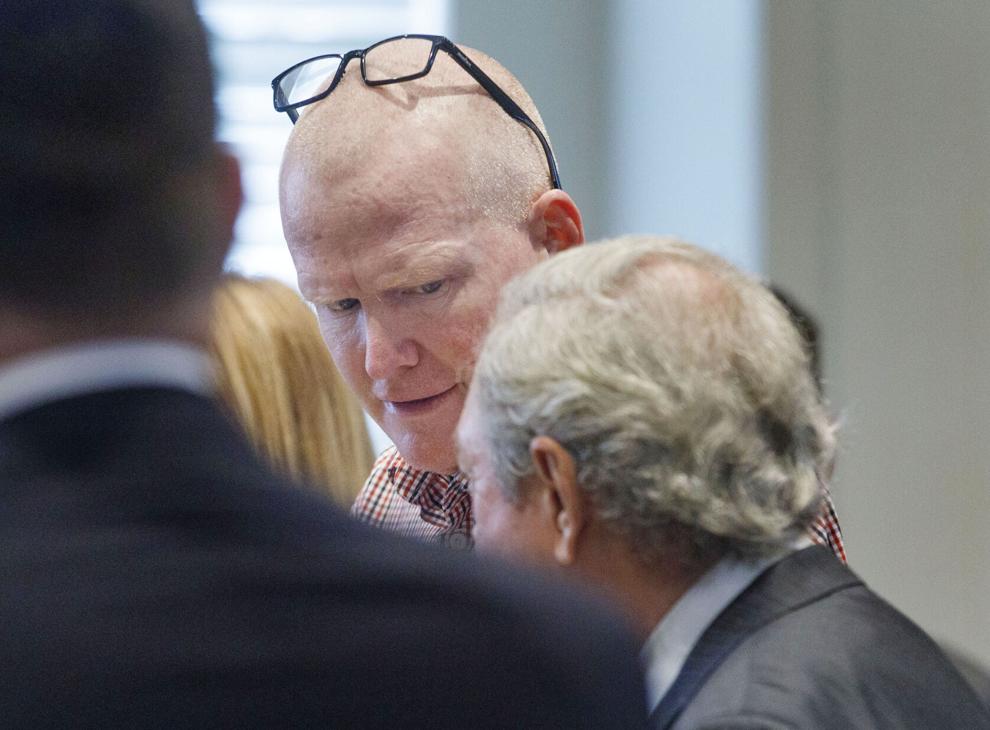 Griffin, meanwhile, will know how to use the rules of evidence to try to suppress damaging evidence, observers said. He is known for digging through voluminous case files to find the slightest flaws in a criminal investigation that he can exploit at trial.
In one of his best-known cases, the 2014 corruption trial of former S.C. State Chairman Pinson, Griffin launched hard-fought challenges over key elements of the government's case.
He fought to exclude evidence gained from wiretaps, claiming investigators misled a judge to obtain permission for that surveillance and listened in on privileged phone calls. He slammed Pinson's co-defendants, who agreed to testify against the chairman in exchange for lenient sentences.
"The government has embraced criminals," Griffin exclaimed, calling those witnesses "guys with no souls."
Griffin, also known for boiling down complex issues in terms jurors can understand, compared the government's case against Pinson to trying to bake a cake without all the ingredients. Prosecutors had some — but not all — of the evidence they needed to prove Pinson's guilt, he said.
"If it is not here, you can't go back to the grocery store and get it," Griffin told the jury.
Pinson was found guilty but sentenced to just four years in prison, six less than the government's most generous plea offer. On the way out of the courthouse, Griffin said he overheard FBI agents grumbling that the case had proven a waste of their time.
"As a lawyer, I chalk that up as a win," he said.
Beating the odds
At times in the Murdaugh saga, the odds he could beat the murder charges seemed long.
Prosecutors have claimed to have reams of evidence that all points back to Murdaugh, including blood spatter evidence, GPS data and a video on Paul's phone that all purportedly place Murdaugh at the scene of the crime just before Maggie and Paul Murdaugh were slain.
But Harpootlian and Griffin have spent the past few months chipping away at the state's case, blasting apparent holes in the state's spatter analysis and arguing that Murdaugh's financial crimes shouldn't be introduced at the upcoming trial.
Observers note both of them have pulled off improbable victories in court before.
In 2016, Harpootlian took on the defense of a Richland County teenager who was charged with murdering a man over pocket change. Harpootlian felt the 16-year-old was being railroaded by the solicitor's office he once led, so he took the case pro bono.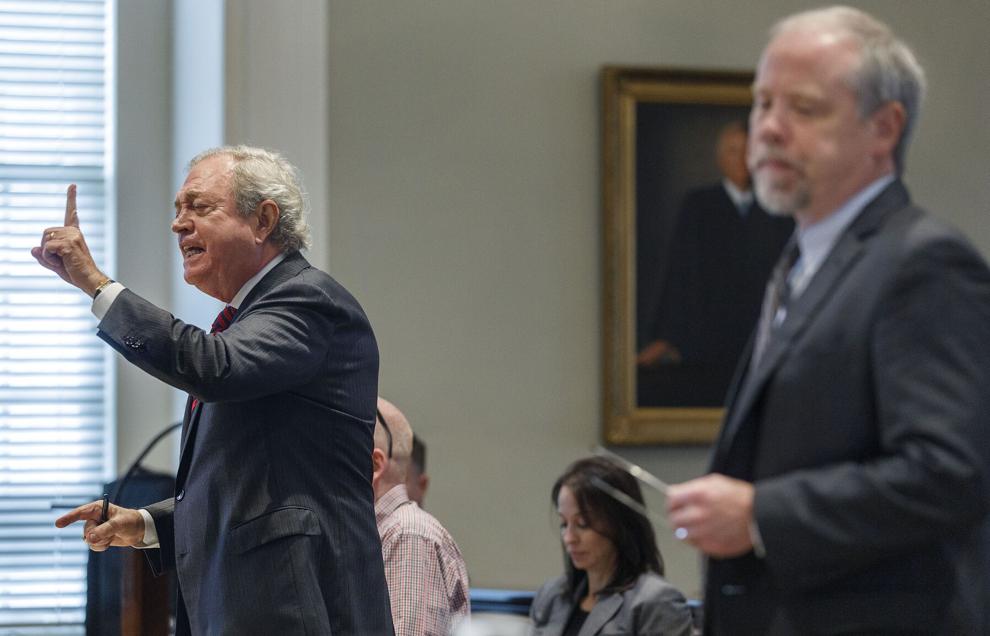 At trial, he relentlessly attacked the investigation, arguing investigators lacked eye witnesses, shell casings, a confession, a credible motive or any footage of the incident.
It defied logic, Harpootlian said, to claim his client committed murder over 17 cents. He alleged prosecutors had pinned the slaying on his client just to clear the case off their books.
"No fingerprints! No DNA! Nothing that tied Jermaine Davis to any murder!" Harpootlian cried during the trial.
The case ended in a mistrial, with the jury hung at 11-1. The 11 had voted for acquittal.
Griffin pulled off his own upset during a 1997 trial in Beaumont, Texas.
Griffin and former U.S. Attorney for South Carolina John Simmons were defending the owners of a South Carolina-based company that sold a quirky device called the "Quadro Tracker."
The company claimed their tracker could detect almost anything its user wanted: golf balls, drugs, weapons, even people and animals.
They sold the Quadro Tracker to schools and police agencies all over the country before the FBI put the device through a battery of tests and determined it didn't work.
Federal agents in Texas charged the company with fraud, and they considered it a slam-dunk case. Prosecutors all but laughed Griffin and Simmons out of the room when the pair tried to open plea negotiations, Simmons recalled.
But Griffin was not intimidated, Simmons said. He pored over the company's customer testimonials and assembled a small army of people who were willing to testify that the device worked beautifully for them.
At trial, Griffin paraded the witnesses up to the stand one by one and had them tell their stories. The jury acquitted the company's owners on all counts.
Asked recently if the Quadro Tracker actually worked, Simmons laughed.
"I don't know," he said. "But the government did not prove it was a fraud."
Why defend Murdaugh?
Harpootlian and Griffin are well aware that most of the viewing public will be rooting for them to fail on Jan. 23.
For more than a year, they have been criticized, even demonized, for taking up Murdaugh's defense. But friends and colleagues say they imagine the duo relishes the challenge Murdaugh's defense presents.
In an interview, Griffin said he has continued to represent Murdaugh in part because he built a relationship with the family while defending Murdaugh's son Paul in the boat crash case. In the aftermath of the June 2021 slayings, Griffin said he worked as a liaison between state investigators and the Murdaugh family, making sure law enforcement had everything they needed.
"When you do what we do, many lawyers would find this case irresistible because of the notoriety and just being on the stage," Griffin said. "That's not why I did it. I did it because I've lived through this with (Murdaugh)."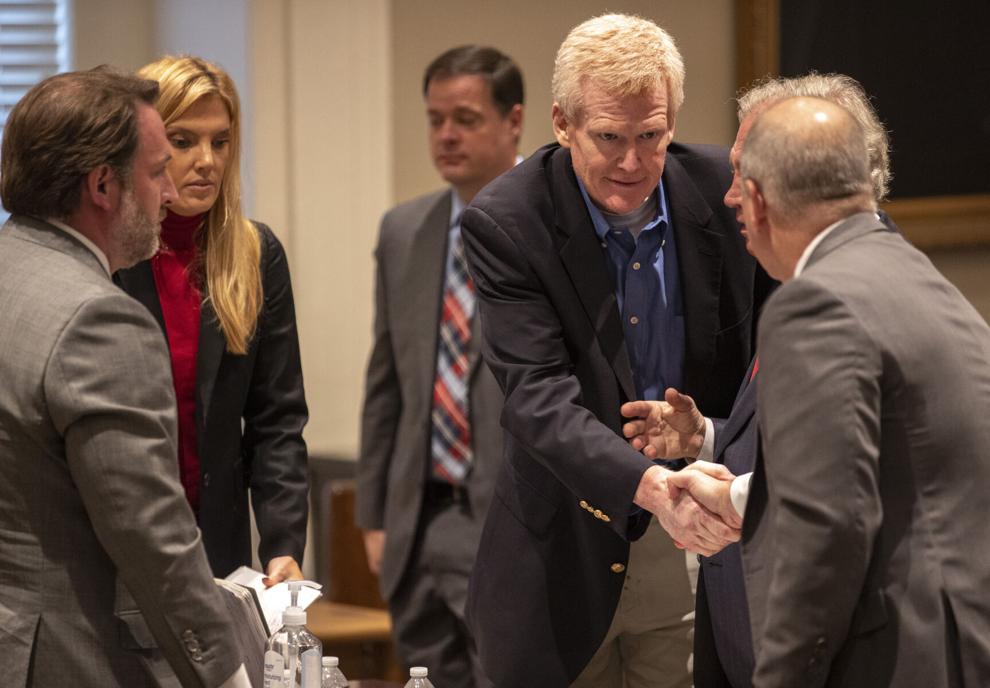 They also aren't doing it for the pay. Murdaugh is almost out of money, having liquidated his retirement account to put some $600,000 toward his legal defense. Much of that will be eaten up by expert witnesses and other defense costs. Griffin and Harpootlian are said to be working for well below their normal rates.
Harpootlian said he thinks little of the criticism associated with defending Murdaugh. He holds sacrosanct the constitutional right to a legal defense and a trial by jury.
He notes one of the country's founding fathers, future President John Adams, made the deeply unpopular decision to defend British troops on murder charges after the Boston Massacre.
Abraham Lincoln defended nearly two dozen accused murderers as an Illinois lawyer before becoming president, Harpootlian said.
"Everybody hates scumbag lawyers," Harpootlian said, "until they need one."