WALTERBORO — Alex Murdaugh lied "easily and convincingly" to his family, friends, legal clients and law partners for more than a decade as he stole millions of dollars to finance his lavish lifestyle and raging opioid addiction, state prosecutor Creighton Waters asserted Feb. 24.
And now, near the end of Murdaugh's double murder trial, Waters tried to convince a Colleton County jury that the former Hampton lawyer is peddling another lie with new testimony that he left his wife and son just minutes before they were shot to death by an unknown assailant
"The second that you're confronted with facts that you can't deny, you immediately come up with a new lie," Waters challenged Murdaugh during a cross-examination that stretched two days. "Isn't that correct?"
"Mr. Waters, as we have established, I have lied many times," Murdaugh responded. But, he added, he disagreed with the prosecutor's premise "that that was what I did all the time."
Crowds at Colleton County's historic courthouse have grown larger throughout the five-week trial, reaching a crescendo Feb. 24 as Murdaugh prepared to take the witness stand for a second day. Lines snaked out from the courthouse doors early in the morning; some onlookers hoping to get in arrived at 4:30 a.m., only to find they weren't the first there. At times, the packed gallery disrupted the proceedings with laughter, prompting the judge to admonish the crowd to stay quiet during the testimony.
The crowd viewed Waters' grueling and often repetitive cross-examination, meant to eviscerate what remains of Murdaugh's credibility. It came after the ginger-haired 54-year-old took the witness stand Feb. 23 and offered his latest version of the night Maggie and Paul Murdaugh were shot, forcefully insisting he did not kill them at the family's spacious hunting estate on June 7, 2021.
By Avery G. Wilks, Thad Moore and Jocelyn Grzeszczak awilks@postandcourier.com; tmoore@postandcourier.com; jgrzeszczak@postandcourier.com
Waters on Feb. 24 repeatedly alleged Murdaugh concocted the narrative only recently — carefully plotting his "new story" to align with testimony and evidence that came out over the trial's first five weeks.
Waters also reminded jurors that Murdaugh was forced to change his story after investigators shattered his first alibi: that he'd fallen asleep on the couch while his wife and son went to the dog kennels where they were found dead. A video found on Paul's phone placed his father at the scene of the crime with both victims just minutes before prosecutors say the shootings began.
Waters put the defendant's new alibi under a microscope.
He slowed down the timeline, asking Murdaugh for a minute-by-minute retelling of his final moments with his wife and son.
And crucially, he elicited testimony that Murdaugh was at the crime scene possibly as late as 8:47 p.m., just two minutes before 52-year-old Maggie and 22-year-old Paul abruptly stopped answering calls or opening messages on their phones.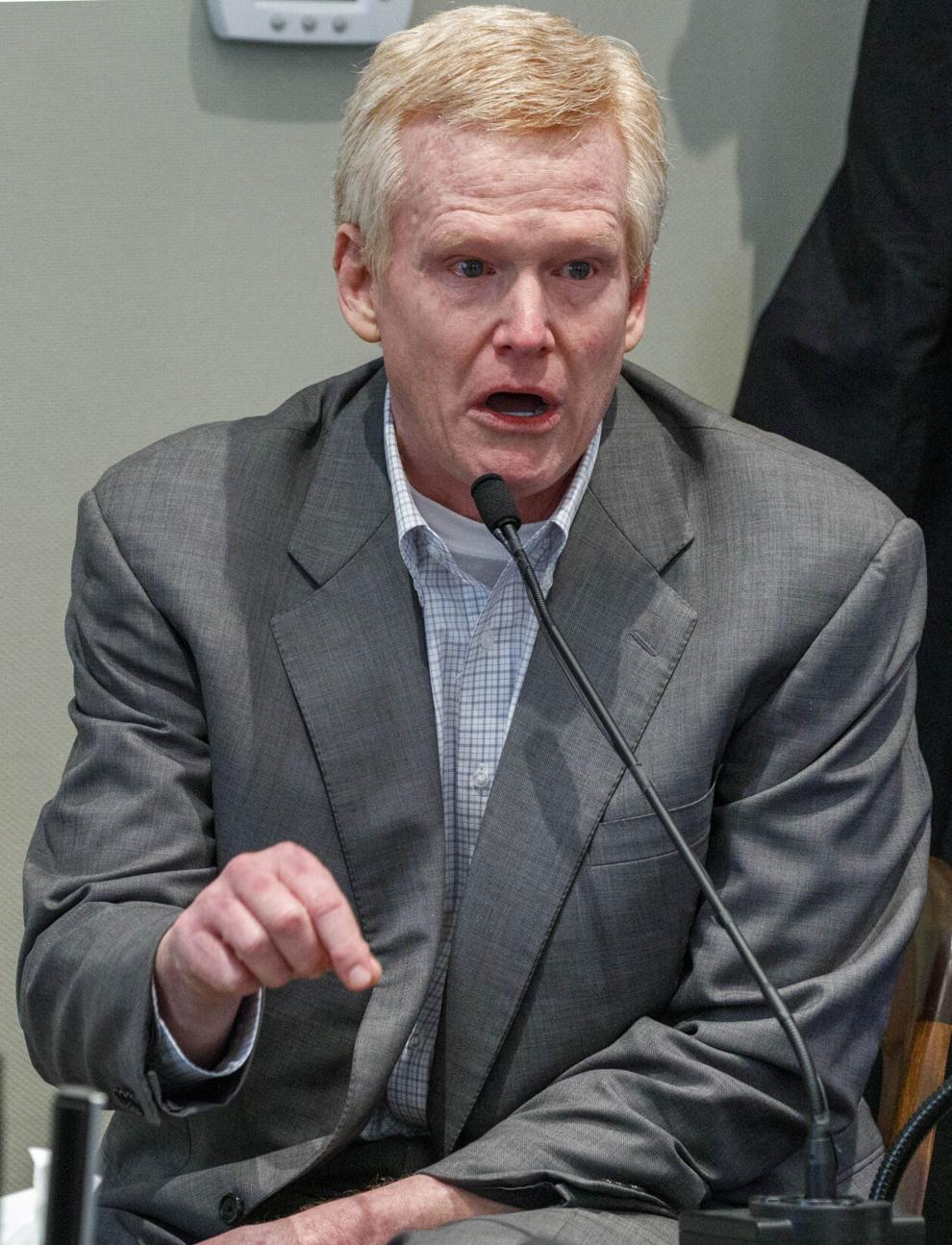 Murdaugh testified he'd driven to and from the kennels on a golf cart, spending just a few minutes there with Maggie and Paul. He guessed it would have taken him two minutes to drive back to the estate's main residence, meaning he would have arrived home just as the shootings began less than 400 yards away, according to a timeline presented by investigators.
As he questioned Murdaugh, Waters also noted for the jury the contrast between moments the defendant could vividly recall and spots where his memories remained fuzzy.
Murdaugh, for example, could remember when he arrived at the kennels that evening, the family's yellow lab, Bubba, was still peeing on nearby trees: his habit as soon as he was let out of his kennel. He didn't remember the dogs seeming alarmed either, as they might if someone was lying in wait nearby.
"There was nobody around that the dogs didn't know," Murdaugh said. "There was nobody around for them to sense."
By Thad Moore tmoore@postandcourier.com
But Murdaugh couldn't recall his final conversation with his wife in those moments or how long it lasted. Nor could he remember exactly where he left his phone for nearly an hour that evening during the time frame in which investigators say Maggie and Paul were killed.
Murdaugh also couldn't explain what he was doing in the four minutes after apparently picking up his phone at 9:02 p.m. Phone data show he was moving about twice as quickly during those minutes as he had all afternoon.
Murdaugh said he was preparing to visit his mother in nearby Almeda, but he conceded he had already showered and dressed and couldn't remember exactly what he was doing.
Waters called Murdaugh a "busy bee." He sarcastically asked Murdaugh: Were you hitting the treadmill? Doing jumping jacks? Jogging in place?
No, Murdaugh said.
"I know what I wasn't doing, Mr. Waters," Murdaugh said. "What I wasn't doing is doing anything — as I believe you've implied — that I was cleaning off or washing off guns, putting guns in a raincoat. And I can promise you that I wasn't doing any of that."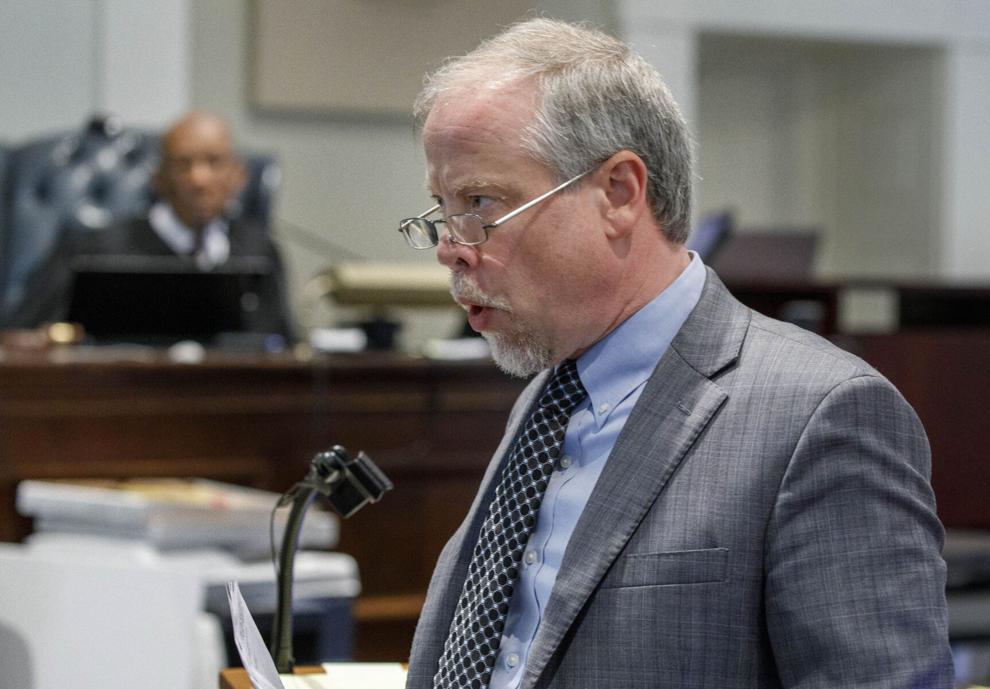 Murdaugh began the day facing the jury, but as Waters' cross-examination grew more confrontational, he gradually turned to face the prosecutor head-on. At one point, after Murdaugh professed he hadn't manufactured an alibi, Waters paused to consider his next question. Murdaugh stared him down for several seconds.
During one tense exchange, Murdaugh repeated his theory of why his wife and son were killed. He said he still believes someone who held Paul responsible for the 2019 boat crash that killed 19-year-old Mallory Beach had carried out the slayings, though Murdaugh made clear he didn't believe the killer was one of the boat crash survivors or their families.
Paul was criminally charged with drunkenly driving the boat when it crashed into a Beaufort County bridge piling, ejecting Beach and other passengers. A wrongful death suit was filed against the Murdaughs by Beach's family shortly after the crash; a settlement was approved in January. The boat crash survivors also sued the Murdaughs over the wreck.
Between breaks to compose himself, Murdaugh said Paul had been misrepresented and vilified by news outlets and on social media. His son had received "vile" messages and threats.
"I believed then and I believe today that the wrong person saw and read that because I can tell you for a fact that the person or people who did what I saw on June the 7th, they hated Paul Murdaugh, and they had anger in their heart," Murdaugh said. "And that is the only — only — reason that somebody could be mad at (Paul) like that and hate him like that."
Waters mocked this theory as yet another of Murdaugh's lies.
He went on a brief monologue meant to show jurors it would be implausible for anyone else to carry out the crime with the established evidence.
By Avery G. Wilks, Thad Moore and Jocelyn Grzeszczak awilks@postandcourier.com; tmoore@postandcourier.com; jgrzeszczak@postandcourier.com
Waters said Murdaugh wanted the jury to believe the crime was carried out by a "random vigilante" who just happened "to know that Paul and Maggie were both at Moselle on June 7, that knew that they would be at the kennels alone on June 7, that knew that you would not be there, but only between the times of 8:49 p.m. and 9:02 p.m., that they show up without a weapon assuming that they're going to find weapons and ammunitions there, that they commit this crime during that short time window, and then they travel the same exact route that you do around the same time to Almeda."
"That's what you're trying to tell this jury?" Waters asked.
"You've got a lot of factors in there, Mr. Waters, all of which I do not agree with, but some of which I do," Murdaugh replied.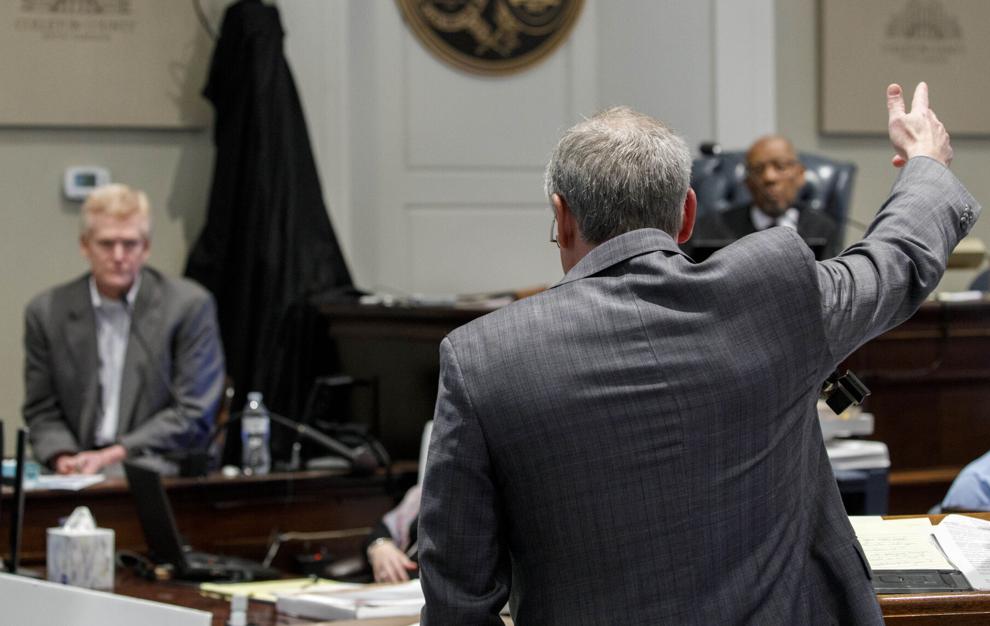 As Waters and Murdaugh went back and forth, rarely agreeing, it sometimes became unclear who was testifying.
Waters used the exchange to push his theory that Murdaugh killed Maggie and Paul to engender sympathy for himself and buy time to cover up his many alleged financial crimes.
Waters regularly made assertions and then tacked a short question onto the end, such as, "isn't that correct?"
"When accountability is at your door, Mr. Murdaugh, bad things happen, isn't that true?" Waters asked at one point.
"For the first time in your life of privilege and prominence and wealth, when you were facing accountability, each time suddenly, you became a victim, and everyone ran to your aid," Waters asked at another. "Isn't that true?"
Most often, Murdaugh disagreed.
Later on Feb. 24, The Post and Courier learned local authorities had quietly charged Murdaugh with an additional misdemeanor related to a contraband violation involving a book.
Details were scarce about the new charge, which appeared on the Colleton County Sheriff's Office's website sometime on Feb. 24.
Efforts to reach the sheriff's office for comment late Feb. 24 were unsuccessful.
Murdaugh's testimony on Feb. 24 came near the close of the defense's case. One of his attorneys, Dick Harpootlian, indicated the defense would call a handful of other witnesses before resting on Feb. 27.
After that, Waters said, the state plans to call one or two more witnesses before moving on to closing arguments.
In a case that has meandered through evidence of shootings, drugs and thefts, there finally is an end in sight.