WALTERBORO — A grand jury on July 14 indicted disbarred attorney Alex Murdaugh on charges of killing his wife and son in a 2021 double homicide that has drawn international attention and renewed scrutiny of a prominent family whose name has been synonymous with wealth and power in this rural corner of South Carolina for more than a century.
The 54-year-old scion of an influential family of South Carolina lawyers now faces two counts of murder and two counts of possessing a weapon during the commission of a violent crime. The Colleton County grand jury accused Murdaugh of fatally shooting his wife, Maggie, with a rifle and his son Paul with a shotgun. The indictment documents detail no evidence, motive or other suspects.
The charges carry 30 years to life in prison. State prosecutors could also seek the death penalty, though they have given no clues as to whether they intend to do so. 
The allegations arise from the State Law Enforcement Division's 13-month investigation into the June 7, 2021, killings near a kennel outside the family's 1,772-acre hunting estate on Moselle Road in Islandton. They add to an already thick stack of indictments alleging the once-respected trial lawyer and volunteer prosecutor secretly stole some $8.5 million from legal clients, law partners and others who trusted him.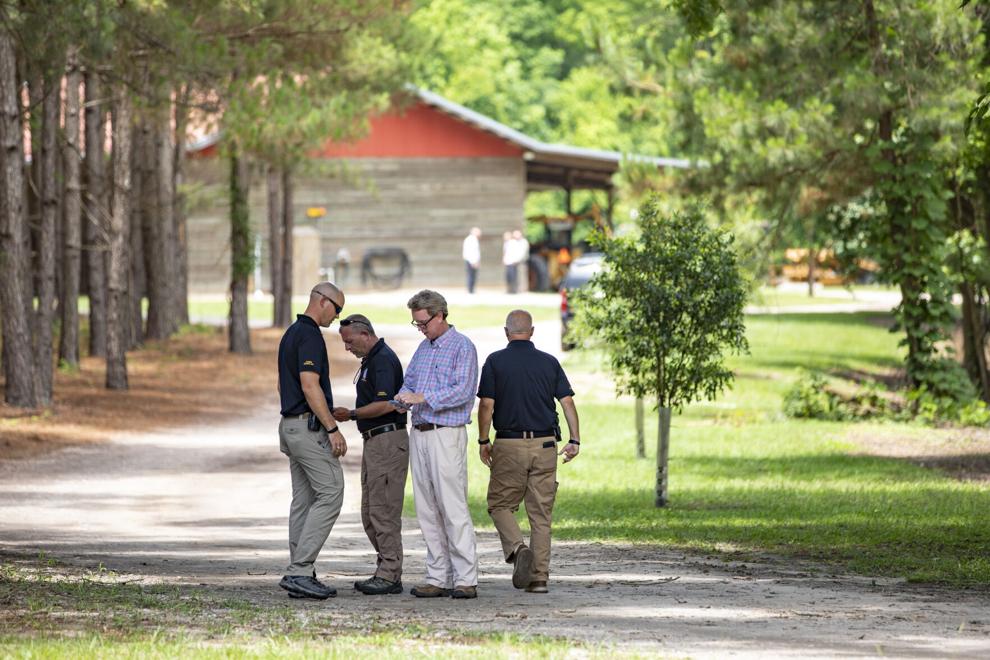 In a written statement, Alex Murdaugh's defense attorneys, Dick Harpootlian and Jim Griffin, denied the latest charges, criticized the investigation that produced them and vowed to fight back. They accused authorities of prematurely concluding that Murdaugh was responsible for killing his wife and son. They maintained that he lacked "any motive whatsoever to murder them" and pledged to seek a speedy trial to clear his name in connection with the slayings. 
"Alex wants his family, friends and everyone to know that he did not have anything to do with the murders of Maggie and Paul," the Columbia lawyers wrote. "He loved them more than anything in the world."
Speculation had been building for months that authorities planned to charge Alex Murdaugh with the killings. But as the anniversary of the double homicide came and went last month without indictments, some began to wonder if the case would ever be solved. 
SLED Chief Mark Keel and S.C. Attorney General Alan Wilson, whose office guided the probe, praised investigators for working diligently amid all the conjecture to gather the evidence needed to secure the indictments.  
"All the efforts of our office and the law enforcement agencies involved in this investigation have been focused on seeking justice for the victims' families," Wilson, a Lexington Republican, said in a written statement announcing the charges. 
Keel said his agents worked "day in and day out to build a case against the person responsible for the murders of Maggie and Paul and to exclude those who were not."
"At no point did agents lose focus on this investigation," Keel said. "From the beginning I have been clear, the priority was to ensure justice was served. Today is one more step in a long process for justice for Maggie and Paul."
The slayings drew eyes from across the globe to the often-overlooked southern tip of the Palmetto State. They also brought unwanted scrutiny to the legal dynasty the Murdaughs built there.
Murdaugh's personal unraveling after the killings stoked the firestorm of suspicion and media attention, fueling a drama that played out in headlines, podcast recordings and true-crime documentaries over the past year. He disclosed a two-decade opioid addiction, tried and failed to stage his own murder and was forced to resign from the high-powered law firm his great-grandfather founded in 1910.
A state grand jury and cascade of civil lawsuits then laid bare a decade's worth of schemes in which Murdaugh leveraged his powerful name and profession to secretly steal millions of dollars from legal settlements and fees.
But through it all, the slayings of Murdaugh's wife and son loomed large.
Murdaugh had been SLED's only known person of interest since he reported finding the bodies shortly after 10 p.m. June 7, 2021. He told a 911 operator in a hysterical voice that his wife and youngest son had been "shot badly" and weren't breathing.
Soon after the shootings, SLED insisted there was no further threat to the public, fueling speculation that Murdaugh himself was the gunman.
Still, Murdaugh's defense attorneys insisted he had a strong alibi — visiting his elderly mother at the estimated time of the shootings — and did not kill Maggie, 52, and Paul, 22.
SLED largely kept a tight lid on its investigation until agents met with Murdaugh's family and Maggie's relatives July 12 to reveal that they planned to implicate Alex Murdaugh in the killings.
John Marvin Murdaugh, Alex's younger brother, said his and Maggie's family had no further comment on the July 14 indictments. "We just need the truth," he said.
Eric Bland, one of the attorneys suing Murdaugh for stealing from legal settlements, said convictions for killing his wife and son would cement Murdaugh as one of the worst criminals in South Carolina history.
"It takes everything Alex did, which was wholly despicable, to really an unbelievable level," Bland said.
State Rep. Justin Bamberg, another lawyer representing several of Murdaugh's alleged financial victims, said the July 14 indictments are evidence that even the state's most wealthy and influential can't escape justice forever.
"People are cheering for accountability and the concept that justice in this state can apply to anybody, even if your name is Alex Murdaugh," the Bamberg Democrat said.
Murdaugh, a generous political booster whose donations tended to favor Democrats, has been detained in a Richland County jail since October, unable to afford his $7 million bond. He faced decades in prison even before the new charges.
His fall has blackened the eyes of South Carolina's legal and banking professions and tarnished the family name.
Murdaugh's father, grandfather and great-grandfather served one after another for 86 years as the elected top prosecutor for a five-county region in South Carolina's southern corner. Meanwhile, the family simultaneously ran a high-powered civil law firm that built a national reputation for delivering multimillion-dollar verdicts against major corporations.
Alex Murdaugh went into the family business. He served as a volunteer prosecutor for the 14th Circuit Solicitor's Office and worked as a trial attorney at the Peters, Murdaugh, Parker, Eltzroth, Detrick law firm.
He formally lost his law license this week. The state Supreme Court suspended Murdaugh in September amid allegations he had stolen untold sums from the PMPED firm. It then disbarred him July 12.
"We take this step today based on our ability to conclude from the public record that (Murdaugh's) untruthfulness and misconduct resulted in significant harm to clients and demands his removal from the practice of law," the high court's five justices wrote.
The saga has left Murdaugh with few defenders.
The Parker Law Group, a new Hampton-based firm created by former partners of PMPED, expressed no sympathy for Murdaugh in a statement describing news of the charges as "sad and upsetting."
"Our thoughts turn to Maggie and to Paul whom we loved and who we miss," the statement went on. "Everyday we grieve for them. Justice must be served. If the charges reported today are true and just, we ask for our judicial system to act swiftly and to bring a conclusion to this heinous situation."
The June 2021 slayings came as the Murdaugh family faced a separate crisis.
A wrongful death lawsuit blaming Paul Murdaugh and his family for the February 2019 boat crash that killed 19-year-old Mallory Beach was heading toward a trial and carried the potential of a substantial financial judgment.
The suit accuses a then-underage Paul Murdaugh of drunkenly driving a boat into a Beaufort County bridge piling, ejecting its passengers and killing Beach. It also alleges Murdaugh's family knew about and enabled Paul Murdaugh's alleged drinking and reckless behavior.
An attorney for the Beach family was seeking access to Alex Murdaugh's financial records, disclosures that could have revealed his hefty debts and drawn attention to his money-shifting practices. A state judge was set to hear arguments on that request in mid-June 2021. That hearing was canceled after the June 7 killings.
Murdaugh's bond hearing on the new charges has been set for 10 a.m. July 20 at the Colleton County Courthouse.
Clifton Newman, the state judge who first denied Murdaugh bond and kept him detained last fall, will handle the hearing.