There's a gym somewhere in Charleston that right now only Aaron Nesmith is allowed to use.
He slides in through a door in the back of the building. The front entrance has been locked for weeks, ever since the current health crisis began to shake up routines and seemingly everything else.
The courtyard outside is still. It's charming, lined with wooden benches that sit under the shade of thick oak trees. It's peaceful this morning, only for the moment, until you step inside and hear Nesmith's echo.
"Travis," he shouts from somewhere near the free-throw line.
"I bet I'm still the better shooter."
His flick that follows feels effortless. It's all wrist. Clean rotation on the ball and it falls pure through the net.
"We can see," Travis Smith answers without breaking stride in his usual smooth drawl.
Smith is an assistant coach at Nesmith's high school alma mater, Porter-Gaud. He was once a standout for the Cyclones too, about a decade earlier than Nesmith's reign a few years ago. Smith was a scorer, a shooter. He shot nearly 45% from three in college, and nearly 50% from anywhere else on the floor. He and Nesmith have been training together for years.
"Honestly, I could probably hit 10 right now," he promises Nesmith. Nineties hip-hop bangs out of a stereo in the background.
"Ten what?" Nesmith asks. It's rhetorical but Nesmith anxiously awaits the answer with wide eyes.
"Come on, man. Ten straight," Smith calls back. "At least 10."
Nesmith grins in disbelief, then nods his head in satisfaction. He seems to be enjoying the friendly sparring, almost coaxing Smith to challenge him as a roundabout way of challenging himself.
"Come out here then," Nesmith delivers an ultimatum with his arms stretched open. He's begun drumming a ball a little harder into the floor. The slap of the leather off the wood adds nice emphasis. "I'll leave the boot on."
Smith declines with a loose laugh. There's too much to do today to waste time on petty wagers. The NBA Draft is in three months. It feels like three weeks. Nesmith has become one of the draft's most intriguing prospects. His stock has surged the past two years at Vanderbilt. He was a fringe mention on mock drafts out of high school. He climbed into the second round of a lot of projections as a freshman. Then he slid into the first round on most boards as a sophomore this winter. Now he's talked about as the best shooter in the entire draft, a possible top-15 pick. At least one lottery team has called about him. The way things are trending, these next few months could be among the most important of his life.
So time is at a premium. Smith needs Nesmith primed. He needs to "bring the dog out of him" as he puts it, just as Nesmith was trying to do himself. Smith doesn't mind poking and prodding a little bit if it means better results. Nesmith tends to go full tilt when he feels challenged. It's like inciting the Hulk out of Bruce Banner. And good luck turning it off until he's ready. At least now Smith knows today is going be a good workout.
Nesmith's doctors probably wouldn't want to know he's in here right now. The two move through an hour or so of drills. Some ball handling, of course form shooting, some balance work. The circuit grows more intense as it progresses. His routine is especially impressive considering that he's still, at this point, a week or so from being cleared to remove the walking boot from his surgically repaired foot and practice at full strength again.
Nesmith has this rare resolve about him. It's obsessive behavior, borderline manic the way he's consumed by conquering challenges — whether it's the first major injury of his career or just shooting around with a friend. It's aggressive, probably intimidating to the uninitiated. Characteristics that seem to share nothing in common with the calm, measured gentleman you'd otherwise meet. He's more often composed and well kept, polite and articulate. Someone you would want your daughter to date. His professors call him an intellectual. And he is. His coaches call him junkyard dog. He's that too.
"He just gets in that mode," Smith said. "He'd be in the locker room breathing hard, screaming before games. I mean, just letting all the air out his lungs like 'Braveheart.' The dude is actually nuts.
"That's what makes him so special. He's also super intelligent. It's crazy the way he figures things out. It's crazy how he can turn it off again, on again."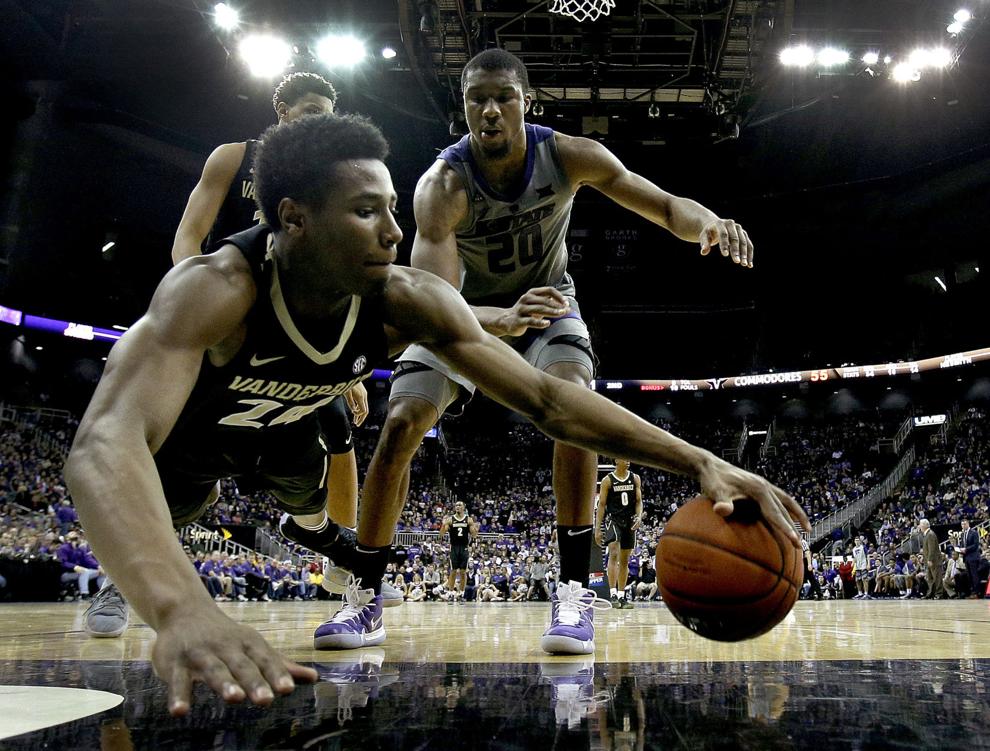 ***
The window in the head coach's office inside Vanderbilt's Memorial Gymnasium overlooks the basketball court below. Jerry Stackhouse was still moving his things in last April when he spotted someone down there working out alone.
"Aaron was the first guy that I got on the court with," Stackhouse said. The Commodores head coach was an all-American in high school, an all-American in college, and an all-star during an 18-year NBA career.
"Let me go down here," Stackhouse remembers saying. Nesmith was still a freshman, just a month or two removed from leading Vanderbilt in scoring through its Southeastern Conference schedule.
"I had my stuff on. So I said, 'Let me go down here and see what's going on.'"
Nesmith and Stackhouse became acquainted over an impromptu shooting session. It turned into something of a duel. Stackhouse would hit a shot and Nesmith would answer, different kinds of turnaround and pull-up jumpers, one after the other. Nesmith would move a step out and Stackhouse might take two further. They traded spots around the court and chatted in between as golfers might between holes.
"I recognized a shot maker right away," Stackhouse said. "I know what a pro looks like when he shoots the ball."
Nesmith and Stackhouse are similar in a lot of ways. Both value the process of the game — everything that happens behind the scenes and in between. The two have similar builds. They play similar positions. Stackhouse declared for the NBA draft after two years of college, just as Nesmith has. Both are scorers. Neither is willing to admit the other is the better shooter. Both are sure it's them. Both are strong willed. So that first day, neither was willing to be the first to walk off the court. Nesmith figured it might be a test. Stackhouse admits it sort of was. So on the two went, back and forth for nearly an hour.
"He didn't want to leave," Stackhouse said. "You could just tell if I would've stayed out there another hour and 45 minutes, he would've been there. I knew I had a guy that could carry us."
Nesmith ranked among the top five scorers and three-point shooters in the nation this season. He was shooting 52% from three, 51% from anywhere else before the foot injury in January. Nesmith is sure, if it was left up to him, that he could've found a way to play through the injury.
"Everyone still fed off of him," Stackhouse said. "He gave everyone confidence even though he wasn't out there on the floor."
Stackhouse is just seven years removed from his days on the floor. He speaks of Nesmith with the respect you would expect of a peer. He loved to challenge him. He'd call his star player out during practice, inviting Nesmith to guard him. He did the same with the other players too. It's just that Nesmith seemed the least willing to concede.
"Not me," Nesmith said in a way that you're not sure if he was joking or not. "He might throw some of the other guys around. Not me though."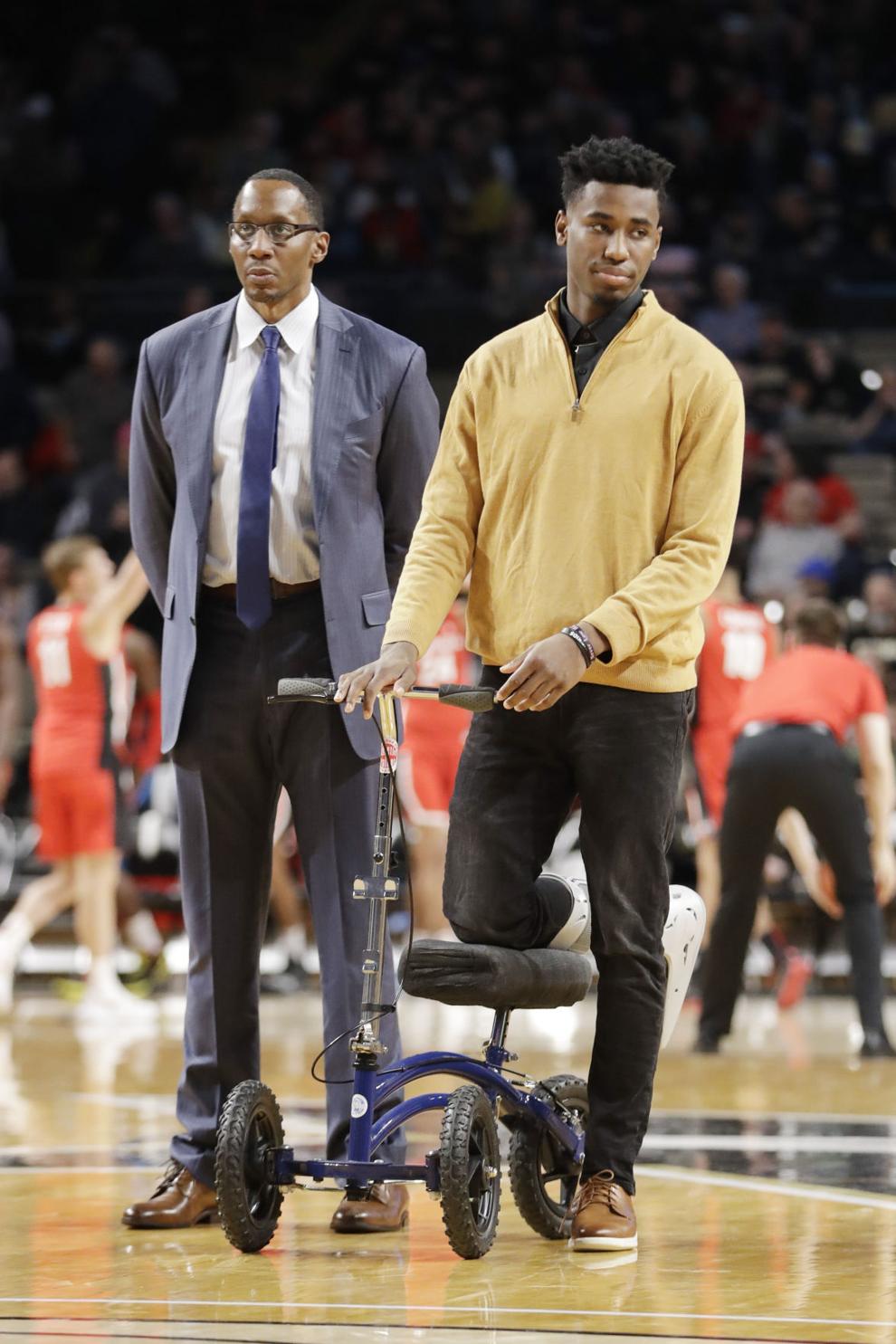 Nesmith usually took the brunt of what Stackhouse says were "pretty brutal film sessions." He knew his star could handle it. Stackhouse needed near perfection from his best player. Nesmith wanted to be perfect.
Perfection is relative to most. It's singular to Nesmith. He thinks it's a level legitimately achievable. It can be difficult to understand unless you understand the way he was raised. His father, Bernie, ingrained the pursuit of perfection into him as a child. Bernie has always been a structured, hardworking man. He's passed that on to his children. Nesmith's brother, Eddie, is a junior at Harvard, concentrating on molecular and cellular biology. Different agents have courted Nesmith the past few months. Bernie first wanted to talk more about his son eventually finishing school before discussing anything else.
"My dad is crazy. If you want to do something, you're going to do it 100 percent, the right way, everything you have," Nesmith said. "That's how my dad works. It's probably a big reason why I work like that."
One of Bernie's favorite sayings contends that practice will never deliver perfection unless the practice itself is perfect.
"Aaron hated losing," Bernie said. "He hated it so bad that he was willing to do whatever it took, whatever you asked of him, just to make sure he didn't lose. That's always made him easy to coach. He wanted the challenge."
Nesmith still works out with unrealistic expectations. He's annoyed by missing shots in practice. Not missing a lot of shots, he's irritated by missing any shots.
"You can feel his competitiveness. It's unbelievable," Stackhouse said. "Everything he does is laser focused. He's trying to make 45 out of 50. Or 98 out of 100. That's unbelievable, Steph Curry, Allan Houston type numbers. And he's shown the ability to do that."
Khris Middleton laughs as he tosses around in his head the idea of Nesmith battling Stackhouse. He already knows the scenario. Middleton is like an older brother to Nesmith and a few others from his Porter-Gaud alma mater. Middleton starred for the Cyclones the same time as Smith. They're best friends. Middleton is now a nine-year NBA veteran, spending the past two as an all-star.
"Khris' presence boosted his dreams," Bernie said. "He made him realize what was achievable."
Middleton is also a shooter. You may be noticing a trend. He's twice competed in the three-point contest during all-star weekend. He caught fire in the first quarter of the all-star game a couple years ago and rang up 12 points in less than three minutes without missing a shot. He is the best basketball player to ever come out of Charleston.
"You can't find a better role model for Aaron than Khris," Smith said. "You have a guy that's done it all right here in front of you and he's been an open book for Aaron to study."
Middleton is devoutly loyal to his inner circle. He planned to fly home before all-star weekend this year just to celebrate Smith purchasing his first home. He spends his summers on Seabrook Island, usually working out during the day in his old high school gym in nearby Charleston. An assortment of overseas pros, all old friends, will pop up at Porter-Gaud during the summer months. That's where Middleton met Nesmith. He's been coming to these private runs since he was 15 years old.
"I've been learning from those guys my whole life," Nesmith said. "Little tips and things like that. I take it all in."
"We're playing pick-up one summer. Khris is playing like half-speed or whatever," Smith remembers. "And Aaron, he's probably a junior then, he's just going at him as hard as he can."
"I'm talking trash to him nonstop too, trying to see if I can get him to lose his mind a little bit," Middleton said. "And you started to see that dog fight come out. I don't know if he thought he could win. Maybe he did."
"It's to the point that Khris is like, 'OK, you really want to play?" Smith continues. "And he just starts pounding him. Beating him up. Every way."
"Beat him at one spot, move to the next," Middleton said. "The whole time I'm in his head."
"Khris was abusing him," Smith said. "Aaron was definitely getting mad. He didn't know how to control it then. But the thing is, he wasn't backing down."
Middleton was sitting on the side by end of the afternoon watching the younger players go one-on-one. Nesmith was dominating, still steaming.
"He just destroyed everybody the rest of the day," Middleton said. "I guess he had enough of me talking and Travis laughing. You have to have that in you some way somehow if you want to play in this league."
John Pearson has groomed Middleton, Smith, Nesmith and a handful of talented others as head coach of Porter-Gaud the past decade-plus. He's known Nesmith since middle school, when he figures he was "maybe the third or best player on the team."
That didn't last. Nesmith blossomed his first few years of high school. He was a star by his junior season. He was growing strong enough to overpower his competition. He was already too smart for them. Pearson would keep him engaged in different ways. He used to dare him to shoot from certain spots on the floor or limit his dribbles during scrimmages. Those things became too easy so Pearson started doing it in games too. He called them goals. He'd challenge Nesmith to do different things within the flow of the game like make four shots in a row without missing. Nesmith usually completed his goals before halftime.
"That happened several times," Pearson said. "Sometimes twice in the same game."
Nesmith hit a contested baseline jump shot one night and jogged past his coach with his chest out on the way back down the floor.
"It was a nice shot," Pearson said. "He's smiling and I just told him, 'Yeah, yeah. You can't bank that in though.'"
Nesmith brought the ball down the floor on Porter-Gaud's following possession just a few moments later and on cue, from the same spot, banked in a shot off of the glass.
"He turned around and looked right at me like I was boring him," Pearson said. "I just remember laughing and thinking 'Man, this dude here.'"
Pearson moved Nesmith to the second team one day during practice. Another mental challenge. He wanted to see how he would react with the odds against him.
"I'm teasing him a little, just trying to make him mad," Pearson said. "'Oh Aaron, they're just killing you.' Stuff like that."
Nesmith took over the practice. He carried the second team ahead of the starters. Pearson continued to egg him on.
"All of a sudden you see him take two hard dribbles and then boom," Pearson said.
Nesmith took off from the middle of the lane and rose above the defense — a defense that included four players 6-foot-7 or taller. He cocked the ball behind his head and then swung it back down even harder.
"Broke the rim," Pearson said. "He dunked the ball so hard he broke the rim right off of the backboard."
"Yeah, that was crazy," Smith confirmed. "That really happened."
"He looked over at me with that look in his eyes, just that killer look," Pearson said. "We just ended practice right there."
Nesmith took the rim home with him that night. He still has it at his parent's house.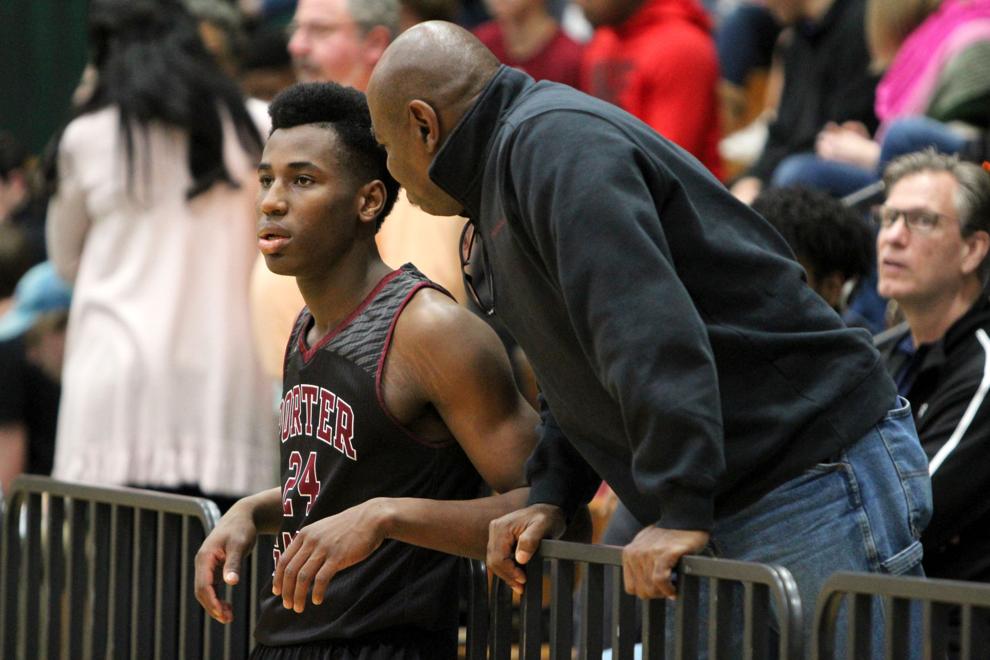 ***
There's a ball boy in a Porter-Gaud team photo from the state championship game Nesmith's senior season that you might not even notice unless you know how he got there.
Scott Fricker and his wife, Buckley Kuhn-Fricker, were shot dead in their home three days before Christmas in 2017. Their 16-year-old daughter made the 911 call, according to police dispatch. Their 10-year-old son, Elliot, was also home.
"It was definitely hard," Elliot said. "It was hard dealing with stuff. But I also had a lot of good things come my way to keep me distracted."
Elliot was sent from his home in Washington D.C. more than 500 miles south to Charleston to live with his uncle, Jason Fricker, an instructor at Porter-Gaud. He didn't really know anyone else in town. The new setting in a school much larger than any he'd ever attended could've easily swallowed him. He loved basketball though. He'd never been to a school with its own team. Porter-Gaud had the best team around.
"He'd obviously been through a lot. And he came in without knowing a single person. He was probably nervous," said Jason Fricker, also Nesmith's science teacher through seventh and eighth grade. "The basketball team completely set his course."
Nesmith spotted Elliot in the crowd during a game one night. Porter-Gaud had already built its usual insurmountable second-half cushion. Nesmith's night was over. So he whispered to Pearson, asking if he could be excused from the bench for a moment.
"I've never had anyone ask me to do anything like that during a game before," Pearson said. "It surprised me. But that's really who Aaron is. He's just a nice dude."
Nesmith left the bench and traced the baseline to the far side of the gym with the game still in progress. He entered the stands in full uniform. He stopped a few rows into the bleachers, bent his 6-foot-6 frame over and extended an open hand toward Elliot.
"I didn't expect it at all. I thought he was just going anywhere else and he stopped to talk to me," Elliot said. "I was like, 'Oh, this is so cool.'
"I was really nervous and he just said, 'Hey, my name is Aaron. Do you want to come over and hang out with us?'"
Nesmith escorted Elliot back toward the team's bench. Eyes followed the odd pairing as the two made their way across the gym to Elliot's new seat, one he occupied the rest of the season as an honorary ball boy, right beside Nesmith.
"As soon as I got over there, everyone was just like 'Hey, Elliot. What's up?'" Elliot said. "Aaron sat down next to me. It was the No. 1 most kind thing."
Elliot kept his mind off of everything surrounding him by tracking the team closely that season. He knew the schedule and the scores and the stats, especially Nesmith's, all off the top of his head. He hated missing a practice, even worse a game.
"If we couldn't drive him, he'd stay late, really late, after school. Or he'd ride with a friend. Whatever it took for him to be a part of it," Jason Fricker said. "He really admired those guys. They gave him a place he belonged."
The drama club was putting on a play one night — Aladdin, in the school theatre. The basketball team had a home game at the same time in the school gym next door. Elliot went to the play with Jason. He was panicking in his seat knowing he was missing the game.
"I was shaking," he remembers. "My uncle finally said, 'Fine, go. You have to be back in 30 minutes.' I ran over there. Aaron and those guys made me feel like I was part of the team. It made a lot of things better."
Nesmith has never had a Twitter. He never had a steady girlfriend in high school. Who would want to date a guy that spends his Friday nights in the gym, even during the offseason? He's not big into new music. Sixties soul singer Otis Redding is one of his favorites. He's never been big into fashion. Casual dress for him used to be basketball shorts and a sleeveless tee. He was wearing shorter, tighter shorts long before the current fad made it cool. Smith had to give Nesmith a hard time when he came out of the locker room after a game this season with a little gold chain hanging over a turtleneck with ostrich boots on his feet. Longtime teammate Josiah James can't help but take a jab too, likening it to Steve Urkel's transformation to Stefan in the '90s sitcom "Family Matters."
"He had no swag. He's just never cared what other people think is cool," James said. "Now he's 220 pounds and all ripped up. Everyone knows him. But he's still Aaron. He still has that same heart and is true to himself. He's really the best person you'll ever know."
James is a rising sophomore guard at Tennessee. His name was appearing in mock drafts before he graduated high school. He and Nesmith have been teammates at Porter-Gaud and with the Charleston-based AAU team TMP since middle school. James received his first high-major college scholarship offer before his freshman season. Nesmith didn't receive his first until the summer before his senior year.
"It's crazy because every day I'm seeing him do stuff that some of the top players in the country can't do," James said.
"Aaron had to get in the weeds and fight. So many things could've gone sideways. That's what makes his story so good," Pearson added. "He's comfortable in that position though. It's in his makeup."
Kevin Schneider might've been the first person to label Nesmith a future pro. Schneider is the national recruiting director of Big Shots, a scouting service that hosts summer tournaments, many of which Nesmith and TMP have participated.
"We were playing the top team in this tournament and Aaron was just killing everyone in front of him," Antoine Saunders remembers. Saunders runs TMP along with Pearson. Their program has the most influential AAU presence in the city, probably the state too. They're not tied to a shoe company, though, as so many major programs are.
"He actually had a shoe company team tell him that he would never get to where he wanted to go unless he goes with one of their teams," Bernie remembers. "He always stayed loyal though. That's what makes me proud of him as a dad. He came up the rougher side of the mountain."
"So Kevin comes up to me after the game and wants to talk about Aaron," Saunders continued. "People were already talking about Josiah. He said, 'No, look. I really think you have two pros here. Aaron is a pro.'"
Nesmith was stuck in a weird sort of recruiting purgatory at the time. Mid-major schools had stopped offering a guy who was seemingly becoming too talented to actually fall to them. The high-majors weren't really diving in with too many actual offers though. Some reasoned that he might fit best in the Ivy League.
"Certain players just carry themselves differently on and off the court. Aaron had that from the minute I met him, even at a young age, playing up a year against older competition," Schneider said. "And that jump shot is different. I remember turning to (ESPN national recruiting director) Paul Biancardi and saying this kid is going to be a pro."
"I took a closer look and, yeah, you could see it. The ability, the outside shot, the physically strong body, it was all there," Biancardi said. "He had what I like to call high school WIFI. You have to have an appreciation for a guy who can think the game through. He had that. He already had that IQ, that understanding, that set him apart from a lot of kids his age."
South Carolina offered the summer before Nesmith's senior season. It opened the flood gates. Countless others followed. Nesmith jumped from a top-300 recruit to top-60 in less than nine months.
"Georgetown, Florida, USC. They all started coming at once," Saunders said. "ACC, SEC, Big 12. I mean, all of a sudden, everyone was offering."
"There was nobody better that summer," Pearson asserts.
Not everyone appreciated the way Nesmith scaled the recruiting rankings. Certain players he was leaping in recruiting were becoming jealous, as teenagers will. There were whispers among players on the AAU circuit that he was overrated. People Nesmith considered friends were calling him a ball hog. It clearly started to wear on him. He began to pass up shots to avoid the narrative.
"That's how worried he was about playing the right way," Saunders said. "He wanted to prove he deserved the attention but he wasn't going to do it shooting — even though he was shooting like 60% that summer. We fixed that quick. I told him one night, 'Do not ever stop playing your game.'"
Nesmith scored 36 points in a shortened tournament game the following day. TMP won the tournament. He and James sought out Schneider and the event organizers afterwards to thank them all for having them.
"That always stuck with me," Schneider said. "Most players aren't mature enough to even think to do something like that. It had already clicked for him. He was already handling himself like a professional."
That isn't the end of this story. Nesmith was too stubborn to pass the grudge.
He would see one of the primary instigators from that summer during the high school season a few months later.
"He had that game circled since he left the tournament," Saunders said. "I called (Pearson) that week just to see how Aaron was feeling because I knew what was coming."
"Yeah, he's wound up pretty tight," Pearson told Saunders. "It'll be interesting."
"You knew all week that something was happening," James said. "Aaron was not about to let anything slide."
Nesmith volunteered before the game, or more insisted, that he guard his adversary. He told his teammates that he wasn't going to allow him to score a single point.
"Not one," James remembers. "We're like, 'whatever, blah, blah, blah.' But he was dead serious."
"So the game starts and like the first possession he tries to dunk right on him," Saunders said. "And the whole place was just like, whoa. It was on from there."
Porter-Gaud opened the game on a 25-0 run. Nesmith brutally hounded his opposition — who was ranked as one of the best in his state and averaging nearly 20 points per game at the time — up and down the floor defensively. He held him scoreless through the first half. Porter-Gaud led by more than 20 points.
"Aaron is still yelling at halftime like, 'Nah, it's not over,'" James said. "I remember so vividly how serious he was about this.''
Porter-Gaud went up by more than 30 points in the third quarter. Pearson played Nesmith just a few minutes in the second half with the game now comfortably in hand. Nesmith's target managed to finish with four points, all on free throws with Nesmith sitting on the bench. Whether he was in or not didn't matter. Nesmith was incensed.
"He was so heated about those four points," James said, laughing as he replayed the scene. "He was legitimately mad. But that's how he is. He's relentless. Especially if you try him like that."
Porter-Gaud ran into Saunders' First Baptist team earlier that season. The two neighboring private schools are rivals in the area and usually compete with each other for top playoff seeding and in postseason games. Saunders could tell in warm-ups that something was different this time.
"You could tell there was some extra energy there. Not just because it was a big game," Saunders said. "I'm just thinking, 'Oh boy, something's up. Here we go.'"
Nesmith hit six of his first eight shots. Porter-Gaud established quick control and never let up. Nesmith led the charge on both sides of the court.
"He is not a verbal player but he had a few extra things to say that night," Saunders said. "And these are his TMP teammates, the guys he's getting in their faces."
Saunders found out after the game that James had lied to Nesmith. He told him a few players on the other side had been talking a little trash about him throughout the week. He told him they said they were going to shut him down.
"Josiah knew what he was doing setting him off like that," Saunders said.
James laughs now. "We really needed that game," he said.
"Aaron is the type of guy that you can whisper something in his ear and it just set him off," Saunders said. "He's the nicest guy, until he flips that switch."
Porter-Gaud won its its third straight state championship that season. Nesmith was named team MVP and the Gatorade state Player of the Year — the latter over Zion Williamson, one of the most visible high school players of all-time, who in a year would be drafted No. 1 overall. Elliot was with the team most of the day of the state championship game. He recorded some video of Nesmith on his phone. He still remembers Pearson's locker room pep talk and the firm look on Nesmith's face. He ran out of the tunnel with the team and had butterflies as if he was the one taking the court.
"It was the first time all season that I was nervous for them," he said. "It was so exciting."
The passing of his parents left Elliot confused. He mourned. He felt alone in his new, unfamiliar home so far from what he'd always known. Then he was offered an escape, something exciting to look forward to every day. It was the most unlikely of unions but it was exactly what Elliot needed at the time, a genuine friend.
Nesmith is situated in the center of Porter-Gaud's team photo from that night at the state title game. He's kneeling in front of the group with the trophy in hand and a medal around his neck. Beside him is a 10-year-old blonde-haired kid. He's wearing a wide smile as he poses for photos with the state champions, shoulder-to-shoulder with his friend Nesmith — or to him, just Aaron. 
"He's really cool. And kind," Elliot said. "He's different from anyone else I know."