Chad Grier has grown increasingly introspective in the days following his decision. 
He's sitting on his back porch. He could walk to the beach from here. It's warm outside so he's left the door cracked open. The evening sun casts an orange hue over the harbor ahead of him. His mind is wandering elsewhere.
He seems tired, mentally more than physically maybe. Something has been wearing on him. He's distracted. He lets out a long exhale.
"Who would be crazy enough to leave this?" he wonders aloud. The question is rhetorical. Grier knows the answer. It's him.
Grier has accepted an offer to become the next head football coach at Providence Day, an upscale private school in his hometown of Charlotte, North Carolina. The 52-year-old has spent the past three years as head coach at Oceanside Collegiate, an upstart charter school in Mount Pleasant, South Carolina.
"It's been one of the toughest decisions that I've had to make," Grier said. "I really struggled with it because I love it here. I love my life. I love the school and the kids. I wasn't looking for another job at all. And, to be honest, there were very few that I would've even considered."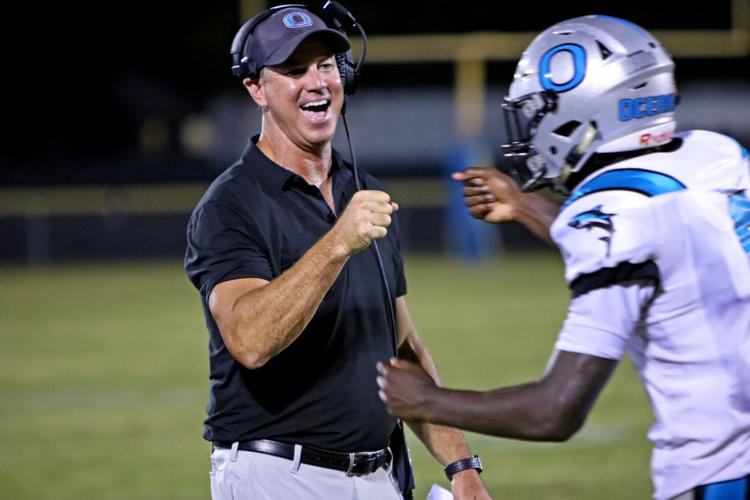 Grier and Providence Day know each other well. Grier played against the Chargers as quarterback of Charlotte Latin in the 1980s. He went 3-1 against Providence Day as head coach of nearby Davidson Day, where he won four state titles going 65-9 in the six years before arriving at Oceanside.
"I've always had a lot of respect for Providence Day, as an athlete and now as a coach," Grier said. "It's just one of those situations that you can't pass up. I've always thought it was intriguing. I just didn't see us moving again."
Grier was house hunting in Mount Pleasant when Providence Day first called a few weeks ago. The Chargers were just four months removed from winning a state championship. Head coach Adam Hastings was leaving for the same job at nearby Indian Land, a South Carolina public school just a few miles across state lines. Grier's name had surfaced recently around Charlotte as a possible candidate for the head opening at nearby Mallard Creek High. It made sense. He still has strong ties to the Charlotte community. Most of his family still lives in the area, including his son Will, who's a backup quarterback for the Carolina Panthers. Still, Grier wasn't initially interested in leaving Oceanside, even for Charlotte. 
"Charlotte has always been home for my family," Grier said. "But (Mount Pleasant) has become home for us too. We really like what we have here. We weren't ready to give that up."
Providence Day called again about a week later with a stronger offer. It's not uncommon for coaches at public schools in North Carolina to seek better paying jobs in South Carolina. Providence Day, as an independent private school with a $27,000 annual tuition, has more financial flexibility than most. It offered better benefits for Grier and his family, including his 11-month-old son, Hank, who will be enrolled at the prestigious 12-year school for at least as long as his dad is the coach.
"Hank was kind of the deciding factor when you removed emotion from the equation," Grier said. "I grew up around my entire family. I really want him to experience the same thing. I want him to grow up around Will's kids. Family is so important to us and, in a lot of different ways, this was the best situation for Hank. It just made the most sense."
Oceanside was operating out of an old middle school in a rural fishing town about 30 miles north of Mount Pleasant when Grier arrived. The football team had gone 0-8 through its inaugural season, outscored 352-57. The school's campus was still breaking ground. There was no weight room, no locker room. There still is no football stadium.
Oceanside went 27-7 the next three years under Grier with an offense that averaged just over 40 points per game. The Landsharks went into the state semifinals undefeated this fall after spending most of the season ranked among the top teams in the state.
More than 20 of Grier's players have landed opportunities to play in college over the past three years. His defensive coordinator, Rashad Jackson, just accepted the head job at Glades Central High School, a nationally respected program in Florida, last month.
Oceanside promoted Grier to athletic director two years ago. The Landsharks have won six state championships and played for five more under his watch. MaxPreps ranked the Oceanside athletic department fifth in the nation among schools with less than 1,000 students last year.
"As coaches, we always tell our players to leave something in better shape than when you found it," Grier said. "It's our athletes and our coaches. It's the school and our community. We've built a winning culture here that will continue to last long after I'm gone. I'm proud to have been a part of that."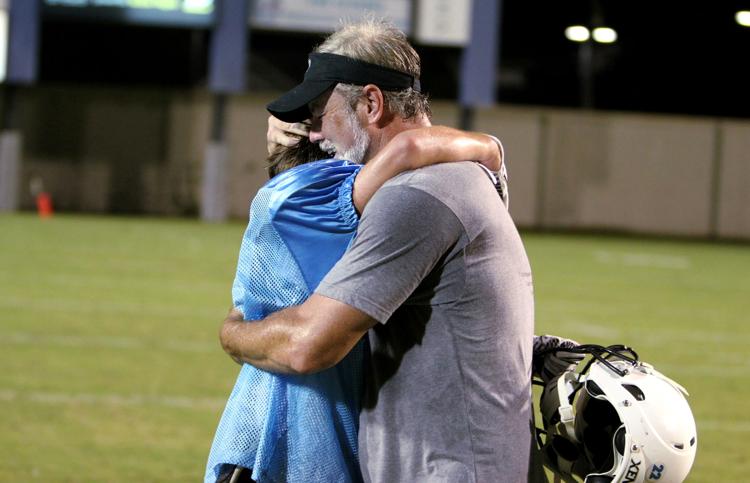 It certainly wasn't always easy. Oceanside's expedited success, and as a charter school, created angst among some of traditional public schools in the area. Many refused to compete against the new school in any sport.
Grier, maybe in part because of his public persona that includes 184,000 followers on Twitter and a feature role in a Netflix documentary, was often targeted as a scapegoat for perceived imperfections in the state's high school system.
Then there was the well-publicized forfeiture of four wins by Oceanside's unbeaten football team this fall after Grier admittedly misinterpreted the state's eligibility rules.
"None of that affected my decision to leave here," Grier assured. "I think that's important for our families to know. I wish there was something for us to run from. Things are only getting easier as people realize day by day what Oceanside is actually about. The fact is, we created something new that was disruptive to the old guard. It was disruptive because we were winning. Our players and our families should be proud of what they've built. I am."
In the end, though, few schools in this region can match the presence of Providence Day. The school's athletic facilities rival most small colleges. The program has won six state championships and has lately enjoyed a strong influx of talent. This season alone, two of top 20 tackles in the nation lined up beside each other on the Chargers' defensive line. One has signed with Ohio State, the other North Carolina.
Better pay, better benefits, better resources, a deeper talent pool and in your hometown where your son is a quarterback on the pro football team — it's hard to argue against accepting the Providence Day job. Still, you could sense the unrest in Grier's voice as he arranged plans to say goodbye to the Oceanside community.  
"We really have a unique opportunity to create something special at Providence Day," Grier said. "Everything is in line. That's really exciting to me. But that doesn't make it any easier to leave what we've created at Oceanside. It's hard to leave something that you've invested so much into." 
Grier has been on his back porch for more than an hour now. An alarm has been ringing inside the house for a large share of that. It's a kitchen timer. His wife, Nila, eventually silences it not long before finding that dinner was left to burn inside the oven. Grier has been understandably distracted. 
It's peaceful out on the porch. He can come out here to think. Tomorrow he'll have to tell his team that he's leaving. Some are sure to be disappointed. That'll be hard to see. Some came to Oceanside just to play for him. 
The circumstances are unique. South Carolina schools are currently closed because of coronavirus concerns. That means that Grier can't actually call a team meeting. He instead sends out a group message explaining where he'll be in the morning — an empty practice field off campus with plenty of room to keep their distance from each other. Players quickly respond. One with a follow-up question. Grier grins.
"He wants to know if he should bring his cleats," he says with a laugh. "It's the middle of March and he's ready to bring his cleats to a meeting." 
It's a good sign. And with that, Grier stretches a smile across his face for the first time in a little while. He's found some sense of peace in his decision. There's some sense of satisfaction in knowing that although he's leaving, he's leaving behind something now stable enough to endure without him.