It was hot that afternoon. And humid. Hot and humid enough that even the walk from the parking lot to the field could bead your forehead with sweat.
Bob Hayes was already in the stadium, out there on the turf, dressed in all black, seemingly unaffected or at least unwilling to show any sign of weakness.
Wando's athletic director was out there alone, close to midfield, surveying to himself the construction of the $17 million stadium being built in the high school's backyard. It was to open in about a month, as nice as any in the surrounding area. Every shiny bell and whistle included.
"What do you think?" Hayes asked aloud. "Hard to find anything they missed."
There is one adjustment to the stadium being made now, nearly two years later, that was pushed through without Hayes' involvement. The Charleston County School District has given initial approval to name the field at CCSD District 2 Stadium in his honor, Bob Hayes Field.
"It all seems a little bit surreal to me," Hayes said. "You see that kind of recognition at different stadiums throughout your career and even if you don't know the background you understand what the legacy must mean. You never expect that to be you though. It's all just very humbling. Very humbling."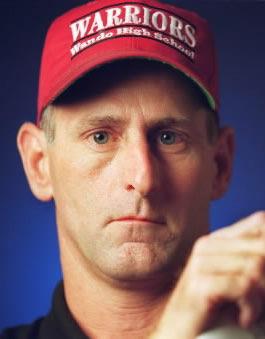 Hayes, 60, has been battling cancer for more than a year now.
He won 50 games as head football coach at Wando from 2000-08. He led the Warriors to their only Lower State championship game appearance in 2004.
Hayes began his tenure as athletic director while still serving as head coach, spending a couple of those years as defensive coordinator too. He's served as special teams coordinator since stepping down as head coach, while also overseeing an athletic department that fields nearly 40 teams and more than 1,000 athletes.
The Carlisle Cup — formally the Director's Cup — is given annually to the most successful athletic department in each classification in the state. Wando has won the award in the highest classification for six straight years and seven of the past eight.
"It's monumental what he's done at Wando," Jamel Smith said. Smith spent eight years alongside Hayes on staff at Wando before being named this spring head coach at Lucy Beckham High School, opening seven miles away in Mount Pleasant in August. "He's put so much work into that program. How many people can pull off what he's done at Wando? Think about that."
Hayes convinced the school district in 2011 to approve new lighting as part of the community-led renovations to Wando's old stadium on Mathis Ferry Road.
He was an instrumental piece of the group that two years ago helped deliver the new District 2 Stadium, a state-of-the-art regional venue on Wando's campus that'll house Lucy Beckham's football team as well.
Hayes' name will be added to the field turf, near the white state logo at midfield. It's likely to also appear on the field house inside the stadium.
"This stadium is his baby. He really took care of it and made sure everyone else did too," Smith said. "You couldn't have named that field after anyone better."
The proposal to name the field in Hayes' honor was introduced during a school district committee meeting last week and moved through quickly with unanimous approval. It was delivered under the recommendation of principals and coaches of both Wando and Lucy Beckham, district faculty, even a few students. Final approval will be decided at the district's Board of Trustees meeting on May 26.
"I just did my job every day," Hayes said. "I learned from the best and I was fortunate enough to work with some great coaches. It really was always a group effort. So if my name is up there then there should be an asterisk by it for everyone else."
Hayes moved to Mount Pleasant 20 years ago — he, his wife and two young kids. He remembers how hot and humid it was the day they arrived. It was "blind faith" he said of the move to Wando.
"Little did I know back then," he added. Hayes has become increasingly reflective the past couple months as he's waged his battle to live relegated mostly to his home. The news of the field dedication comes a few weeks after hundreds showed up to celebrate his birthday with a parade in front of his house. "You always just hoped that you were building something special. I've been able to take a step back lately and just really appreciate the love and the support of this community. That's really special."