Andrew Glover was the first person in the gym that day.
Well, second. Because there was already a reporter in there waiting to speak to his coach.
Glover wore a welcoming smile. The 18-year-old introduced himself and without prompt began discussing the team.
This year's group had all the right pieces, he said. He shuffled through each player individually. He knew everyone's height and what they were ranked in the state. At least you believed he did because he spoke so confidently of it all.
And him? He was the only senior starter, the team captain. Everyone labels him a shooter, he said, before insisting that he also had the best vertical leap on the team. He was willing to prove it too. He was sizing up a spot to jump and touch on the backboard when his coach walked in and interrupted.
"That's Andrew," Glover's high school coach, David Eaton, would later explain. "He has a great personality, doesn't he? He's the type of player that'll be a coach one day."
Glover will soon be announced as head boys basketball coach at Lucy Beckham High School, Mount Pleasant's new $100 million public school opening in August.
The 24-year-old Wando High graduate will be one of the youngest head coaches in the state, quite possibly the youngest. He'll be leading a first-year program located 10 miles from his high school alma mater in a town where his last name is synonymous with winning.
"It's more than a blessing," Glover said. "Mount Pleasant is my home. I love this town. I can't even explain the feeling to have an opportunity like this."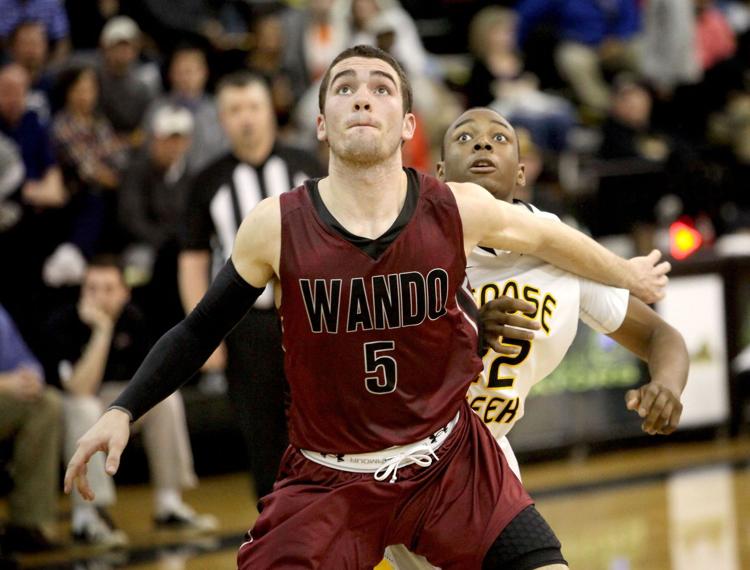 Glover's mother, Alexis, has coached volleyball at Wando for more than three decades. That isn't a good enough introduction, though. Alexis is the winningest high school volleyball coach in state history. She was the first coach in the state to ever win 800 games, then the first to 900 and again to 1,000. She's won national coach of the year awards and has been inducted into the state coaches hall of fame. She's won three state championships and coached in nine other title games.
"That's a lot to live up to. I guess he'll always be the second-best coach in his family," Lucy Beckham athletic director Scott McInnes joked. "He understands what it takes to build a winning culture because he's lived it. And he's been a part of this community his entire life. What an awesome example he'll be for the kids in this town."
Glover was right about Wando's basketball team that year. The Warriors won the AAAA state championship, the only state title the largest high school in the state has ever won in boys basketball. Glover averaged a modest 10 points per game, which Eaton attributes to his maturity and his heightened awareness of the team dynamic.
"He probably wasn't getting as many shots as he deserved or would've liked because we were just so talented that year. But he never complained because he understood the game," said Eaton, now head coach of Greater Atlanta Christian School in Georgia. "He understood why we were spreading the ball and playing the way we were. He was always asking questions. He always wanted to learn."
Alexis Glover was cleaning out her son's old bedroom last spring when she found one of his notebooks from that season. Different plays were scribbled inside. Some of them were variations of what Wando was running. Others were ideas he'd drawn up himself.
"It comes to him naturally. He grew up in the gym and maybe that shaped him," Alexis said. "He was always trying to show other players different things. He was always studying the game, even then."
Wando returned four of five starters from its title team the following year. Glover was the only one who'd graduated. The defending champion Warriors never found the same chemistry, though, and were eliminated in the second round of the playoffs.
"We definitely missed his leadership that year," Matthew Pegram said. Pegram is a year younger than Glover. He was the starting center of Wando's title team and went on to play four years at Wofford College. "You always knew he was going to be a coach. He was always the most engaged, always trying to learn what the coaches were doing. I think he probably knew some of the plays better than they did."
Glover played a year of prep ball after high school at Hargrave Military Academy, one of the most prestigious post-graduate programs in the nation. He bounced from USC Aiken to Spartanburg Methodist after that before injuries ended his playing career.
"Andrew Glover would be successful at anything he chose to do. He chose to coach because he loves it," Hargrave coach Lee Martin said. "He has a certain type of infectious personality. He connects with all types of people. He's going to have those kids running through a wall for him."
Glover was still finishing college at South Carolina when he began his coaching career with the Upward Stars 17U high school AAU team. His team went 24-14 that summer. Eight of his 12 players received college offers.
He didn't want to stop coaching when the summer ended, so he reached out to his coach at SMC, Jon Cremins, for ideas. Cremins is the nephew of former College of Charleston coach Bobby Cremins. Glover used to attend Bobby Cremins' basketball camp every summer as a kid. Jon put in a call to Dion Bethea, a former AAU coach himself who was building an upstart high school program at Gray Collegiate Academy in Columbia.
"I was kind of unsure at first," Bethea said. "Then I met him and he just grew on me."
Bethea put Glover in charge of tracking statistics and cutting film. He graduated to player development and started organizing his own sets. Gray went 46-14 the next two years, winning back-to-back state championships. Glover was the first person Bethea hugged in the final seconds of Gray's second title win. Every graduate over those two years received college offers.
"He was a part of that success," Bethea said. "He did a little bit of everything for us. You could tell this was really for him. Me, I just didn't want to hold him back."
USC Aiken coach Mark Vanderslice saw coaching traits in Glover during the season he played for the Pacers. That's why he hired him immediately out of college. Glover has always had a knack for motivating and encouraging, Vanderslice said, a quality that some coaches have to learn but the best have naturally. Vanderslice thinks Glover's winding career as both a player and a coach is a unique advantage.
"He's had an opportunity to explore and experience so many different systems and people. That diversity is going to make him a better coach," Vanderslice said. "He already had that contagious attitude and that energy that lends itself to coaching. His experiences so far in his career have just added to that. He's ready for this job. It's perfect. It's a Godsent opportunity for him."
Glover is joining a coaching community that he's long been familiar with. Wando coach Chris Warzynski was an assistant for the Warriors when Glover was in high school. Glover played AAU under James Island coach Stan Wilkins, Porter-Gaud coach John Pearson and First Baptist coach Antoine Saunders. He's known Goose Creek coach Blake Hall since Hall worked at the recreation department, before he ever won state at North Charleston. Pinewood coach Pat Edison is a family friend, as is West Ashley coach Ronnie DuPre.
Glover's network is already ranging and intertwined like that of a veteran. His list of influences runs long, too long to print in a newspaper though he wants them all — from high school to AAU to college — to at least know that he's thankful. His connection to the local community was one of his strengths as a candidate for the Beckham job. It's an immediate asset to new school hoping to quickly establish its presence in the Lowcountry. Glover may be young, McInnes says, but his pedigree and network already demand respect. And he just gets it. McInnes asked Glover what he thought would make his first game as a head coach a success. Part of Glover's answer included having the local Moultrie and Laing middle school teams attend.
"I've been around great coaches my entire life. I think I've taken a little bit from everyone," Glover said. "To be the first at Lucy Beckham — my principal in high school — it's unreal. I want to make sure I do things the right way and build another program that this community can be proud of."
Recruiting was among Glover's duties at USC Aiken, North Carolina specifically. USC Aiken typically recruits North Carolina well. Faison Brock is a good example of that. Brock graduated this spring as the second-leading scorer in USC Aiken history.
McInnes coached Brock in high school at Millbrook High in Raleigh, where McInnes spent the past 19 years as athletic director and boys basketball coach before accepting the Beckham job a few months ago.
Vanderslice ran into McInnes after USC Aiken's game at UNC Pembroke in February. McInnes told him about the new job. Glover was standing beside them as McInnes described the school in Mount Pleasant.
"That's my hometown," Glover told him.
"Oh yeah?" McInnes said. "Maybe I'll see you down there then."