S
arah Kate Bowles can be found doling out water bottles on the sideline during weeknights in the fall.
The 7-year-old redhead pairs hydration with words of encouragement, sometimes even offering advice for her dad's football players who tower over her. Picture Sheryl Yoast, the spunky coach's daughter from "Remember the Titans," with maybe a little softer attitude.
"That's about right," her father, Brad Bowles, said with a laugh. "She loves football. She's all in. I guess you have to be in this family."
Bowles keeps Sarah Kate close to the teams he coaches because that's the way he was raised. He grew up with the game, a coach's kid himself, following his father, John, throughout college stadiums and up and down high school football fields.
Football is synonymous with family to Bowles. It was when he was a child and it is now that he's a father. That's the type of atmosphere the 37-year-old plans to foster at Porter-Gaud as the Cyclones' new head coach, relying on those same family values that've helped him become one of the area's fastest rising names. 
"Family is a huge part of football. We're not just trying to win a season, we're trying to build something with these kids that will really last," Bowles told the Moultrie News Wednesday in his first public comments since being announced as the winner of a coaching search that attracted extensive interest, including that of several prominent Lowcountry names.
"That's the way I was taught. There's a bigger picture to all of this."
Bowles spent much of his childhood in Virginia Beach, Va. but bounced around as a teenager while his family followed his father through college coaching stops at Richmond, ETSU and Austin Peay. They eventually settled into Johnson City, Tenn. where his father coached at Science Hill High School, the alma mater of Steve Spurrier. Bowles coached under his father at Science Hill while still in college at ETSU and later spent three years as an assistant at Austin-East in Knoxville.
"People always ask about Spurrier when they find out I went to high school there," said Bowles, who by now anticipates the connection. "But I actually didn't even meet him until I got to Goose Creek."
Bowles was attracted to the Lowcountry, in part, by the mystique of Summerville High School, whose football program was nationally relevant at the time as legendary coach John McKissick had recently set the sport's all-time wins record.
But Bowles,  still new to the area, couldn't even get an email address for McKissick. In his pursuit, he met Chuck Reedy, a former Division I college head coach, who was looking for "good, young coaches" to fill out his staff at nearby Goose Creek High.
"Well, I don't know if I'm a good, young coach," Bowles remembers joking. "But I am young so maybe I can help out."
Reedy respected that Bowles was the son of a college coach. He was impressed by his knowledge of the game and willingness to learn, and he appreciated the way he quickly connected with players. Reedy made him a varsity assistant immediately rather than relegating him to the junior varsity or freshman teams.
"You don't normally see someone that young with that little experience get a varsity job right away but he had the attitude and was clearly committed to being a football coach," Reedy said. "He was always looking to take on more responsibility. I've always tried to hire coaches that I thought could be head coaches one day, the ones who are motivated to go above and beyond and learn and grow, and it was obvious from the time I met Brad that's who he was."
Bowles spent four years at Goose Creek during the most successful chapter of school history. The Gators went 39-3 through his final three seasons with the team, winning a state championship in 2011.
But Bowles' most lasting impact might've been off the field. He established a Fellowship of Christian Athletes group at Goose Creek and engaged players in community outreach programs. Tramel Terry was the best player on the Gators' championship team. The 2012 Mr. Football award winner doesn't refer to the wins or trophies when asked about Bowles though. The first thing he mentions is the time they spent volunteering together at the Ronald McDonald House. 
"He approaches coaching in a different way, like a family," said Terry, who spent three years at Georgia before finishing his college career at Jacksonville State. "He really values building you up as a man and he's invested in you, and that's important for a lot of kids who really need that at that age. It's more than just football with him. It's stuff I'll really never forget. He taught me life skills that still impact me to this day in a way I can't even explain. He's one of the best coaches I've ever had."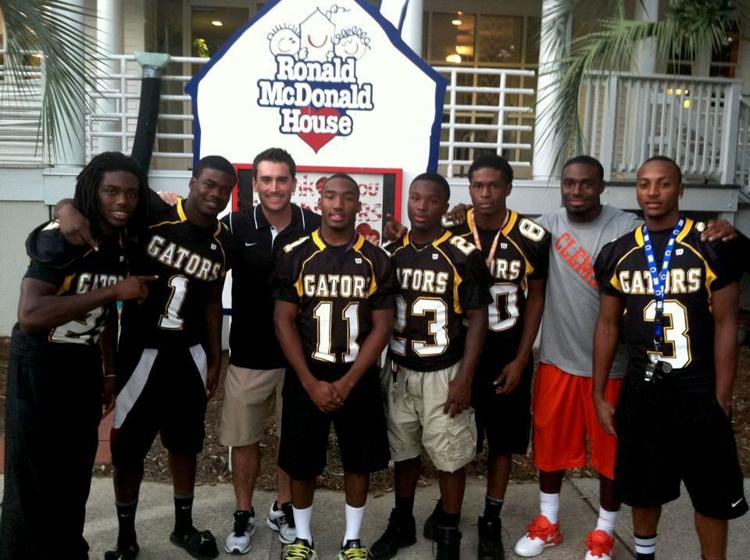 St. John's offered Bowles a dual role as head football coach and athletics director in 2013. Reedy admits he was surprised how quickly Bowles received a head coaching job and, at the time, even advised him to consider staying on staff at Goose Creek a little longer.
Bowles, though, had just lost his mother, Sarah, a year prior. He and his wife, Lyndsay, welcomed their first child 17 days after his mother passed. Sarah, for whom Sarah Kate is named, is described by Bowles as the glue that held his football family together when he was younger. She always encouraged her husband, and later her son, to chase their coaching dreams. She used to bake cookies as awards for their players, who she nicknamed things like Dr. Doom or The Hitman. She relished their passion. Bowles knew it was time to make the leap.
St. John's competed in Class A as one of the smallest schools in the state with just 252 kids enrolled when Bowles arrived in 2013. Goose Creek, by comparison, competed in Class AAAA with just shy of 1,700 students. It'd been seven years since St. John's finished a season more than a game over .500. The Islanders went 8-4 in Bowles' second year, winning their second consecutive Region 6-A championship, while Bowles garnered region Coach of the Year honors for the second straight season.
Islanders quarterback Dejshaun Bailey remembers scoring his first touchdown their first season together and seeing Bowles stretch a wide smile as he trotted back to the sideline.
"Get used to that," Bowles told Bailey as he squeezed him close. "You'll be in there often."
Simple words, but supportive and impactful— something Bailey says many of his teammates were lacking in their lives before they met Bowles.
"He made me feel good about myself, gave me all the confidence in the world," Bailey said. "He was big on family. He was big on commitment. He pushed me to my limits while he was coaching me. He helped us get into schools, stayed on us about academics. He was my favorite coach."
Bowles catapulted to the head job at Providence High in Charlotte, N.C. by 2015. It was a huge leap in status from South Carolina's smallest classification to the largest in North Carolina. 
Providence was fresh off a 10-win season when Bowles arrived. The Panthers struggled through a pair of losing seasons his first two years. By his third year, though, Bowles was named SoMeck 7 Conference Coach of the Year, leading the Panthers to a 9-4 record — just the second time in the past 12 years the school had won nine or more games. By his fourth year, Providence won the conference championship.
The Panthers have had 19 players sign college scholarships in the past three years. Still, college offers aren't the first thing players mention when referencing Bowles. Their coach was worth something greater to them.
"I had a lot going on in my life during the season and he always asked how I was doing and if everything's OK. He really made me feel comfortable and needed," Providence senior quarterback Mason Boothe said. "He built such a great culture at Providence. I know a lot of people, including me, look at him as a father figure."
Bowles hopes to instill much of the same culture at Porter-Gaud. He understands he's entering a much different situation at the affluent Charleston private school than his past few coaching stops but he's always prided himself on connecting with new communities and situations, a skill he developed through his travels when he was younger.
"As a coach, I think you should be able to walk into a room and reach everyone in there in some way. That's important," Bowles said. "I love the game of football and I love kids. And I think that's the groundwork for running a good program and building a strong culture, wherever you are."
Bowles is defensive minded. He drew early schematic inspiration from Chris Candor, now head coach at Goose Creek, who was the Gators defensive coordinator back when Bowles was coaching linebackers there. Bowles has been calling his defensive plays since St. John's and will again at Porter-Gaud. The Cyclones defense will likely operate primarily out of a four-man front with multiple variances.
He believes in a balanced, spread offense that's predicated on the run. But he hopes to leave the offense up to an a coordinator — a job that he still has to fill as the prolific offense of former Cyclones head coach Rick Reetz, and a couple of the assistants who directed it are headed to James Island. Bowles' father will join his son's staff to assist, further solidifying the family concept.
"It's full circle," Bowles said. 
Bowles is raising his own football family now. Along with Sarah Kate, Scarlett is 3 and Libby is seven months old. Dad's third head coaching job of the past seven years will uproot the family once again, a trend he was used to as a kid but something he hopes his family is done with for the immediate future as he believes he's found a home at Porter-Gaud.
The family toured the school's campus last week and became once again acclimated to the Lowcountry. Sarah Kate, who was born in Charleston, gave enthusiastic approval.
"Which is good I guess," Bowles concedes. "Because she's the one running the sidelines."