No team had pushed St. Joseph's like that.
If there is a positive to draw from Oceanside's loss to the now nine-time defending state champion Knights, it's that the Sharks, in their fourth year as a program, appear to have matured into a legitimate title contender as viable as any.
Oceanside fell, 3-2, to St. Joseph's in the Class AA volleyball state championship match Saturday at River Bluff High School in Columbia.
The Landsharks are the only team to play the Knights to five sets in any postseason match at any point during their nine-year title reign.
"We were confident that we could win," Oceanside coach Amir Khaledi said. "We were prepared and, honestly, we played well. St. Joseph's just played one set better than we did."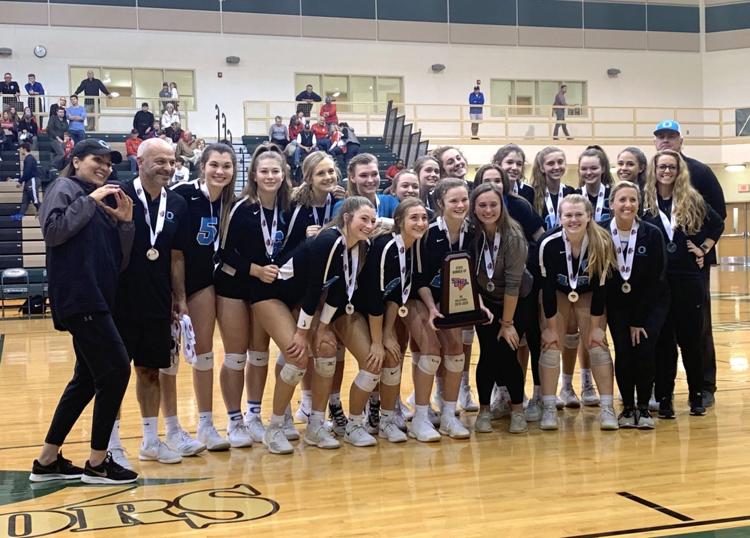 St. Joseph's has dominated the past decade of volleyball in the state. The Knights didn't drop even a single set in the postseason from 2013-18, that includes a three-set sweep of Oceanside in last season's title match.
The first set on Saturday began strikingly similar. Sophomore setter Kimmie Thompson quickly turned a 3-3 tie into an 8-3 Knights advantage, serving through a run of five straight points. Oceanside pulled back within 12-9 but couldn't sustain in an eventual 25-15 loss.
St. Joseph's was especially strong from the service line against Oceanside. The Knights entered with a serve percentage around 91 percent this season. They averaged 97 percent against Oceanside with 11 aces. No team scored more points off serves against Oceanside this season. 
"They jumped on us quickly and by the time we got our act together it was too late," Khaledi said. "They were very aggressive with their serving. We weren't necessarily expecting that based on what we'd seen from them this season. From a technicality standpoint, that was probably the one thing I think they really did better than us."
Oceanside evened the match with a 25-17 win in the second set. It was the Landsharks this time who were effective early. Olivia Yarborough pushed Oceanside ahead 4-3 with a timely tip over two would-be blockers at the net. She came up with back-to-back kills shortly after to pry open a 7-4 lead. Oceanside closed on a 6-2 run that Yarborough served and fellow senior Kate Majewski finished.
Yarborough finished with 16 kills, Majewski added 14. Oceanside won the second set with several big digs off powerful returns from St. Joseph's. Junior libero Jordan Bartemeyer finished with 25 digs. Majewski logged 24, and Yarborough, Taylor Hills and Sophie Meredith each added 10.
"Our experience and leadership was focused and disciplined," Khaledi said. "We kind of, collectively among us, try to train them to be disciplined so that if we get down early like we did, we're still focused enough to keep playing."
St. Joseph's and Oceanside traded the next two sets too.
St. Joseph's took the third 25-16. The Knights reeled off seven straight points through the middle of the match with sophomore Maggie Patterson serving. Patterson finished with eight kills and three aces. Senior Sydney Nobarak was especially effective at the net. She led all players with 31 kills in the match.
Oceanside countered with a 25-18 win in the fourth. A back-and-forth opening left the set even at 9-9. Oceanside took nine of the next 12 games to open an 18-12 cushion. Meredith distributed well throughout the floor, as she did most of the night. The senior setter finished with a career-high 46 assists in her final high school match.
"It's a really weird game. The momentum just changes so much," Khaledi said. "I think it was good that we came back after every loss. We just didn't have a chance to do that after the fifth set."
St. Joseph's dominated the fifth set 15-4. The Knights won the first six points and never relented as Oceanside was left reeling with an assortment of errant returns, violations and miscues uncharacteristic of the previous four sets. 
"They got on us so fast. There was just no time, in a set to 15, to come back. The match was over just like that," Khaledi said. "And when you try to focus even more and try to play harder, the nature of volleyball, you start to make mistakes and at the wrong time for us." 
It obviously wasn't the ending Oceanside had hoped for. The Sharks realistically through a state title was in reach this season. Still, consecutive Lower State championships and state runner-up finishes by the program's fourth year would suggest things are going well. And Khaledi believes the program is still trending upward. 
The Landsharks will lose a large share of production with Yarborough, Majewski and Meredith graduating. Leadership and experience will be the toughest to replace with the departure of the three. Intangibles are harder to replicate. Khaledi, though, believes from a talent perspective, Oceanside — who carries a deep bench and enjoyed an undefeated junior varsity season this year — is fortified well for years to come.
"I can put six players on the court right now, without the seniors we're losing, and people wouldn't realize the difference," Khaledi said. "There are a lot of thing we will miss without those seniors. That calmness is important. But just on the court, technically, we should still be very, very strong."
Oceanside appears to have made itself comfortable within the state hierarchy.