Hank Miller is one of the first people in the gym this morning. One of the first. Because already waiting on him in the lobby is an old friend.
"They still let you in this?" Rich Schiliro asks. The 86-year-old is wearing a wide grin for his buddy, just a few years younger, who's shown up in his lucky jersey, the baby blue one with PrimeTimers written across the front.
"Who else are they going to get to put up with you?" Miller fires back. The two old buddies howl together as they shuffle down the hallway toward the basketball courts in the back of the building.
Miller and Schiliro have been at it now for 25 years. Longer actually. But for the past quarter of a century, the two friends and hundreds more like them have assembled in Mount Pleasant every winter for the annual Jim Ryckman senior basketball tournament.
There were three different age divisions this year. All of the games were three-on-three. A couple hundred guys from three different states showed up. It's always an eclectic mix of players. All shapes and sizes wrapped in headbands, tall socks, knee braces, elbow pads, all types of jerseys — some homemade, some with a few more miles, or tournaments, on them than others.
The play is overall pretty solid. The ball moves fluidly most of the time. The majority of the players seem to be able to shoot it reasonably well. Some players move better than others. Some have a little more skill. A lot of screens get set. Hard fouls aren't uncommon. Neither is a little gamesmanship. Some scores are lopsided but most games stay pretty tight.
Some teams have played together for a little while. Dan Leeds is from just outside of Philadelphia. The 67-year-old and his buddies have played in tournaments in St. George, Tampa and Utah this year. It's their second time coming to the Ryckman.
"It's almost like a player fraternity. You see some of the same faces in different tournaments," Leeds said. "It's really hard to continue playing basketball past a certain age. A lot of these guys never stopped. That's the key."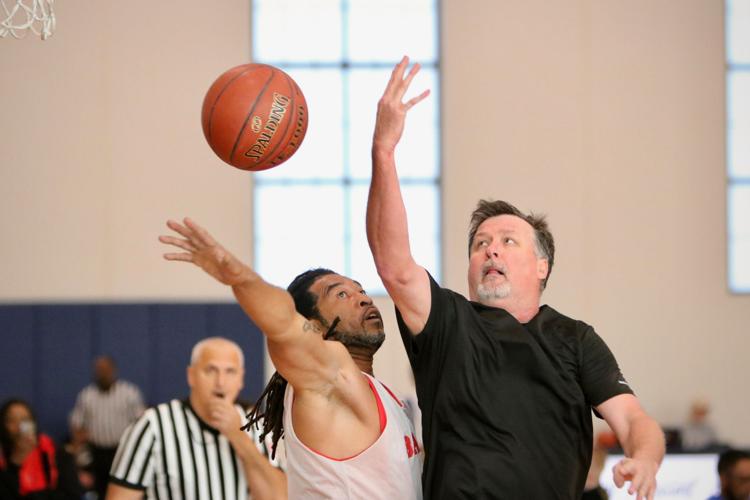 Some teams are still being pieced together in the minutes before tipoff. A couple locals show up a man short and try to recruit the guy working at the front desk to be their third. They have an extra jersey for him. It's enticing. He declines initially. But his boss overhears the conversation and says it's all right. So, yeah, he's definitely in.
"I love the spirit of it," recreation director Steve Gergick says as he sends him off.
The spirit of the tournament is the most important part. Guys don't show up year after year from hundreds of miles away just to simply play basketball. They can do that anywhere.
"It's about competition and exercise but more importantly," Schiliro leans in closer for added emphasis. He's not playing today. His heart and his knees won't allow it. He's just here to hang out.
"It's about the camaraderie that you build with these guys. People come to play basketball but they come back because of the friendships."
There was nothing like the Jim Ryckman tournament in the Lowcountry 30 years old. There isn't much like it in the state even now. That's why Miller and Schiliro put it together.
It started as a pickup game. Actually, it started as more of a shootaround because — even through Miller and Schiliro put an ad in the newspaper recruiting players for the weekly senior basketball game they were starting — just one other person showed up that first Saturday.
"Three," Miller says with a laugh. "We had three people. We had to figure something else out."
Interest eventually grew. Players from places like Hemingway, Manning and Orangeburg started popping up. Whole teams started showing. The games turned into something of a league over the first few years. So in 1996 they added a playoff tournament at the winter. They've played it every year since.
"They'd come down (Interstate) 26 or from wherever to play," Schiliro said. "Nobody else had anything like it."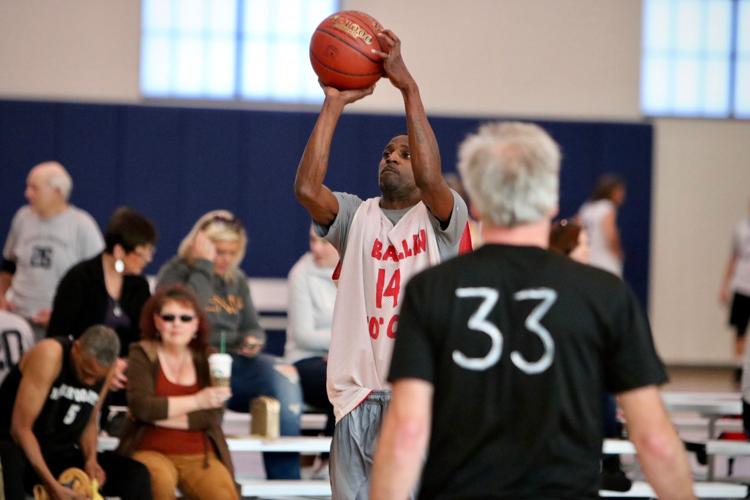 Jim Ryckman was, by every account, an excellent athlete. He played football at Central Michigan and later coached basketball at a nearby high school. He was well known around the Lowcountry pick-up scene. He had a smooth three-point jump shot. He was confident but in a quiet kind of way.
"A terrific guy," Miller said. "A good basketball player. But a terrific guy."
Ryckman passed way in 1998 at the age of 54. He died doing what he loved. It was a Saturday morning pickup game. He was shooting well that morning. He'd already hit a few three-pointers and his team won the first game. He was crouching into a defensive stance when he collapsed. He died right there on the court. One of the better athletes anyone knew — a victim of a heart attack.
"Unbelievable. Terrible," Schiliro said. "We wanted to continue on in his honor."
Ryckman loved the senior tournament as much as anybody — probably more, actually. It was just six teams back then. A round-robin type format. Schiliro says Ryckman would love what it's become. It was rebranded in his honor after he passed. Different age divisions allow for more inclusion. New faces and teams show every year but it's the regulars that allow it to sustain. Now it's something of an institution within the South Carolina senior community and neighboring states.
"You're not going to find many tournaments like this," Mount Pleasant town council member Gary Santos said. "You just don't' see it that much. And these guys play hard. There's a lot of competition in here. These guys are good."
Miller isn't sure how many years he's got left to play. He's in good shape. But he considers himself one of the lucky ones. Too many of his buddies have worn down over the years. One nearby discusses a bulging disk in his back while another next to him seems proud of the open-heart surgery he recently underwent.
"I feel blessed," Miller says. "I really do."
Today, though, he's playing. And he's moving around pretty well. He sinks a jumper midway through the first game. It banks off the backboard, maybe unintentionally. It counts either way and Miller will certainly take it.
Schiliro is seated courtside. He's waiting to get a look at Miller, who turns around with a sheepish smile. Schiliro sends one back and, before the ball is checked back into play, the old buddies share another laugh together.