Rashad Jackson used to sprint around shirtless chasing rabbits out of burning cane fields as a child.
"That's where I got my speed from," he boasts. He laughs. He's actually serious though.
He grew up playing two-hand touch under the stands of Grear Stadium. The Glades Central High School football players were his heroes. They were every kid's around there. Jackson can reel off stories of a young Fred Taylor punishing defenses out of the Raiders backfield long before he was an NFL Pro Bowler. That toe-tap catch that Santonio Holmes made to win Super Bowl XLIII, the old heads in the barber shop off East Canal will tell you they saw him do the same thing several times over as a teenager.
Football is everything in Belle Glade, Florida. Kids are raised on it. It's been a meal ticket for so many in the impoverished town of less than 20,000. Very few high schools in the nation have put more players in the NFL over the past 20 years than Glades Central.
Jackson graduated in 2007. He's still well known around town. He's the son of Pro Football Hall of Famer Rickey Jackson. He led Glades Central to a state championship his senior year of high school — the last of the Raiders' six state titles. Winning a state championship is like a lifetime pass in Belle Glade. It carries a measure of respect that some of the NFL guys can't even claim.
They call Jackson's hometown The Muck. They call him Jack. Jackrabbit just rolls right off of the tongue in that northern Everglades accent. Jackson still speaks in his.
"The Muck is home. It made me who I am," he explains. "I know in my heart God was calling me home. This is where I'm supposed to be."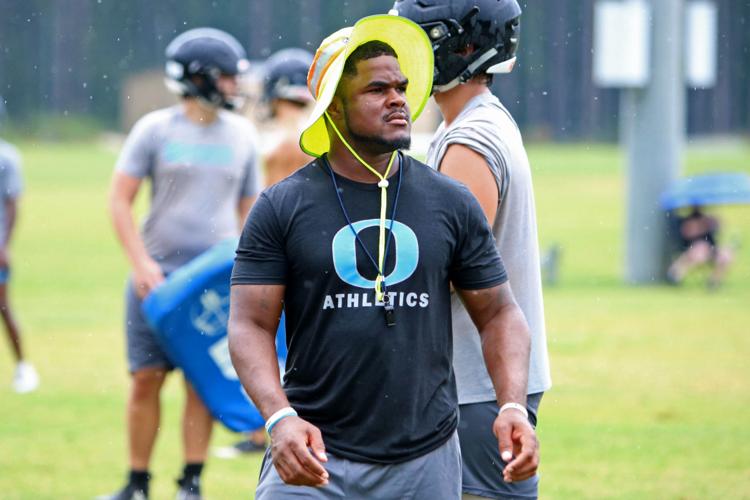 Jackson was appointed the new head football coach of his alma mater this week. Glades Central is the second high school head coaching job for the 30-year-old, who spent the past three seasons as defensive coordinator at Oceanside Collegiate — a budding charter high school in Mount Pleasant, S.C.
"It's bittersweet," Jackson said. "I love what we've been building at Oceanside. But this opportunity is a dream for me. I couldn't pass up the chance to come home and restore this program."
Jackson's defense posted five shutouts and forced 23 turnovers last season as Oceanside went undefeated until the state semifinals.
Jackson arrived at Oceanside after a chance meeting with head coach Chad Grier, who was being considered for the head job at Glenville State College when Jackson was an assistant there. Grier was immediately impressed. Jackson had rare perspective as a two-time all-conference selection at Marshall. He was leaking with fresh ideas.
"There was just something different about him," Grier remembers. Grier is a four-time state champion and former Army All-American coach. "I thought we were lucky just to have him because he clearly had what it takes to be a head coach."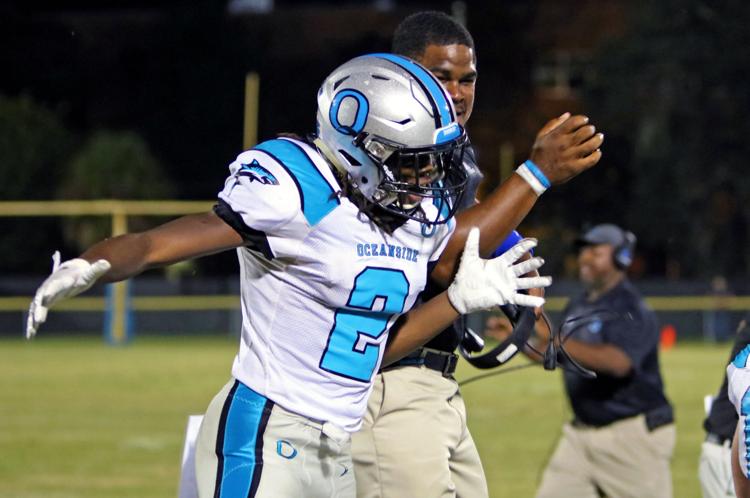 Grier courted Jackson to join him in jumpstarting the new charter school in South Carolina. Grier was to be the head coach, Jackson the assistant head coach. Grier would call the offense. The defense was Jackson's. Grier would often consult with Jackson during games on things like fourth-down decisions or how the opposing defense was playing them. 
"(Grier) put a lot of trust in me and that was huge," Jackson said. "It wasn't just football. I learned everything, how to organize and run a program, every little detail, all of the day-to-day from more of a business perspective."
Oceanside went 0-8 the season before Grier and Jackson arrived. The Landsharks have gone 27-7 in the three years since. More than 20 seniors have earned opportunities to play college football.
"God didn't send you to Glenville to coach football," Jackson told Grier before accepting the job. "He sent you to find me."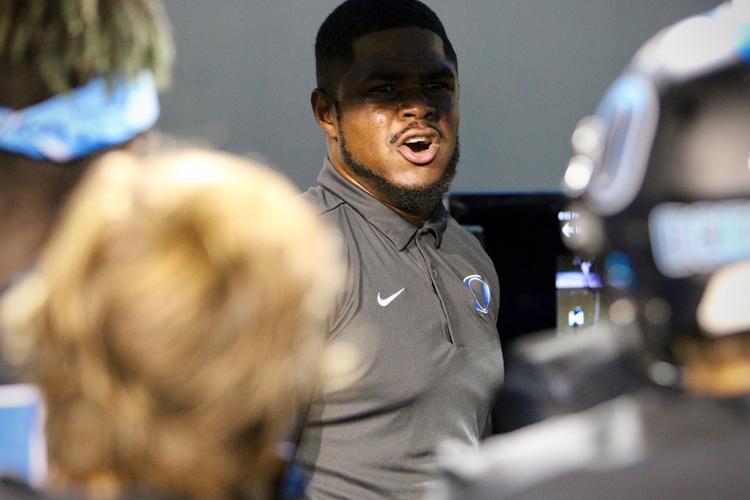 Jackson believes the same divine intervention has brought him back home.
Glades Central won four state titles in nine years from 1998 to Jackson's senior season in 2006. The Raiders haven't won one since.
Last year was an embarrassment. Glades Central finished with just one win after forfeiting four games for an eligibility violation that landed the program under probation until July of 2020.
June Paschal was the first person Jackson called after accepting the job.
"Alright now, it ain't no time for playing," Jackson's mother told him. "You better get to work. You know how it is around here."
The challenges are glaring. Belle Glade has a poverty rate more than three times the national average. It had the second highest crime rate in the country per capita Jackson's freshman year of high school.
Glades Central's graduation rate is 20 percent lower than the national mean. Ninety-four percent of the school's students are considered economically disadvantaged, by U.S. News & World Report's latest high school assessments. They have a saying around there: "It's hard to be a Raider." It's supposed to be some sort of rallying cry but the phrase in its simplest sense seems fitting for an area that still hasn't recovered economically from the closing of its sugar mill 13 years ago. 
For comparison, the poverty rate in Mount Pleasant — the affluent beach town in which Oceanside is nestled — is less than an eighth of that in Belle Glade. It's among the lowest in the nation. The high school graduation rate at the fourth-year charter school is among the highest in the state.
"Two totally different situations, in every way," Jackson said.
But that might work to his advantage, he thinks. Jackson says his background and upbringing can, and already has, helped him in certain situations. He seems sure that it'll be an advantage with the players he's inheriting at Glades Central.
"I was just like them," he explained. "I sat in the same seat, played in the same park. I know what they're up against. They can trust me and believe in me because I am one of them."
Jackson wants to blend his varying perspectives. He sees the role of the high school football coach as central to the community. He says the key for him early on at Glades Central is to nurture the child. That's something he learned at Oceanside — how to build, empower, serve and teach.
"B-E-S-T," he puts it. "We have to learn to build each other up, especially in our community. Then you win football games."
The Muck gets its name from the fertile, dark soil — the thick, rich muck — in which the sugar cane grows. Farmers burn their fields every winter to prepare the crops for harvest. The smoke and smell billows for miles.
Rabbits usually come racing out of the blaze. It's an ageless tradition for the youth in Muck City to run them down on foot. It's a cultural right of passage. You have to be quick and shifty.
"And determined because it's not always going to go how you think it is," Jackson assures.
Local high school football coaches would often decide who their best skill players were by who could catch the most rabbits. The best of them could bag upwards of 50 in a day.
So might you find Jackson and his new team racing through the cane fields this offseason?
"I'm not sure," he starts before quickly throwing out, "We might though. If we need to." Again, he laughs but seems dead serious.
"That's the way we did it. I'm telling you. There's something special about being in the muck."
Both literally and figuratively it would seem, Coach.