Tony Cadden approached home plate with his carefully crafted lineup card in hand.
It was his first one. The start of his coaching career. The James Island recreation fields were humble beginnings, maybe. But still green, just entering the latter half of his 20s, Cadden proudly presented that lineup card as if it was a photo of his first child.
The umpire looked it over and laughed. Only Cadden's starting nine was listed.
"Where's the rest of your team?" he asked Cadden in search of the full roster typically listed on lineup cards.
"They're in the dugout," Cadden answered back in confusion.
The umpired laughed some more. Now Cadden laughs thinking back on it all.
"That's how inexperienced I was," the 62-year-old says today, reminiscing on the modest start to a coaching career that's now midway through its third decade. "I knew how to play the game as a player but I didn't really consider myself a coach back then. Not really. And I never considered what it all might become."
What Cadden's career has become is one worthy of distinction. The current Porter-Gaud assistant and MLB scout will be immortalized Saturday along with Mike Montei and Kiki Cuyler as the 17th class inducted into the Charleston Baseball Hall of Fame.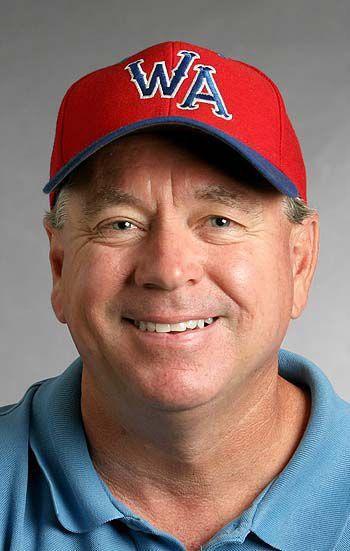 "It really is an honor, more so to know that the past 30 years apparently meant something to the people I've coached," said Cadden, who's been flooded with hundreds of congratulatory calls and texts and long line of Facebook posts since he was announced as a Hall of Fame finalist weeks ago. "I'm humbled. When you're going through it, you don't know, or you don't realize, you're making that kind of impact. Now, with something like this, hearing from everyone and seeing that support has been overwhelming."
Cadden fell into coaching by chance. He won three straight state championships from 1973-75 as an infielder at Country Day School (Hollywood's now defunct private school) before matriculating to North Greenville. A friend called after college offering a coaching position within the James Island Recreation Department. Cadden had never coached before but figured he knew enough as a player to handle the job. His first lineup card proved there were still a few things, small managerial nuances, to learn. The next 30 years would play out somewhat similar, an endless evolution through trial and error.
"I knew absolutely nothing about coaching back then," Cadden said. "My coaching and managerial skills, you could put them in a thimble probably. But I loved baseball. I've always loved baseball. And I was never afraid to learn."
Ralph Ciabattari was coaching at Baptist College (now known as Charleston Southern) at the time. He was starting a summer league for college players with four teams — ¬one in Summerville, West Ashley, North Charleston and Goose Creek. The best of those teams were combined into one all-star team to compete in the Collegiate Summer League World Series and Ciabattari wanted Cadden to coach them.
So often in Cadden's career, he admits, opportunities were created as much by who he knew as what he knew. Cadden was barely 30 years old. Most of the guys he was coaching were in the early 20s, an assortment of players from USC, Clemson, Baptist College and The Citadel. Together they advanced through the Atlanta regional into the final stage in Cincinnati.
"Many times I asked myself what am I doing here," Cadden said. "I felt lucky to be there."
The first team they faced was an all-star assortment from California. The players stepped off the bus with long blonde hair and puka shell necklaces.
"I looked at my guys, the Gamecocks and Tigers and Bulldogs I had, and thought, 'We're going to kill these guys,'" Cadden remembers. "I couldn't have been more wrong. They beat us soundly. That was another lesson to be learned — don't judge a book."
Cadden was offered the opportunity to coach the American Legion Post 147 in 1990, at the age of 33. Again, he was approached because someone passed along his name, a few parents thought he would be a good fit. It turned out to be true. He coached Post 147, the Woodies, for the next 20 years.
He became known for his fundraising efforts, working with parents and organizers to raise more than $100,000 to fund the team over the years. Money came from tournaments and cookouts. Lawyers and business owners would have donation checks ready every season because they respected Cadden and the program. Every dollar was spent on the team and players. If the budget was $10,000, then $10,000 was spent that summer on the best jerseys, new baseballs, meals on the road. The players didn't spend a penny, which was an attractive sell for those trying to decide between playing Legion ball or joining the budding travel ball system.
"A lot of people, a lot of businesses knew what we were trying to do with the kids and the team and because of that they were willing to help support us," Cadden said. "I always prided myself on trying to have the most professional situation. We tried to give them the best we could every season. Players would come back from college and say they never had it as good as they did with our team."
Cadden has spent the past 13 years as a Major League scout. He was introduced to scouting by the brother of a former teammate at Country Day. He started as an associate scout, or bird dog as they were called, with the Texas Rangers. He now works with the New York Mets.
He joined Porter-Gaud as an assistant coach around the same time he began scouting. That opportunity too, as so many before, came from a suggestion because of the reputation Cadden had built in the baseball community — a sort of brotherhood Cadden says he's endlessly thankful for.
"The baseball community has been incredible to me," Cadden said. "It's given me so much over the years. I owe so much to the people around me, the coaches that you pull different things from, that make you the coach you are."
Cadden coached Cyclones head coach Ricky Tillman, 52, in the Collegiate Summer League. He coached Cyclones assistant Mike Green, 42, on his Legion team. Now he takes pride in watching them lead the team.
"I'm the senior citizen over at Porter-Gaud now," he joked. "It's a great for me because I can come tell some jokes, keep the kids loose and throw a little batting practice."
At this stage of his life, Cadden is increasingly humble and self-effacing. He can't describe his career without crediting the community of coaches and players around him. From the day he turned in that incomplete lineup card to this week's Hall of Fame induction, he's built a life out of learning and adjusting. If anything, he'll tell you he's been fortunate. Most who've played for him, many of whom have congratulated and praised him publically on social media, say it's the other way around.
Cadden was selected to the Hall of Fame by fan voting, a further sign of his presence and impact within the Lowcountry. Honors like this have forced him to become reflective. Old memories of younger years have been stirred about. Thirty years into the coaching profession, now a Hall of Famer, Cadden remains humble. Looking back at lifetime of baseball, he's grateful more than anything.
"I've truly been blessed," Cadden said. "The game has been good to me and it's nice to know that somewhere along the way maybe you got it somewhat right."
Montei, like Cadden, was selected by fan voting while Cuyler was chosen by the Charleston Baseball Hall of Fame Committee.
The three new inductees will be honored prior to the RiverDogs' Saturday, Aug. 3 home game against Delmarva Shorebirds at 6:05 p.m. and will have their names inscribed on the Hall of Fame list located on the main concourse of Joseph P. Riley, Jr. Park.
Cuyler is a member of the Baseball Hall of Fame (1968) who played for the minor league Charleston Pals in 1922 (131 games) at Hampton Park. He was an outfielder for 18 seasons (1921-38) with the Pirates, Cubs, Reds and Brooklyn Dodgers.
Cuyler burst into the Pirates lineup in '24, batting .354 as a rookie and the next year led the NL in triples (26), and runs (144), batted .357 while leading the Pirates to the World Series against Walter "Big Train" Johnson and the Senators. The next year he led the NL in runs (113) and stolen bases (35); traded to the Cubs, he continued to be a star over the next 7½ seasons, hitting over .300 five times, and helping them to the '29 and '33 World Series. He was named a starting outfielder on the NL's All-Star team (the second to be held). His career totals were 1,879 games, 2,299 hits, 1,305 runs, 128 home runs, 1,065 RBI, 328 stolen bases and a .321 career average, hitting over .300 10 times (topping at .360 in 1929).
Montei is a walk-on that did not play high school baseball. He was a two-time member of the All-Southern Conference baseball team and a four-year letterman.
When he graduated in 1987, his 30 wins made him the all-time winningest pitcher in the modern era at The Citadel and in military college history. He held school records for most innings pitched in a season (99.1 in '87), career (315), and most appearances (64). He is regarded as a control pitcher, as a starter and reliever he averaged just 1.3 walks per 9 innings and was enshrined in The Citadel Athletic Hall of Fame in 2005.
The Charleston Baseball Hall of Fame is coordinated and operated by the Charleston RiverDogs. An advisory committee consisting of knowledgeable local volunteers was created to come up with the names as potential nominees. The Hall of Fame is located inside Riley Park.