Patrick Antonelli has a pretty solid jumper. He passes the ball well and his handle is tight.
Ask his coaches what he does best, though, and you'll probably hear mention of his decision-making. It's what separates Bishop England's all-state senior from most other high school point guards. Others his age usually don't have the same acumen yet.
That seems true off the court too. Decision-making — a simple idea but important enough that his mother, Debbie, reminds him literally every day before he leaves the house to make good decisions.
Antonelli has committed to Emory and Henry, a private Division III college in Virginia.
When it came to choosing a school, Antonelli had to decide what he valued most. He likely could've walked on with a major university. The perks would've been fun and the experience valuable for someone hoping to venture into coaching after college. Playing time likely would've been sparse, though, as walk-ons are typically relegated to limited minutes toward the end of lopsided games.
Antonelli wants to play, which is why he chose Emory and Henry. The Wasps wanted him. All 6 feet of him. The staff offered him right away on his first visit. The opportunity to play beyond high school — to actually play — meant more to Antonelli than chasing the big-name school.
"The only thing that it came down to was that I wanted to play," Antonelli said. "Walking on would've been super cool and I would have gotten to see a lot of cool places and be a part of something special but I really just wanted to play."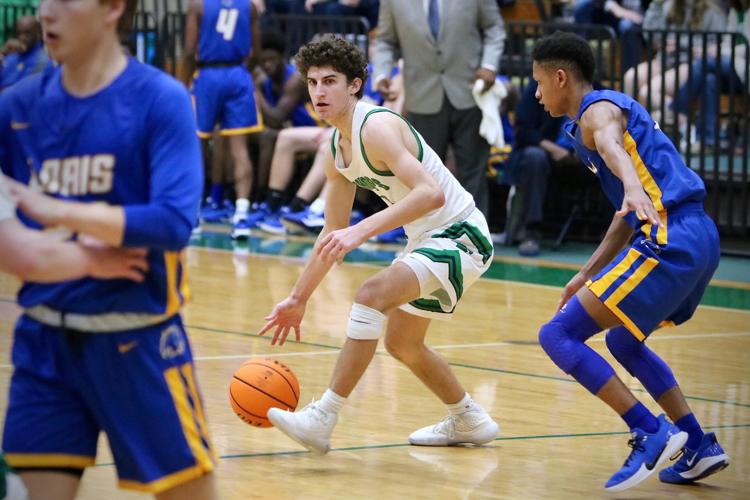 Antonelli averaged 14 points, six assists and four steals this season for Bishop England, one of the state's top-ranked teams who won its first 20 games of the season and finished in the state quarterfinals.
Antonelli was often the catalyst. He led the team in field goal shooting from both inside and outside the three-point arc and was the team leader in adjusted field goal percentage. The Bishops lost just three games all season, all three among Antonelli's lowest in field goals made, attempted and assists.
"His understanding of the game is so much further along than most players at the high school level," Bishop England coach Bryan Grevey said of Antonelli, who along with an all-state nod was selected as a North-South all-star. "He's purely pass-first. He likes to get the other guys involved. But when he has to score, look out."
Antonelli was already receiving some interest from within the Old Dominion Conference in which Emory and Henry belongs when the Wasps staff first called. They arranged a visit immediately.
Emory and Henry has an enrollment of about 1,200. Its arena, the King Center, holds about the same and thanks to relatively new renovations is considered among the premier venues of small colleges in the Southeast.
"The facilities and the campus were amazing," Antonelli said. "Everyone was very nice and got along. It has a lot of what I like in a school and I connected with the coach very well. They seemed like they wanted me compared to other schools I have been talking to. The school just felt right."
Antonelli has had to make similar decisions throughout his life. He was invited to join a high-level club team in middle school but opted to stay on a team with his friends. He figured it'd be more fun. He was zoned to attend Wando, the largest high school in the state but chose Bishop England instead because he thought the opportunities and setting at the small, private school fit him better.
"As a mother, you always want your children to find what's best for them, whatever or wherever that is," Debbie Antonelli said in January. She, herself, was a standout at N.C. State and now works as a college basketball analyst for several major networks. "He could have the option to sit on the bench and learn but he wants to play. And as a former basketball player, I understand him just wanting to play."
Antonelli first told his family of his decision. Everyone was excited. Everyone except maybe his older brother, Frankie, a junior at Clemson, who hoped to recruit his youngest brother to the Tigers. He gave his brother a hard time initially but even he eventually came around. If you ask him, Frankie boasts the best jump shot in the family. He's an accomplished intramural player within Clemson's LIFE program, which is designed for inclusion. He understands his brother just wanting to play.
It was an easy decision, Antonelli said, as "it's the only thing I've wanted to do since I was little."
The purest decision-making.