There were nine minutes left in the game. Plenty of time to joke around as Oceanside led by five scores and Keegan Williams' night was over.
He found a water boy toward the back of the Landsharks sideline and declared him the player of the game. No actually the player of the year, he decided. The senior running back can appreciate a water boy's value because at this point last year he was the one doling out hydration for his teammates. The only carries he received were as the ball boy, shuffling game balls to and from the field as he was forced by rule to sit out the first two games of the season after transferring from Summerville.
The transfer cost him his sophomore season too, so Williams had never before played in a varsity season opener. He made sure to enjoy his first on Friday, rushing for a career-high 204 yards and four touchdowns as Oceanside kicked off the season with a 58-12 win over Baptist Hill at Park West in Mount Pleasant.
Williams piled up 229 yards in all, averaging 15.7 per carry and adding three catches. He went without a touch through the opening six minutes of the game and still finished with 115 rushing yards and three scores by halftime. He barely touched the ball at all in the fourth quarter, gladly giving way to the reserves with a satisfied grin from the side.
"This is awesome being able to be out here with these guys and playing from the start," said Williams, who finished with more than 1,400 yards in just nine games last season. "I'm in the same boat with everyone else this year. It's just fun being with the team."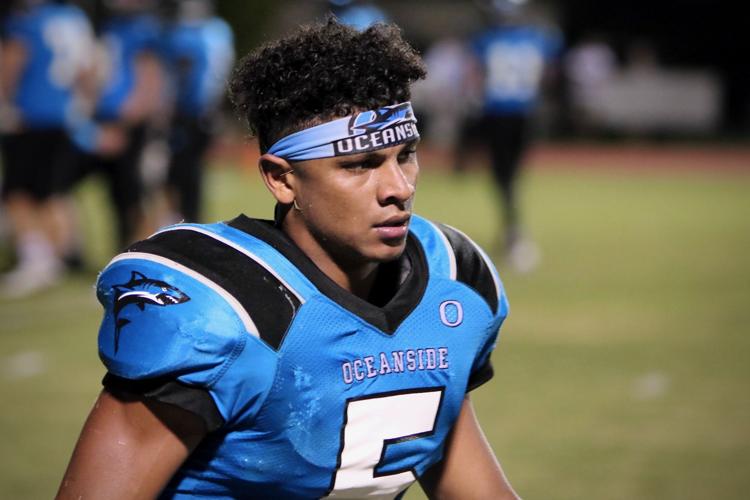 It took Oceanside nearly 12 minutes to find the end zone. The Landsharks eventually broke through with a 44-yard touchdown pass from Sean Cooney to Walker Rhue that pushed Oceanside ahead 10-6 with 35 seconds left in the opening quarter. The Landsharks never trailed again.
Their next two scoring drives lasted a combined 67 seconds. The first took just one play, as Williams broke loose for a 42-yard score. The next took slightly longer but not much as Cooney connected with Joel Osteen on a 34-yard score. Cooney threw for 200 yards in the first half and finished with a career-high 262 on 15-of-29 passing and two touchdowns.
Williams added two more scores before halftime, the first from 1 yard out and the next from 14. Senior kicker Chris Haynes — who finished 3-of-3 with field goals of 26, 37 and 39 yards — pounded through a 37-yard kick in the final seconds of the opening half to lift Oceanside ahead 41-12 at the break.
Both of Baptist Hill's touchdowns came on defensive breakdowns, the first a short strike from Darrell McKinley that Terrance Brown weaved 61 yards, and the second a 55-yard heave from McKinley to Labosco McKelvey. Outside of those two plays, the Landsharks defense surrendered just 78 yards on 48 snaps and tallied six sacks, eight quarterback hurries and 13 tackles for a loss. 
"It took us a minute to get used to playing an actual game," Oceanside coach Chad Grier said. "We were sloppy. We weren't executing clean. We left plenty of points out there. But I think we woke up and fixed some things."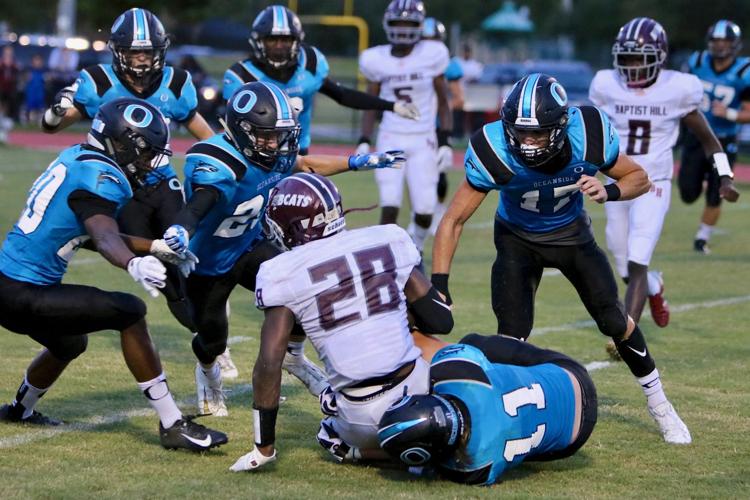 Grier has seen a lot of special plays as coach of numerous Power 5 and even a couple professional football players. It takes something especially unique to truly impress him at this point in his coaching career.
There was a moment late in the second quarter, Oceanside was facing third-and-14 and Williams was calling to the sideline. He was pleading for the ball, maybe unusual for this particular situation but Grier let him have it anyway.
"When Grier gives me the ball on third down, I take it personal," Williams said. "I have to either get the first down or get the touchdown. He might start throwing it instead if I don't."
Williams took the handoff and immediately faced contact in the backfield. He slung the first defender around and off of him and then dodged two of his own linemen before starting back across the field in the opposite direction. He split through two defenders only to end up sidestepping into the grasp of a third. Instead of falling, though, Williams broke free again and, now facing the wrong way, fled from the outstretched reach of another. He spun back around to find four defenders still standing between him and the end zone. He outraced them all to the edge and dove across the goal line.
Grier looked down the sideline speechless with a long smile. "Hey, that was special," he finally let out.
"As well as I think our offensive line is playing right now, we didn't block that play well at all," Grier later said. "And that shows you how truly special (Williams) is. His vision is incredible. His balance is incredible and he's physically tough. It drives me crazy that colleges aren't on him yet. What more do you want to see?"
Williams is a little anxious for his first offer too. Time is beginning to run short. He doesn't wear much worry on his face, though, instead playing cool and assuring "they're coming soon. I think. I hope."
There will be more opportunities for both he and his team to prove themselves. The now 1-0 Landsharks will travel to Savannah Christian (Ga.) next week, hoping to repent for last season's 54-14 home loss to the Raiders. Williams didn't play in that game. Cooney wasn't yet the outright starter at quarterback either.
"Tonight felt good. It was just a statement of what we can do the rest of the year, I think," Williams said. "We're just going to keep coming harder every week until we get to where we want to be."
A solid plan for both himself and the team.