Right now, this fall, Joey Boylston is a tight end, an H-back, a linebacker and an edge rusher. By the spring, he'll be none of that.
By the spring, he'll be a longstick defenseman for a reigning state champion lacrosse team — probably how the Division I commit is known best. But right now, he's a football player. In fact, one of the better football players on the one of the better football teams in the state. Right now, Boylston is the antithesis of the increasingly common trend toward specialization in high school sports.
"I've always believed playing two sports would help me become a better athlete," said Boylston, a senior at Oceanside. "I think there is a pressure to be great and kids don't realize they can still do that while playing two sports."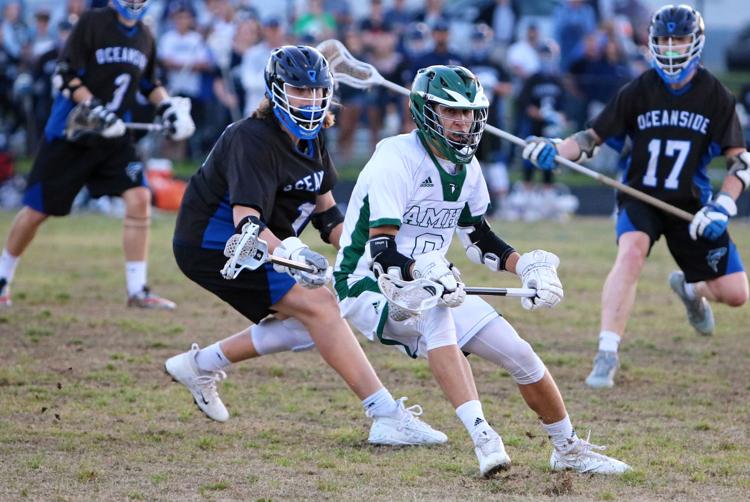 Boylston began playing flag football in first grade, tackle football in third — about the same time he picked up lacrosse. So since he was a kid, it's been football in the fall and lacrosse in the spring.
Boylston believes the two sports balance each other in a way. Playing football has made him a more physical lacrosse player. Playing lacrosse helped improve his footwork on the football field. Practicing year-round is common. Two-a-days often mean one sport in the morning, another in the afternoon. Lacrosse workouts sometimes begin at 5:30 a.m. and can be followed immediately by weight lifting for football.
"It helped me in the long run," Boylston said. "I had to keep the mindset that everything I'm doing is beneficial for both sports and not a waste."
Boylston was a first-team all-state defender for the AA state champion Oceanside lacrosse team last spring. The three-year starter scooped 45 ground balls, had 19 takeaways and four interceptions on a Landsharks defense that saw some of the best competition in South Carolina and played eight of its 14 regular season games against teams from out of state.
Anyone can try out for the Under Armour All-American tournament. It's essentially a recruiting event. Hundreds upon hundreds of players showed up to Baltimore, Maryland last summer. But few were invited to stay throughout the all-star tournament. Only one was from a high school in South Carolina.
Boylston stuck. So many players show up to these sorts of events, it's inevitable that some go overlooked. Boylston usually doesn't have that problem. A defenseman that stands 6-foot-3, nearly 200 pounds and is light on his feet is hard to miss. He has rare intangibles that coaches can't teach. And lately, he's developed the physical side to pair with it.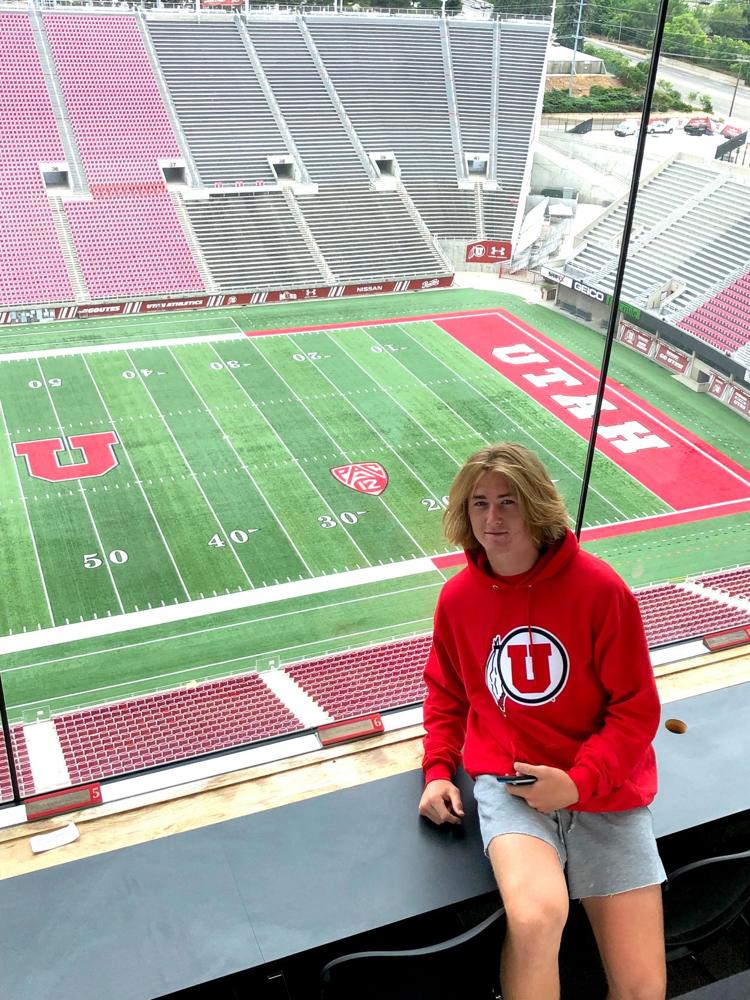 "Things like size, IQ, how he moves, that stuff separates him when coaches are watching him play," Oceanside coach Tom Harris said. "And then he's become a phenomenal player at his size, stick skills, all of that. He's the backbone of our defense. He always guards the No. 1 guy on the other team and we've played some pretty good teams."
Utah was already familiar with Boylston, having seen him at the Naptown Lacrosse Challenge a month prior. Boylston reconnected with the Utah coaches at the Under Armour tournament and was invited to Salt Lake City for a visit in the weeks that followed. He committed shortly after his visit.
"The one special thing I felt from Utah was definitely their culture," Boylston said. "The family culture is a big part of Oceanside athletics and I wanted to continue to have that throughout college."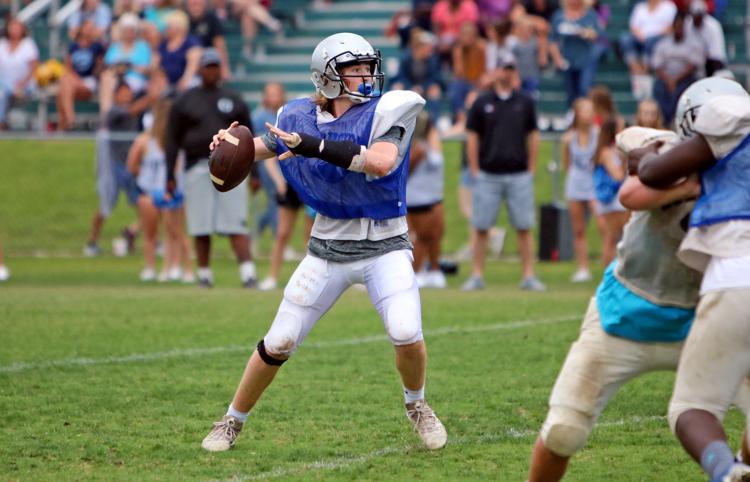 The football side of Boylston's Oceanside family loves to roast the lacrosse player in him. He was ribbed mercilessly by his teammates after dropping a sure touchdown catch alone in the end zone in the Landsharks' season opener a few weeks ago. He's definitely a lacrosse player, his teammates assured him after the gaffe, although Boylston isn't sure half of them even understand anything about the lacrosse game. Landsharks football coach Chad Grier does a wonderful "lax bro" impression, which Boylston find hilarious. Grier is much more serious when discussing Boylston's development as an athlete.
Grier remembers thinking Boylston was slow and weak when they first met three years ago. "Mildly athletic" was the nicest way he could put it. Boylston stood 5-foot-11, weighed 150 pounds and ran the 40-yard dash in 5.2 seconds as a sophomore. He's grown just over four inches since, gained at least 50 pounds and now runs the 40 in 4.6 seconds — a top-10 time for linebackers at this year's NFL Scouting Combine.
"I thought he just a guy, a nice guy, but really just a guy. Now we create packages for this guy," Grier said. "He's a poster boy for our program. Really, a poster boy for our school. He's worked his butt off, never missed a workout, earned everything. He's become a great athlete and a player we expect and need a lot from."
Boylston rarely comes off the field. He plays at least four different positions, some special teams too. He even filled in at quarterback in the offseason last year, and with a cast on his hand. He practiced at linebacker this spring, then on the defensive line in the preseason. Then he had to learn the offense because he was starting there too.
Strong instincts have a lot to do with his versatility. He has a quick jump off the line. He's logged six tackles for a loss and three sacks through the first two games of the season. He had 3.5 tackles for a loss and 4.5 sacks all of last season. Even in passing situations, he's deflected two attempts. He had just one last season. He's even caught a 23-yard pass, hopefully proving his hands are better than that of the lacrosse defender he's been playfully labeled by football teammates.
"We've been fighting over him on offense and defense," Grier said. "He's able to process a lot of information and do a lot of things that other kids can't because they need more reps. He goes out and does it."
Boylston is pretty nonchalant when discussing his versatility. It doesn't seem out of the ordinary to him. Playing multiple sports is something he's always done. He doesn't see why that would change in high school. Specialization is strange to him.
"I separate the two sports a little but only during the season," he said. "I try to focus on whatever sport I'm playing at the moment but I'll always be a football and a lacrosse player."
He realizes, of course, that his time as a football player is fleeting. He'll transition to a lacrosse player by the spring and then solely a lacrosse player by the summer.
Right now, though, Boylston is doing a lot for the football program. More than most. There's plenty he still hopes to accomplish before his career ends this fall. One thing he's never done is score a touchdown. It wouldn't be all that surprising to see Boylston end up in the end zone, maybe a few times, before the season ends. The lacrosse defenseman promises to hang onto the next opportunity.