The 21-point third-quarter lead didn't feel quite right. Sibling rivalries often tend to be much more complicated.
So when Gray rallied late and Oceanside answered, things began to make more sense. It felt as though the thousand-plus fans that filled The Citadel's Johnson Hagood Stadium got what they came for, a duel of two of the best offenses in the state.
No. 7 Oceanside outlasted No. 8 Gray, 49-42, Friday in Charleston.
Oceanside senior running back Keegan Williams put together 367 total yards and five touchdowns to help the Landsharks improve to 2-0 all-time against their sister school War Eagles.
"Our guys fought their hearts out," Oceanside coach Chad Grier said. "This is a game that means so much to these guys. They laid it all out there for each other. And, hey, how about Keegan Williams tonight?"
Williams ran for a career-high 237 yards and four touchdowns, averaging 7.2 per carry. He had 136 yards and three scores by halftime. He was handed the ball on all but two plays on the game's opening drive, stacking up 65 yards and finishing with a 4-yard score off a direct snap.
"We knew how big of a game this was. I knew I had to have an extra edge tonight," Williams said. "I honestly didn't think I'd get as many chances but we started off so hot and I just tried to keep it rolling."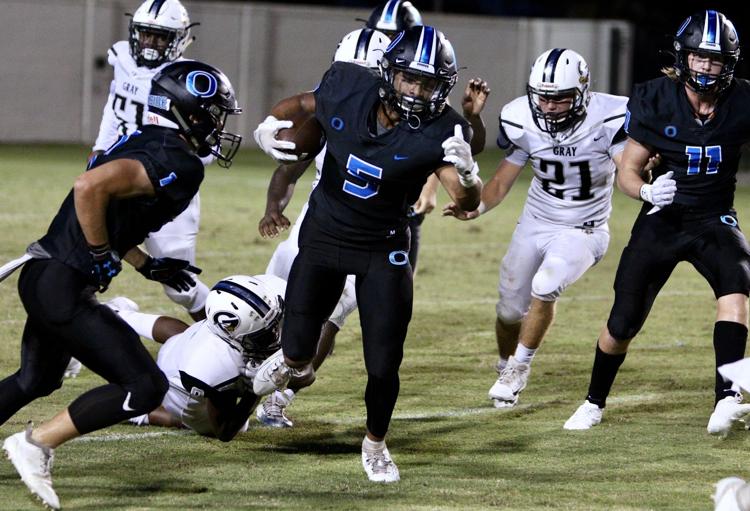 Gray led 14-7 by the end of the opening quarter, though, scoring off a 58-yard sprint by running back KZ Adams and an 18-yard touchdown pass from Hunter Helms to Nykeem Smith. Adams finished with 215 yards and three scores of his own.
Oceanside answered with 28 straight points to break open a 35-14 lead three minutes into the third quarter. Williams scored on runs of 25 and 16 yards and Sean Cooney hit Walker Rhue on a 41-yard pass to send the Landsharks into halftime ahead 28-14.
Oceanside then recovered an onside kick to start the second half and, two minutes later, Williams was in the end zone again from 13 yards out.
"We put ourselves in a really bad position early," Gray head coach Adam Holmes said. "But we battled. That's kind of how this team is. We're not going to quit, not in a game like this."
Gray came alive with three scores in less than 10 minutes to pull even 35-all with more than nine minutes left to play in the fourth quarter.
Williams stopped the rally there with a 91-yard kickoff return for a touchdown that put Oceanside back ahead seconds later.
"Things were getting close. I just had to make a play," Williams said. "Things opened up, I saw a little bit of space and, I don't know, I guess it's God working."
Gray evened the game again less than three minutes later off a 19-yard score from Helms to Trenton Higgns. Helms, a Holy Cross commit and the state's leading passer, finished with 353 yards and three touchdowns. He picked the Oceanside defense apart most of the second half, finishing the game 26-of-28 passing.
Gray held ball with the game tied at 42 and just under four minutes to play. Things began to seem bleak for the Landsharks as their defense was reeling, having allowed 28 points in the second half.
Oceanside running backs coach Devin Brown assured his sideline things were OK though. He confidently predicted the Landsharks were soon going to get the ball back and score. Jordan Jackson intercepted a tipped pass at midfield seconds later. King Deloney pushed Oceanside back ahead two plays later with a 30-yard shuffle to the end zone.
Gray moved past midfield on its ensuing possession, looking for the tying score. Carson Arnold stopped the threat with a strip and fumble recovery to give Oceanside possession back with less than three minutes to play. The Sharks defense wasn't perfect. It was slashed and diced at times. But in the most crucial of moments, it twice delivered turnovers that decided the outcome.
"Gray put up a lot of points. I mean, they're a good offense," Arnold said. "We knew at the end, though, one play and it's over."
Oceanside seemed ready to celebrate with a comfortable lead in the third quarter. The party was delayed but by the end the Landsharks danced together to the Neil Diamond classic "Sweet Caroline."
A lopsided win wouldn't have felt quite as nice. The challenge, overcoming the adversity, was a much sweeter outcome.
Because there's nothing sweeter than getting the best of sibling.