T
he worst version of John Patterson hides in the early morning when dawn is still distant and no one else is awake to see him struggle.
His joints are stiff. They creak like worn bearings on an old Cadillac. He slowly raises his arms to stretch. His shoulders burn. He reaches tall, or about as tall as his 5-foot-8 frame can reach. His back is tight. His knees ache. And he wonders in the confidence of his own company how much longer he can keep this up. Not how much longer he wants to, but how much longer his body can endure a daily pounding that would defeat most 20-somethings.
That version doesn't last. Patterson is flowing throughout Gold's Gym by the early afternoon. He's fluid, unusually limber even, by the time he completes his 30-minute stretching routine. His juice is jangling, as he puts it. He showed up in a sweatshirt. He soon shed it for short sleeves. He's down to a sleeveless cutoff now, letting loose two tree trunks wrapped in pulsing veins where a normal man's arms would be.
It's Monday, so push and pull day. He begins with 24 sets of chest before moving into 18 sets of biceps. Incline, decline, flat, landmine bench press. Hammer, spider, overhead cable curls. He's focused, methodical. There are no wasted movements or moments. He'll finish with six sets of core work. He's about an hour into his workout. He's about halfway finished.
A younger lifter, much closer to the aforementioned 20-somethings, approaches between sets. He stands taller than Patterson, wider too. He's polite, almost timid as he begins.
"Sir, do you mind if I ask?" he starts. Patterson interrupts him.
"Son, I already know what you're going to ask," Patterson assures through the coarse gravel of his voice.
"61," he tells him. "I'm 61 years old."
***
Patterson remembers a time when weightlifting was taboo.
There was a subculture lifting in basements or garages or the back of dark rooms at the YMCA in the 1960s. Patterson's family had some concrete weights in the basement that didn't move much. It was a hobby, nothing like the mainstream sport it's become.
Weightlifting and bodybuilding are celebrated today on grand stages under spotlights and in front of television cameras. The carefully constructed tanned physiques are no longer hiding in the dark, their faces are recognizable and their bodies are celebrated as they contort and pose for adoring audiences.
Patterson has grown up alongside the rise of the sport, from its infancy to legitimacy. He's become a fixture in the NPC Bodybuilding Championship circuit lately, winning the prestigious Beach Body, Excalibur and Palmetto Classic competitions all in the past two years and placing fourth at the Masters National Championships this summer. At 61 years old, Patterson placed fourth in the entire nation. 
Trophies and awards aren't the reason he competes though. In the simplest sense, the competition is why he competes. Patterson uses an analogy of the Boston Marathon to explain. Very few people run the Boston Marathon expecting to actually win the race, he says. Yet, tens of thousands still do it every year. In his mind, Patterson competes only against himself, really, much in the same way a runner tests his best time in a marathon. Bodybuilding competitions, to him, are more about the journey and sense of accomplishment — the marathon in it of itself.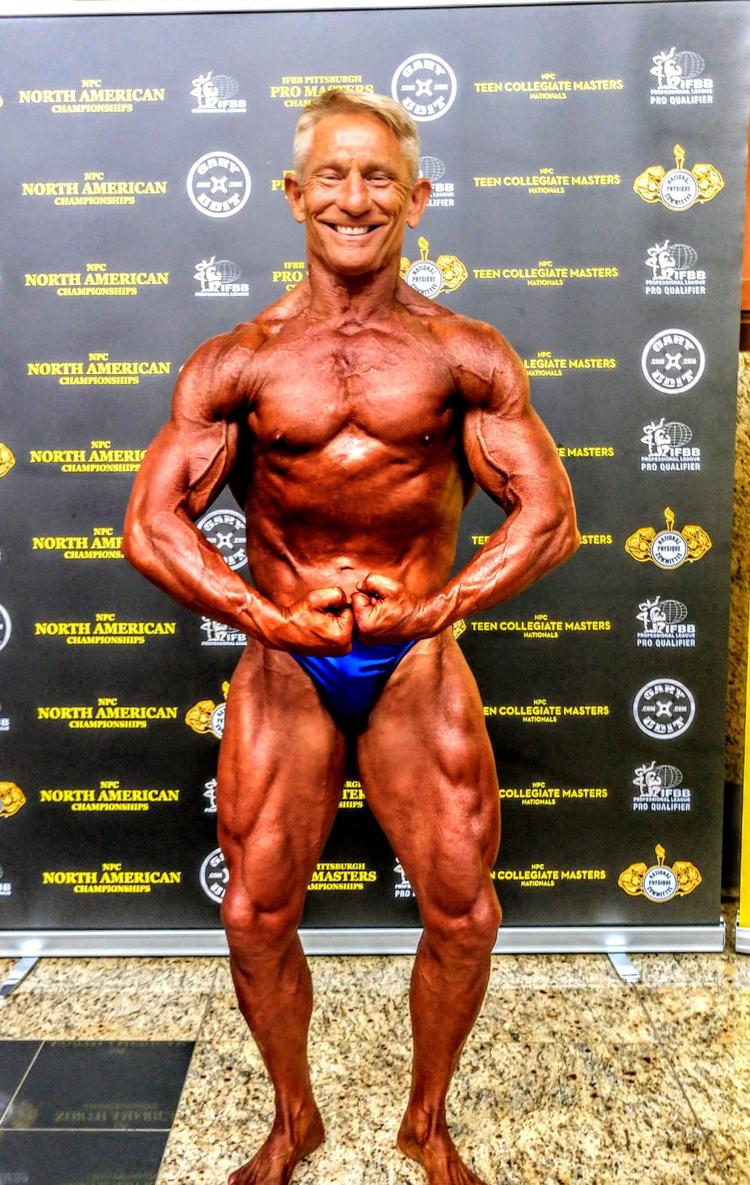 "Sometimes I place first and sometimes I place fourth. It's not about that for me," he said. "People think body building is some kind of weirdness, think you're egotistical or whatever. They don't understand. I've thrown away a million $2 trophies. It's really about hanging on to a high level of fitness into my senior years.
"I'm in better shape at 61, than I was at 51, or 41, or 31. That's winning to me."
Bodybuilding, though, is small fraction of who Patterson is.
Weightlifting wasn't yet a requisite for athletes when Patterson was coming through high school. Coaches would actually discourage too much weightlifting to avoid players becoming "muscle bound," he remembers. "Country strong," he called himself and his teammates.
He was a 175-pound offensive lineman when he arrived at Guilford College. A "full pail kid," is how he described his financial aid situation at the NAIA school where football scholarships were limited. He was a missile on special teams. He never missed a single practice and was eventually named a team captain. He earned everything and idolized his coaches.
"I had some really wonderful human beings coaching me," Patterson recalls.
"'Run through a wall? Sure. Face first, sideways, backwards, any way you want it, coach.'"
Guildford is where Patterson was initially introduced to free weights. He used himself as a guinea pig, testing and tweaking, doubling the sets, scaling back, trial and error, searching for the right ways to grow stronger, larger. He played some semiprofessional football for a couple years after college and spent about a decade competing as a power lifter. Coaching, though, would prove to be his true calling.
He's made 15 stops in his coaching career over the past four decades, from high school to college to professional indoor football, bouncing around North Carolina, South Carolina and New Hampshire. He taught history while coaching at several of the schools, even in college.
He was the offensive coordinator at Elon when the Phoenix led the nation in rushing in 1992. The coaches' locker room there is named for him. He coached All-Americans as the offensive line coach at Winston-Salem State and The Citadel, and offensive coordinator at Lenoir-Rhyne. As a high school coach, he was the winningest in Providence Day School (N.C.) history while he was there. 
His first spring practice his first season at The Citadel, a loose ball spilled onto the turf.  A scrum dove after it, including Patterson, who emerged from the melee not only with the football in hand but blood leaking from him head. He was well known for leading by example. 
Patterson arrived at James Island in 2007. It'd been seven years since the Trojans had a winning season. They reached the second round of the playoffs by Patterson's third year and returned to the postseason in his fourth and final.
He showed up the first day at James Island with a weight bar in hand, introducing it to his athletes as their new best friend. He often coached in cutoffs, which his players referred to as the gun show. Once particularly slow summer session, the team seemed to be lagging. It was early. It was hot. The doors to the weight room swung open, clapping off the wall behind them. Patterson stormed through, shredded his shirt from his body like Hulk Hogan and began to rep out bare-chested sets on the bench press one after another. The players went wild.
Twenty athletes from Patterson's strength program went on to play in college over his four years at James Island. 
"He always tried to help you improve, as an athlete, in life. He wanted you to be the best you could be," said Jalen Hill, a 2009 James Island graduate. Hill played offensive line under Patterson. He credits him as part of the reason he himself now coaches offensive line at nearby Oceanside Collegiate Academy. Hill applies many of the same techniques and coaching philosophies he learned from Patterson.
"I've tried to emulate him," Hill said. "He always told you the truth. He was never going to b.s. you. A lot of coaches aren't like that nowadays. He would be hard on you on the field and love you up off the field. I always respected that."
***
Bo Patterson was a finalist for South Carolina's Mr. Football award as senior quarterback of James Island in 2010, in a class that included names like Jadaveon Clowney, Everett Golson, Charone Peake and Brandon Shell. He was also Patterson's son, which could've made for a challenging dynamic, though the elder never allowed the dual roles of coach and father to conflict.
Patterson wasn't especially tight with his own father. He instead found that paternal relationship with his coaches. With Bo, he could be both, coach and father, careful not to let one consume the other. Bo remembers his father leaving the house at 4 a.m. to recruit as a Division I assistant coach in the summers. He remembers him always showing up on time that evening to coach his little league baseball team, too, and still with zeal and enthusiasm.
They ate lunch together every day in high school as father and son, but when the game film was inevitably turned on during the lunch break they watched together as coach and quarterback. The father in Patterson didn't let his son lift weights until high school, but the coach drew up speed and agility workouts for him in the meantime. He spoke candidly with Bo, admitting that he would never play him simply because he was his son. He would always have to be significantly better than anyone else at his position to see the field. Fortunately for both, Bo earned his spot.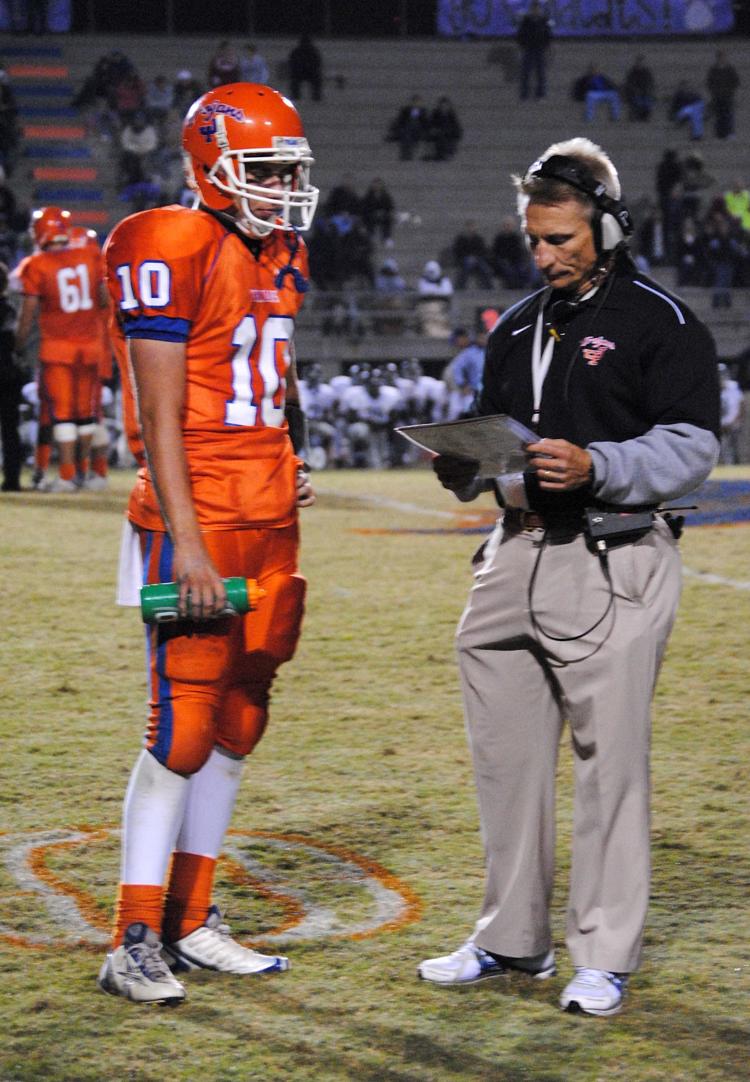 Bo always respected the role of both coach and parent because he witnessed the impact his father had as both a coach and mentor. Patterson has always been close with countless former players, who would call the house after dinner daily for advice or guidance, sometimes about football but mostly about life. It's full circle as Patterson is the same way in his own life. He's never made a life decision without asking a former coach for advice.
"I understood early on how important both of those two roles were, not only for me but for a lot of other people who looked at him as a coach and father figure," Bo said. "He's tough and he's strong. But he's a lot more. This is a guy who has never missed a day of work in his life — no exaggeration, never. He always shows up. He's always there for you. That goes a long way with guys who might not have that kind of figure in their lives."
James Island was playing Summerville Bo's senior year when De'Angelo Henderson caught the quarterback with an errant finger poke to the eye. It swelled shut almost immediately. The team trainer advised him to sit out the remainder of the game. Patterson agreed. Bo refused, insisting he was going to finish the second half of the game.
"You got it, quarterback," Patterson told Bo, as his coach. "Go win the game."
James Island lost the game, convincingly. Patterson walked out of the locker room after with his arm around his frustrated son, now as his dad.
Bo signed with Dartmouth out of high school to play both football and baseball. Patterson uprooted his coaching career at James Island, just as the program was beginning to turn, to be with his son in New Hampshire.
"One thing coaches always told me they regretted about the job was letting it screw up their family," Patterson said. "Every move I made was the right move for my kids at the time."
Patterson worked as a  high school athletics director while Bo played in college but returned to coaching day-to-day once he graduated. He returned to the Lowcountry for two years, serving as offensive coordinator at Stratford. He couldn't stay away from the competition, the camaraderie. It's a feeling that's hard for him to recreate elsewhere.
"I missed the kids. I missed the fellowships. There's nothing like the competition," he said. "It's unique. It's molded me into the person I am. I've always felt indebted to the game."
Patterson still coaches part time, while running his own Pilates business with Bo. The freedom and flexibility allows him time to train. He trains five days a week now. In all, between the stretching, lifting, food prep and care, it consumes about four hours of his day. He describes it as a part-time job. 
"I'm pretty much perpetually sore," he said. "I've been sore for about 40 years now."
His diet is as strict as his schedule. Meals are called feeds and each one is precisely portioned. Oatmeal, egg whites, rice, sweet potatoes. A far cry from the guy who used to lather his baked potatoes in a stick of butter. 
His supplements are simple whey protein, branch amino acids and creatine. And some "old man stuff" as he calls it, like fish oil, red yeast rice and multivitamins. He wins open divisions against competition as young as his son, some as young as his grandson. Some of those competitors would have a hard time passing a drug test. That's OK, Patterson no longer worries about that. Most of the genetically superior lifters aren't competing at his age anymore. His longevity has become his own advantage. 
"Now all of a sudden, I'm still left and I'm a national factor now," he says with a hint of astonishment. "I'm a local ham and egg guy all my life but at 60, you've got a chance at nationals."
Body building competitions offer Patterson a rush similar to football, but only momentarily. Now that he can't run down a field himself, the training and competing, the daily grind of body building is his game. 
"We yearn for that feeling. It's hard to quantify. You know it when you get it," he said. "It doesn't matter if it's some Joe Schmoe high school, The Citadel or Auburn, the game is the game. You get that rush and you still feel like a man.
"Body building you feel that rush for about one minute, maybe two minutes. There is nothing like being in that arena as a competitor. This is all I got left."
Not quite all anymore. Patterson returned to the Charleston coaching scene this fall as offensive line coach at Fort Dorchester, one of the top programs in the state. He still shows off the gun show at practice but no longer lifts around the kids. Most of the linemen he coaches have at least 100 pounds on him and can't believe he once played their position. Patterson laughs at the back-and-forth dialogue with the younger generation.
The best version of Patterson isn't as it would seem — on stage, posing and flexing muscles that pop as cameras flash bright. The best version of Patterson is here, on this football field in North Charleston, influencing yet another generation of young men.Patterson always considered himself a college coach first, but Bo is convinced his most important work has been on the high school level. Patterson has begun to agree. 
The most important thing is Patterson's life has always been to show up. Whether it was to show up as 175-pound lineman every day at practice or to show up at his son's little league game or to show up to coach every single day in the fall and the summer or to show up at the gym every day even when your muscles ache and joints want to surrender, Patterson is always there. 
"As much as I can for as long as I can while I still can," he said. "When you slow down, that's when you get run over."