Bishop England's football team began its Friday morning with a lift.
The gym lights were still off. The hallways were still dark. But the weight room buzzed with energy as players moved through their workouts in rhythm before grabbing their helmet and heading out the back door toward the practice field.
Football has officially begun. Spring practice is long gone. Summer seven-on-seven season has passed. Helmets went on Friday, shoulder pads were strapped up two days later and by now players have begun practicing in full gear.
"It's always good to get back out there. These guys have been waiting all spring and summer for it," Bishop England coach John Cantey said. "We have a lot of kids with some really good attitudes. It's a better atmosphere out here now." 
Bishop England limped to 3-7 last season, marred by injuries and health issues with both coaches and players. The Bishops enter fall practice with a two-man battle for the starting quarterback position between senior Cam Costa and junior Eddie Marinaro. If Costa has the better arm, Marinaro is the better runner. The Bishops are reverting back to their shotgun option offense after toying with more of a spread look last season. But intangibles will play just as big of a role as athleticism in choosing the starter.
"You don't have to be the most athletic guy as long as you're leading the team. Composure and leadership, we can work with that," Cantey said. "It's important that we have strong leadership back there. Both of those guys are good enough football players that they're going to be on the field regardless of what's going on."
These next couple of weeks will be especially important for the Bishop skill players, many of whom will be asked to learn both offense and defense. Guys like Jarren McCoy, Sullivan Clair, Charlie Michel, Daniel Poch and Michael Long are all expected to play both ways this season.
"We have some perimeter guys who are athletic enough to allow us to do different things. That'll help," Cantey said. "This is a good group. They want to be together. They get along well and they want to work hard."
Bishop England's upcoming scrimmage schedule includes a trip to West Ashley on Thursday, before returning home to face Porter-Gaud on Aug. 16 and Bamberg on Aug. 21.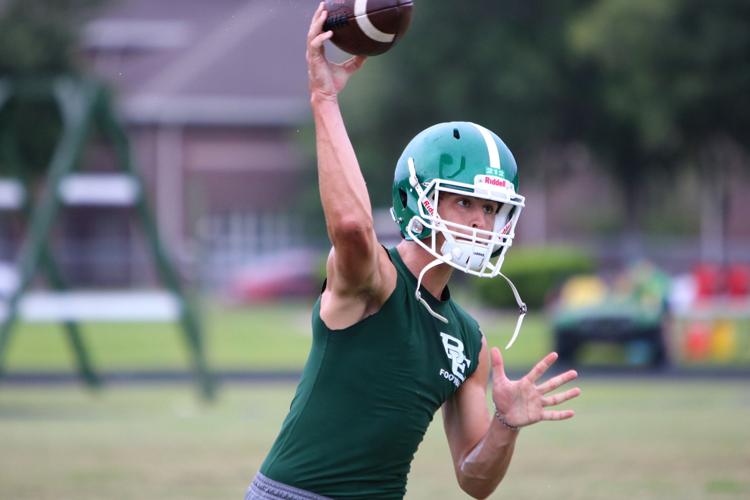 Wando had roughly 120 players filling out its practice fields on the opening day of fall practice. The numbers are encouraging for a program that didn't field a junior varsity team last season. The Warriors are expecting over 100 more to join the program this week on their freshman and middle school teams.
One of them will have to emerge as a starting quarterback. Senior Andrew Bobby, and juniors Bryan Rodeheaver and Braden Pritchard seem to be leading the competition for the starting spot. Some consistency at quarterback this fall should be a welcomed addition for a team that pieced together the position on way to a 5-7 season last year. 
"You put a line in front of people and everything changes. Speed of the game changes, eyes change. Poise is really tested at that point. That's a part of the evaluation you can't see during the summer seven-on-sevens," Wando head coach Jimmy Noonan said. "We're backlogged at that position right now, which is actually a nice change from where we were at this point last season."
Whoever gets the job will have a nice assortment of weapons around him in receivers Dylan McCarthy and Maken Glover. Will Harris is a 215-pound senior running back with good feet. Jaden Singleton could be a dangerous second option out of the backfield.
The Warriors have more vacancies to fill on defense after losing eight starters to graduation. The addition of former Stratford head coach Joe Marion is already paying dividends in early evaluations. Moving senior Will Pickren, who filled in at quarterback last season, back to his natural free safety position offers the Warriors some dependability on the backend. 
"Now is the time we start to see players separate themselves. We start to find out how we are going to be from a physicality standpoint in AAAAA football. You don't see that during the summertime in shorts," Noonan said. "I really like the character of this group already. I like the way we're approaching the start to practice and I think our leadership is solid. That'll be important for us moving forward from here."
Wando will host Beaufort on Aug. 8, Myrtle Beach on Aug. 12 and Hanahan on Aug. 22 in home scrimmages. The Warriors will visit Philip Simmons on Aug. 16.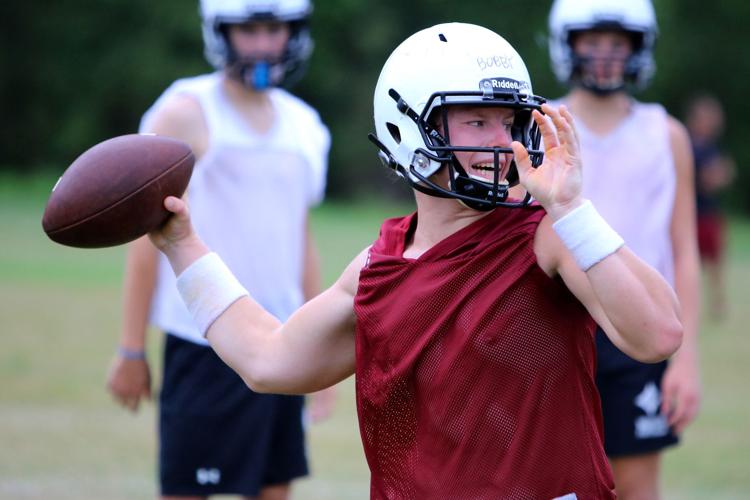 Oceanside already has much of its starting lineup decided. Entering the season with outright senior leaders at quarterback in Sean Cooney and running back in Keegan Williams is a luxury the Landsharks didn't have last season.
The team has spent much of the spring and summer session teaching in effort to hit the ground running at the start of fall practice. Landsharks head coach Chad Grier says the difference was noticeable as the first day of practice this season didn't feel like a first day as much as it has in the past. 
"We were able to get more done today than a lot of teams are going to do all season," Grier said. "Not a lot is different from the summer for us. We just put helmets on. So from that perspective, we're so far ahead. Now it's just about cleaning things up and doing things better each time out."
Cooney and Williams are just two pieces of an offense that's loaded with standout returners like Malachi Oree, King Deloney, Walker Rhue, and Joel Osteen around them.
The Landsharks are also as experienced as they've been with more than 20 seniors including defensive back Cooper Rhue, defensive lineman Ronald Shepherd, linebacker Mark Jellema and 6-foot-5, 315-pound lineman Dylan Sebuck, all guys who've grown up within the fourth-year program that's gone 15-6 the past two years. 
"The maturity out here is really starting to show," Grier said. "These are guys who've helped build the program the past few years. Now it's theirs to own. We've seen a lot of that already during the summer with our seven-on-seven competitions and lineman challenges. Now we have to find out if we can go block and tackle with the pads on."
Oceanside will compete in a four-team scrimmage Aug. 8 at Woodland and against West Mecklenburg (N.C.) in the Chester Jamboree Aug. 16.