I
t's unlikely that many even noticed.
There was a late addition to Porter-Gaud's roster ahead of the 2017 state playoffs. The lineup already included six future college commits, two projected to one day be NBA draft picks. So the chances that anyone paid much attention to the call-up of a 5-foot-7 eighth-grader from the junior varsity are as slim as his 120-pound frame.
"I thought it was important," Porter-Gaud coach John Pearson said. "I wanted to have him with us. I wanted him around that environment early because we thought at the time that one day he could be one of the guys leading the team."
Far more might take interest in the roster addition this time.
Denham Wojcik has transferred back to Porter-Gaud for his senior season.
The Harvard commit won a state championship with the Cyclones as a freshman before transferring to prep power La Lumiere in Indiana — the national runner-up Wojcik's sophomore season and again a top-five national contender this spring before the coronavirus pandemic shut down the season.
"With everything going on as far as COVID-19, my family and I knew the situation at La Lumiere was going to be different than my previous two seasons," Wojcik said. "Because of the unique situation, we had to look elsewhere. At that point, the decision was easy for us."
Wojcik grew up in Charleston. He's the son of former College of Charleston men's basketball head coach and current Michigan State assistant Doug Wojcik. His older brother, Paxson, who also played for Porter-Gaud's varsity as an eighth-grader before transferring to La Lumiere, is entering his sophomore season at Loyola. Wojcik also has an uncle who's also been a Division I head coach, and a cousin who just wrapped up his freshman season at Richmond.
The pedigree precedes him but he's careful not to let it define him. The family is close-knit but Wojcik would rather be known for what he's capable of first, and then maybe who he's related to second. He loves playing with Paxson; it was part of the reason he transferred to La Lumiere. Loyola offered Wojcik an opportunity to again share a backcourt with his brother. He followed his own path to Harvard. 
"He is a basketball player, period," Pearson said. "A lot probably could've been given to him. But he's the kind of dude that's going to earn everything himself."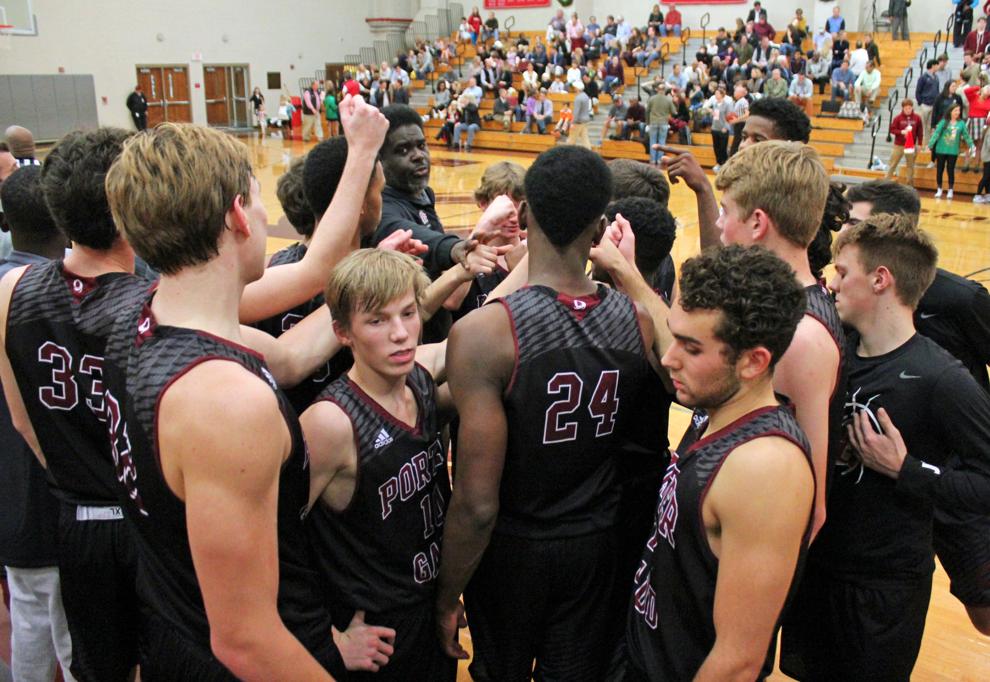 Wojcik served mostly in a reserve role his eighth-grade year as Porter-Gaud powered its way to its second straight state title. The diminutive guard was by far the smallest on the team. Eye level for him landed somewhere around the chest of the Cyclones' starting guards, maybe the shoulders if he was standing on the tips of his toes. He was effective in practice, though, like a scout team player preparing the starters of a football team. He'd stay late afterwards to play teammates one-on-one — some of the best players in the state — and every now and then he was stealing wins. 
"Scrappy," Pearson said. "And tough."
Wojcik played a much more prominent role his freshman season as Pearson's first choice off of the bench. The nationally ranked Cyclones headlined several major tournaments against out-of-state competition on way to their third consecutive state championship. Wojcik was a legitimate contributor through all of it.
"All I remember about Denham his freshman year was how small and how much of a pest he was," said 2018 Porter-Gaud graduate Aaron Nesmith, a Gatorade state Player of the Year in high school and now a projected first-round NBA draft pick after spending the past two years at Vanderbilt. "He would dive on loose balls, take charges, try his hardest to get a rebound, pick fights he couldn't win but when the littlest guy on the team is doing that you can't help but play hard yourself.
"He had so much dog in him that he thought he was the biggest."
So much so that he earned the nickname Big-Little around Porter-Gaud, a play on the large impact he had on games and the way he carried himself despite his lack of size. It's not a terribly creative epithet, Pearson admits, but it draws a smile to everyone's face when it's brought up because it's so true.
"He played in so many big moments in big games and did so many different things for us that I don't think people necessarily expected of him at the time," Pearson said. "He played bigger than a lot of the big guys."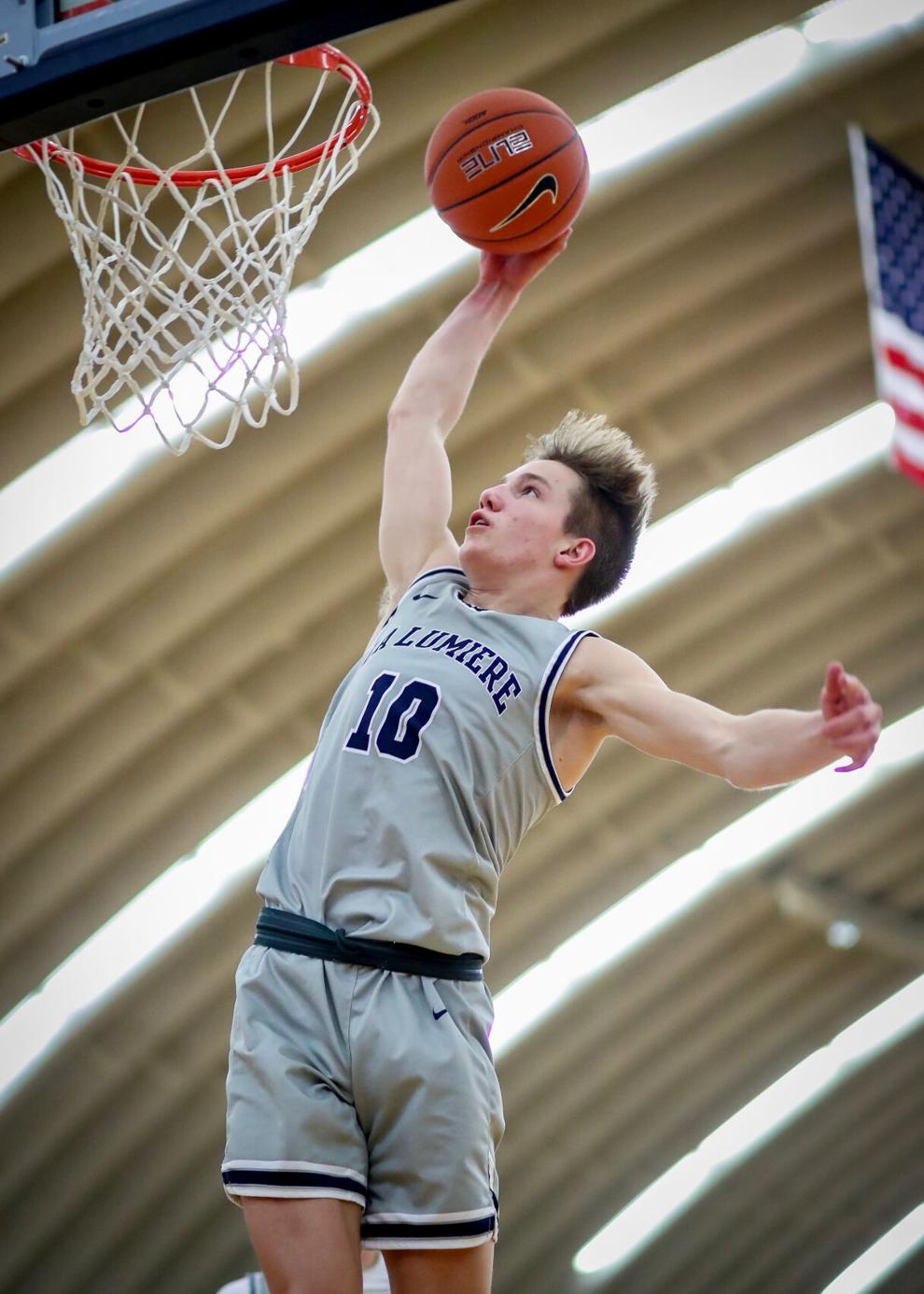 Wojcik played a similar role his first season at La Lumiere on a defending national championship team led by two five-star prospects who were both ranked top-25 in the country. That team went undefeated against a loaded nationwide schedule before falling in the GEICO national title game.
La Lumiere is a private boarding school of about 200 students tucked away in the woods near the shore of Lake Michigan. Its basketball program travels the country to play some of the very best high school teams; this year's schedule was lined with opponents from 14 different states. The Lakers' roster is always loaded. There has been at least one player ranked as a top-100 national recruit for the past six years and there will be for at least the next two years. 
Wojick started for La Lumiere this spring, averaging 10 points on 41 percent shooting from three with five rebounds and five assists per game on another all-star squad. He handed out three assists for every turnover, about the same assist-to-turnover ratio as NBA all-star Chris Paul this season and better than fringe MVP candidate Damian Lillard.
"Playing at La Lumiere for the past two years is comparable to playing at the college level," Wojcik explained. "Practices are intense and the competition is at the highest level for my age. We play on big stages and the pressure is always on."
Scouts typically use adjectives like smart and tough to describe Wojcik. ESPN national recruiting director Paul Biancardi calls him classy. Evaluators usually commend his vision. Casual observers so often seem surprised by his effectiveness. All of it fits.
He's long been a heady player, a scrappy defender and quality shooter but he now has a more competitive stature to match his spirit. He stretches to 6-foot-1 now, a little taller in shoes, and weighs a lean 170 pounds. He's been working out regularly with professional trainers and you can see the results in the definition that lines his shoulders and arms these days. 
Wojcik finished last season ranked as one of the 40 best point guards in the nation, a three-star prospect and top-10 player in the basketball rich state of Indiana. His 0.8804 recruiting rating would've been the eighth-best in South Carolina's 2021 class. The seven players ahead of him are all high-major Division I commits. Wojcik would be the highest-rated senior anywhere in the lower half of the state. 
"You only get to be a senior once," Nesmith said. "And to be able to come back and do it where he first started taking basketball real serious is pretty cool."
Nemsith is part of a who's who of talent that Wojcik has played alongside and against. Some have Nesmith being selected among the top 15 picks in mock versions of this fall's NBA Draft. Isaiah Stewart, Wojcik's teammate at La Lumiere, isn't far behind in the top 25 of a lot of projections. Josiah James started ahead of Wojcik at Porter-Gaud; the rising sophomore at Tennessee was ranked in high school as the top point guard in the nation.
The team that beat La Lumiere in the national title game two years ago, IMG Academy, was led by heralded five-star prospect Jaden Springer, the country's third-ranked combo guard. That same season La Lumiere beat a Montverde Academy team led by five-star forward Precious Achiuwa, a potential NBA lottery pick next week. The list goes on and on like that. 
"The extreme competition has forced me to grow on the court and become better at my weaknesses," Wojcik said. "I've played with and against guys that will become NBA players. Going against that much skill and physical talent forces me to work on different types of shots or moves that allow me to compete."
It was tough for Wojick to leave Porter-Gaud two years ago. He'd grown up there. His girlfriend still goes there. But it was an understandable move in the best interest of his basketball career. It worked. His college commitment is all but sealed. So what's left?
Porter-Gaud has won six state championships in boys basketball. None since Wojcik transferred. Those two things aren't necessarily correlative but are true nonetheless. He was a role player as a freshman, a cute story as the feisty blonde-haired little brother on a title team of titans. He'll play a central role this time around as an accomplished, well-traveled veteran returning home to finish things how, and where, they began. 
"My goal this year is to bring a state championship back to Porter-Gaud," he said. "By any means necessary." 
Does he have your attention now?