The story was set up too perfectly. Mike Darnell doesn't believe in fairy tales.
"The whole narrative of everything was just so perfect, it made me a little worried," Bishop England's coach admitted. "I had a feeling something could go wrong. You just hope we can handle it better than that when it does go wrong."
Crescent topped Bishop England, 6-4, in the second game of the Class AAA baseball state championship series Tuesday at Father Kelly Field on Daniel Island.
With both teams having won on the road, the best-of-three title series will now be decided Saturday at Lexington County Stadium.
"I told one of the teachers here at school that I was a little nervous about the game today," Darnell said. "And she said, 'Yeah, so is your pitcher.'"
Bishops senior ace Geoffrey Gilbert has been unflappable for so long that the slightest sign of vulnerability now seems surprising.
"That was the first time I've ever heard that about him," Darnell said.
The Clemson signee had made 45 consecutive appearances without suffering a loss. He'd yet to lose to a team from South Carolina since joining the Bishops' varsity rotation fulltime his freshman season. The stars seemed to be aligning as he took the mound Tuesday with an opportunity to polish his spotless six-year career at home with a third straight state championship, something the proud, tradition-rich Bishops program has never accomplished.
"He put too much pressure on himself," Darnell said. "And he always does. And he always handles it. Nobody puts more pressure on Geoffrey than he does."
Gilbert struggled from the start, throwing his first three pitches for balls. He ended up getting that first out but Bryant Ford then reached on an error, then stole second, then third, then took home on a bad throw down. Dawson Merk hit an RBI double to the wall in the next at-bat and later scored off a sacrifice fly to open a quick 3-0 Tigers advantage. The entire park — that was lined with fans up and down both sides of the fence and spilling over into the outfield — seemed surprised.
"Thankfully we jumped on (Gilbert) early," Crescent coach Blair Carson said. "I know that's probably a little abnormal."
Old Dominion signee Chris Denlger resuscitated the Bishops with a 360-foot two-run home run to left field in the bottom of the first inning. Drew Parnell answered with an RBI double in the top of the second. Gilbert didn't return for the third, finishing with four runs allowed, three earned, off four hits with three strikeouts.
"It was a dog fight both ways," Carson said. "But we knew if we could just stay with (Gilbert), if we could scratch a few runs, our pitching would keep us in the ballgame."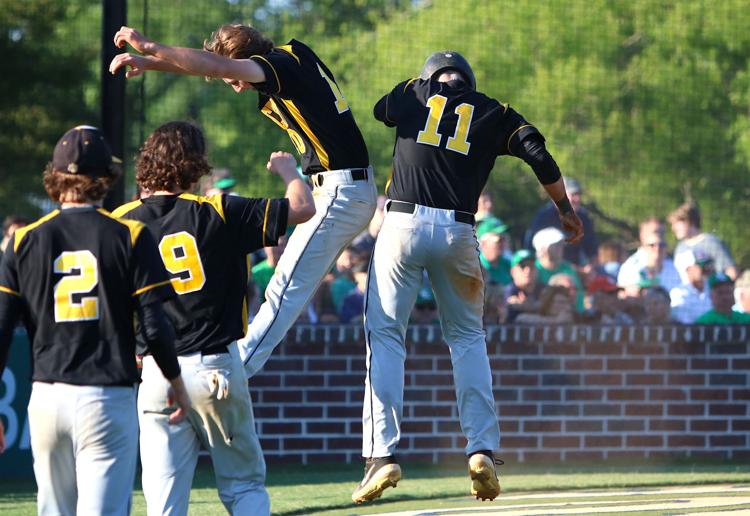 Ford scattered four runs off seven hits and three walks while striking out three on the mound for Crescent. The left-handed College of Charleston commit was backed by a defense that surrendered just one error and seemed to make nearly every timely play to keep the Bishops under control.
Bishop England left one runner stranded in the second, one in the third, one in the fourth, two in the fifth, was thrown out attempting to steal second in the sixth and left one more on base in the seventh. Every hit to the gap seemed to be corralled. Every bunt attempt seemed to roll just foul. The Bishops infielders committed four errors and came up uncharacteristically short on plays they've made all postseason.
"I don't know if we're too confident or too nervous," Darnell told assistant coach Bill Collier midway through the game. "Either way, we need to man up and figure it out."
Lexington County Stadium has been kind to Bishop England in the past. The Bishops won the third game of the 2017 state championship series there. This year's title game will likely be a noon start, 1 p.m. at the latest, giving the Bishops little time to dwell too much in the morning. Prom will follow later that night, giving them plenty to celebrate upon the return home.
Gilbert threw just 50 pitches on Wednesday, meaning he's available to start again on Saturday, as are the Bishops' other top two starters, Scrappy Anderson and Daniel Brooks, who both threw less than 50 pitches in Game 2.
Darnell was reluctant to show his hand but hinted at the idea of Gilbert making one final appearance on the mound — a chance at redemption for a player who's never before needed it.
"Everybody has to be better on Saturday if we want to win this thing," Darnell said. "The way things went tonight was unfortunate. I think people wanted the storybook.
"It didn't go that way but it's not the end," he said with the slightest smile, maybe the first time he'd unfurrowed his brow all evening. "The story is yet to be finished."