O
ne of college basketball's all-time assist leaders stared them down the first game. A nine-time NBA all-star and Olympic gold medalist led their opposition in the second game.
ESPN's cameras were documenting every success, every failure. The single-elimination bracket meant there would be little room for adjustments, even less for error. Stack together six wins and you take home $2 million. Lose at any point and you leave empty handed.
This is what the Power of the Paw Clemson alumni team was facing in its debut in The Basketball Tournament this summer. The actual games may be the easiest part of it all though. It's getting to that point— past the selective entry process and the winding journey of building a roster, while also handling the marketing, logistics, budgeting and at some point arranging practices that are actually productive — that's where the toughest challenges lie.
"It's an incredible experience from start to finish," Power of the Paw general manager Nick Isabella said. "The whole process, there's really nothing else like it."
Anyone is eligible to apply to compete in TBT, a 64-team single-elimination basketball tournament spread across 18 days with a winner-take-all prize that opened at $500,000 when the tournament began in 2014, doubled to $1 million in 2015 and then again to $2 million in 2016. But entry can be rather selective and preference seems to be slanted toward teams with the strongest followings. Often times it's the alumni collections from major universities like Syracuse, Ohio State or Wichita State that draw the largest crowds or highest ratings.
This summer was the first that Clemson entered an alumni team into TBT. It was marketed as an assemblage of former Tigers, and for the most part was. But it likely wouldn't have come together without a strong influence from the Lowcountry. The team might've been representing Clemson but it was born in Charleston.
"Right here in the Porter-Gaud practice gym," said local businessman Richard Davis, a Power of the Paw booster and sponsor of the highly successful Charleston based TMP AAU basketball program. "That's where it all started. It was born out of a TMP practice."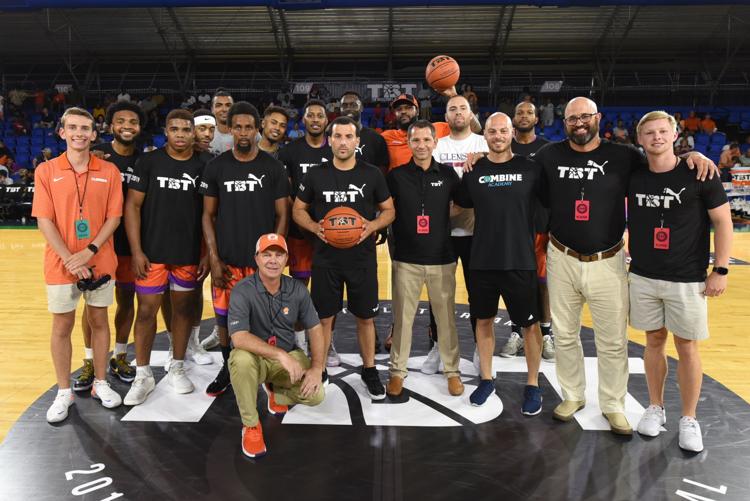 Isabella is an operations analyst at Blackbaud who moonlights as basketball coach within TMP and a personal trainer around town. He and his cousins fielded a team in the TBT known as Team HBC and later Sicklerville HBC from 2015-18. The team won three games through its first two years, a substantial accomplishment as many entrants never win a single game.
Isabella, a 2012 Clemson graduate, began dreaming of a Tigers alumni team after Sicklerville suffered a first-round exit in 2017. He floated the idea within the Clemson athletics department that summer to gauge interest. The timing just wasn't quite right yet for him or the alumni to take on that kind of challenge. Another first-round loss for HBC in the summer of 2018, though, and Isabella decided to move forward with his plans for a Tigers team.
"I'm never doing this again," Isabella thought to himself as he exited the court with his jumble of overseas pros following their 20-point first-round loss last summer. The team needed a better sense of unity. "Clemson it is next year."
Alumni teams require at least seven former players. Isabella began recruiting immediately. He had a few connections from his time at Clemson. But several prospects were playing overseas, which meant some had multiple phone numbers, some had none, and some communicated only through apps.
Davis, a 1986 graduate, is heavily immersed in the Clemson community. His wife, Ginger, and oldest son, Logan, are both Clemson graduates, as is his son Lyles, a former standout at James Island High, who was a senior on the Tigers basketball team this fall. Davis is a proud supporter of Clemson athletics, visible at most of the Tigers' major sporting events. The contact list in his phone reads like a who's who of Tigers coaches and alumni.
"I knew he was the guy to help us get there," Isabella said.
Isabella broached the idea of building a TBT team to Davis one afternoon during a TMP practice at Porter-Gaud. Davis jumped at the potential of what he thought Isabella was suggesting.
"I love it. I think we're at that point now as a program," Davis told Isabella assuming they were building a TMP alumni team. "It's all about chemistry. Our guys will be perfect together."
When Isabella explained he was thinking of a Clemson team, though, Davis liked it even more. Both agreed that TBT was unlikely to accept a roster of solely TMP players. A Clemson team would be received much better. And there could still an opportunity within that to lace the roster with a touch of TMP influence.
K.J. James, a 2014 Porter-Gaud graduate, and 2012 West Ashley grad Tre McLean were both back in the Lowcountry working out as they pursued upcoming professional opportunities. Both were all-state players in high school, who both played Division I college basketball. Both were accomplished TMP alumni and both committed to join the TBT team.
"(Isabella) told me he was trying to put this team together and I'm like, 'All right, Izzy. You make it happen and I'll run with you,'" James said, replaying the scene with a touch of skepticism in his voice. "I wasn't sure if it was actually going to go through but they bent over backwards to make it happen."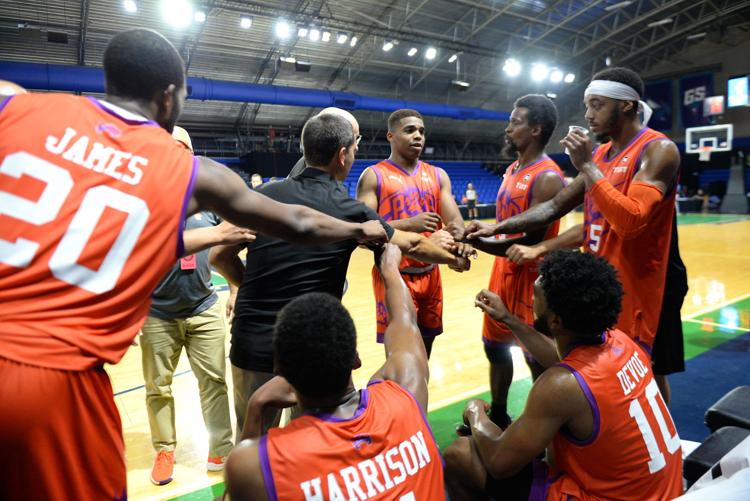 Davis believed Lyles would be the team's best recruiter as a current Tigers player but refused to enlist his son's help until the college basketball season ended. Isabella set out on his own in the meantime, building a network through different leads and connections. There was some interest, some reluctance; he persisted either way.
"We would not have been in the TBT without Nick. He's excellent at organizing the logistics. Now, him being from up north, he might be a little aggressive in his recruiting approach," Davis said. "He might've been a little anxious to get things moving. I understand aggressive from a sales perspective. But you have to be able to go both speeds.
"Just trust me," Davis assured Isabella. "We're going to get seven (Clemson) names."
Momentum began to pick up once Lyles was on board in the spring. Having a Clemson basketball alum pushing the idea helped the cause. Avery Holmes was the first Tiger to commit. He'd already been plotting on how to put a Clemson team together. That first domino was important. Guys like Damarcus Harrison, Gabe DeVoe and Cliff Hammonds soon followed. Jerai Grant committed over the phone while sitting in the locker room 10 minutes before he was to take the floor in a Lithuanian LKL finals game.
"A lot of guys like myself wanted that experience to represent Clemson one more time," Hammonds said. "We're always representing the paw wherever we are. But with a jersey on again, together with everybody is something different. You're playing for something bigger than yourself with this."
Roster building is an imperfect science. Holding commitments intact through the months leading up to the tournament, while several players are pursuing professional opportunities, isn't easy. Two Tiger commits eventually backed out, leaving the team one short of the required seven alumni. Lyles had little interest in actually playing as he was preparing for graduate school and already working. He signed on as the seventh Tiger anyway with the understanding that he would only be called upon in emergency situations.
Further depth came after the deadline to submit rosters. Lyles received a text one day from two-time All-ACC selection Marquise Reed, who'd just returned from playing in the NBA Summer League.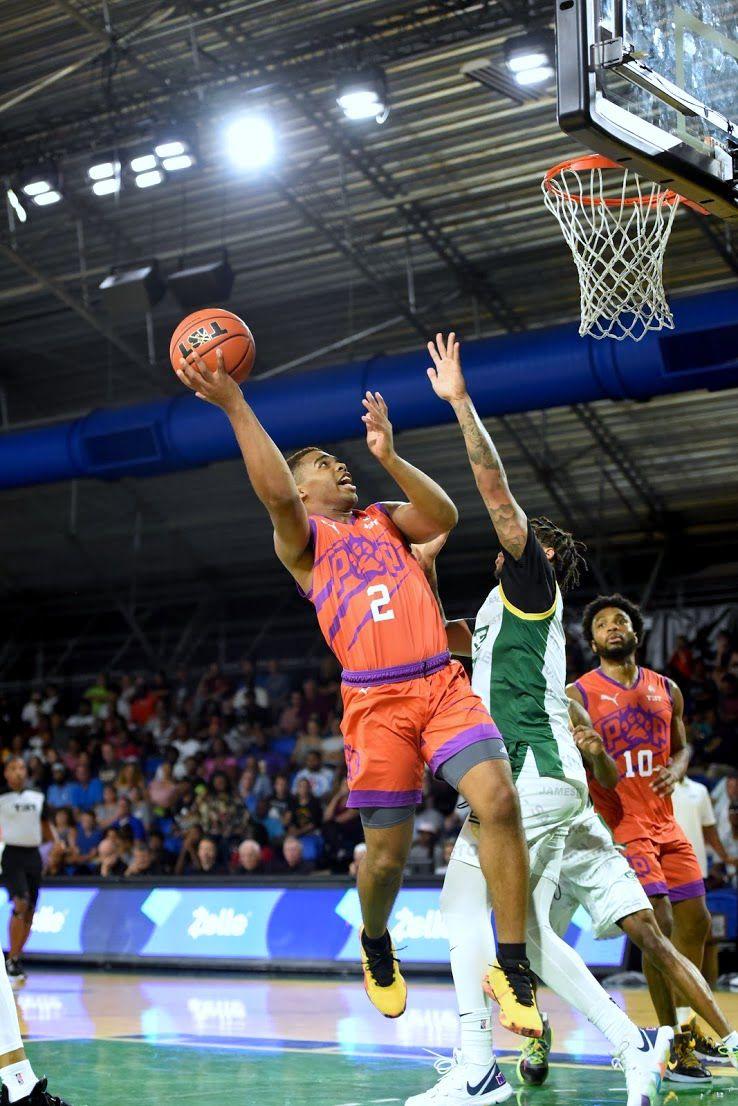 "Tell your dad if he's still got a spot, I'm in," it read.
Late roster additions came with a $1,000 fee per player. Davis footed Reed's entry, viewing his added scoring as a quality investment. Isabella then heard from Lew Stallworth, who'd wrapped up his college career with an All-SoCon senior season at The Citadel a few months ago. Bulldogs assistant coaches connected Stallworth and Isabella, suggesting the heightened visibility may help him in his search of a professional opportunity. Stallworth had to get more creative to cover his $1,000 fee though. He received a generous donation from a Citadel alumnus. He covered the rest with a Facebook fundraiser that actually exceeded the goal in less than three days.
"It was kind of last minute for me but it seemed like a good opportunity to showcase how I've improved since the college season and that I could play professional basketball, even if it's just a snippet," Stallworth said. "They really embraced me even though I wasn't a Clemson player."
When it came time to name the team, several options were floated. Names like CU Elite, Tiger Deep and Orange and White Unite were considered. Some of the players liked the sound of Littlejohn Legends but it wasn't broad enough. Davis was thinking as usual with a marketing mindset. The Clemson brand was as strong as ever right now, thanks in large part to the football team. This TBT team was meant to show the strength of the Clemson community as a whole — Power of the Paw stuck. Isabella recruited Wando videographer and incoming Clemson freshman Pete Jonas to help with the social media branding. The team was set.
"We were forming a synergy that extended beyond basketball," Isabella explained. "Everything was finally in line. Just getting in and getting the team together felt like a success. So then just said, 'Well, shoot. Now let's do everything in our power to win Game 1 and make this legit.'"
Players have to pay their own way through the first three rounds of the tournament. Tigers alum and nine-year NBA veteran Trevor Booker was kept abreast of the team's development throughout the process. He offered to host a minicamp ahead of the tournament at Combine Academy, a prep school that he operated in Charlotte with fellow Clemson alum Jonah Baize. Davis knew Booker and Baize well through real estate dealings.
Minicamp wasn't easy. Team meetings were held in classrooms. Many of the players slept in the dorm rooms and ate in the cafeteria. The intensity of the two-a-day workouts in a gym with no air conditioning caught some of them off guard. So did a lopsided loss in a scrimmage against D2, a TBT team of all Division II college players that was aligned in a different regional of the tournament.
James: "They put it on us that first scrimmage. I'm not going to lie. We got whopped. We learned quick what it was going to take to win."
Isabella: "It was just what we needed." 
Stallworth: "You can't overlook anybody in this tournament or you'll go home."
Hammonds: "Man, OK. We got beat. But, me going on my 12th year as a pro, I knew that scrimmage wasn't what it would be when the lights come on. That's a different game."
Minicamp provided the team a chance to develop chemistry off of the court as well. Most of the players knew of each other but few actually knew one another personally. They bonded over similar professional goals. Some were already there. Some were trying to get there.
"The basketball was great but it was more than that," Stallworth said. "Just getting to be around the other guys and hearing their advice and their experiences, all of that was really instrumental in helping me prepare for my career after college."
"I tried to soak up as much as I could," James added. "The older guys, our OGs have so much knowledge to offer. They were constantly telling us little things, not just basketball, but even the little ways to carry yourself as a professional."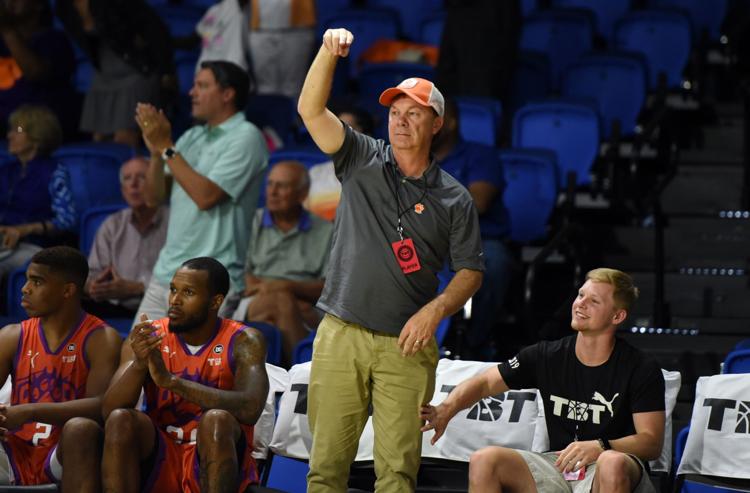 The chemistry was apparent later that week in Power of the Paw's opening-round matchup against Team 23. The opposing assemblage of European pros was coached by Doug Gottlieb, now a broadcast personality, who starred at Notre Dame and then Oklahoma State in the 90s. He finished his collegiate career ranked eighth all-time in assists. Team 23 was seeded sixth. Power of the Paw was third but still felt like a slight underdog.
Davis was perched courtside at the end of the bench next to Booker. Lyles was nearby. Davis and Booker stood out with Tigers ball caps on their heads, which the players found humorous. 
"Hey, Book. They're cracking on our hats," Davis let out as players playfully poked fun at the two.
"Ah, they're just jealous," Booker assured him. "We have the best spots in the house."
"It was the most fun I've ever had and I've had a lot of fun in my life," Davis says now, looking back at the experience. "With the probability of actually pulling it all off against the odds, it was an incredible feeling to see them stepping out on the floor that first game."
Davis' investment in Reed paid off wildly as he poured in a game-high 31 points in the opening round. Depth became such an issue, it looked for a moment as if Lyles might have to actually suit up.
"We got this, Banks," Reed assured his former Clemson teammate (Lyles is affectionately known as Banks within his former team). 
Power of the Paw needed three points to seal the game when DeVoe was fouled shooting a 3-pointer.
"Zip them up," Isabella urged DeVoe as he approached the free-throw line.
DeVoe smiled back and with a nod assured Isabella and the rest of the team, "I got you."
DeVoe buried three straight to secure an 82-78 win that pushed Power of the Paw into the second round. One player from each team is selected to advance the team's name plate on the bracket. It's a ceremonious moment after each victory. The team chose Stallworth to do the honors as reward for his spirit and energy.
"Nobody in the gym thought we were going to win," Isabella said. "Except us. We were all going crazy."
"Everyone still kind of had one toe in," Davis said. "Then we actually win that first game and everything exploded."
Support flooded in from the Clemson community. The phones of players and staff buzzed in the locker room. Social media lit up. Alumni, boosters, former players and coaches reached out by the dozens. Guys like K.J. McDaniels and Donte Grantham inquired about playing in the second round. Rosters were unfortunately locked until the fourth round. They wished them well and said they'd be ready if called upon again.
"The support was incredible," Isabella said. "The roof would've blown off if we won the second game."
Power of the Paw came close, falling 73-68 to Team CP3, coached by 14-year NBA veteran Chris Paul. The Tigers led for nearly half of the game but stalled out late with a banged up seven-man rotation playing its second game in as many nights, and against an opponent with several former NBA players. Still, the foundation had been set for the future and that was the team's ultimate goal of this inaugural summer.
Davis and the staff mingled around the court, shaking hands with Paul and the opposing team after. A couple tournament directors approached them to offer congratulatory praise before they exited the floor. They'd seen what this team was capable of in its first year and told Davis they looked forward to the future.
"Does that mean we're officially invited back?" Davis asked with a grin.
"They took a chance on us," he explained. "But after seeing it's potential, they think it's the start of something great. We needed to prove ourselves. Now, the alumni are jacked up. Everyone's excited for next summer. We're in good shape."
James and Isabella shared a moment after minicamp. It was a brief few minutes to reflect on what it took to get to that point and what still lied ahead with the upcoming games.
"Iz, this is really special, man," James admitted. "I just met you a year ago and now here we are. Did you really think it was going to happen like this."
Isabella admitted it wasn't easy getting here. "But look how far we've come," he told James. "And, K, this is just the beginning."
James, Stallworth and Reed each received their first professional contract offers shortly after wrapping up their time with the Power of the Paw. Most of the veterans have already secured opportunities to head back overseas next season as well. McLean attended minicamp with the team but didn't travel to the actual tournament. He's signed a contract to play professionally in Germany this upcoming season.