As one of the fastest rising high school baseball prospects in the country, Bishop England senior right-hander Daniel Brooks could have chosen just about any college program in the country.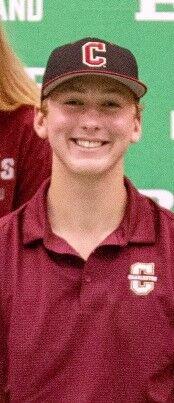 In the end, however, Brooks stuck with his initial choice and signed his official letter-of-intent with the College of Charleston. The 6-8 flamethrower says the local program just felt like home. He made his commitment during his sophomore year.
"I've played there so much over summer ball growing up and I just feel really comfortable with the school and the surroundings," Brooks said. "I like the coaching staff and it's a great program. My parents can watch me play easily and it just felt like it's where I should be."
Brooks, however, may have a bigger decision to make by next summer. During his summer travel season as a member of the Canes American team, one of the top 17-u teams in the country, Brooks saw a dramatic rise in attention given by Major League scouts. His low `90's fastball mixes with great breaking and offspeed stuff. He has added some 35 pounds since January and now plays at around 250 pounds. Did we mention he's 6-8?
"It has always been a dream of mine to play professional baseball so to think I may have that opportunity is pretty exciting," said Brooks, who also is the starting center for the basketball team. "I feel like I grew a lot mentally and matured a lot over the summer. I think that helped me in terms of the scouts knowing me more. But, at the same time, I know I still have work to do so I will keep my focus."
Athletes across the country and the local area used the fall signing period to put ink to paper in terms of their future. Baseball teammates Sean Hollister signed with Presbyterian and Chase Loggins signed with The Citadel.
Other Bishop England signees included swimmers Ethan Griffith (VMI) and Catherine Grace Soper (Randolph Macon). Tennis star Lily Woods made good on her commitment to Wofford College. Austin Scott will play golf at Clemson and Grace Hotchkiss will take her track and field talents to the University of North Carolina. Cassie Cherichello is headed to Rutgers for sailing.
Oceanside Collegiate had a big day with 13 athletes signing their letter-of-intent. Five softball players are headed to the next level. Malaka Belser and Kayla Oh will play at College of Charleston. Kennedy Rhue is headed to Presbyterian while Mary Miller and Lexi Perry are going to USC Sumter.
In girls soccer, Valentina Mosquera signed with Winthrop and Britton Logan signed with Francis Marion. Ansley Donovan will play at Anderson University.
Swimmer Grace Issacs signed with Liberty and two-time state champion golfer will play at College of Charleston. Jaycee Beckham signed with Montreat for Clay Target Shooting. Baseball players Scott Templeton (Newberry) and Caleb Carbone (Francis Marion) round out the list of Landsharks.
Nine athletes signed at Wando High. Baseball signings included Reed Garris (Clemson), Marshall Whitmer (Georgetown), Brad Brooks (Newberry) and Michael Nastro (Lander).
In girls soccer, Gwen Keiser signed with Presbyterian and Taylor Read signed with Ouachita Baptist. Volleyball player Brynn Whitehair signed with Marshall and Lacrosse player Zach Jennings signed with Rhodes College.
Swimmers Estelle Bauer and Matthew Gush signed with Nova Southeastern.